Objet : Lucky White Musician Ponderosa Rock
Hello,
My name is Richard Alan White. I'm the grandson of Lucky White. Our family is so happy to find this listing.
We had a house fire and lost most photographs, and the reel to reels of his recordings.
We are working to locates his catalog recorded on 45's. He also recorded a 78 vinyl album in the 1940's of his Radio shows. He was the band leader and rhythm guitar player for Cliffie Stone and his hometown Jamboree in the 1940's.
He helped Launch Buck Owens music career too.
I've attached a photo for you of Lucky from the 1940's. We've have a webpage up too www.luckywhitemusic.com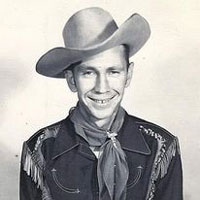 Let me know if you find any of his 45's of his 78 vinyl album.
Thank you so much,
Richard Alan White
www.worldrockumentary.com

| | |
| --- | --- |
| Lundi 15 Mars | 15:47 |
| Richard Alan White | |
| | US |
Thank you so much,
The photo I provided of Lucky is from a post card he had made.
It was his promotional photo for his "Lucky White Radio Show" at KWKW
1430 kc in Pasadena, Calif. (1946)

Lucky was Cliffie Stone's touring rhythm guitar player for a short time and often
played at the Legion Stadium in El Monte, California.
Recordings we're in search of are:
1)Teddy Bear -Courtney Blue Label 129A (1946) 10" 78 rpm shellac (?)
2) I'm gonna Hang it up-(1968) format 45
3) Sweet Babe-(1968) format 45
4) one eyed Teddy Bear-(1959) format 45
5) The Lucky White Radio Show 10" 78 rpm shellac (?)
Thank you again for the links and any info going forward.
Richard