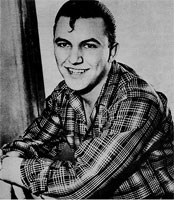 Chanteur et compositeur Rock 'n' Roll né Robert Charles Guidry, le 21 Février 1938 à Abbeville (Louisiane). Bobby Charles est surtout connu comme le compositeur de "See You Later Alligator", qui sera repris par Roy Hall et Bill Haley. Il est décédé d'un cancer à son domicile d'Abbeville le 14 Janvier 2010.



More successful as a songwriter than a singer, Bobby Charles was nonetheless an important contributor to Louisiana music in both respects. He authored several hits for key artists in the early days of rock & roll (including Bill Haley and Fats Domino), and although he recorded mostly in obscurity, he emerged as one of the founding fathers of swamp pop.
Robert Charles Guidry was born February 21, 1938, in the Cajun-country town of Abbeville, LA, and grew up listening to traditional Cajun music. As a teenager, he discovered rock & roll and rhythm & blues, and began singing with a band called the Cardinals, who performed at local dances. During this period, he wrote a song called "See You Later, Alligator," which particularly impressed a Crowley, LA, record-store owner who happened to know Chess Records founder Leonard Chess. The young singer auditioned over the phone and was rewarded with a recording session at the legendary Cosimo's studio in New Orleans. After hearing the single version of "See You Later, Alligator," Chess signed Guidry (by some accounts, not realizing he was a white Cajun) and soon shortened his name to the less regional Bobby Charles. Chess released "See You Later, Alligator" as Charles' debut single in 1955, and he toured behind it after graduating from high school. While it connected with R&B audiences, the song didn't become a big pop hit until 1956, when Bill Haley covered it for a national best-seller. Charles scored another minor hit that year with "Time Will Tell," and stayed with Chess through 1957, recording R&B singles that even at this stage were already infused with a Cajun musical sensibility.
In 1958, Charles moved to Imperial and cut several more singles through the next year. Although he was silent for a few years after cutting a one-off cover of "Goodnight Irene" for Farie in 1959, Charles' reputation as a songwriter continued to grow. In 1960, Fats Domino took "Walking to New Orleans" into the Top Ten, and Clarence "Frogman" Henry did likewise early the following year with "(I Don't Know Why I Love You) But I Do." Charles subsequently recorded sides for Hub City (1963), Jewel (1964), and Paula (1965), by which time he was experimenting with country music.
With little commercial success of his own, Charles drifted away from the music business for a while. He returned in 1972 on the Bearsville label and cut a self-titled album (his first full-length) that was co-produced by the Band's Rick Danko. In fact, the majority of the Band appeared on the record as supporting musicians, as did Dr. John, David Sanborn, and Amos Garrett. In spite of considerable critical acclaim, Bobby Charles didn't sell very well, and after recording with Paul Butterfield in 1973, a disenchanted Charles again retreated from music. He appeared with the Band in their 1976 concert film The Last Waltz, joining them on-stage for one song of their final performance. The following year, he returned to Bearsville and recorded another album with Spooner Oldham on piano, but the project was never released.
Charles kept quiet for most of the next decade, returning in 1986 with a couple of singles on the Rice n' Gravy label, plus a European-only album called Clean Water in 1987. In the meantime, his songs had been recorded by numerous artists from the worlds of blues, rock, country, and soul; a partial list includes Joe Cocker, Delbert McClinton, Lou Rawls, Ray Charles, Tom Jones, Kris Kristofferson, Rita Coolidge, Etta James, Junior Wells, Clarence "Gatemouth" Brown, Bo Diddley, David Allan Coe, and even UB40. In 1995, Charles signed with the Canadian blues and roots label Stony Plain and released a new album, Wish You Were Here Right Now, which consisted of sessions from 1992-1993 plus selections from a 1984 jam session at Willie Nelson's studio. In addition to Nelson, guests included Neil Young, Fats Domino, and slide ace Sonny Landreth. A follow-up, Secrets of the Heart, appeared in 1998, but Charles returned to rural Cajun country to live the quiet life, supported by his songwriting royalties; he also became a local environmental activist. His excellent Bobby Charles album has been reissued several times (including once in 1988 under the title Small Town Talk, its most famous composition). Finally, in 2008, Charles issued a new album, Homemade Songs. Early in 2010, however, he collapsed at his home in Abbeville, LA, and died.
https://en.wikipedia.org/wiki/Bobby_Charles
Talents : Songwriter, Vocals
Style musical : New Orleans R&B, R&B, Early R&B, Rock & Roll, Cajun, International, Traditional Cajun, North American Traditions, Country, Americana
Years in activity :
| | | | | | | | | | | |
| --- | --- | --- | --- | --- | --- | --- | --- | --- | --- | --- |
| 1910 | 20 | 30 | 40 | 50 | 60 | 70 | 80 | 90 | 2000 | 10 |
DISCOGRAPHY
Singles
| | | |
| --- | --- | --- |
| 1955 | SP CHESS 1609 (US) | Later Alligator / On Bended Knee |
| 1956 | SP CHESS 1617 (US) | Why Did You Leave / Don't You Know I Love You |
| 1956 | SP CHESS 1628 (US) | Time Will Tell / Take It Easy Greasy |
| 1956 | SP CHESS 1638 (US) | Laura Lee / No Use Knocking |
| 1956 | SP CHESS 1647 (US) | Why Can't You / Put Your Arms Around Me Honey |
| 1957 | SP CHESS 1658 (US) | You Can Suit Yourself / No More (I Ain't Gonna Love You) |
| 1957 | SP CHESS 1670 (US) | One Eyed Jack / Yea Yea Baby |
| 1958 | SP IMPERIAL X5542 (US) | Since She's Gone / At The Jamboree |
| 1958 | SP IMPERIAL X5557 (US) | Since I Lost You / Oh! Yeah |
| 1958 | SP IMPERIAL X5579 (US) | What Can I Do / The Town Is Talking |
| 1959 | SP IMPERIAL X5642 (US) | Bye Bye Baby / Those Eyes |
| 1959 | SP IMPERIAL X5681 (US) | What A Party / I Just Want You |
| 1959 | SP IMPERIAL X5691 (US) | Four Winds / Nothing Sweet As You |
| 1959 | SP FARIE 21018 (US) | Goodnight Irene / I Don't Know |
| 1963 | SP HUB-CITY 715 (US) | Big Boys Cry / You Made Me Love You |
| 1963 | SP HUB-CITY 716 (US) | Sometimes / 24-Hours |
| 1964 | SP JEWEL 728 (US) | Everybody's Laughing / Everone Knows |
| 1964 | SP JEWEL 729 (US) | I Hope / Goodnight Irene |
| 1964 | SP JEWEL 735 (US) | Ain't Misbehavin' / Preacher's Daughter |
| 1964 | SP JEWEL 740 (US) | One More Glass Of Wine / Oh ! Lonesome Me |
| 1964 ? | SP JIN 45-1030 (US) | One More Glass Of Wine / I Hope |
| 1965 | SP PAULA 226 (US) | Worrying Over You / The Walk |
| 1972 | SP BEARSVILLE BSV 0010 (US) (promo) | Small Town Talk (stereo) / Small Town Talk (mono) |
| 1972 | SP BEARSVILLE BSV 0010 (US) | Small Town Talk / Save Me Jesus |
| 1973 | SP BEARSVILLE K 15508 (UK) | Small Town Talk / Grown Too Old |
| 1982 | SP CHESS CH-131 (US) | See You Later Alligator (Bobby CHARLES) / This Should Go On Forever (Rod BERNARD) |
| 1984 | SP CHESS CH-91030 (US) | See You Later Alligator (Bobby CHARLES) / This Should Go On Forever (Rod BERNARD) |
| 1984 | SP CHESS CH-91040 (US) | Ain't Got No Home (Clarence HENRY) / See You Soon, Baboon (Bobby CHARLES) |
| 1986 | SP RICE 'N' GRAVY RG 22138 (US) | Lil' Cajun / Secrets |
| 1986 | SP RICE 'N' GRAVY RG 22139 (US) | Lonesome Christmas / Lonesome Christmas |
| 1986 | SP RICE 'N' GRAVY RG 22140 (US) | Party Town / Full Moon On The Bayou |
| 1986 | SP RICE 'N' GRAVY RG 22141 (US) | Clean Water / Clean Water (Instrumental Rap) |
| 08/2011 | SP BEARSVILLE / RHINO 52704R (US) | Small Town Talk / Save Me Jesus |
Albums
1972
LP 12" BEARSVILLE BR 2104 (US)
BOBBY CHARLES - Street People / Long Face / I Must Be In A Good Place Now / Save Me Jesus / He's Got All The Whisky / Small Town Talk / Let Yourself Go / Grow Too Old / I'm That Way / Tennessee Blues
1977
LP 12" PLATINUM XMP2009 (US)
CHESS MASTERS - Watch It, Sprocket / Yeah, Yeah / You Know I Love You / Good Loving / I'd Like To Know / Ain't Got No Home / Time Will Tell / Take It Easy, Greasy / You Can Suit Yourself / See You Later, Alligator / On Bended Knee / I'll Turn Square For You / I Ain't Gonna Do It No More / Put Your Arms Around Me, Honey / Lonely Street Mr. Moon / One-Eyed Jack / Hey, Good Looking
1980
LP 12" P-VINE PLP-714 (JAP)
HARK BACK TO THE 60'S - Worrying Over You / Jealous Kind / One More Glass Of Wine / I Hope / See You Later, Alligator / Goodnite Irene / Oh Lonesome Me / Preacher's Daughter / The Walk / Everybody's Laughing
1984
LP 12" CHESS / MCA CH-9175 (US)
CHESS MASTERS - Watch It Sprocket / Yeah Yeah / You Know I Love You / Good Loving / I'd Like To Know / Ain't Got No Home / Time Will Tell / Take It Easy Greasy / You Can Suit Yourself / See You Later Alligator / On Bended Knee / I'll Turn Square For You / I Ain't Gonna Do It No More / Put Your Arms Around Me / Lonely Street / Mr. Moon / One Eyed Jack / Hey Good Looking
1987
LP 12" ZENSOR ZS-35 (US)
CLEAN WATER - Lil' Cajun / Secrets / Love In The Worse Degree / Cowboys And Indians / But I Do / Clean Water / Eyes / Lil' Sister / Party Town / Le Champs Elysee!
1988
LP 12" SEE FOR MILES 218 (UK)
SMALL TOWN TALK - Street People / Long Face / I Must Be In A Good Place Now / Save Me Jesus / He's Got All The Whiskey / Let Yourself Go / Grow Too Old / I'm That Way / Tennessee Blues
04/1990
CD PONY CANYON PCCY-00082 (JAP)
LOUISIANA DAYS - I Hope / Goodnite Irene / Ain't Misbehavin' / Preacher's Daughter / One More Glass Of Wine / Oh Lonesome Me / The Walk / Worrying Over You / Everybody's Laughing / Everyone Knows / Jealous Kind / See You Later, Alligator / Cross My Heart / Walking To New Orleans / Who's Sorry Now
11/1994
CD RICE 'N' GRAVY / PIONEER PICP-1035 (US)
WISH YOU WERE HERE RIGHT NOW - Not Ready Yet / The Jealous Kind / See You Later Alligator / I Want To Be The One / Promises, Promises (The Truth Will Set You Free) / Walking To New Orleans / The Mardi Gras Song / I Remember When / Ambushin' Bastard / Peanut / I Don't See Me / Wish You Were Here Right Now
1995
CD STONY PLAIN 1203 (CAN)
WISH YOU WERE HERE RIGHT NOW - Not Ready Yet / The Jealous Kind / See You Later Alligator / I Want To Be The One / Promises, Promises (The Truth Will Set You Free) / Walking To New Orleans / The Mardi Gras Song / I Remember When / Ambushin' Bastard / Peanut / I Don't See Me / Wish You Were Here Right Now
1995
CD CHARLY CDRB31 (UK)
LOUISIANA R&B MAN - On Bended Knee / See You Later, Alligator / Hey, Good Looking / Watch It, Sprocket / You Know I Love You / Ain't Got No Home / Time Will Tell / Take It Easy, Greasy / You Can Suit Yourself / Put Your Arms Around Me, Honey / Lonely Street / Mr. Moon / I'll Turn Square For You / I Ain't Gonna Do It No More / One-Eyed Jack / Yeah, Yeah / Good Loving / I'd Like To Know
04/1996
CD CHESS / MCA MVCM-22078 (US)
CHESS MASTERS - See You Later, Alligator / Watch It, Sprocket / Don't You Know I Love You / On Bended Knee / Take It Easy, Greasy / Laura Lee / Time Will Tell / Why Can't You / You Can Suit Yourself / No Use Knocking / Put Your Arms Around Me, Honey / Why Did You Leave / Mr. Moon / Over Yonder / I'll Turn Square For You / Ain't Got No Home / I Ain't Gonna Do It No More / One Eyed Jack / Yeah Yeah / I'm A Fool To Care / Good Loving / Teenagers / Tell Me Baby / Your Picture / Hey Good Lookin' / Lovesick Blues / Lonely Street / I'd Like To Know
01/1998
CD RICE 'N' GRAVY / STONY PLAIN SPCD-1240 (US)
SECRETS OF THE HEART - I Can't Quit You / Secrets / Angel Eyes / But I Do / Party Town / I Don't Want To Know / Love In The Worst Degree / Why Are People Like That? / You / I Belive In Angeles / Happy Birthday Fats Domino / Les Champs Elysee
12/2000
CD DEMON / WESTSIDE WESA 874 (UK)
WALKING TO NEW ORLEANS - Ain't Misbehavin' / Preacher's Daughter / Everybody's Laughing / Everyone Knows / The Walk / Worrying Over You / Goodnite Irene / I Hope / Oh Lonesome Me / One More Glass Of Wine / The Jealous Kind / See You Later, Alligator / Cross My Heart / Walking To New Orleans / Who's Sorry Now / I Hope (undubbed version) / Preacher's Daughter (alternate take) / The Walk (alternate stereo mix) / Oh Lonesome Me (alternate stereo mix) / One More Glass Of Wine (alternate stereo mix)
03/2004
CD RICE 'N' GRAVY / PROPER PRPCD016 (UK)
LAST TRAIN TO MEMPHIS - Last Train To Memphis / The Legend Of Jolie Blond / I Spent All My Money Loving You / String Of Hearts / I Wonder / Everyday / Don't Make A Fool Of Yourself / Homesick Blues / Forever And Always / The Sky Isn't Blue Anymore / Full Moon On The Bayou / What Are We Doing / Sing / Going' Fishin' / See You Later Alligator
04/2004
2 CD BOGALUSA 350 (US)
LAST TRAIN TO MEMPHIS :

CD 1 : Last Train To Memphis / The Legend Of Jolie Blonde / I Spent All My Money Lovin' You / String Of Hearts / I Wonder / Everyday / Don't Make A Fool Of Yourself / Homesick Blues / Forever And Always / The Sky Isn't Blue Anymore / Full Moon On The Bayou / What Are We Doing / Sing / Goin' Fishing / See You Later, Alligator
CD 2 : I Can't Quit You / Secrets / Angel Eyes / But I Do / Party Town / I Don't Want To Know / Love In The Worst Degree / Why Are People Like That? / I Believe In Angels / Les Champs Élysée / Not Ready Yet / The Jealous Kind / I Want To Be The One / Walking To New Orleans / I Remember When / Ambushin' Bastard / I Don't See Me / Wish You Were Here Right Now / Clean Water

09/2006
CD FUEL 2000 61613 (US)
AN INTRODUCTION TO BOBBY CHARLES - Ain't Misbehavin' / Preacher's Daughter / Everybody's Laughing / Everybody Knows / The Walk / Worrying Over You / Goodnight Irene / I Hope / Oh Lonesome Me / One More Glass Of Wine / The Jealous Kind / See You Later Alligator / Cross My Heart / Walking To New Orleans / Who's Sorry Now / I Hope / Preacher's Daughter / The Walk / Oh Lonesome Me / One More Glass Of Wine
05/2008
CD RICE 'N' GRAVY RIC0515 (US)
HOMEMADE SONGS - Football Blues / Queen Bee / Pick Of The Litter / But I Do / Cowboys And Indians / Mardi Gras Song / Too Blue / The Truth Will Set You Free (Promises, Promises) / Homemade Songs / Seize The Moment / Rose / Always Been A Gambler / Here I Go Again / Tennessee Blues / Sweep 'Em
????
CD BLACK TULIP 2009 (?)
LATER ALLIGATOR - See You Later, Alligator / Let The Four Winds Blow (previously unreleased) / What Can I Do (1st Time on CD) / Put Your Arms Around Me, Honey / (Only) Time Will Tell / I'll Turn Square For You / Mr. Moon / On Bended Knee / At The Jamboree (1st Time On CD) / Don't You Know I Love You / One Eyed Jack / Watch It, Sprocket / Take It Easy, Greasy / Laura Lee / No Use Knocking / Why Can't You / Yeah Yeah / I'd Like To Know / I Ain't Gonna Do It No More / Hey Good Lookin' / Why Did You Leave / Ain't Got No Home / You Can Suit Yourself / Good Lovin' / Lonely Street
02/2010
CD RICE 'N' GRAVY RIC 517 (US)
TIMELESS - Happy Birthday Fats Domino / Where Did All The Love Go / Nickles, Dimes And Dollars / Clash Of Cultures / Little Town Tramp / Nobodyfs Fault But My Own / Before I Grow Too Old / Old Mexico / Rollin' Round Heaven / When Love Turns To Hate / Take Back My Country / Youfll Always Live Inside Of Me / Happy Halloween
07/2010
CD BEAR FAMILY BCD 17207 (GER)
SEE YOU LATER, ALLIGATOR - Later Alligator (See You Later, Alligator) (with The CARDINALS) / On Bended Knee (with The CARDINALS) / Watch It, Sprocket / Why Did You Leave / Don't You Know I Love You (You Know I Love You) / Why Can't You / Take It Easy Greasy / Time Will Tell / Ain't Got No Home / No Use Knocking / You Can Suit Yourself / Laura Lee / I'm a Fool To Care / Mr. Moon / I'll Turn Square For You / Lonely Street / Over Yonder / Put Your Arms Around Me, Honey / One Eyed Jack / Yea Yea Baby (Yeah Yeah) / Good Lovin' / Your Picture / Teenagers / I'd Like To Know / Tell Me Baby / Lovesick Blues / Hey Good Lookin' / No More (I Ain't Gonna Do It No More)
11/2010
CD HIGH NOTE GVC 1009 (US)
AFTER A WHILE CROCODILE... THE 50'S ANTHOLOGY - See You Later, Alligator / On Bended Knee / Hey Good Lookin' / Why Did You Leave / Don't You Know I Love You / Watch It, Sprocket / Time Will Tell / Take It Easy, Greasy / Ain't Got No Home / Laura Lee / No Use Knocking / Put Your Arms Around Me, Honey / Why Can't You / Lonely Street / Mr. Moon / I'll Turn Square For You / No More (I Ain't Gonna Do It) / You Can Suit Yourself / One Eyed Jack / Yea Yea Baby / Good Lovin' / Since She's Gone / At The Jamboree / Since I Lost You / Oh! Yeah / What Can I Do / The Town Is Talking / Bye Bye Baby / Those Eyes / What A Party / I Just Want You / Four Winds / Nothing As Sweet As You
01/2020
2 CD JASMINE JASCD 858 (US)

Alligators, Sprockets and Bended Knees :

CD 1 : Later Alligator / On Bended Knee / Hey Good Lookin' / Why Did You Leave / Don't You Know I Love You / Watch It Sprocket / Time Will Tell / Take It Easy, Greasy / Ain't Got No Home / Laura Lee / No Use Knocking / LonelyStreet / Mr Moon / I'm A Fool To Care / Over Yonder / I'll Turn Square For You / Put Your Arms Around Me Honey / Why Can't You / No More (IAin't Gonna Do It) / You Can SuitYourself / One Eyed Jack / Yea Yea Baby (Yeah Yeah) / Good Lovin' / Your Picture
CD 2 ; Since She's Gone / At The Jamboree / Since I Lost You / Oh! Yeah / What Can I Do / The Town Is Talking / Bye Bye Baby / Those Eyes / What A Party / I Just Want You / Four Winds / Nothing As Sweet As You / Teenagers / Tell Me Baby / I'd Like To Know / Lovesick Blues / See You Later Alligator (Bill HALEY & The

Comets

) /

Before I Grow Too Old (Fats DOMINO) / Good Lovin' (John FRED) / Fats Domino - Walking to New Orleans (Fats DOMINO) / But I Do (Clarence 'Frogman'

Henry

) / It Keeps Raining (Fats DOMINO) / On Bended Knees (Clarence 'Frogman'

Henry

) / Your Picture (Johnnie ALLAN & The KRAZY KATS)
© Rocky Productions 1/02/2020