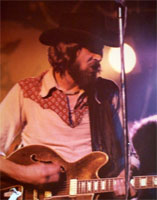 Chanteur Country US né le 3 Mai 1944 à Corpus Christie (Texas), mais installé à Austin (Texas). Rusty Wier est décédé le 9 Octobre 2009

Texas singer/songwriter Rusty Wier found a gold mine when he wrote "Don't It Make You Wanna Dance." More than half a dozen different singers recorded the song, including Chris Le Doux, Jerry Jeff Walker, and Barbara Mandrell. But it was Bonnie Raitt singing it on the soundtrack for Urban Cowboy that put it on the map in a big way when sales were certified as double platinum. Years earlier, his first taste of entertaining wasn't nearly as lucrative, but it did make a lasting impression.
Wier found out that he liked to bring smiles to an audience when he was just three years old and galloping on a toy stick horse among the tables of his father's Austin restaurant, accompanied by "the William Tell Overture." He hasn't stopped since, although the venues and the pay scale have changed a bit over the years. A decade after that first experience, Wier began playing drums with an outfit called the Centennials. He moved on to local rock groups Lavender Hill Express and Wig, playing with them for about a decade. When Lavender Hill Express derailed, Wier picked up a guitar and learned how to play the instrument without any formal music instruction. The self-taught guitarist, having learned how to play from nothing but an instruction book, went on to perform with numerous artists, among them the Marshall Tucker Band, Gatemouth Brown, the Charlie Daniels Band, Willie Nelson, Steve Fromholtz, Asleep At The Wheel, the Amazing Rhythm Aces, and Ozark Mountain Daredevils. At one point, his opening act was an up-and-coming country singer named George Strait. Wier, with artists such as Michael Martin Murphey and Walker, was present at the start of the movement that became known as "the Austin Sound." ABC Records was the first company to record Wier. He later inked deals with Columbia Records and 20th Century.
https://en.wikipedia.org/wiki/Rusty_Wier
Talents : Vocals, Guitar
Style musical : Traditional Country, Alternative Country

http://www.youtube.com/watch?v=yyMyJJyKc3o
Years in activity :
| | | | | | | | | | | | |
| --- | --- | --- | --- | --- | --- | --- | --- | --- | --- | --- | --- |
| 1910 | 20 | 30 | 40 | 50 | 60 | 70 | 80 | 90 | 2000 | 10 | 20 |
DISCOGRAPHY
Singles
| | | | |
| --- | --- | --- | --- |
| 08/1974 | SP ABC ABC-12019 (US) | . | Jeremiah Black / Stoned,slow,rugged |
| 04/1975 | SP 20TH CENTURY TC-2188 (US) | . | I Heard You Been Layin' My Old Lady / Aqua Dulce |
| 05/1975 | SP 20TH CENTURY TC-2195 (US) | . | My Old Lady (Apologies To Susie ) / My Old Lady (Apologies To Susie ) |
| 08/1975 | SP 20TH CENTURY TC-2219 (US) | . | Don't It Make You Wanna Dance / Believe In The Way That You Love Me |
| 1975 | SP PHILIPS 6162 076 (NL) | | Fly Away / Pass The Buck |
| 1976 | SP 20TH CENTURY TC-2273 (US) | . | I Don't Want To Lay This Guitar Down / I Don't Want To Lay This Guitar Down |
| 11/1976 | SP COLUMBIA 3-10445 (US) | . | Me And Daisy On The Run / I Think It's Time |
| 08/1977 | SP COLUMBIA 3-10600 (US) | . | Good Good Lovin' / Good Good Lovin' |
| 1979 | SP TEXAS SPIRIT TS-0001 (US) | . | Texas Spirit / Number One Front Door Man |
| 05/1983 | SP COMPLEAT CP-107 (US) | . | You Give Me A Reason / Don't It Make You Wanna Dance? |
| 02/1984 | SP COMPLEAT CP-121 (US) | . | Lone Star Lady / I Still Believe In You |
| 1985 | SP Longhorn LR-101 (US) (promo) | . | Other Side Of The Hill / Other Side Of The Hill |
| 04/1987 | SP BLACK HAT BHR-102 | . | Close Your Eyes / Kum-Bak Bar And Grill |
| 07/1987 | SP BLACK HAT BHR-103 | . | Other Side Of The Hill / I Kept Thinkin' About You |
Albums
05/1974
LP 12" ABC ABCX-820 (US)

STONED, SLOW, RUGGED -

Whiskey Still - Whiskey Man / Easier To Hurt / Texas Morning / Painted Lady / Busted / Stoned, Slow, Rugged / Jeremiah Black / Country Style / Cobey's Song / Railroad Man
07/1975
LP 12" 20TH CENTURY T-469 (US)

DON'T IT MAKE YOU WANNA DANCE? -

Don't It Make You Wanna Dance? / I Believe In The Way That You Love Me / Trouble / Blue Haze / Aqua Dulce / Relief / Sing Me / Sally Mae / I Heard You Been Layin' My Old Lady / Tulsa Turnaround / Cloudy Days
1975
LP 12" 20TH CENTURY T-495 (US)
RUSTY WIER - Fly Away / I Don't Want To Lay This Guitar Down / Sophia / Seminole Jail / Queen Of My Dreams / Listen To My Song / Just One More Time / Basic Lady / Long & Lonesome Highway Blues / Dixie Lynn / Pass The Buck
09/1976
LP 12" COLUMBIA PC-34319 (US)
BLACK HAT SALOON - Black Hat Saloon / The Devil Lives In Dallas / Silly Rhymes / High Road-Low Road / The Coast Of Colorado / Tell Me Truly Julie / Lisa / Honey Dew / I Think It's Time (I Learned How To Let Her Go) / Me And Daisy On The Run
05/1977
LP 12" COLUMBIA PC-34775 (US)

STACKED DECK -

Walkin Through New Orleans / Sundown Sally / Good Good Lovin' / Black Queen / Goodnite Angel / Black Molly Blues / Think About It / Burned / Lola / Let Me Down Again
1987
LP 12" Black Hat BHR-1100 (US)
KUM-BAK BAR & GRILL - Kumback Bar & Grill / Cheryl Doreen / Daytime Drinkin' / Wonderful Tonight / I Kept Thinkin' About You / Lover Of The Other Side Of The Hill / Close Your Eyes / Alibi Lies / All My Give A Damn Is Gone / Lone Star Lady
01/1995
CD PDR PDR-1050 (US)
LIVE AT POOR DAVID'S PUB 1994 - Introduction / I Think It's Time (I Learned How To Let Her Go) / Coast Of Colorado / I Heard You Been Layin' My Old Lady / Black Magic Gun / Creek Water Coffee / Aqua Dulce / Hot Spot / Fast Horses / You've Lost That Lovin' Feelin' / Amie
1997
CD BERTO 1 (US)

ARE WE THERE YET? -

Pirogue Joe / Cowboy Who Loves To Sing The Blues / My Side Of The Story / Getaway Holiday / Fannin' The Fire / Down On The Bayou / Mr. Right / Quervo's Gold / Dark Cloud / Hot Spot
01/1999
CD PDR PDR-1080 (US)
RUSTY & SON - Lay This Guitar Down / Pirough Joe / Quervo's Gold / 1-2 Buckle My Shoe / Getaway Holiday / Fannin' The Fire / Try A Little Tenderness / Cowboy Who Loves To Sing The Blues
2001
CD RUSTY WIER 3715 (US)
LIVE AT GRUENE HALL - Outlaw Love / He's Not The Man / Running With The Wrong Crowd / Still Waters Run Deep / Take It Slow / Pirogue Joe / Painted Lady / Don't It Make You Wanna Dance?
2002
CD RUSTY WIER 37672 (US)
I STOOD UP - Outlaw Love / Without You / Eliza Jane / I Got You / Truly Julie / Still Waters Run Deep / Thick And The Thin / Long - Lonesome Highway Blues / Sunrise In Port A / I Stood Up
10/2002
CD WESTSIDE 919 (UK)
BLACK HAT SALOON /

STACKED DECK -

Black Hat Saloon / The Devil Lives In Dallas / Silly Rhymes / High Road-Low Road / Coast Of Colorado / Tell Me Truly Jane / Lisa / Honey Dew / I Think Its Time (I Learned How To Let Her Go) / Me And Daisy On The Run / Walkin' Thru New Orleans / Sundown Sally / Good, Good Lovin' / Black Queen / Midnight Angel / Black Molly Blues / Think About It / Burned / Lola / Don't Let Me Down Again / Let The Good Times Roll
2003
CD Harlequin 4400697702 (B)

Under My Hat - Listen To My Song / Just One More Time / Don't It Make You Wanna Dance / I Don't Want To Lay This Guitar Down / Fly Away / Sally Mae / Trouble / Believe In The Way That You Love Me / Aqua Dulce / I Heard That You've Been Laying' My Old Lady / Texas Morning / Black Hat Saloon / The Devil Lives In Dallas / The Coast Of Colorado

09/2005
CD HAT CREEK ? (US)

LIVE FROM THE TEXAS THEATER -

Intro - Hot Spot / Two Dogs Howlin' At The Moon / The Viagra Song / The Valentine Song / Cheryl Doreen / The Cowboy Who Loves To Sing The Blues / Burn Down The Beerjoint / Thick & The Thin / I Heard You Been Layin' My Old Lady / Cuervo's Gold / Don't It Make You Wanna Dance
© Rocky Productions 10/05/2020