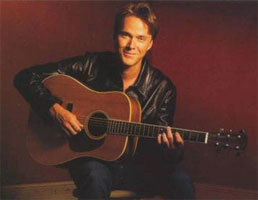 Chanteur Country US né le 17 Février 1974 à Lawton (Oklahoma).

With his big voice, easy-going manner, and streamlined mainstream country-pop, Bryan White easily fit into the post-Garth Brooks climate of the mid-'90s. His first album, Bryan White, began a string of number one hits that ran into 1996.
White was born and raised in Oklahoma City, where he became involved in music in an early age. Both of his parents were professional local musicians and when Bryan was five, his father taught him how to play drums. As a teenager, he played drums in both of his mother and father's band -- his mom sang rock & roll, his father country -- which gave him a broad musical knowledge and skill. Eventually, he formed his own trio. At first, he only drummed but during a sound check his mother heard him sing "Stand By Me." After the song was over, his mother was in tears and she encouraged him to become a vocalist himself. In no time, he learned how to play guitar and began writing songs.
Following his graduation from high school, White headed to Nashville, where he hooked up with Billy Joe Walker, Jr., a family friend who happened to be a session musician in the Music City. Over the next two years, Walker helped White hone his act and helped him land a job as a demo singer. Eventually, producer Kyle Lehning, who worked with Randy Travis and Dan Seals in the past, began working with Walker and White. The three crafted Bryan White's debut album and landed the singer a record contract with Asylum. The self-titled debut appeared in 1994.
The first two singles from the record -- "Eugene You Genius" and "Look At Me Know" -- didn't gather much attention, with the latter peaking at number 24. However, in the spring of 1995, "Someone Else's Star" rocketed to number one, followed by "Rebecca Lynn" in the fall. In the spring of 1996, his second album, Between Now and Forever, was released, accompanied by the number one single "I'm Not Supposed to Love You Anymore." "So Much for Pretending" became his fourth number one single in a row in the fall of 1996. Also in the fall, he won the Country Music Association's 1996 Horizon Award, as well as their award for Best New Touring Artist. The Right Place followed in 1997, and two years later White resurfaced with How Lucky I Am. His first seasonal release, Dreaming of Christmas, appeared in 1999. Warner Bros. pulled together his four number-one hits and a handful of Top 20s for a Greatest Hits album, released in late 2000.
https://en.wikipedia.org/wiki/Bryan_White
Talents : Vocals, Guitar
Style musical : Contemporary Country
Years in activity :
| | | | | | | | | | | | |
| --- | --- | --- | --- | --- | --- | --- | --- | --- | --- | --- | --- |
| 1910 | 20 | 30 | 40 | 50 | 60 | 70 | 80 | 90 | 2000 | 10 | 20 |
DISCOGRAPHY
Singles & EP
09/1994
SP ASYLUM 7-64510 (US)
.

Eugene You Genius / Going, Going, Gone

1994
CD ASYLUM APRO-0020 (US) (promo)
.

Eugene You Genius (dance mix) / Eugene You Genius (beat mix) / Eugene You Genius (album version)

12/1994
CD ASYLUM APCD-9081 (US)
.
Look At Me Now
01/1995
SP ASYLUM 7-64489 (US)
.

Look At Me Now / Helpless Heart

05/1995
SP ASYLUM 7-64435 (US)
.

Someone Else's Star / This Town

10/1995
SP ASYLUM 7-64360 (US)
.

Rebecca Lynn / Nothing Less Than Love

02/1996
SP ASYLUM 7-64313 (US)
.

I'm Not Supposed To Love You Anymore / Blindhearted

1996
CD ASYLUM APCD-9468 (US) (promo)

I'm Not Supposed To Love You Anymore (album version)

06/1996
SP ASYLUM 7-64267 (US)
.

So Much For Pretending / On Any Given Night

1996
CD ASYLUM APCD-9752 (US) (promo)
.

Sittin' On Go

08/1997
SP ASYLUM 7-64152 (US)
.

Love Is The Right Place / Between Now And Forever

1997
CD ASYLUM APCD-9863 (US) (promo)
.
Love Is The Right Place
1997
CD ASYLUM APCD-9944 (US) (promo)
.

One Small MIracle

1998
CD ASYLUM APCD-1151 (US) (promo)
.

Tree Of Hearts

06/1999
SP ASYLUM 7-64035 (US)

You're Still Beautiful To Me / Shari Ann

10/1999
CD ELEKTRA 62464 (US)
DREAMING OF CHRISTMAS - I'll Be Home For Christmas / Winter Wonderland / Holiday Inn / I Can't Wait 'Til Christmas / Santa Claus Is Comin' To Town / On Bright Star (This Christmas Night)
2005
CD Covenant ? (US) (limited edition)

Out Of The Storm - Get It Together! /When You Come Around / Hands Of Time (with Steve Wariner) / The Little Things / On My Own (Hymn Of The Road)

11/2006
CD Covenant (US)

My Christmas Project - White Christmas / The First Noel / God Rest Ye Merry Gentlemen / Santa Claus Is Coming To Town (live) / The Heart Of Christmas

06/2014
CD Just a Pop ? (US)

Shine -

Another Day In The Sun / Amen / Call Me Crazy / Born To Be Somebody / Another Man's Shoes / What I Already Know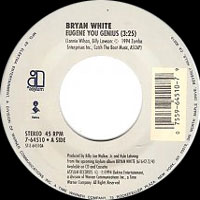 Albums
10/1994
CD ASYLUM 61642-2 (US)
BRYAN WHITE - Eugene You Genius

/

You Know How I Feel / This Town / Someone Else's Star / Look At Me Now / Rebecca Lynn

/

Me And The Moon / Nothing Less Than Love / Going Going Gone / Helpless Heart
03/1996
CD ASYLUM 61880-2 (US)
BETWEEN NOW AND FOREVER - Sittin' On Go/ Still Life / Blindhearted / Nickel In The Well / I'm Not Supposed To Love You Anymore

/

So Much For Pretending

/

Between Now And Forever / Hundred And One / On Any Given Night / That's Another Song
06/1997
CD VIRGINIA 3120 (US)
JACK AND THE BEANSTALK - Froggy's Country Storybook Theme - Country Boy - Tall Tall Trees - Mama Tried / Country Boy / Tall Tall Trees / Fee Fi Fo Fumm / Mama Tried / Twenty-Two Chickens / All The Gold In California / Froggy's Country Storybook Theme Song
09/1997
CD ASYLUM 62047-2 (US)
THE RIGHT PLACE - Love Is The Right Place / What Did I Do (To Deserve You) / Never Get Around To It / Leave My Heart Out Of This / Natural Thing / One Small Miracle / Tree Of Hearts

/

We Could Have Been / Bad Day To Let You Go

/

Call Me Crazy
1998
CD VIRGINIA VCDA 3121 (US)

Froggy Country Storybook Presents - Jack And The Beanstalk - Froggy's Country Storybook Theme / Country Boy / Tall Trees / Mama Tried / Fee Fi Fo Fum / Twenty-Two Chickens / All The Gold In Colifornia

08/1999
CD ASYLUM 62278-2 (US)
HOW LUCKY I AM - Everywhere I Turn / Heaven Sent / Stayin' / You're Still Beautiful To Me / That Good / Love Me Like You Mean It / God Gave Me You / Love Happens Just Like That / Shari Ann / Two In A Million / How Lucky I Am / You'll Always Be Loved (By Me).
10/1999
CD ASYLUM 62464-2 (US)

Dreaming Of Christmas - I'll Be Home For Christmas / Winter Wonderland / Holiday Inn / I Can't Wait 'Til Christmas / Santa Claus Is Coming To Town / One Bright Star (This Christmas Night)

10/2000
CD ELEKTRA 9 47980-2 (US)
GREATEST HITS - Love Is the Right Place / Rebecca Lynn / Sittin' On Go / I'm Not Supposed To Love You Anymore (with Shania TWAIN) / How Long / From This Moment On / That's Another Song / So Much For Pretending / Way You Look At Me / One Small Miracle / Look At Me Now / Someone Else's Star
02/2008
CD Rhino Flashback 384764 (US)

Rebecca Lynn And Other Hits - Eugene You Genius / Look At Me Now / Rebecca Lynn / Between Now And Forever / So Much For Pretending / Bad Day To Let You Go / Love Is The Right Place / How Lucky I Am / Love Me Like You Mean It / You're Still Beautiful To Me

09/2009
CD As Is 3300074 (US)

Dustbowl Dreams - Dustbowl Dreams / Say When / The Little Things / Get It Together / When You Come Around / Hands Of Time / Beautiful Place / A Place To Come Home / Erika's Song / On My Own (Hymn Of The Road) / Dustbowl Dreams (reprise) / Call Me Crazy
© Rocky Productions 12/04/2020