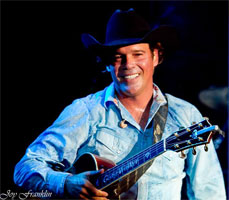 Chanteur Country US né le 19 Août 1969 à Beaumont (Texas).

With his first two singles reaching number one upon their release, Clay Walker immediately established himself as a commercial success. Unlike most of his new country contemporaries of the mid-'90s, he was able to sustain that success over a couple of years, racking up no less than five number one singles in the first three years of his career. Walker (born August 19, 1969) was born and raised on a farm in Beaumont, TX, the hometown of George Jones. He fell in love with country music at an early age, when his father gave him a guitar when he was only nine years old. After he graduated from high school, Walker pursued a musical career full-time, playing concerts across the South, the Midwest, and Canada. For over three years, he toured and went to school, taking courses about the music business. During this time, he acted as his own manager. Eventually, he became the house singer at the Neon Armadillo bar in Beaumont. While performing at the club, producer James Stroud heard Walker and offered to work with the singer. Stroud helped Walker secure a contract with Giant Records, and the pair began working on the vocalist's debut album.
"What's It to You" became a number one hit upon its release in August of 1993, with "Live Until I Die" following it into the pole position later that same year. Both singles were featured on his debut album, Clay Walker, which was released in the fall of 1993. "Where Do I Fit in the Picture," the third single from the album, became a number 11 hit in early 1994. "White Palace" was a flop, failing to crack the Top 40, but "Dreaming with My Eyes Open" became his third number one hit in the summer of 1994, helping make his debut record a platinum album. If I Could Make a Living was not quite as successful as his debut, yet it still yielded the number one title track. Hypnotize the Moon, Walker's third album, appeared in the fall of 1995, preceded by the number two single "Who Needs You Baby." He followed with Self Portrait in 1996 and Rumor Has It in 1997. A Greatest Hits collection appeared in 1998 and a new album, Live, Laugh, Love, was released in 1999. Say No More followed two years later, with A Few Questions arriving in 2003 and Fall, his Curb debut, in 2007. Walker did nonstop touring in 2008 in support of the album and began to record She Won't Be Lonely Long. The album was released on Curb in June of 2010 preceded by the title track as a single, which charted at number 13 on the Billboard Country chart.
https://en.wikipedia.org/wiki/Clay_Walker
Talents : Vocals, Guitar
Style musical : Contemporary Country, Traditional Country

https://youtu.be/E3n9HtxzuBI
Years in activity :
| | | | | | | | | | | | |
| --- | --- | --- | --- | --- | --- | --- | --- | --- | --- | --- | --- |
| 1910 | 20 | 30 | 40 | 50 | 60 | 70 | 80 | 90 | 2000 | 10 | 20 |
DISCOGRAPHY
Singles & EP
07/1993
SP GIANT 7-18450 (US)
.
What's It To You / Where Do I Fit In The Picture
10/1993
SP GIANT 7-18332 (US)
.
Live Until I Die / Silence Speaks For Itself
10/1993
CD GIANT PRO-CD-6559 (US) (promo)

Live Until I Die [single version]

02/1994
SP GIANT 7-18210 (US)
.
Where Do I Fit In The Picture / Money Can't Buy (The Love We Had)
06/1994
SP GIANT 7-18139 (US)
.
Dreaming With My Eyes Open / Money Can't Buy (The Love We Had)
09/1994
SP GIANT 7-18068 (US)
.
If I Could Make A Living / Down By The Riverside
12/1994
SP GIANT 7-17995 (US)
.
This Woman And This Man / Lose Your Memory
12/1994
CD GIANT PRO-CD-7267 (US) (promo)
This Woman And This Man
1994
CD GIANT PRO-CD-4234-R (US) (promo)

Blue Christmas (album version) / Blue Christmas (album version) / Blue Christmas (album version)

04/1995
SP GIANT 7-17887 (US)
.
My Heart Will Never Know / Money Ain't Everything
04/1995
CD GIANT PRO-CD-7531 (US) (promo)
My Heart Will Never Know
09/1995
SP GIANT 7-17771 (US)
.
Who Needs You Baby / Where Were You
09/1995
CD GIANT PRO-CD-7762 (US) (promo)
Who Needs You Baby (album version)
01/1996
SP GIANT 7-17704 (US)
.
Hypnotize The Moon / Cowboy's Toughest Ride
01/1996
CD GIANT PRO-CD-7978 (US) (promo)
Hypnotize The Moon (album version)
1996
CD GIANT PRO-CD-8195 (US) (promo)

Only On Days That End In Y

1996
CD GIANT PRO-CD-8397 (US) (promo)
.

Bury The Shovel (radio edit) / Bury The Shovel (album version)

1996
CD NU MILLENNIA 71703 (US)
SELF PORTRAIT - Boogie Till The Cows Come Home / If I Could Make A Living / Live Until I Die / Down By The Riverside / Who Needs You Baby
04/1997
SP GIANT 7-17351 (US)
.
One, Two, I Love You / Country Boy And City Girl
04/1997
CD GIANT PRO-CD-8749 (US) (promo)
One, Two, I Love You (album version)
1997
CD GIANT PRO-CD-8926 (US) (promo)

Watch This (album version)

01/1998
SP GIANT 7-17262 (US)
.
Then What? / Country Boy And City Girl
01/1998
CD GIANT 9 17262-2 (US)
Then What? / Country Boy And City Girl
1998
CD GIANT ? (US) (promo)
Then What? (dance mix)
05/1998
SP GIANT 7-17210 (US)
.
Ordinary People / Next Step Is Love
05/1998
CD GIANT 9 17210-2 (US)

Ordinary People (album version) / Next Step In Love (album version)

08/1998
SP GIANT 7-17158 (US)
.
You're Beginning To Get To Me / Lose Your Memory
1999
CD GIANT PRO-CD-G1999-2 (US) (promo)

She's Always Right (album version) / She's Always Right (album version) / She's Always Right (album version)

1999
CD GIANT

PRO-CD-98895-R

(US) (promo)

Live, Laugh, Love (single edit)

1999
CD GIANT

PRO-CD-100059-R

(US) (promo)

The Chain Of Love (single version) / The Chain Of Love (single version) / The Chain Of Love (single version)

2001
SP GIANT 7-16738 (US)
.
If You Ever Feel Like Lovin' Me Again / La Bamba
2002
CD WARNER BROS.

PRO-CDR-101007

(US)
.

Feliz Navidad

2003
CD RCA

82876-52129-2

(US) (promo)

A Few Questions
| | |
| --- | --- |
| | |
Albums
07/1993
CD GIANT 9 24511-2 (US)
CLAY WALKER - Dreaming With My Eyes Open / What's It To You / Silence Speaks For Itself / How To Make A Man Lonesome / Next Step In Love / White Palace / Money Can't Buy (The Love We Had) / Things I Should Have Said / Where Do I Fit In The Picture / Live Until I Die / I Don't Know How Love Starts
09/1994
CD GIANT 9 24582-2 (US)
IF I COULD MAKE A LIVING - If I Could Make A Living / Melrose Avenue Cinema Two / My Heart Will Never Know / What Do You Want For Nothin' / This Woman And This Man / Boogie Till The Cows Come Home / Heartache Highway / You Make It Look So Easy / Lose Your Memory / Money Ain't Everything / Down By The Riverside
10/1995
CD GIANT 9 24640-2 (US)
HYPNOTIZE THE MOON - Who Needs You Baby / I Won't Have The Heart / Let Me Take That Heartache / Hypnotize The Moon / Hand Me Down Heart / Only On Days That End In Y / Where Were You / Loving You Comes Naturally To Me / Bury The Shovel / Cowboy's Toughest Ride / Love Me Like You Love Me
04/1997
CD GIANT 9 24674-2 (US)
RUMOR HAS IT - Rumor Has It / One Two I Love You / I'd Say That's Right / Heart Over Head Over Heels / Watch This / You'll Never Hear The End Of It / Country Boy And City Girl / I Need A Margarita / That's Us / Then What
06/1998
CD GIANT 9 24700-2 (US)
GREATEST HITS - What's It To You / You're Beginning To Get To Me / Live Until I Die / This Woman And This Man / Dreaming With My Eyes Open / Rumor Has It / Hypnotize The Moon / Then What, Where Do I Fit In The Picture / If I Could Make A Living / Ordinary People / Only On Days That End In Y / Watch This / Who Needs You Baby
1998
CD GIANT

2 24717-A

(US) (promo)
LIVE, LAUGH, LOVE - She's Always Right / Lose Some Sleep Tonight / Holding Her And Loving You / Cold Hearted / If A Man Ain't Thinking (Bout His Woman) / Once In A Lifetime Love / It Ain't Called Heartland (For Nothin') / Woman Thing / This Time Love / Chain Of Love / Live Laugh Love
08/1999
CD GIANT 9 247172-2 (US)
LIVE, LAUGH, LOVE - She's Always Right / Lose Some Sleep Tonight / Holding Her And Loving You / Cold Hearted / If A Man Ain't Thinking (Bout His Woman) / Once In A Lifetime Love / It Ain't Called Heartland (For Nothin') / Woman Thing / This Time Love / Chain Of Love / Live Laugh Love
03/2001
CD GIANT 9 24759-2 (US)
SAY NO MORE - Say No More / Real, If You Ever Feel Like Lovin' Me Again / Could I Ask You Not To Dance / La Bamba / You Deliver Me / I Love It / She's Easy To Hold / Rough Around The Edges / Texas Swing / So Much More
09/2002
CD WARNER BROS. 48235-2 (US)
CHRISTMAS - Silent Night - Away In A Manger / Mary Did You Know / O Come All Ye Faithful / Go Tell It On The Mountain / I'll Be Home For Christmas / Rudolph The Red-Nosed Reindeer / Winter Wonderland / Please Come Home For Christmas / Frosty The Snowman / White Christmas / Feliz Navidad
09/2003
CD RCA 07863-67068-2 (US)
A FEW QUESTIONS - Few Questions / Everybody Needs Love / Sweet Sun Angel / Jesus Was A Country Boy / I Can't Sleep / Coming Back Again / Heaven Leave The Light On / I'm In The Mood For You / When She's Good She's Good / This Is What Matters / Countrified / I Don't Want To Know / I Can't Forget Her
04/2007
CD CURB D2-78963 (US)
FALL - 'Fore She Was Mama / Fall / Workin' Man / Miami And Me / She Likes It In The Morning / Mexico / You're My Witness / Average Joe / It Ain't Pretty (But It's Beautiful) / Before The Next Teardrop Falls (with Freddy FENDER) / I'd Love To Be Your Last / I Hate Nights Like This
07/2007
CD Rhino R2-79967 (US)

The Platinum Collection - What's It To You / Live Until I Die / Dreaming With My Eyes Open / If I Could Make A Living / This Woman And This Man / Who Needs You Baby / Hypnotize The Moon / Rumor Has It / Watch This / Then What / You're Beginning To Get To Me / Chain Of Love / Where Do I Fit In The Picture / My Heart Will Never Know / Only On Days That End In Y / She's Always Right / Live Laugh Love / White Palace / Holding Her And Loving You / Ordinary People

06/2010
CD CURB D2-79182 (US)
SHE WON'T BE LONELY LONG - She Won't Be Lonely Long / Like We Never Said Goodbye / Where Do I Go From You / Keep Me From Loving You / Jesse James / Double Shot Of John Wayne / Seven Sundays / All American / Summertime Song / Wrong Enough To Know / People In Planes / Feel So Right
02/2014
CD CURB D2-79376 (US)

Best Of Clay Walker - She Won't Be Lonely Long / Fall / 'Fore She Was Mama / This Woman And This Man (2014 version) / What's It To You (2014 version) / Live Until I Die (2014 version) / I Can't Sleep (2014 version) / Then What? (2014 version) / Rumor Has It (2014 version) / Dreaming With My Eyes Open (2014 version)

07/2021
CD Show Dog 31508CD (US)
TEXAS TO TENNESSEE - Anything To Do With You / Need A Bar Sometimes / Catching Up With An Ol' Memory / Country Side / Cowboy Loves A Woman / Texas To Tennessee / I Just Wanna Hold You / Loving You Then / You Look Good / One More
© Rocky Productions 22/08/2021