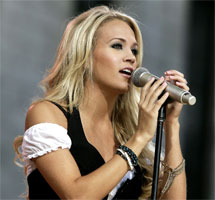 Chanteuse Country US nťe le 10 Mars 1983 ŗ Checotah, Oklahoma.

It's true that Carrie Underwood sprang to fame as an American Idol winner, but her career needs to be defined in the context of country superstars instead of reality-show contestants. Her millions of records sold, her dozens of awards from the country music academy and the Grammys, her many record-breaking feats on the charts, and her status as one of the most powerful people in the music business all testify to her staying power beyond American Idol.
Underwood grew up in the small town of Checotah, Oklahoma, and began singing with her church at the tender age of three. She performed throughout her childhood, eventually moving on to festival gigs in several states. Along with developing her singing, Underwood learned to play guitar and piano. She graduated from high school as her class salutatorian and majored in mass communication at Northeastern State College with an eye on a career in broadcast journalism, but continued her singing career throughout her studies.
As a senior just a few credits short of her degree, Underwood heard about the auditions for the 2005 season of American Idol. She tried out for the show at the St. Louis, Missouri auditions, and her innocent charm and pure, pretty voice ended up winning her not only a place among the 12 finalists, but the title of 2005's American Idol. Her debut single, "Inside Your Heaven," was released that summer, and she finished recording her debut album after completing the American Idols Live! tour. Some Hearts was released later that fall and became a smash hit, selling over 300,000 copies in its first week and eventually going platinum a whopping seven times. The album's lead single, "Jesus, Take the Wheel," was also a big success, topping Billboard's Hot Country Songs chart for six weeks.
Acclaim for the album and single spilled over into 2006, when Some Hearts re-entered Billboard's Top Ten after Underwood's appearance on the 2006 American Idol finale. Meanwhile, "Jesus, Take the Wheel" won Single Record of the Year at the Academy of Country Music Awards (where she also won Top New Female vocalist); a Dove Award from the Gospel Music Association; and Breakthrough Video and Best Female Video at the CMT Awards, making her the only double winner at the event. Despite her hectic career as a country music star -- which included carrying her tour through the fall of 2006 -- Underwood found the time to finish her degree. "Before He Cheats" was released as Underwood's third single late in 2006, and became her third country number one and her fourth total number one hit. That December, she won five Billboard Music Awards: Album of the Year, Top 200 Female Artist of the Year, Female Country Artist, New Country Artist, and Country Album of the Year.
Early in 2007, Underwood began work on her second album, while "Wasted" became the fourth single taken from Some Hearts; she performed it on an episode of American Idol that March, and the following month it hit number one on the Hot Country Songs Chart. Underwood gathered more accolades by winning two awards at the 2007 CMT Awards -- Video of the Year and Female Video of the Year for "Before He Cheats" -- and taking home two Grammys. She also took home three 2007 ACM Awards in May, which included Album of the Year for Some Hearts and Top Female vocalist. She made another trip to American Idol late in the month for the sixth season finale, where she sang "I'll Stand by You" to a standing ovation. During the show, Clive Davis recognized Underwood's sextuple-platinum sales; Underwood was the first country artist to sell that many copies of a debut album since LeAnn Rimes did it in 1996. She also appeared on Brad Paisley's album 5th Gear, which was released in June 2006.
Riding on that swell of support, Underwood released her sophomore effort Carnival Ride in October 2007. Four of the album's tracks hit the top of the country charts, pushing the album to multi-million sales and earning her two additional Grammy Awards. Two years after the album's release, Underwood released her third studio effort, Play On, which found her devoting more focus than ever to her songwriting abilities. She co-wrote seven of the album's tracks, including the leadoff single, "Cowboy Casanova." Underwood's fourth studio album, Blown Away, released in the spring of 2012, was produced by her longtime collaborator Mark Bright, and driven by its hit lead single, "Good Girl," it showed her continued growth from American Idol to savvy country-pop star.
Underwood undertook her first big starring role in 2013, when she signed on to play Maria in a live televised production of The Sound of Music on NBC. Airing on December 5, 2013, the broadcast was accompanied by a studio soundtrack. The year 2014 was relatively quiet for her, although in September she released the single "Something in the Water" and three months later the compilation Greatest Hits: Decade #1. A heavily spiritual single with the theme of baptism, "Something in the Water" topped the country and Christian charts, and also reached the pop Top 40. Early in 2015, it earned her a Grammy for Best Country Solo Performance. Later that summer, Underwood announced the October release of Storyteller, her fifth studio album, which was preceded by the single "Smoke Break." Storyteller generated three additional hits: the number ones "Heartbeat" and "Church Bells," plus the number two "Dirty Laundry." Underwood departed Arista Nashville for Capitol Records Nashville in March 2017. In January 2018, she duetted with Ludacris on "The Champion," a single tied into the 2018 Super Bowl. It debuted at 47 on the Billboard Hot 100 and would later feature on Cry Pretty, the album Underwood released in September 2018.
Cry Pretty debuted at number one on both Billboard's Country Charts and the Top 200; its title track peaked at number nine on Billboard's Country Airplay chart, with "Southbound" reaching three on the charts in 2019. Underwood released My Gift, her first Christmas album, in September 2020. The Grammy-nominated My Savior, her first gospel album, followed swiftly on the heels of My Gift, appearing in March 2021; it would win the Grammy Award for Best Roots Gospel Album in 2022.
Carrie Underwood returned to secular music in 2022 with Denim & Rhinestones, an album she co-produced with David Garcia. Preceded by the singles "Ghost Story," "Denim & Rhinestones," and "Crazy Angels," Denim & Rhinestones appeared in June 2022.
https://www.carrieunderwoodofficial.com/
https://en.wikipedia.org/wiki/Carrie_Underwood
Talents : Vocals
Style musical : Pop Idol, Contemporary Country, Aldult Contemporary

https://youtu.be/eoBEBTn9fds
Years in activity :
| | | | | | | | | | | | |
| --- | --- | --- | --- | --- | --- | --- | --- | --- | --- | --- | --- |
| 1910 | 20 | 30 | 40 | 50 | 60 | 70 | 80 | 90 | 2000 | 10 | 20 |
DISCOGRAPHY
Singles & EP
06/2005
SP ARISTA 70859-7 (US)
.

Inside Your Heaven [radio version] / Independence Day [radio version]

2005
CD ARISTA

82876 71468-2

(US)
Inside Your Heaven / Suggested Callout Hook
10/2005
CD ? (US) (promo)

Sessions @ Aol - Jesus Take The Wheel / Wasted / Some Hearts / Inside Your Heaven

2005
CD ARISTA 82876-74809-2 (US) (promo)

Jesus, Take The Wheel / Jesus, Take The Wheel

2005
2 CD ARISTA ? (US) (promo)

Jesus, Take The Wheel :

CD 1 : Jesus, Take The Wheel
CD 2 :

Open Ended Interview

2005
CD ARISTA 82876-75145-2 (US) (promo)
.

Some Hearts / Call Out Hook

2006
CD ARISTA 82876-78664-2 (US) (promo)

Donít Forget To Remember Me (album version) / Donít Forget To Remember Me (single edit)

2006
CD ARISTA 88697-06197-2(US) (promo)

Wasted (single edit)

2006
CD ARISTA ? (US) (promo)
.

National Anthem

2006
CD ARISTA 82876-80463-2 (US) (promo)

Before He Cheats / Before He Cheats

10/2007
CD ARISTA 717553 (US) (promo)
I Ain't In Checotah Anymore / Before He Cheats (Mastertone - Live from Clive Davis' Pre-Grammy)
10/2007
CD ARISTA 88697-17553-2 (US)

Before He Cheats / I Ainít In Checotah Anymore

2007
CD SONY ? (US) (promo)

Before He Cheats

2007
CD ARISTA ? (US) (promo)
.
So Small
2007
CD ARISTA ? (US) (promo)
.
All American Girl / All American Girl
2008
CD ARISTA 88697-31999-2 (US) (promo)

Last Name (album version) / Last Name (call out hook)

2008
CD Walt Disney AVCS-12414 (JAP) (promo)

Ever Ever After

2008
CD ARISTA 88697-42893-2 (US) (promo)

Do You Hear What I Hear (radio edit) / Do You Hear What I Hear (album version)

2008
CD ARISTA ? (US) (promo)
.

Just A Dream

2009
CD ARISTA 88697-62441-2 (US) (promo)

Cowboy Casanova (radio edit) / Cowboy Casanova (album version)

2009
CD ARISTA 88697-59785-2 (US) (promo)

Cowboy Casanova (single edit) / Cowboy Casanova (single edit)

2009
CD ARISTA ? (US) (promo)
.

I Told You So / I Told You So

2009
CD ARISTA 88697-63337-2 (US) (promo)

Temporary Home (radio edit)

2009
CD ARISTA ? (US) (promo)
.

Home Sweet Home

2010
CD FOX MUSIC ? (US) (promo)

Thereís A Place For Us

2010
CD ARISTA 88697-77365-2 (US) (promo)

Mamaís Song

2010
CD ARISTA 88697-71768-2 (US) (promo)

Undo It

2011
CD SONY 88697-91468-2 (US) (promo)
Remind Me (Brad PAISLEY & Carrie UNDERWOOD)
2011
CD SONY ‎? (UK) (promo)

Remind Me (Brad PAISLEY & Carrie UNDERWOOD)

2012
CD ARISTA 88691-96430-2 (US) (promo)

Good Girl

2012
CD ARISTA 88725-45253-2 (US) (promo)

Blown Away

2012
CD SONY ‎? (EUR) (promo)
Blown Away
2012
CD ARISTA 88765-43613-2 (US) (promo)

Two Black Cadillacs (edit) / Two Black Cadillacs

2013
CD Universal Television ‎? (US) (promo)
THE SOUND OF MUSIC - My Favorite Things (Carrie

Underwood

& Audra Mc

Donald

)
2013
CD SONY ‎? (EUR) (promo)
THE SOUND OF MUSIC - My Favorite Things (Carrie

Underwood

& Audra Mc

Donald

)
2013
CD ARISTA 88883-71977-2 (US) (promo)

See You Again (radio edit) / See You Again / See You Again (hook)

2013
CD SONY ‎? (UK) (promo)

See You Again

2014
CD ARISTA 88875-03328-2 (US) (promo)

Something In The Water (edit) / Something In The Water / Something In The Water (hook 1) / Something In The Water (hook 2)

2014
CD SONY ‎? (UK) (promo)
Something In The Water
2014
CD RCA 88843-09229-2 (US) (promo)

Somethiní Bad (Miranda LAMBERT & Carrie UNDERWOOD) / Somethiní Bad (Miranda LAMBERT & Carrie UNDERWOOD) / Somethiní Bad (Miranda LAMBERT & Carrie UNDERWOOD)

2015
CD ARISTA 88875-15143-2 (US) (promo)

Smoke Break - Smoke Break / A special announcement from Carrie Underwood / Carrie Underwood introduces Smoke Break / Smoke Break (hook)

2015
CD SONY ‎? (EUR) (promo)
Smoke Break
2015
CD SONY ‎? (UK) (promo)

Heartbeat

05/2015
CD ARISTA ? (US) (promo)

Little Toy Guns

04/2016
CD COLUMBIA ? (EUR) (promo)

Chaser

2016
CD ARISTA 88985-32247-2 (US) (promo)

Church Bells / Church Bells (hook 1) / Church Bells (hook 2)

2017
CD DECCA ? (UK) (promo)

The Fighter (Keith URBAN & Carrie UNDERWOOD)

06/2018
CD CAPITOL 0256774089 (US) (promo)

Cry Pretty / Cry Pretty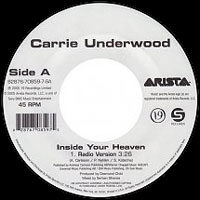 Albums
1997
CD Star Rise ? (US)

STAR RISE PRESENTS CARRIE UNDERWOOD - Romeo Boy / Don't Talk About Love / Unchained Melody / Amen / Hopes And Dreams / Count Me In / I'd Rather Ride Around With You / Phones Are Ringin' / Emotional Girl / Someone Else's Dream / You Walked All Over Me / Maybe He'll Notice Her Now / Heads Carolina, Tails California / You Can Feel Bad If It Makes You Feel Better / God Bless The USA / Amazing Grace

2001
CD Star Rise ? (US)

Carrie Underwood - Goodbye Earl / Because You Love Me / There You Are / Can't Get Enough / Show Me Heaven / Cold Day In July / Lesson In Leavin' / Crazy / Broken Wing / Tonight The Heartache's On Me / I Hope You Dance / For God So Loved

2002
CD Star Rise ? (US)

Live In Little Rock - Canít Get Enough / Lesson In Leaviní / Hit Me With Your Best Shot / Goodbye Earl / Bye Bye / Romeo Boy / 455 Rocket / Show Me Heaven / Proud Mary / If I Fall Youíre Going Down With Me / Be Myself / Respect

11/2005
CD ARISTA 82876-71197-2 (US)
SOME HEARTS - Wasted / Don't Forget To Remember Me / Some Hearts / Jesus, Take The Wheel / The Night Before (Life Goes On) / Lessons Learned / Before He Cheats / Starts With Goodbye / I Just Can't Live A Lie / We're Young And Beautiful / That's Where It Is / Whenever You Remember / I Ain't In Checotah Anymore / BONUS TRACK : Inside Your Heaven
10/2007
CD ARISTA 88697-11221-2 (US)
CARNIVAL RIDE - Flat On The Floor / All-American Girl / So Small / Just A Dream / Get Out Of This Town / Crazy Dreams / I Know You Won't / Last Name / You Won't Find This / I Told You So / The More Boys I Meet / Twisted / Wheel Of The World
10/2007
CD + DVD ARISTA 88697-11515-2 (US) (limited edition)
CARNIVAL RIDE :

CD 1 : Flat On The Floor / All-American Girl / So Small / Just A Dream / Get Out Of This Town / Crazy Dreams / I Know You Won't / Last Name / You Won't Find This / I Told You So / The More Boys I Meet / Twisted / Wheel Of The World
DVD : LIVE PERFORMANCES : So Small / Interview Part I / Get Out Of This Town / Interview Part II / Just A Dream / Interview Part III / The More Boys I Meet / Interview Part IV

10/2008
2 CD ARISTA 88697-36887-2 (US) (special Christmas edition)
CARNIVAL RIDE :

CD 1 : Flat On The Floor / All-American Girl / So Small / Just A Dream / Get Out Of This Town / Crazy Dreams / I Know You Won't / Last Name / You Won't Find This / I Told You So / The More Boys I Meet / Twisted / Wheel Of The World
CD 2 :

Christmas Bonus Tracks :

Hark! The Herald Angels Sing / The First Noel / What Child Is This / Do You Hear What I Hear / O Holy Night

11/2009
CD ARISTA 88697-49923-2 (US)
PLAY ON - Cowboy Casanova / Quitter / Mama's Song / Change / Undo It / Someday When I Stop Loving You / Songs Like This / Temporary Home / This Time / Look At Me / Unapologize / What Can I Say / Play On
2009
CD ? (US) (bootleg)

Air Canada Centre, Toronto, 7.10.2008 - Intro / Flat On The Floor / Some Hearts / Wasted / All American Girl / Crazy Dreams / Video clips : I Know You Won't / Jesus, Take The Wheel / I Ain't In Checotah Anymore / Talk / The More Boys I Meet / Band Jam / Last Name / Talk / Don't Forget To Remember Me / I Told You So / Twisted / Talk / Just A Dream / So Small / Get Out Of This Town / Applause / Paradise City / Before He Cheats

.06/2011
2 CD ARISTA 88697-92686-2 (US) (deluxe edition)

play On :

CD 1 :

Cowboy Casanova / Quitter / Mama's Song / Change / Undo It / Someday When I Stop Loving You / Songs Like This / Temporary Home / This Time / Look At Me / Unapologize / What Can I Say / Play On

CD 2 :

Deluxe Edition Bonus : Don't Forget To Remember Me / Jesus, Take The Wheel / Before He Cheats / So Small / Just A Dream / Last Name / Home Sweet Home

05/2012
CD ARISTA 88697-98094-2 (US)
BLOWN AWAY - Good Girl / Blown Away / Two Black Cadillacs / See You Again / Do You Think About Me / Forever Changed / Nobody Ever Told You / One Way Ticket / Thank God For Hometowns / Good In Goodbye / Leave Love Alone / Cupid's Got A Shotgun / Wine After Whiskey / Who Are You
2012
CD ARISTA 88725 41226 2 (UK)
BLOWN AWAY - Good Girl / Blown Away / Two Black Cadillacs / See You Again / Do You Think About Me / Forever Changed / Nobody Ever Told You / One Way Ticket / Thank God For Hometowns / Good In Goodbye / Leave Love Alone / Cupid's Got A Shotgun / Wine After Whiskey / Who Are You / Cowboy Casonova / Before He Cheats / Last Name / Jesus, Take The Wheel
07/2012
CD ARISTA SICP-3564 (JAP)
BLOWN AWAY - Good Girl / Blown Away / Two Black Cadillacs / See You Again / Do You Think About Me / Forever Changed / Nobody Ever Told You / One Way Ticket / Thank God For Hometowns / Good In Goodbye / Leave Love Alone / Cupid's Got A Shotgun / Wine After Whiskey / Who Are You / BONUS TRACKS : Cowboy Casonova / Before He Cheats / Last Name / Jesus, Take The Wheel
12/2013
CD Masterworks 88883798142 (US)

The Sound of Music -

MUSIC FROM NBC TELEVISION EVENT - Preludium / The Sound Of Music / Maria / My Favorite Things / Do-Re-Mi / Sixteen Going On Seventeen / The Lonely Goatherd / How Can Love Survive? / Reprise. The Sound Of Music / The Grand Waltz / Lšndler / So Long, Farewell / Climb Ev'ry Mountain / No Way To Stop It / Something Good / Processional & Maria (The Wedding) / Reprise. Sixteen Going On Seventeen / Reprise. Do-Re-Mi (The Concert) / Edelweiss (The Concert) / Reprise. So Long, Farewell (The Concert) / Finale Ultimo. Climb Ev'ry Mountain / End Credits
12/2014
2 CD 19 Recordings 8887-500876-2 (US)

Greatest Hits: Decade #1 :

CD 1 : Something In The Water / Little Toy Guns / Inside Your Heaven / Jesus, Take The Wheel / Don't Forget To Remember Me / Before He Cheats / Wasted / So Small / All-American Girl / Last Name / Just A Dream / I Told You So (Carrie

Underwood

feat: Randy T

ravis

)
CD 2 : Cowboy Casanova / Temporary Home / Undo It / Mama's Song / Remind Me (Carrie

Underwood

feat: Brad

Paisley

) / Good Girl / Blown Away / Two Black Cadillacs / See You Again / How Great Thou Art [live from ACM Presents: Girls' Night Out] (Carrie

Underwood

feat: Vince

Gill

) / So Small [Writing Session Worktape 1/24/07] / Last Name [Writing Session Worktape 1/22/07] / Mama's Song [Writing Session Worktape 2/5/09]

12/2014
CD ARISTA ? (EUR) (promo)

Greatest Hits: Decade #1 -

Something In The Water / Inside Your Heaven / Jesus, Take The Wheel / Don't Forget To Remember Me / Before He Cheats / Wasted / So Small / All-American Girl / Last Name / Just A Dream / I Told You So (featuring Randy T

ravis

) /

Cowboy Casanova / Temporary Home / Undo It / Mama's Song / Remind Me (with Brad

Paisley

) /

Good Girl / Blown Away / Two Black Cadillacs / See You Again
10/2015
CD ARISTA 8887-510539-2 (US)

Storyteller -

Renegade Runaway / Dirty Laundry / Church Bells / Heartbeat / Smoke Break / Choctaw County Affair / Like I'll Never Love You Again / Chaser / Relapse / Clock Don't Stop / The Girl You Think I Am / Mexico / What I Never Knew I Always Wanted
10/2015
CD ARISTA 88875-15778-2 (US)

Storyteller -

Renegade Runaway / Dirty Laundry / Church Bells / Heartbeat / Smoke Break / Choctaw County Affair / Like I'll Never Love You Again / Chaser / Relapse / Clock Don't Stop / The Girl You Think I Am / Mexico / What I Never Knew I Always Wanted / Heartbeat (Stripped) / Little Girl Don't Grow Up Too Fast
10/2016
3 CD ARISTA 88985367102 (AUS) (deluxe edition)

Storyteller (Deluxe Australian Tour Edition) :

CD 1 : Renegade Runaway / Dirty Laundry / Church Bells / Heartbeat / Smoke Break / Choctaw County Affair / Like I'll Never Love You Again / Chaser / Relapse / Clock Don't Stop / The Girl You Think I Am / Mexico / What I Never Knew I Always Wanted / The Fighter (Keith URBAN featuring Carrie

Underwood

) / Little Girl Don't Grow Up Too Fast
CD 2 : Something In The Water / Little Toy Guns / Inside Your Heaven / Jesus, Take The Wheel / Don't Forget To Remember Me / Before He Cheats / Wasted / So Small / All-American Girl / Last Name / Just A Dream / I Told You So (featuring Randy

Travis

)
CD 3 : Cowboy Casanova / Temporary Home / Undo It / Mama's Song / Remind Me (featuring Brad

Paisley

) / Good Girl / Blown Away / Two Black Cadillacs / See You Again / How Great Thou Art (Live From ACM Presents: Girls' Night Out) (featuring Vince

Gill

) / So Small (Writing Session Worktape 1/24/07) / Last Name (Writing Session Worktape 1/22/07) / Mama's Song (Writing Session Worktape 2/5/09)

09/2018
LP 12" Capitol B0028557-01 (US)

Cry Pretty -

Cry Pretty / Ghosts On The Stereo / Low / Backsliding / Southbound / That Song That We Used To Make Love To / Drinking Alone / The Bullet / Spinning Bottles / Love Wins / End Up With You / Kingdom
09/2018
CD Capitol B0028557-02 (US)

Cry Pretty - Cry Pretty / Ghosts On The Stereo / Low / Backsliding / Southbound / That Song That We Used To Make Love To / Drinking Alone / The Bullet / Spinning Bottles / Love Wins / End Up With You / Kingdom / BONUS TRACK : The Champion

09/2020
CD Capitol B0032602-02 (US)

My Gift - Joyful, Joyful, We Adore Thee / O Come All Ye Faithful / Let There Be Peace / Little Drummer Boy (featuring - Isaiah Fisher) / Sweet Baby Jesus / Hallelujah (featuring - John Legend) / O Holy Night / Mary, Did You Know? / Have Yourself A Merry Little Christmas / Away In A Manger / Silent Night

03/2021
CD Capitol / EMI 35605050 (US)

My Savior - Jesus Loves Me / Nothing But The Blood Of Jesus / Blessed Assurance / Just As I Am / Victory In Jesus / Great Is Thy Faithfulness / O How I Love Jesus / How Great Thou Art / Because He Lives / The Old Rugged Cross / I Surrender All / Softly And Tenderly / Amazing Grace

06/2022
CD Capitol / EMI

4574170

(US)

Denim & Rhinestones -

Denim & Rhinestones / Velvet Heartbreak / Ghost Story / Hate My Heart / Burn / Crazy Angels / Faster / Pink Champagne / Wanted Woman / Poor Everybody Else / She Donít Know / Garden
© Rocky Productions 10/06/2022