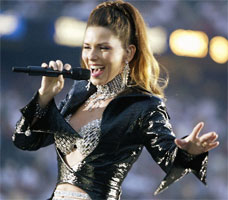 Chanteuse Country Canadienne née Eilleen Regina Edwards, le 28 Août 1965 à Timmins (Ontario).

Emerging in the mid-'90s, Shania Twain became the most popular country music artist since Garth Brooks. Skillfully fusing mainstream, AOR rock production with country-pop, Twain and her producer/husband, Robert John "Mutt" Lange, created a commercial juggernaut with her second album, The Woman in Me. The record became a multi-platinum phenomenon, peaking at number five on the pop charts and eventually selling over nine million copies in America alone. Twain might have sold a lot of records, but like other mega-selling acts before her, she earned few good reviews -- most critics accused her of diluting country with bland, anthemic hard rock techniques and shamelessly selling her records with sexy videos. Fans ignored such complaints, mainly because her audience was comprised of many listeners who had grown accustomed to such marketing strategies by constant exposure to MTV. And Twain, in many ways, was the first country artist to fully exploit MTV's style. She created a sexy, video-oriented image -- she didn't even tour during the year when The Woman in Me was on the top of the country charts -- that appealed not only to the country audience, but also to pop fans. In turn, she became a country music phenomenon.
Twain was born in Windsor, Ontario, and raised in the small, rural town of Timmins, Ontario. As a child, she learned to play guitar at an early age and would spend much of her time singing, writing, and playing. Early on in her musical development, her parents pushed her on-stage, making her perform frequently around their little town; often, she would be pulled out of bed around one in the morning to sing at local bars, since as a child she could only appear in the clubs after they had stopped serving alcohol. In addition to bars, she sang on local radio and television stations and community events. When she was 21 years old, both of her parents died in a car crash, forcing her to take responsibility for her four siblings. In order to pay the bills and keep food on the table, she took a job singing at a resort in Deerhurst. With the money she earned at the resort, she bought a house and had the family settle down.
At the resort, she sang show tunes, from George Gershwin to Andrew Lloyd Webber, as well as a little country. Twain stayed there for three years, at the end of which all of her siblings had begun lives of their own. When she was finally independent again, she assembled a demo tape of her songs, and her manager set up a showcase concert in Canada. Twain caught the attention of a few insiders with the concert, and within a few months Mercury Nashville had signed her to their roster. Her eponymous debut album was released in 1993, and although it wasn't a major hit, it performed respectably in the United States, launching two minor hit singles, "What Made You Say That" and "Dance with the One That Brought You"; in Europe, the album was more successful and Country Music Television Europe named her Rising Video Star of the Year.
Shortly after the release of Shania Twain, the singer met and fell in love with Robert John "Mutt" Lange, a hard rock producer known for his work with AC/DC, Def Leppard, Foreigner, and the Cars. Lange had been wanting to move into country music for a while, and after hearing Twain's debut album, he decided to get in contact with her with the intention of working on an album. By the end of the year, the pair had married and begun working on her second record. The two either wrote or co-wrote the material that eventually formed The Woman in Me.
The Woman in Me was released in the spring of 1995. Its first single, "Whose Bed Have Your Boots Been Under?," went to number 11 early in the year, quickly followed by "Any Man of Mine," which became her first number one single in the spring. The album's title track went to number 14 in the fall, while the fourth single, "(If You're Not in It for Love) I'm Outta Here!," rocketed to number one toward the end of the year; early in 1996 "No One Needs to Know" became her third number one hit. By the beginning of 1996, The Woman in Me had sold over six million copies and broken the record for the most weeks spent at number one on the country charts. During the course of 1996, it would rack another three million in sales. Come on Over followed in 1997. She spent the next two years touring the globe in support of the album; by the end of 1999, Come on Over had sold 36 million copies.
Twain took a sabbatical and returned to her Swiss home for some down time with her husband. The next summer, she and Lange welcomed their first child. A son, whom they named Eja, arrived August 21, 2001. During this time, Twain brainstormed for a fourth album. While balancing a domestic life and a career, the end result was Up!, which appeared in November 2002.
Up! was released to considerable fanfare -- not only was it accompanied by a huge publicity blitz, but it appeared in three different mixes, designed to appeal to country, pop, and international audiences -- and it was initially a big success, selling over 870,000 copies in the U.S. upon its first week and debuting at number one in the Billboard charts, but despite such hits as "I'm Gonna Getcha Good!" and "Forever and for Always," it failed to have the same kind of staying power as The Woman in Me or Come on Over. Those two albums sold over 10 million copies a piece in the U.S., whereas Up!sold 5.5 million -- an impressive number that only pales when compared to her track record. As Up!worked its way down the charts, Twain released a Greatest Hits album in the holiday season of 2004; the compilation was a great success, going triple platinum in the U.S. where it peaked at number two on the Billboard charts. In the wake of Greatest Hits, Twain released a song called "Shoes" on the 2005 soundtrack to the TV soap opera Desperate Housewives, but otherwise she slowly slid into an extended hiatus.
In 2008, she announced her separation from husband Mutt Lange, and in the following year she wrote an open letter to her fans apologizing for the lack of new music. Despite this, new music wasn't imminent from Twain. She started to return to active status in 2011 via the reality series Why Not? With Shania Twain, which culminated with the release of a new single called "Today Is Your Day"; it peaked at 36 upon its July 2011 release. A few on-record cameos followed -- she appeared on Michael Bublé's 2011 Christmas album and on Lionel Richie's 2012 country album Tuskegee -- before she turned her attention to a three-year residency at Caesar's Palace in Las Vegas, Nevada. Once that wrapped up, she embarked on a tour called Rock This Country in 2015. During 2016, she worked on the album that became Now, teased by the singles "Life's About to Get Good" and "Swinging with My Eyes Closed." Now was released on September 29, 2017, debuting at number one on Billboard's Top 200 and Country Albums charts.
https://en.wikipedia.org/wiki/Shania_Twain
Talents : Vocals, Songwriter
Style musical : Country Pop, Contemporary Country, Pop Rock, Pop

http://www.youtube.com/watch?v=zHtuGMHWAf0
Years in activity :
| | | | | | | | | | | | |
| --- | --- | --- | --- | --- | --- | --- | --- | --- | --- | --- | --- |
| 1910 | 20 | 30 | 40 | 50 | 60 | 70 | 80 | 90 | 2000 | 10 | 20 |
DISCOGRAPHY
Singles & EP
03/1993
SP MERCURY 864992-7 (US)
.
What Made You Say That / Crime Of The Century
07/1993
SP MERCURY 862346-7 (US)
.
Dance With The One That Brought You / When He Leaves You
01/1995
SP MERCURY 856448-7 (US)
.
Whose Bed Have Your Boots Been Under / Any Man Of Mine
06/1995
CD MERCURY 856449-2 (US)
.
Any Man Of Mine
08/1995
SP MERCURY 852138-7 (US)
.
Home Ain't Where His Heart Is / You Win My Love
10/1995
SP MERCURY 852206-7 (US)
.
(If You're Not In It For Love) I'm Outta Here / Woman In Me (Needs The Man In You)
10/1995
CD POLYGRAM 852206 (US)
.
Woman In Me (Needs The Man In You)
02/1996
CD POLYGRAM 852138 (US)
.
You Win My Love
04/1996
SP MERCURY 852986 (US)
.
No One Needs To Know / Leaving Is The Only Way Out
08/1996
SP MERCURY 578748 (US)
.
God Bless The Child / If It Don't Take Two
10/1996
SP MERCURY 578786 (US)
.
I'm Outta Here (remix) / God Bless The Child
10/1996
CD POLYGRAM 578748 (US)
GOD BLESS THE CHILD - If Your Not in It for Love / Whose Ben Have Your Boots Been Under
09/1997
SP MERCURY 568062 (US)
.
Love Gets Me Every Time (remix) / Love Gets Me Every Time
09/1997
CD POLYGRAM 568062 (UK)
.
Love Gets Me Every Time / Love Gets Me Every Time / Love Gets Me Every Time
11/1997
SP MERCURY 568242 (US)
.
Don't Be Stupid / If It Don't Take Two
01/1998
CD POLYGRAM 568452 (UK)
.
You're Still The One / I'm Outta Here!
01/1998
SP MERCURY 568452 (US)
.
You're Still The One / Don't Be Stupid (remix)
01/1998
CD POLYGRAM 568493 (US)
YOU'RE STILL THE ONE - You're Still The One

[single version] /

(If You're Not In It for Love) I'm Outta Here!

[Mutt Lange mix] /

You Win My Love

[Mutt Lange mix] /

You're Still The One

[LP version]

06/1998
CD POLYGRAM 566015 (US)
.
You're Still The One
11/1998
CD POLYGRAM 566450 (US)
FROM THIS MOMENT ON - From This Moment

[Pop radio mix]

/ From This Moment

[the I.V. mix]

11/1998
SP MERCURY 566220 (US)
.
Honey I'm Home / From This Moment On (with Bryan WHITE)
01/1999
CD POLYGRAM 566561 (UK)
.
From This Moment On / You're Still The One / You're Still The One
01/1999
CD POLYGRAM 566563 (US)
.
From This Moment On
03/1999
CD MERCURY 566962 (UK)
THAT DON'T IMPRESS ME MUCH - That Don't Impress Me Mutch [dance mix edit] / From This Moment On [tempo mix]
03/1999
CD POLYGRAM 870759 (UK)
.
That Don't Impress Me Much
08/1999
SP MERCURY 172123-7 (US)
.
Come On Over / Man! I Feel Like A Woman!
10/1999
CD MERCURY 1721252 (AUS)
Man I Feel Like A Woman
10/1999
CD POLYGRAM 562391 (GER)
Man I Feel Like A Woman
10/1999
CD POLYGRAM 172128 (UK)
.
Man I Feel Like A Woman
10/1999
CD POLYGRAM 172128 (UK)
.
You've Got A Way
1999
SP COLLECTABLES 314568062-7

(US)

.

Love Gets Me Every Time/ Love Gets Me Every Time (dance mix)

1999
SP COLLECTABLES 422852498-7

(US)

.

(If You're Not In It For Love) I'm Outta Here / The Woman In Me (Needs The Man In You)

03/2000
CD UNIVERSAL 72149 (UK)
.
Don't Be Stupid (You Know I Love You)
06/2000
SP MERCURY 562582-7 (US)
.
I'm Holdin' On To Love / Rock This Country
2002
SP MERCURY 172272-7 (US)
.
I'm Gonna Getcha Good (country vers) / I'm Gonna Getcha Good (pop vers)
11/2002
CD MERCURY 9862018 (US)
UP! - Up!

[Red Album version] /

Thank You Baby! (For Making Someday Come So Soon) / When You Kiss Me

[Audio Only from Live in Chicago]

11/2002
CD UNIVERSAL ? (US)
.
Up!

[Red Album version] /

Forever And For Always

[Audio Only from Live in Chicago]

11/2002
CD UNIVERSAL ? (AUS)
I'M GONNA GETCHA GOOD - I'm Gonna Getcha Good
02/2003
CD UNIVERSAL 172279 (GER)
KA-CHING - Ka-Ching

[album version] /

Ka-Ching

[Sowatt Hip Hop mix] /

Ka-Ching

[Sowatt Extended Lounge mix] /

I'm Gonna Getcha Good

[Sowatt dance mix]

03/2003
CD UNIVERSAL ? (US)
KA-CHING - Ka-Ching!

[Red version] /

I'm Gonna Getcha Good!

[Sowatt extended dance mix]

03/2003
CD UNIVERSAL 172287 (UK)
KA-CHING - Ka-Ching
2003
SP MERCURY 172278-7 (US)
.
UP! - Up / C'est La Vie
03/2003
CD MERCURY 1722882 (US)
UP! - Up!

[Red version] /

You're Still The One / I'm Holding On To Love (To Save My Life)
04/2003
CD MERCURY 1722892 (US)
UP! - Up!

[Green version] /

I'm Gonna Getcha Good!

[Sowatt extended dance mix] /

Ka-Ching!

[the Simon and Diamond Bhangra mix]

06/2003
CD MERCURY 9808207 (US)
FOREVER AND FOR ALWAYS - Forever And For Always / Ka-Ching! / That Don't Impress Me Much / Come On Over
07/2003
CD MERCURY 980773 (UK)
FOREVER AND FOR ALWAYS - Forever And For Always

[Red] /

That Don't Impress Me Much
08/2003
CD MERCURY 9810628 (UK)
.
Thank You Baby! (For Makin' Someday Come So Soon)

10/2003
CD UNIVERSAL 980773 (US)
FOREVER AND FOR ALWAYS - Forever And For Always

[Pop Red edit] /

Man! I Feel Like A Woman! / Don't Be Stupid (You Know I Love You)
2003
CD MERCURY 9808749 (AUS)
FOREVER AND FOR ALWAYS - Forever And For Always

[Red] /

Forever And For Always

[Green] /

Man! I Feel Like A Woman! / That Don't Impress Me Much / Come On Over
10/2003
CD UNIVERSAL 98106 (GER)
THANK YOU BABY! (FOR MAKING SOMEDAY COME SO SOON) - Thank You Baby! (Red Version) / Thank You Baby!

[Almighty mix] /

Any Man Of Mine
10/2003
CD UNIVERSAL 602498106914 (GER)
THANK YOU BABY! (FOR MAKING SOMEDAY COME SO SOON) - Thank You Baby! (For Makin' Someday Come So Soon)

[Red Album version] /

From This Moment On

[video [live] [Audio Only Portion] /

Thank You Baby! (For Making Someday Come So Soon)
10/2003
CD UNIVERSAL 9810692 (US)
THANK YOU BABY! (FOR MAKING SOMEDAY COME SO SOON) - Thank You Baby! (For Makin' Someday Come So Soon) / Thank You Baby! (For Makin' Someday Come So Soon) / Thank You Baby! (For Makin' Someday Come So Soon)
12/2003
SP MERCURY B-001646 (US)
.
She's Not Just A Pretty Face / I'm Gonna Getcha Good (live)
03/2004
SP MERCURY B-002352 (US)
.
It Only Hurts When I'm Breathing (green vers) / It Only Hurts When I'm Breathing (red vers)
03/2004
CD UNIVERSAL 981408 (US)
WHEN YOU KISS ME - When You Kiss Me

[Pop album version] /

I'm Gonna Getcha Good / Ka-Ching / When You Kiss Me
03/2004
CD UNIVERSAL 981400 (UK)
WHEN YOU KISS ME - When You Kiss Me / Up! / I'm Gonna Getcha Good / When You Kiss Me

[CD-ROM video]

03/2004
CD UNIVERSAL 9814004 (UK)
UP! - Up! / When You Kiss Me / Ka-Ching!

[live from Chicago]

04/2004
CD UNIVERSAL / MERCURY 9862020 (UK)
.
She's Not Just A Pretty Face

[Red Album version] /

Forever And For Always
04/2004
CD UNIVERSAL / MERCURY 9862021 (UK)
.
She's Not Just A Pretty Face
01/2005
DI UNIVERSAL ? (US)
.
PARTY FOR TWO

(with Mark McGRATH)

- Party For Two

[Country version with intro]

01/2005
CD MERCURY 2103240 (GER)
PARTY FOR TWO

(with Mark McGRATH)

- Party For Two / Party For Two

[LMC remix]

01/2005
CD MERCURY 9864463 (GER)
PARTY FOR TWO

(with Mark McGRATH)

- Party For Two

[Pop version with into] /

You're Still The One / I'm Holding On To Love (To Save My Life) / Party For Two

[Country version with intro] /

Party For Two
01/2005
CD MERCURY 9864464 (GER)
PARTY FOR TWO

(with Mark McGRATH)

- Party For Two
01/2005
CD UNIVERSAL 9864462 (GER)
PARTY FOR TWO

(with Mark McGRATH)

- Party For Two / Party For Two
01/2005
CD UNIVERSAL ? (GER)
PARTY FOR TWO

(with Mark McGRATH)

- Party For Two / You're Still The One / I'm Holdin' On To Love (To Save My Life) / Party For Two / Party For Two
01/2005
CD UNIVERSAL ? (GER)
PARTY FOR TWO

(with Mark McGRATH)

- Party For Two [Pop version with intro] / Party For Two [Country version with intro]
01/2005
CD UNIVERSAL 210323 (UK)
PARTY FOR TWO

(with Mark McGRATH)

- Party For Two / You're Still The One / I'm Holdin' On To Love (To Save My Life) / Party For Two / Party For Two

[Almighty Downtown radio edit]

02/2005
CD MERCURY 2103949 (GER)
DON'T - Don't! / I'm Gonna Getcha Good!
02/2005
CD UNIVERSAL / MERCURY 9880434 (UK)
DON'T - Don't! / I'm Gonna Getcha Good! / From This Moment On / Don't
02/2005
CD MERCURY 2103951 (GER)
DON'T - Don't! / I'm Gonna Getcha Good! / From This Moment On / Don't
02/2005
CD UNIVERSAL / MERCURY 9880435 (UK)
DON'T - Don't / Party For Two

[Kenny Hayes mix]

08/2005
CD UNIVERSAL 9883285 (GER)
I AIN'T NO QUITTER - I Ain't No Quitter

[Greatest Hits version] /

Whose Bed Have Your Boots Been Under? [ Audio from Up! Close and Person

] /

I Ain't Goin' Down

[Audio from Up! Close and Personal DVD] /

Ain't No Quitter

[Video Closed Captioned]

10/2005
CD UNIVERSAL 9883284 (US)
I AIN'T NO QUITTER - I Ain't No Quitter

[Greatest Hits version] /

Whose Bed Have Your Boots Been Under?
03/2006
CD EMI 3568022 (US)
.
Shoes
06/2007
CD SHANIA TWAIN ? (US)
.
DANCING UNDER THE INFLUENCE - Once Over / Over Salsa / Once Busted / Trance 'n Mental
| | |
| --- | --- |
| | |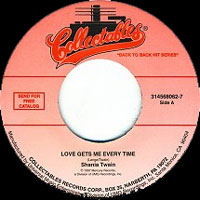 Albums
04/1993
CD MERCURY 514422 (US)
SHANIA TWAIN - What Made You Say That / You Lay A Whole Lot Of Love On Me / Dance With The One That Brought You / Still Under The Weather / God Ain't Gonna Getcha For That / Got A Hold On Me / There Goes The Neighborhood / Forget Me / When He Leaves You / Crime Of The Century
02/1995
CD MERCURY 522886 (US)
THE WOMAN IN ME - Home Ain't Where His Heart Is / Any Man Of Mine / Whose Bed Have Your Boots Been Under / If You're Not In It For Love / Woman In Me / Is There Life After Love / If It Don't Take Two / You Win My Love / Raining On Our Love / Leaving Is The Only Way Out / No One Needs To Know / God Bless The Child
1995
CD MERCURY 170129-2 (US)
THE WOMAN IN ME - Home Ain't Where His Heart Is (Anymore) / Any Man Of Mine / Whose Bed Have Your Boots Been Under? / (If You're Not In It For Love) I'm Outta Here! / The Woman In Me (Needs The Man In You) / Is There Life After Love ? / If It Don't Take Two / You Win My Love / Raining On Our Love / Leaving Is The Only Way Out / No One Needs To Know / God Bless The Child / Bonus Tracks : You Win My Love (remix edit) / Medley : Home Ain't Where His Heart Is (Anymore) / The Woman In Me / You've Got A Way (live/direct TV mix) / (If You're Not In It For Love) I'm Outta Here! (remix) / God Bless The Child (video)
11/1997
CD MERCURY 536003 (US)
COME ON OVER - Man I Feel Like A Woman / I'm Holdin' On To Love / Love Gets Me Every Time / Don't Be Stupid / From This Moment On / Come On Over / When / Whatever You Do Don't / If You Wanna Touch Her Ask / You're Still The One / Honey I'm Home / That Don't Impress Me Much / Black Eyes Blue Tears / I Won't Leave You Lonely / Rock This Country / You've Got A Way
1999
CD MASTER 8557 (NL)
STAR PROFILE - Introduction / Early Years / What's In A Name / Shania On A Roll / Rewards And Awards / Come On Over / Discography / Untitled
08/1999
CD NEW MILLENIUM 0008 (US)
ON THE WAY - Two Hearts One Love / I Lost My Heart When I Found You / Once Over / Hate To Love / Wild And Wicked / Send It With Love / Bite My Lip / Luv Eyes / Rhythm Made Me Do It / Half Breed / For The Love Of Him
12/1999
CD JOMATO 1001 (US)
BEGGININGS 1989-1990 - Wild And Wicked / Two Hearts One Love / I Lost My Heart When I Found You / Bite My Lip / Once Over / Hate To Love / Send It With Love / Luv Eyes / Rhythm Made Me Do It / Half Breed / For The Love Of Him (single edit) / For The Love Of Him (dance mix)
1999
CD MERCURY 170 081-2 (US)
COME ON OVER - You're Still The One / When / From This Moments On / Black Eyes, Blue Tears / I Won't Leave You Lonely / I'm Holdin' On To Love (To Save My Life) / Come On Over / You've Got A Way (Notting Hill Remix) / Whatever You Do! Don't / Man! I Feel Like A Woman! / Love Gets Me Every Time / Don't Ne Stupid (You Know I Love You) / That Don't Impress Me Much (UK dance mix) / Honey, I'm Home / If You Wanna Touch Her, Ask! / Rock This Country!
02/2000
CD MUSIC CLUB 475 (UK)
IN THE BEGINNING - Bite My Lip / Send It With Love / For The Love Of Him / Wild And Wicked / (Don't Give Me That) Once Over / Hate To Love / Half Breed / Luv Eyes / I Lost My Heart When I Found You / The Rhythm Made Me Do It / Two Hearts One Love / For The Love Of Him

[dance mix]

02/2000
CD NEON DELITE 34701 (US)
WILD AND WICKED - Bite My Lip / Wild And Wicked / Send It With Love / Once Over / Hate To Love / Luv Eyes / I Lost My Heart When I Found You / Rhythm Made Me Do It / Two Hearts One Love / Half-Breed / For The Love Of Him (dance mix) / For The Love Of Him
07/2000
CD LASERLIGHT 21592 (GER)
FOR THE LOVE HIM - For The Love Of Him / Bite My Lip / Wild & Wicked / Send It With Love / (Don't Gimme That) Once Over / Hate To Love / Luv Eyes / I Lost My Heart When I Found You / The Rhythm Made Me Do It / Two Hearts One Love / Half Breed / For The Love Of Him

[dance mix]

2000
CD MERCURY 514422-2 (US)
SHANIA TWAIN - What Made You Say That / You Lay A Whole Lot Of Love On Me / Dance With The One That Brought You / Still Under The Weather / God Ain't Gonna Getcha For That / Got A Hold On Me / There Goes The Neighborhood / Forget Me / When He Leaves You / Crime Of The Century
2000
CD ES ? (?)
HIT COLLECTION - Come On Over / Forget Me / Man! I Feel Like Woman! / You're Steel The One (If You Not It For Love) / I'm Outta Here / I Won't Leave You Lonely / What Made You Say That / From This Moment On / The Woman In Me (Needs The Man InYou) / Don't Be Stupid (You Know I Love You) / If There Live After Love? / If You Wanna Touch Her' Ask! / I'm Holding On To Love (To Save My Love) / No One Needs To Know / Love Gets My Every Time / God Ain't Gonna Getcha For That / Rock This Country! / Any Man Of Mine / That Don't Impress Me Much
10/2001
CD LIMELIGHT 8140 (US)
THE COMPLETE LIMELIGHT SESSIONS - It's All Right / Love / All Fired Up / Heart Is Blind / For The Love Of Him / Wild And Wicked / Ain't Gonna Eat My Heart Out Anymore / Send It With Love / Half Breed / Hate To Love / Bite My Lip / Two Hearts One Love / Rhythm Made Me Do It / Luv Eyes / I Lost My Heart When I Found You / Once Over / It's All Right
10/2002
CD GRIFFIN 3052 (US)
THE COMPLETE SET
11/2002
CD MERCURY 1024 (US)
UP - Up / I'm Gonna Getcha Good / She's Not Just A Pretty Face / Juanita / Forever And For Always / Ain't No Particular Way / It Only Hurts When I'm Breathing / Nah / That Good / C'est La Vie / I'm Jealous / Ka-Ching / Thank You Baby / Waiter Bring Me Water / What A Way To Wanna Be / I Ain't Goin' Down / I'm Not In The Mood / In My Car / When You Kiss Me
01/2004
CD MCP 142041 (GER)
THE RHYTHM MADE ME DO IT - Wild And Wicked / Send It With Love / For The Love Of Him [dance Mix] / Bite My Lip / Half Breed / The Rhythm Made Me Do It / I Lost My Heart When I Found You / Two Hearts One Love / Luv Eyes / (Don't Gimme That) Once Over / Hate To Love / For The Love Of Him
03/2004
CD FALCONE MUSIC 3612 (US)
FOR THE LOVE OF HIM - For The Love Of Him / Bite My Lip / Wild And Wicked / Send It With Love / (Don't Gimme That) Once Over / Hate To Love / Luv Eyes / I Lost My Heart When I Found You / The Rhythm Made Me Do It / Two Hearts One Love / Half Breed / For The Love Of Him
11/2004
CD MERCURY ? (US
GREATEST HITS -

Forever And For Always /

I'm Gonna Getcha Good ! /

Up / Come On Over / Man!

I Feel Like A Woman! / That Don't Impress Me Much / From This Moment On / Honey, I'm Home / You're Still The One / Don't Be Stupid (You Know I Love You) / Love Gets Me Every Time / No One Needs To Know / You Win My Love / (If You're Not In It For Love) I'm Outta Here! / The Woman In Me (Needs The Man In You) / Any Man Of Mine / Whose Bed Have Your Boots Been Under? / Party For Two (with Mark McGRATH) / Don't / Party For Two (with Billy CURRINGTON) / I Ain't No Quitter
03/2005
CD RENAISSANCE 110B (US)
SEND IT WITH LOVE - Wild And Wicked / Two Hearts One Love / Lost My Heart / Bite My Lip / (Don't Gimme That) Once Over / Hate To Love / Send It With Love / Luv Eyes / Rhythm Made Me Do It / Half Breed / It's Alright / Love / I Ain't Gonna Eat Out My Heart Anymore / All Fired Up, No Place To Go / The Heart Is Blind / For The Love Of Him / It's Alright

[club mix] /

For The Love Of Him

[dance mix]

03/2005
CD BRENTWOOD 40953 (US)
BEGINNINGS - Wild And Wicked / Send It With Love / (Don't Gimme That) Once Over / Bite My Lip / Luv Eyes / Hate To Love / Rhythm Made Me Do It / I Lost My Heart When I FoundYou / Two Hearts One Love / Half Breed
09/2007
CD PICKWICK 751392 (US)
ALL FIRED UP, NO PLACE TO GO - All Fired Up, No Place To Go / Wild And Wicked / The Heart Is Blind / For The Love / Bite My Lip / Two Hearts One Love / Luv Eyes / Send It With Love / It's Alright / Hate To Love / Lost My Heart / Don't Give Me That
10/2008
CD P & D ? (US)
FINAL BEGINNINGS - Once Over / Bite My Lip / Send It With Love / Wild And Wicked / Hate To Love / Half Breed / Two Hearts One Love / Rhythm Made Me Do It / Luv Eyes / I Lost My Heart When I FoundYou
03/2009
2 CD RENAISSANCE 0500 (US)
THE FIRST TIME... FOR THE LAST TIME :

CD 1 : All Fired Up, No Place To Go

[digital remaster] /

Wild And Wicked

[remixed version] /

The Heart Is Blind

[digital remaster] /

For The Love Of Him

[digital remaster] /

Bite My Lip

[remixed version] /

Two Hearts One Love

[digital remaster] /

Luv Eyes

[digital remaster] /

Send It With Love

[remixed version] /

It's Alright

[digital remaster] /

Hate To Love

[digital remaster] /

Lost My Heart

[digital remaster] /

Don't Gimme That (Once Over)

[digital remaster] /

Rhythm Made Me Do It

[remixed version] /

Half Breed

[digital remaster] /

Love

[digital remaster] /

I Ain't Gonna Eat Out My Heart Anymore

[remixed version] /

It's Alright

[digital remaster] /

For The Love Of Him

[digital remaster]

CD 2 : All Fired Up, No Place To Go/ Wild And Wicked / The Heart Is Blind / For The Love Of Him / Bite My Lip / Two Hearts One Love / Luv Eyes / Send It With Love / It's Alright / Hate To Love / Lost My Heart / Don't Gimme That (Once Over) / Rhythm Made Me Do It / Half Breed / Love / I Ain't Gonna Eat Out My Heart Anymore / It's Alright

[club mix] /

For The Love Of Him

[dance mix]

05/2010
2 CD Universal 5326899 (US)

Come on Over / The Woman in Me :

CD 1 : Man I Feel Like A Woman / I'm Holdin' On To Love (To Save My Life) / Love Gets Me Every Time / Don't Be Stupid (You Know I Love You) / From This Moment On / Come On Over / When / Whatever You Do Don't / If You Want To Touch Her Ask / You're Still The One / Honey I'm Home / That Don't Impress Me Much / Black Eyes Blue Tears / I Won't Leave You Lonely / Rock This Country / You've Got A Way
CD 2 : Home Ain't Where His Heart Is (Anymore) / Any Man Of Mine / Whose Bed Have Your Boots Been Under / If You're Not In It For Love I'm Outta Here / Woman In Me (Needs The Man In You) / Is There Life After Love / If It Don't Take Two / You Win My Love / Raining On Our Love / Leaving Is The Only Way Out / No One Needs To Know / God Bless The Child / You Win My Love / Medley / If You're Not In It For Love I'm Outta Here / God Bless The Child

03/2015
CD Virgin EMI 4718514 (US)

Still the One - Live From Vegas -

I'm Gonna Getcha Good! / You Win My Love / Don't Be Stupid (You Know I Love You) / Up! / I Ain't No Quitter / No One Needs To Know / Whose Bed HAve Your Boots Been Under? / Any Man Of Mine / That Don't Impress Me Much / Honey, I'm Home / (If You're Not In It For Love) I'm Outta Here! / Come On Over / Love Gets Me Every Time / Rock This Country! / Today Is Your Day / You're Still The One / From This Moment On / Red Storm / Man! I Feel Like A Woman!
09/2017
CD Mercury 002639002 (US)
NOW - Swingin' With My Eyes Closed / Home Now / Light Of My Life / Poor Me / Who's Gonna Be Your Girl / More Fun / I'm Alright / Let's Kiss And Make Up / Where Do You Think You're Going / Roll Me On The River / We Got Something They Don't / Because Of You / You Can't Buy Love / Life's About To Get Good / Soldier / All In All
2017
CD Mercury STCDJ01 (UK) (promo)

I ❤ Shania - Life's About To Get Good / Man! I Feel Like A Woman! / Any Man Of Mine / From This Moment On / That Don't Impress Me Much / I'm Gonna Getcha Good! / You're Still The One

2019
CD Mercury AD-020 (TAIW)

The Best Collection - You're Still The One / Come On Over / When / Any Man Of Mine / The Woman In Me (Needs The Man In You) / Is There Life After Love? / I Won't Leave You Lonely / You've Got A Way / Whatever You Do! Don't! / Don't Be Stupid (You Know I Love You) / Honey, I'm Home / Rock This Country! / Home Ain't Where His Heart Is (Anymore) / You Win My Love / God Bless The Child

2019
2 CD Universal ? (JAP)

Don't :

CD 1 : Don't / I'm Gonna Getcha Good (live) / From This Moment On (live) / Up / She's Not Just A Pretty Face / Juanita / Forever And For Always / Ain't No Particular Way / It's Only Hurts When I'm Breathing / Nah! / (I Wanna Get To Know You) That Good! / C'Est La Vie / Ka-Ching / Thank You Baby (For Makin Someday Come So Soon) / Waiter! Bring Me Water! / What A Way To Wanna Be / I Aint Goin' Down / I'm Not In The Mood (To Say No) / In My Car (I'll Be The Driver) / When You Kiss Me
CD 2 : Any Man Of Mine / You're Still The One / When / Black Eyes, Blue Tears / From This Moment On / I Wont Leave You Lonely / I'm Holding On To Love /To Save My Life) / Come On Over / You've Got A Way / What Ever You Do! Dont / Man! I Feel Like A Woman / Love Gets Me Every Time / Dont Be Stupid (You Know I Love You) / That Dont Impress Me Much / Honey, I'm Home / If You Wanna Touch Her, Ask! / Rock This Country / God Bless The Child / Dont Be Stupid (You Know I Love You) (extended dance mix)

09/2022
CD EMI / Mercury 4824746 (US)

Not Just a Girl - The Highlights - Not Just A Girl / You're Still The One / Man! I Feel Like A Woman! / What Made You Say That [single version) / (If You're Not In It For Love) I'm Outta Here! / Whose Bed Have Your Boots Been Under? / Any Man Of Mine / You Win My Love / Don't Be Stupid (You Know I Love You) / I'm Holdin' On To Love (To Save My Life) / From This Moment On / Love Gets Me Every Time / That Don't Impress Me Much [edit] / Forever And For Always [red version] / Honey, I'm Home / I'm Gonna Getcha Good! [red version] / Up! [green version] / Life's About To Get Good

02/2023
CD EMI / Republic 4860855 (US)

Queen of Me - Giddy Up / Brand New / Waking Up Dreaming / Best Friend / Pretty Liar / Inhale/Exhale Air / Last Day Of Summer / Queen Of Me / Got It Good / Number One / Not Just A Girl / The Hardest Stone
© Rocky Productions 4/02/2023