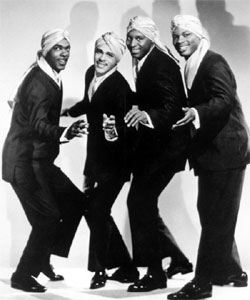 Groupe Doo Wop US formé en 1955 à Philadelphie (Pennsylvanie). Les Turbans comprenaient Al Banks, Matthew Platt, Charlie Williams et Andrew Jones.

The Turbans were among the first Philadelphia-based R&B outfits to achieve national recognition. They emerged in 1955 out of a local R&B scene that had previously been dominated by such tenor-led groups as the Castelles, the Capris, and the Dreams. The Turbans' distinctive trait (apart from their headgear) was the soaring falsetto lead singing of 17-year-old Al Banks (born July 26, 1937), supported by the backup harmony of Matthew Platt, baritone Charlie Williams, and bass Andrew Jones; all four were schoolmates when stardom beckoned.
They headed to New York and signed to Al Silver's Herald Records, where they cut their first record late in 1955. It was the B-side, the up-tempo "When You Dance," that caught on with DJs and ended up charting nationally, thus giving the Turbans the opportunity to tour the East Coast. Their second single had a similar fate, the B-side, "Sister Sookie," supplanting the more mellow A-side, "I'll Always Watch Over You," on radio station turntables and play lists and becoming a regional hit. This proved to be the high point for the group -- their next four records never matched the first two, and their Herald contract ended after the release of "Congratulations" in 1957. The group moved to Imperial and then to Roulette Records, undergoing numerous personnel changes in the process, with Banks remaining the lead singer throughout. Before his death in the late '70s, Banks became a member of one of the lineups of Drifters playing the oldies and club circuits, and "When You Dance" remained a part of his repertory.
https://en.wikipedia.org/wiki/The_Turbans
Talents : Al Banks : Falsetto Lead - Matthew Platt : Backup Harmony - Charlie Williams : Baritone - Andrew Jones : Bass
Style musical : Doo Wop, Rhythm 'n' Blues
Years in activity :
| | | | | | | | | | | | |
| --- | --- | --- | --- | --- | --- | --- | --- | --- | --- | --- | --- |
| 1910 | 20 | 30 | 40 | 50 | 60 | 70 | 80 | 90 | 2000 | 10 | 20 |
DISCOGRAPHY
78 t. & Singles
08/1955
78 t. & SP HERALD H-458 (US)
When You Dance / Let Me Show You (Around My Heart)
01/1956
78 t. & SP HERALD H-469 (US)
Sister Sookey / I'll Always Watch Over You
05/1956
78 t. & SP HERALD H-478 (US)
B-I-N-G-O (Bingo) / I'm Nobody's
08/1956
78 t. & SP HERALD H-486 (US)
It Was A Nite Like This / All Of My Love
01/1957
78 t. & SP HERALD H-495 (US)
Bye And Bye / Valley Of Love
12/1957
78 t. & SP HERALD H-510 (US)
Congratulations / Wadda-Do
1958
SP RED TOP RT-115 (US)

I Promise You Love / Curfew Time

08/1960
SP ROULETTE R-4281 (US)

Diamonds And Pearls / Bad Man

02/1961
SP ROULETTE R-4326 (US)

Three Friends / I'm Not Your Fool Anymore

03/1961
SP PARKWAY P-820 (US)
When You Dance / Golden Rings
01/1962
SP IMPERIAL 5807 (US)

Six Questions / The Lament Of Silver Gulch

04//1962
SP IMPERIAL 5828 (US)

Clicky Clicky Clack / This Is My Story

06/1962
SP IMPERIAL 5847 (US)

I Wonder (I Wanna Know) / The Damage Is Done

1965
SP FLASHBACK 17 (US)
When You Dance

/ Let Me Show You Round My Heart

1968
SP Sphere Sound 714 (US)

Congratulations / Sister Sooky

1972
SP FLASHBACK 61 (US)

Sister Sooky / I'll Watch Over You

1972 ?
SP LOST-NITE LN-414 (US)
When You Dance

/ Let Me Show You (Around My Heart)

197?
SP LOST-NITE LN-432 (US)

Congratulations / The Wadda-Do

197?
SP LOST-NITE LN-433 (US)

Sister Sookey / I'll Always Watch Over You

1973
SP GOLDIES 45 D-2488 (US)

When You Dance / Let Me Show You Round My Heart

1976
SP HI-OLDIES 445 (US)

When You Dance / Let Me Show You Around My Heart

1977
SP JANUS GOLD JG-726 (US)

When You Dance / Let Me Show You (Around My Heart)

1977
SP JANUS GOLD JG-731 (US)

Valley Of Love / All Of My Love

19??
SP COLLECTABLES COL-1480 (US)

When You Dance / Let Me Show You (Around My Heart)

19??
SP COLLECTABLES COL-1481 (US)

Congratulations / The Wadda-Do

19??
SP COLLECTABLES COL-1482 (US)

Sister Sookey / I'll Always Watch Over You

19??
SP COLLECTABLES COL-0347 (US)

Diamonds & Pearls / I'm Not Your Fool Anymore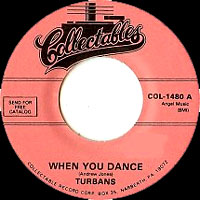 Unissued Tracks
| | | |
| --- | --- | --- |
| 1957 | HERALD unissued | My Girl Has Gone |
| 1957 | HERALD unissued | Say Girl |
| 1957 | HERALD unissued | Lonely |
| 1957 | HERALD unissued | Sockee Soo |
| 1957 | HERALD unissued | Farewell To Arms |
| 1957 | HERALD unissued | Miss Thing |
| 1961 | ROULETTE unissued | All She Wants To Do Is Dance |
| 1961 | IMPERIAL unissued | Gettin' Into Somethin |
| 1961 | IMPERIAL unissued | Sister Sookey's Back |
| 1961 | IMPERIAL unissued | Donna Kimberley |
| 1961 | IMPERIAL unissued | Hey Now! |
| 1961 | IMPERIAL unissued | It's All Over |
| 1961 | IMPERIAL unissued | Do You Feel Like I Feel |
Albums
197?
LP 12" RELIC 5009 ? (US)
GREATEST HITS - When You Dance / Let Me Show You Around My Heart / Wadda-Do / I'm Nobodys / B

.i.n.g.o.

/ I'll Watch Over You / It Was A Nite Like This / All Of My Love / Bye & Bye / Valley Of Tears / Sister Sookey / Congratulations
1981
LP 10" LOST NITE LLP-25 (US) (limited edition 1000 ex.)
THE TURBANS - When You Dance / Bingo / It Was A Nite Like This / Congratulations / Let Me Show You / Sister Sookey
1985
LP 12" COLLECTABLES COL-5019 (US)
THE BEST OF THE TURBANS -

Featuring, When You Dance -

When You Dance / Wadda-Do / Congratulations / Bye And Bye / B.I.N.G.O. / I'm Nobody's / Sister Sookey / All Of My Love / It Was A Night Like This / I'll Watch Over You / Valley Of Love / Let Me Show You Around My Heart
1992
CD RELIC RELIC CD 7039 (US)
WHEN YOU DANCE - When You Dance / Farewell to Arms / It Was A Night Like This / Congratulations / Wadda-Do / Valley Of Love / Miss Thing / I'm Nobody's / Sister Sookey / All Of My Love / Bingo / Lonely / Bye And Bye / Let Me Show You Around My Heart / Zaki-Sue / I'll Always Watch over You
04/1994
CD COLLECTABLES 5019 (US)
GREATEST HITS -

Featuring, When You Dance -

When You Dance / The Wadda-Do / Congradulations / All She Wants To Do Is Dance / Bye And Bye / B.I.N.G.O. / Three Friends / I'm Nobody's / Sister Sookey / I Won't Be Your Fool Anymore / All Of My Love / It Was A Night Like This / I'll Always Watch Over You / Bad Man / Valley Of Love / Bye And Bye (Outtake) / Let Me Show You Around My Heart / Diamonds And Pearls
1994
CD COLLECTABLES COL-CD-5019 (US)
THE BEST OF THE TURBANS -

Featuring, When You Dance -

When You Dance / The Wadda Do / Congratulations / All She Wants To Do Is Dance / Bye And Bye / B.I.N.G.O. / Three Friends / I'm Nobodys / Sister Sookey / I Won't Be Your Fool Anymore / All Of My Love / It Was A Night Like This / I'll Always Watch Over You / Bad Man / Valley Of Love / Bye And Bye (outtake) / Let Me Show You Around My Heart / Diamonds And Pearls
10/2002
CD COLLECTABLES 7511 (US)
THE COMPLETE HERALD RECORDINGS - VOLUME ONE - When You Dance / Congratulations / Sister Sookey / Bye And Bye / I Am Lonely / Farewell To Arms / Miss Thing / Let Me Show You Around My Heart / I'm Nobodys / It Was A Night Like This / All Of My Heart / The Wadda Do / The Valley Of Love / Farewell To Arms (Take Three) / B.I.N.G.O. / I'll Always Watch Over You / Sockee Soo / Mye And Bye (Outtake)
2003
CD CASTLE CD-1003 (US)

These Golden Rings - These Golden Rings / This Is My Story / I'm Not Your Fool Anymore / Sister Sookey's Back / All She Wants To Do Is Dance / The Damage Is Done / Clickity Clack Clack / Diamonds And Pearls / Do You Feel Like I Feel / Lament Of Silver Gulch / Six Questions / I Promise You Love / Donna Kimberly / Bad Man / Hey Now / I'm Not Your Fool Anymore (alternate) / I Wonder (I Wanna Know) / Three Friends / Cerfew Time / Gettin' Into Something / Come Back Don't Go / When You Dance ('61) / It's All Over

02/2008
CD Acrobat Music 51282 (UK)

When You Dance - The Herald Recordings - When You Dance / Let Me Show You (Around My Heart) / Sister Sookey / I'll Always Watch Over You / B-I-N-G-O / I'm Nobody's / It Was A Night Like This / All Of My Love / Bye And Bye / Valley Of Love / Congratulations / The Wadda Do

11/2008
CD Acrobat Music AM00202 (UK)

When You Dance - the Turbans - The Nutmegs - TURBANS : When You Dance / Let Me Show You / Sister Sookey / I'll Always Watch Over You / B-I-N-G-O / It Was A Night Like This / All Of My Love / Bye And Bye / Congratulations / Nutmegs : A Story Untold / Make Me Lose My Mind / The Ship Of Love / Rock Me / Whispering Sorrows / Betty Lou / Gift O Gabbin Women / Key To The Kingdom / A Love So True

2008
CD Acrobat Music 4251 (UK)

The Nutmegs vs. the Turbans - Turbans : When You Dance / Let Me Show You (Around My Heart) / Sister Sookey / I'll Always Watch Over You / B-I-N-G-O / I'm Nobody's / It Was a Night Like This / All Of My Love / Bye And Bye / Valley Of Love / Congratulations / The Wadda Do / Farewell To Arms / Nutmegs : A Story Untold / Make Me Lose My Mind / The Ship Of Love / Rock Me / Whispering Sorrows / Betty Lou / Gift O Gabbin Women / Key To The Kingdom / A Love So True / Comin' Home / My Story / My Sweet Dream / Someone, Somewhere (Help Me) / A Dream Of Love / Crazy 'bout You / Rip Van Winkle / A Story Untold

08/2009
CD COLLECTABLES COLCD 1406 (US)

The Turbans Meet the Nutmegs - TURBANS : When You Dance / Sister Sookie / Congratulations / It Was A Night Like This / Valley Of Love / Nutmegs : Story Untold / Key To The Kingdom / Ship Of Love / Comin' Home / Whispering Sorrow

2015
CD Oldays ODR6102 (JAP)
GREATEST HITS - When You Dance / Let Me Show You Around My Heart / Wadda-Do / I'm Nobodys / B

.i.n.g.o.

/ I'll Watch Over You / It Was A Nite Like This / All Of My Love / Bye & Bye / Valley Of Tears / Sister Sookey / Congratulations / BONUS TRACKS : When You Dance (1961 Parkway) / I Promise You Love / Diamonds And Pearls / Golden Rings / Six Questions
© Rocky Productions 14/09/2019