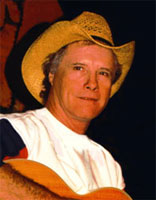 Chanteur Country US né James Joseph Paulsen, le 25 Septembre 1943 à Rochester (Minnesota). Joe Sun est décédé le 25 Octobre 2019.

Born James J. Paulson, 25 September 1943, Rochester, Minnesota, USA. Sun listened to country and blues radio stations, hence the strong blues edge to his country music. In the early 70s, he moved to Chicago for a job in computers but he attended folk clubs along Wells Street and was further influenced by John Prine and Steve Goodman. He built up the confidence to become a performer himself, first working as Jack Daniels and then with a group, the Branded Men. During a stint as a disc jockey in Minneapolis, he was mesmerized by Mickey Newbury's 'Are My Thoughts With You?' and decided to move to Nashville. He arrived in 1972 and formed his own graphics company, The Sun Shop, and then used his disc jockey experience to become a record-plugger. He helped to re-establish Bill Black's Combo. In 1977 he worked for the newly formed country division of Ovation Records, defiantly promoting a b-side, the Kendalls' 'Heaven's Just A Sin Away', which went to number 1 in the US country chart. Ovation invited him make his own recordings and he quickly went to number 14 in the US country charts with Hugh Moffatt's song, 'Old Flames (Can't Hold A Candle To You)'. He had further hits with 'High And Dry', 'I Came On Business For The King' and, with Sheila Andrews, 'What I Had With You'. 'Shotgun Rider' also made the US pop charts, while his cover version of 'The Long Black Veil' includes an introduction from its writers, Danny Dill and Marijohn Wilkin. After Ovation went bankrupt, he moved to Elektra Records but his hard-rocking country style was poorly promoted. With his group, the Solar System, he took to touring Europe two or three times a year. His album, Hank Bogart Still Lives, is a tribute to his heroes. His favourite of his own compositions is 'The Sun Never Sets': 'I don't think I'll do much better than that.'
Joe Sun passed away on October 25, 2019.
https://en.wikipedia.org/wiki/Joe_Sun
Talents : Vocals, Guitar
Style musical : Outlaw Country, Country Soul, Honky Tonk

https://youtu.be/W2JagedfRgs
Years in activity :
| | | | | | | | | | | | |
| --- | --- | --- | --- | --- | --- | --- | --- | --- | --- | --- | --- |
| 1910 | 20 | 30 | 40 | 50 | 60 | 70 | 80 | 90 | 2000 | 10 | 20 |
DISCOGRAPHY
Singles
04/1978
SP OVATION OV-1107 (US)
.
Old Flames (Can't Hold A Candle To You) / (Home Away From Home) I'll Find It Where I Can
10/1978
SP OVATION OV-1117 (US)
.
High And Dry / Midnight Train Of Memories
1978
SP OVATION

INT 111.202

(GER)

Blue Ribbon Blues / Old Flames (Can't Hold A Candle To You)

02/1979
SP OVATION OV-1122 (US)
.
I Came On Business For A King (single version) / Blue Ribbon Blues
07/1979
SP OVATION OV-1127 (US)
.
I'd Rather Go On Hurtin' / I'm Still Crazy About You
11/1979
SP OVATION OV-1137 (US)
Out Of My Mind / Mysteries Of Life (My First Truckin' Song)
1979
SP OVATION INT 111.212 (GER)
Out Of My Mind / Mysteries Of Life (My First Truckin' Song)
12/1979
SP OVATION OV-1138 (US)
.
What I Had With You (with Sheila ANDREWS) / Gotta Get Back The Feeling (with Sheila ANDREWS)
02/1980
SP OVATION OV-1141 (US)
.
Shotgun Rider / Little Bit Of Push
1980
SP OVATION

INT 111.213

(GER)
Shotgun Rider / Little Bit Of Push
07/1980
SP OVATION OV-1152 (US)
Bombed Boozed And Busted / (Home Away From Home) I'll Find It Where I Can
1980
SP OVATION

INT 111.217

(GER)
Bombed Boozed And Busted / (Home Away From Home) I'll Find It Where I Can
11/1980
SP OVATION OV-1162 (US)
.
Ready For Times To Get Better / Bottom Line
11/1981
SP ELEKTRA E-47229 (US)
.
Silent Night / On The Wings Of My Victory
11/1981
SP ELEKTRA E-47232 (US)
.
Silent Night /O Holy Night (Helen CORNELIUS)
1981
SP USA UR 2788 (US)
.

Sunshine and California Wine / May the Flower (with Martha Mason)

02/1982
SP ELEKTRA E-47417 (US)
.
Holed Up In Some Honky Tonk / Boys In The Back Of The Bus
05/1982
SP ELEKTRA E-47467 (US)
.
Fraulein / I Ain't Honky Tonkin' No More
09/1982
SP ELEKTRA 7-69954 (US)
.
You Make Me Want To Sing / Midnght Train Of Memories
06/1984
SP AMI 1319 (US) (DJ single)
.
Bad For Me / Bad For Me
12/1984
SP AMI 1321 (US) (DJ single)
.
Why Would I Want To Forget / Why Would I Want To Forget
1984
SP SONET T-10132 (SWE)

Everyone In Sweden / No One Said It Was Going To Be Easy

1984
SP SONET SON 2272 (SWE)

The Dark Side Of Town / The Next Motel

1985
SP AMI 1324 (US) (DJ single)
.
West Texas Wind / West Texas Wind
| | |
| --- | --- |
| | |
Albums
10/1978
LP 12" OVATION OV-1734 (US)
OLD FLAMES - Old Flames (Can't Hold A Candle To You) / Blue Ribbon Blues / I Came On Business For The King / Born Too Late / Ozark Mountain Lullaby / Midnight Train Of Memories / High And Dry / This Body That I Call My Home / That Evil Child / Danny Dill & Marijohn Wilkin (narration) / Long Black Veil
09/1979
LP 12" OVATION OV-1743 (US)
OUT OF YOUR MIND - Out Among The Stars / Shotgun Rider / Out Of Your Mind / Home Away From Home I'll Find It Where I Can / Little Bit Of Push / I'd Rather Go On Hurtin' / Mysteries Of Life (My First Truckin' Song) / Why You Been Gone So Long / I'm Still Crazy About Yo / One Timers
09/1980
LP 12" OVATION OV-1755 (US)
LIVIN' ON HONKY TONK TIME -

Joe Sun With Shotgun

- Ready For The Times To Get Better / My Sweet Love Ain't Around / We're All A Bunch Of Outlaws In Our Mind / Please Pull Away From Me / Bottom Line / I'd Better Go Home / Lonesome Rainin' City / Bombed Boozed And Busted / Alabama Rose / Hobo On A Freight Train To Heaven / Honky Tonkin' / Knockin' On Heaven's Door
1981
LP 12" Intercord INT-145.046 (EUR)

Storms Of Life - Folsom Prison Blues / Ella B / Break My Mind / Endless Sleep / Little Old Winedrinker Me / What's Left Of Me Will Never Be Right / Rock, Salt And Nails / Kansas City / Storms Of Life / I Ain't Nothin' Buddy But Drunk

02/1982
LP 12" ELEKTRA E1-60010 (US)
I AIN'T HONKY TONKIN' ANYMORE - I Ain't Honky Tonkin' Anymore / Slow Moving Freight Train / Stepping Out Blues / Fraulein / Will The Circle Be Unbroken / Gimme Some Loving / Take The Time To Fall / Living Outside The Law / Hold Up In Some Honky Tonk / Boys In The Back Of The Bus
09/1982
LP 12" ELEKTRA E1-60189 (US)
THE BEST OF JOE SUN - Old Flames (Can't Hold A Candle To You) / (Home Away From Home) I'll Find It Where I Can / Midnight Train Of Memories / Shotgun Rider / Long Black Veil / You Make Me Want To Sing / High And Dry / Blue Ribbon Blues / Out Of Your Mind / Bombed Boozed And Busted
1984
LP 12" SONET SNTF-922 (SWE)
THE SUN NEVER SETS -

Joe Sun & The Solar System -

The Dark Side Of Town / Peel Arkansas / Light That Shines The Brightest / It Don't Take Much (Ode To Teaser) / Next Motel / Sun Never Sets / Bad For Me / No One Said It Was Gonna Be Easy / Who In The Hell Are They / Throw Me A Line / single Sing-A-Long Country Song / Everyone In Sweden
1988
CD DIXIE FROG DFG-8403CD (F)
TWILIGHT ZONE - Twilight Zone / Bad For Me / Cool As The Clay / What Time Can Do / Highway To Heaven / Could I Stay With You Tonight / Throw Me A Line / West Texas Wind / Tearin' Up My Tickets To Tulsa / Almost Over The Line
1989
CD DIXIE FROG DFGCD-8418CD (F)
HANK BOGART STILL LIVES - Hank And Bogart Still Live / Part Of Me Missing You / Doreen / Slow Motion / Stand Of The South Being Down / Chasing Rainbows / Maxine / Gas And Food Exit Off 1-24 / Jimmy 55 / Watermelon Time In Georgia / Burning Memories / Good Loving Bad / Ballad Of Thunder Road
1991
CD DIXIE FROG DFG-8423CD (F)

Out On The Road - Wondering What The Girls Do (On The Boys Night Out) / / Honky Tonk Hangin' Round / Savannah Is Blue / Out On The Road / Breakin' It / Up On The Hill / Operator Operator / As If I Didn't Know / The Day The President Died / Hittin' That Ol' Highway / Love Without Walls

1992
CD CRAZY MUSIC CD-9203 (AUT)
DIXIE AND ME - Dixie And Me / Blow The Stars Out Of The Sky / Jesus Was A Real Man / The Animal Song / Get My Ship Together / Lucky / Some Old Memory / Lady Who Plays The Organ / So Easy To Hold /. I've Never Been To Heaven / The City / Oh Ma / When The Shit Hits The Fan
1993
CD CRAZY MUSIC CD-9205 (AUT)
SOME OLD MEMORIES 1988-1993 - Some Old Memory / Doreen / Twilight Zone / Savannah Is Blue / You Sure Took My Time / Slow Motion / Up On The Hill / Hank And Bogart Still Live / Could I Stay With You Tonight / One Tear At A Time / Out On The Road / Remember Me
1998
CD DIXIE FROG CD-8472 (F)
HEARTBREAK SALOON - Tonight The Bottle Let Me Down / Heartbreak Saloon / Some Lucky Stardust / Hearts Of Gold / Honky Tonk Hell / Birmingham In The Rain / Johnny B Goode / Better Yesterday / Steppin' Stones / House Of The Rising Sun / Tearin' Up My Ticket To Tulsa / Honky Tonkin' This World Round / Dancin' Too Much / Roll On Big River / Forever Young
05/2017
CD New Cut ? (US)

Diamonds In The Dust - Baby We're Gonna Get Loose / If That's The Way You Want It / Louisiana Backroad / Loving In The Morning / Busted / It Won't Be Because I Haven't Tried / Blue Moon Of Kentucky / Hanging On To You / I Never Thought I'd Ever Be An Outlaw / When You Give Your Love To Me / Gold Dust Woman / Back On My Own Again / To Be Your Man / The Earth Moved In Her Body / On The Wings Of My Victor
© Rocky Productions 25/04/2019