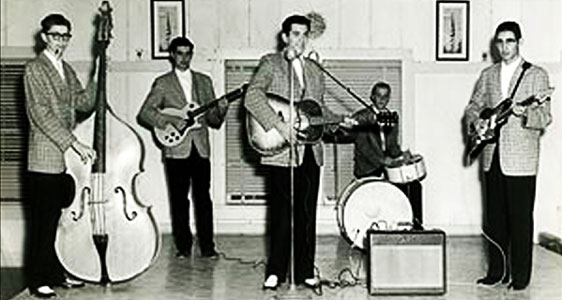 Groupe instrumental Rock 'n' Roll US formé en 1956 et comprenant Keith McCormack, Richard Stephen, Jimmy Torres, Aubrey De Cordova et Charles Jay Edmiston, remplacé plus tard par Don Allen.

Famed for their instrumental smash "Wheels," Plainview, TX rock & roll combo the String-A-Longs was formed in 1956 by singer/guitarist Keith McCormack, guitarist Richard Stephens and bassist Aubrey de Cordova. High school classmates who originally joined forces under the name the Patio Kids, the group expanded to a quartet with the addition of drummer Charles Jay Edmiston, and in early 1957 changed their name to the Rock 'n' Rollers to coincide with the arrival of second guitarist Jimmy Torres. Their growing local popularity inspired McCormack's mother to fund a recording session at producer Norman Petty's Clovis, NM studios, and after replacing Edmiston with drummer Don Allen, the band — which had again changed its name, this time to the Leen Teens — recorded the tracks "So Shy" and "Dreams About You," later issued on Imperial. The record stiffed, and although Petty produced several more sessions in the years to follow, none of the material saw an official release.
While cutting a 1960 date, McCormack's voice gave out, and Petty suggested they record his TexMex-influenced instrumental composition "Wheels," backed by the Leen Teens' own instrumental "Tell the World." At Petty's insistence, the name "String-A-Longs" was installed prior to the single's release on Warwick; when both sides began earning airplay, the label split the disc into two A-sides, although "Wheels" (newly backed by the Vocals performance "Am I Asking Too Much") became the far bigger hit, reaching the number three spot in the U.S. in early 1961. The follow-up "Brass Buttons" also hit the Top 40, a distinction narrowly missed by the String-A-Longs' third release, "Should I." A series of singles as well as an LP, Pick-A-Hit Featuring "Wheels," followed before Warwick filed for bankruptcy in 1962; the group then signed to Dot, where efforts like "Twist Watch," "Replica" and "Myna Bird" failed to attract much attention. After 1965's "Caravan" met a similar fate, the String-A-Longs disbanded, with McCormack — who'd earlier penned the Jimmy Gilmer & the Fireballs chart-topper "Sugar Shack" — replacing Gilmer three years later.
https://en.wikipedia.org/wiki/The_String-A-Longs
Talents : Keith McCormack : Singer, Guitar - Richard Stephen : Guitar - Jimmy Torres : Guitar : Aubrey De Cordova : Bass - Charles Jay Edmiston : Drums - Don Allen : Drums
Style musical : Rock 'n' Roll, Instrumental Rock
Years in activity :
| | | | | | | | | | |
| --- | --- | --- | --- | --- | --- | --- | --- | --- | --- |
| 1910 | 20 | 30 | 40 | 50 | 60 | 70 | 80 | 90 | 2000 |
DISCOGRAPHY
Singles & EP
10/1960
SP WARWICK M 603 (US)

.

Am I Asking Too Much / Wheels
11/1960
SP WARWICK M 603 (US)
.
Wheels / Am I Asking Too Much?
1961
SP LONDON 9.5.219 (B)
Wheels / Am I Asking Too Much
1961
SP LONDON 45-HL 9278 (DK)

Wheels / Am I Asking Too Much

01/1961
SP WARWICK 606 (US)
.
Tell The World / For My Angel
03/1961
SP WARWICK 625 (US)
.
Brass Buttons / Panic Button
05/1961
SP WARWICK 654 (US)
.
Should I / Take A Minute
07/1961
EP LONDON REU 10.085 (F)
Wheels / Am I Asking Too Much / Panic Button / Brass Buttons
09/1961
SP WARWICK 668 (US)
.
Mina Bird / Scottie
1961
EP LONDON EDGE 71551 (I)

Wheels / Am I Asking Too Much / Brass Buttons / Panic Button

1961
FLEXI-DISC 33 t. Yamaha Music YM 4A/B (JAP) (picture disc)

| | |
| --- | --- |
| | Wheels / Am I Asking Too Much (STRING-A-LONGS) / Quite A Party / Gunshot (FIREBALLS) |

01/1962
SP WARWICK 675 (US)
.
Nearly Sunrise / Red River Twist
01/1962
EP LONDON REU 1322 (UK)

String-A-Long With The String-A-Longs - Wheels / Should I / Mina Bird / Scottie

02/1962
SP DOT 45-16361 (US)
.

Sunday (Salve Regina) / Twistwatch

1962
SP LONDON DL 20 614 (GER)

Sunday (Salve Regina) / Twistwatch

1962
SP DOT D 291 (DK)
Twistwatch / Sunday (Salve Regina)
06/1962
SP DOT 45-16379 (US)
.
My Blue Heaven / Spinnin' My Wheels
1962
SP DOT D 301 (DK)
My Blue Heaven / Spinnin' My Wheels
09/1962
SP DOT 45-16393 (US)
.
Matilda / Replica
1962
SP LONDON DL 20 658 (GER)

My Blue Heaven / Replica

1962
SP LONDON 45-HL 1439 (I)

My Blue Heaven / Spinnin' My Wheels

1963
SP LONDON 45-HL 1448 (I)

Matilda / Replica

01/1963
SP DOT 45-16448 (US)
.
Happy Melody / Heartaches
02/1963
EP LONDON RED 1350 (UK)

My Blue Heaven / Sunday / Replica / Matilda

11/1963
EP LONDON RE-D 1398 (UK)

String-A-Long With The String-A-Longs - Vol. 2 - Nearly Sunrise / Walk Don't Run / Brass Buttons / Summertime

01/1964
SP DOT 45-16575 (US)
.
My Babe / Myna Bird
1964
SP LONDON DL 20 758 (GER)
My Babe / Myna Bird
1964
EP LONDON REM.6049 (NZ)

String-A-Long With The String-A-Longs - Wheels / Am I Asking Too Much? / Scottie / Mina Bird

02/1965
SP DOT 45-16708 (US)
.
Caravan / Mathilda
05/1965
SP LONDON FLX 3153 (NL)

Wheels / Should I

1967
SP CNR F 437 (NL)

There Is A Mountain / Black Grass

07/1969
SP ATCO 45-6694 (US)
.
Popi / Places I Remember
1972
SP LONDON 79.620-Y (F)

Wheels / Am I Asking Too Much

1977
SP SURPRISE JTU 768 (B)

| | |
| --- | --- |
| | Golden 45's - 3 - Wheels / Walk Don't Run |

19??
SP WARWICK

Solid Gold

W-611 (US)
.
Red River Rock (

Johnny

& The

Hurricans

) / Wheels (STRING-A-LONGS)
Albums
1961
LP 12" WARWICK W2036 (mono) / W2036ST (stereo) (US)

| | |
| --- | --- |
| | PICK A HIT - Wheels / Are You Lonesome Tonight / Sentimental Journey / Perfidia / Panic Button / Torquay / Red River Twist / Bulldog / Harbor Lights / Nearly Sunrise / Walk Don't Run / Save The Last Dance For Me |

1962
LP 12" DOT DLP 2463 (mono) / DLP 25463 (stereo) (US)
MATILDA - My Blue Heaven / Brass Buttons / Are You Lonesome Tonight / Torquay / Summertime / Panic Button / Matilda / Nearly Sunrise / Walk Don't Run / Harbor Lights / Perfidia / Bulldog
1963
LP 12" Curcio ‎GSR 97 (I)

La Grande Storia Del Rock – 97 - The String-A-Longs / The Cowsills - STRING-A-LONGS : Wheels / Are You Lonesome Tonight / Sentimental Journey / Panic Button / Torquay / Red River Twist / Nearly Sunrise / Perfidia / Bulldog / Harbor Lights / COWSILLS : Indian Lake / Hair / The Rain, The Park & Other Things

1966
LP 12" DOT DLP 3723 (mono) / DLP 25723 (stereo) (US)
GREAT INSTRUMENTAL HITS - My Blue Heaven / Brass Buttons / Are You Lonesome / Torquay / Summertime / Panic Button / Matilda / Nearly Sunrise / Walk Don't Run / Harbor Lights / Perfidia / Bulldog
1968
LP 12" ATCO SD 33-241 (US)

Wide World Hits - More / Places I Remember / Love Is Blue / La Pobracita (Poor Little One) / Silence Is Golden / Black Grass / There Is A Mountain / I'll Be There / Blue Guitar / Groovin' / Black Is Black / Someone Stronger

1969
LP 12" CNR ZZ 1606 (NL)

Wide World Hits - More / Places I Remember / Love Is Blue / La Pobracita (Poor Little One) / Silence Is Golden / Black Grass / There Is A Mountain / I'll Be There / Blue Guitar / Groovin' / Black Is Black / Someone Stronger

196?
LP 12" DOT SJET-7254 (JAP)

Wheels -

Walk Don't Run / Harbor Lights / Perfidia / Bulldog / Nearly Sunrise / Matilda / My Blue Heaven / Brass Buttons / Are You Lonesome Tonight / Torquay / Panic Button / Summertime / Wheels / Sentimental Journey / Red River Twist / Save The Last Dance For Me / My Babe / Twistwatch / Happy Melody / Heartaches / Am I Asking Too Much

1977
LP 12" CL CL 2001 (B)

Wheels -

Wheels / Are You Lonesome Tonight / Sentimental Journey / Perfida / Panic Button / Torquay / Red River Twist / Bulldog / Harbor Lights / Nearly Sunrise / Walk Don't Run / Save The Last Dance For Me
1977
LP 12" Surprise JTU AL 09 (B)

Wheels - Wheels / Are You Lonesome Tonight / Sentimental Journey / Perfida / Panic Button / Torquay / Red River Twist / Bulldog / Harbor Lights / Nearly Sunrise / Walk Don't Run / Save The Last Dance For Me

1977 ?
3 LP 12 Surprise TRI BOX 04 (B)

Rock And Roll Guitars -

The

Spotnicks

- Johnny & The Hurricanes ‎- The

String-A-Longs

:

DISC 1 : The

Spotnicks

- Spotlight On

: Spotnick Theme / Orange Blossom Special / Rocket Man / Galloping Guitars / Ghost Riders In The Sky / Old Spinning Wheel / Ol' Man River / Endless Walk / Home On The Range / Swing Low Sweet Charriot
DISC 2 : Johnny & The Hurricanes - Red River Rock : Red River Rock / Happy Time / Buckeye / Cutout / Lazy / Walkin' / Crossfire / Storm Warning / Bambou / Thunderbolt / Joy Ride / Rock Cha
DISC 3 : The

String-A-Longs

-

Wheels :

Wheels / Are You Lonesome Tonight / Sentimental Journey / Perfida / Panic Buttom / Torquay / Red River Twist / Bulldog / Harbor Lights / Nearly Sunrise / Walk Don't Run / Save The Last Dance For Me

1977 ?
3 LP 12 Surprise TRI BOX 04 (B)
GOLDEN GUITARS : The

Spotnicks

- Johnny & The Hurricanes ‎- The

String-A-Longs

:

DISC 1 : The

Spotnicks

- Spotlight On

: Spotnick Theme / Orange Blossom Special / Rocket Man / Galloping Guitars / Ghost Riders In The Sky / Old Spinning Wheel / Ol' Man River / Endless Walk / Home On The Range / Swing Low Sweet Charriot
DISC 2 : Johnny & The Hurricanes - Red River Rock : Red River Rock / Happy Time / Buckeye / Cutout / Lazy / Walkin' / Crossfire / Storm Warning / Bambou / Thunderbolt / Joy Ride / Rock Cha
DISC 3 : The

String-A-Longs

-

Wheels :

Wheels / Are You Lonesome Tonight / Sentimental Journey / Perfida / Panic Buttom / Torquay / Red River Twist / Bulldog / Harbor Lights / Nearly Sunrise / Walk Don't Run / Save The Last Dance For Me

1979
LP 12" Splash SH-8016 (CAN)

Wheels - Wheels / Are You Lonesome Tonight / Sentimental Journey / Perfidia / Panic Button / Torquay / Red River Twist / Bulldog / Harbor Lights / Nearly Sunrise / Walk Don't Run / Save The Last Dance For Me

1993
CD ACE CDCHD 390 (UK)
WHEELS - Wheels / Brass Buttons / Should I / Scottie / Nearly Sunrise / Sunday (Salve Regina) / My Blue Heaven / Mathilda / Skippin' / Mina Bird / Happy Melody / Panic Button / Walk Don't Run / Summertime / Perfidia / Bulldog / Spinnin' My Wheels / Red River Twist / Take A Minute / You Don't Have To Go / Torquay / Twist Watch / Harbour Lights / Tell The World / Are You Lonesome Tonight / My Babe / Heartaches/ Replica
01/2000
CD COLLECTABLES 6122 (US)

THE VERY BEST OF THE STRING-A-LONGS -

Wheels / Sentimental Journey / Harbor Lights / Are You Lonesome Tonight? / Perfidia / Torquay / Panic Button / Red River Twist / Nearly Sunrise / Bulldog / Walk, Don't Run / Save The Last Dance For Me
03/2003
CD ACE 1144 (UK)

THE TEX-MEX TEEN MAGIC OF THE STRING-A-LONGS -

Wheels / Am I Asking Too Much / Cute Little Frown (Brian KEITH) / Brass Buttons / Mary Mary (LEEN TEENS) / Hound Dog (Brian KEITH) / Should I? / For My Angel / Sister Little Shoes (Keith McCORMACK) / Mina Bird / Mathilda / Dream Around You (LEEN TEENS) / So Shy (LEEN TEENS) / Save The Last Dance For Me / For You (ROCK 'N' ROLLERS) / "Boy!" I Think It's Really Love (ROCK 'N' ROLLERS) / Mean Woman (Brian KEITH) / Sentimental Journey / Sad Sad Song (ROCK 'N' ROLLERS) / The Big Fall (Keith McCORMACK) / Bloomin' Bird (BUGMEN) / Caravan / Stumbin' Stone (KEITH & KAY) / Spring Has Sprung (KEITH & KAY) / Sugar Shack (Keith McCORMACK) / Mathilda

[instr.]

2010
CD ACE CDLUX 004 (EUR)

Exotic Guitars From The Clovis Vaults - FIREBALLS : Torquette / Poquito / Motivation / Stormy / Mexican Firefly / Coriander / Hold Me Tight / Sashay / Love Child / GUITARS INC : Little Toy / FIREBALLS : Find Me A Golden Street / Light My Fire / Drugstore Cowboy / GUITARS INC : Holiday Love / Dock Of The Bay / Holly Hop / STRING-A-LONGS : Popi / More / Places I Remember / Love Is Blue / La Pobracita (Poor Little One) / Silence Is Golden / Black Grass /There Is A Mountain / I'll Be There / Blue Guitar / Groovin' / Black Is Black / Someone Stronger / George Tomsco : Lonely Fire
© Rocky Productions 17/04/2019