| | |
| --- | --- |
| | |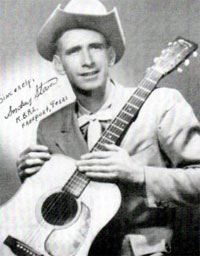 Chanteur Country US né Noble F. Stover, le 16 Novembre 1928 à Huntsville (Texas). Smokey Stover est décédé le 3 Juin 2005.



US Country singer born Noble F. Stover on Nov. 16, 1928 in Huntsville, TX, Smokey had his own band and was playing the honky tonks of Texas at 16. In 1949, a new radio station went on the air in Pasadena, TX where he landed his first deejaying job at KLVL-AM, an on-the-air learning experience. A year later, KRCT-AM in Baytown, TX lured him away. Over the next year, Smokey's show became so popular, the station changed their format to country and hired two more deejays.
In 1954, he moved on to KBRZ-AM in Freeport, TX where he stayed for three years except for a six-month interval in 1956 when he helped launch KLOS in Albuquerque, NM. In 1958, he moved to KCIJ-AM in Shreveport, LA to be near the Louisiana Hayride, hoping the move would push his singing career. Seven months later, the station changed owners who brought in their own deejays. With the help of a friend, Claude Gray, Smokey found a job at WDAL in Meridian, MS where he stayed until late 1959 when he received a call from his old Freeport boss, Ken Ferguson. Ken was opening KMOP in Tucson, AZ and wanted Smokey to be his sign-on man. Smokey hit the airwaves there in Jan. 1960 and remained there for eight years when he took a couple of years out to concentrate on his singing and songwriting.
On Jan. 1, 1970, Smokey went back on the air at KRZE in Farmington, NM. A year-and-a-half later, his mother's illness forced him back to Houston, TX. He more or less retired from radio then until 1992 when a friend built a new station, KVST in Conroe/Huntsville, TX. Smokey went on the air there in early 1993 and ran a midnight 'til 6 am show for a year until it "got old" and he re-retired. In 1995, Ernie Ashworth lured him to Gallatin, TN to get the "Country Classic" station of WYXE off the ground. Smokey enjoyed romping and stomping with the Oldies for about eight months when he hung it up and returned to his native Texas where he's retired from radio, but still pickin' and singin' every weekend. His latest recording is titled, I May Be Getting Older, But I Ain't Stopped Thinking Young.
Smokey was inducted into the Country Music DJ Hall of Fame in 2000.
Talents : Vocals, Guitar, DJ
Style musical : Traditional Country, Rockabilly

http://youtu.be/RsRNUqPpk44
Years in activity :
| | | | | | | | | | | | |
| --- | --- | --- | --- | --- | --- | --- | --- | --- | --- | --- | --- |
| 1910 | 20 | 30 | 40 | 50 | 60 | 70 | 80 | 90 | 2000 | 10 | 20 |
DISCOGRAPHY
78 t. & Singles
| | | |
| --- | --- | --- |
| 1949 | 78 t. STAMPEDE 101 (US) | Smokey STOVER & STAMPEDE WRANGLERS - I'm Planting A Rose / It's The Natural Thing |
| 1949 | 78 t. STAMPEDE 102 (US) | My Last Bokay To You / Underneath The Lover's Moon |
| 1952 | 78 t. & SP STAMPEDE 103 (US) | Smokey STOVER with The BAILES BROTHERS - Traveling The Highway Home / Micah-Five-And-Two |
| 07/1953 | 78 t. SPECIALTY SP-715 (US) | What A Shame / Because I Loved Her So |
| 1954 | 78 t. FEATURE F-1084 (US) | Go On And Leave My Baby Alone / That's How True My Love Is For You |
| 1954 | SP FEATURE 45 F-1084 (US) | Go On And Leave My Baby Alone / That's How True My Love Is For You |
| 05/19556 | 78 t. STARDAY 192 (US) | You Won't Kid Me, Would You? / It's Easier Said Than Done |
| 05/1955 | SP STARDAY 45-192 (US) | You Won't Kid Me, Would You? / It's Easier Said Than Done |
| 09/1955 | SP SAGE & SAND 45-209 (US) | Smokey STOVER & His STAMPEDE WRANGLERS - Never Thought I'd See The Day / Don't Ever Take Her Love For Granted |
| 1955 | SP SAGE & SAND 45-210 (US) | There's No Right Way To Do Me Wrong / No Plans For The Future |
| 11/1956 | SP STARDAY 45-274 (US) | Now / My Building Of Dreams |
| 12/1958 | SP SAGE 45-278 (US) | Rock Me / Why Did I Cry |
| 02/1959 | SP OL' PODNER 101 (US) | My Building Of Dreams / It's Easier Said Than Done |
| 04/1959 | SP OL' PODNER 102 / 103 (US) | What's Wrong With Me? / What's More |
| 03/1960 | SP OL' PODNER OP-104 (US) | Lifetime Of Forgettin' / Ballad Of Jimmy Hoffa |
| 1960 | SP STUDIO FOUR ? (US) | Smokey Stover & Firemen - Someday You'll Be Sorry / I've Found A New Baby / Old Folks |
| 06/1962 | SP TOPPA 45-1061 (US) | On The Warpath / Sometimes You Just Can't Win |
| 04/1963 | SP Na.R.Co 105 (US) | This Hurt Inside Of Me / Remember Me |
| 10/1963 | SP SIMS 172 (US) | When The Sun Goes Down / One Thing In Common |
| 10/1965 | SP BOYD 153 (US) | I Want The Cake Not The Crumbs / Who Will Be The Next One |
| 01/1967 | SP COLUMBIA 4-43968 (US) | Leaving Is The Hardest Thing To Do / Too Many Things Going My Way |
| 1993 | SP BLACK SMOKE ? (US) | Sweetheart Of The Opry / ? |
| 1994 | SP BLACK SMOKE ? (US) | I Can Quit Anytime / ? |
| 1999 | SP BLACK SMOKE ? (US) | I May Be Getting Older / Thinking Of You / ? |
Need Info
| | | |
| --- | --- | --- |
| 195? | Need info | Let's Have A Ball |
© Rocky Productions 1/04/2019