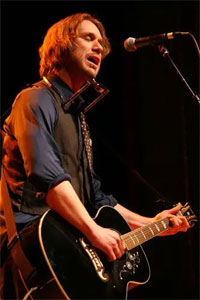 Chanteur et compositeur né le 11 Octobre 1966 à Portland (Oregon).

Todd Snider is perhaps the quintessential post-modern troubadour, toiling away on the folk and Americana circuits year after year, never gaining a hit but always enlarging his audience. For a while, it seemed as though Snider could ride the post-Nirvana alt-rock wave that brought contemporaries like Jill Sobule a single hit, but his 1994 debut, Songs for the Daily Planet, peaked at number 23 on Billboard's Heatseeker chart, with its accompanying single "Talkin' Seattle Grunge Rock Blues" proved not to be a novelty fluke. That very title hints at the humor that distinguishes Snider's catalog, but his lively, witty songs also dig emotionally deeper, which is why he has sustained a career for decades after that 1994 debut, sometimes cresting into the charts -- Devil You Know reached number four on the Heatseekers charts in 2006; The Excitement Plan made it to number 144 on the Hot 100 in 2009; Agnostic Hymns & Stoner Fables reached number 95 in 2012 -- but always maintaining an audience devoted to his wry quips and heart-rending ballads, a style that was showcased well on 2021's First Agnostic Church of Hope and Wonder.
Snider was born in Portland, Oregon, and grew up in Santa Rosa, Austin, Houston, and Atlanta. After moving to Memphis in the mid-'80s and establishing residency at a local club named the Daily Planet, he was discovered by singer/songwriter Keith Sykes, a member of Jimmy Buffett's Coral Reefer Band. Sykes began to work with Snider to help advance his career, and after passing on demo tapes of Snider to Buffett, he was signed to the star's Margaritaville Records. Snider's debut album, Songs for the Daily Planet, was released in the fall of 1994; "Talkin' Seattle Grunge Rock Blues" was added to the album as an afterthought only after intense lobbying by a Canadian music critic, and ultimately became a minor hit.
On his second effort, 1996's Step Right Up, Snider and his band, the Nervous Wrecks (comprised of lead guitarist and multi-instrumentalist Will Kimbrough, bassist Joe Mariencheck, drummer Joe McLeary, and keyboardist David Zollo), continued blending bluegrass, blues, folk-rock, and country-rock to forge their own distinctive sound. On his third album, 1998's Viva Satellite, Snider took a Tom Petty approach, replacing much of his acoustic setup with twang-drenched electric guitar. In 2000, he signed to John Prine's Oh Boy label and returned to his singer/songwriter roots with Happy to Be Here. He recorded three more records for the label: 2002's New Connection, 2003's Near Truths and Hotel Rooms Live, and 2004's East Nashville Skyline. A compilation, That Was Me: The Best of Todd Snider 1994-1998, was released on Hip-O in 2005, and the next year brought Snider's eighth album, Devil You Know. In 2008, Snider released the politically charged Peace Queer, an eight-song collection of anti-war songs (as filtered through Snider's signature wit and amiable pathos). The Excitement Plan appeared from Yep Roc Records in 2009. In 2011, he released the two-disc concert set Live: The Storyteller, while 2012 saw both a traditional studio outing, Agnostic Hymns & Stoner Fables, plus a tribute album, Time as We Know It: The Songs of Jerry Jeff Walker. In 2013, Snider formed the band Hard Working Americans. Between 2014 and 2016, the group released two studio albums plus a live set, while also touring extensively. But Snider returned to his solo career in the fall of 2016, releasing the album Eastside Bulldog in October of that year.
In early 2019, Snider released Cash Cabin Sessions, Vol. 3. Two years later, he returned with First Agnostic Church of Hope and Wonder, a funky set he recorded during the COVID-19 pandemic; Tchad Blake mixed the album.
https://en.wikipedia.org/wiki/Todd_Snider
Talents : Vocals, Guitar, Songwriter
Style musical : Folk, Folk Rock, Roots Rock, Blues, Alternative Country, Pop Rock

https://youtu.be/FGL-2Zg2bqw
Years in activity :
| | | | | | | | | | | | |
| --- | --- | --- | --- | --- | --- | --- | --- | --- | --- | --- | --- |
| 1910 | 20 | 30 | 40 | 50 | 60 | 70 | 80 | 90 | 2000 | 10 | 20 |
DISCOGRAPHY
Singles & EP
1994
CD MCA MCA5P-3245 (US) (promo)

Alright Guy / Talkin' Seattle Grunge Rock Blues

1994
CD MCA MCD 32499 (EUR)

Alright Guy (intro:16) / Turn It Up / You Think You Know Somebody

1994
CD MCA MCADS 9504 (CAN) (promo)

Alright Guy / Talkin' Seattle Grunge Rock Blues

1994
CD MCA MCA3P-3194 (US) (promo)

Songs For The Daily Planet - Alright Guy / Alot More / This Land Is Our Land / My Generation (Part 2)

1994
CD MCA MCA5P-3284 (US) (promo)
.

Talkin' Seattle Grunge Rock Blues

1994
CD Margaritaville MCA3P-3324 (US) (promo)

Three Songs - Alot More / This Land Is Our Land / Alright Guy

1994
CD MCA MCA5P-3332 (US) (promo)

This Land Is Our Land

1995
CD MCA MCD33151 (EUR)

This Land Is Our Land / Easy Money / Somebody's Coming

1995

CD MCA TODD 1 (NW) (promo)

.

I Spoke As A Child

1996
CD MCA

MCA5P-3651 (US) (promo)

I Believe You

1996
CD MCA

SAM 86 CD

(EUR) (promo)

I Believe You (LP version)

1996
CD MCA

MCA5P-3822 (US) (promo)

.

Late Last Night

1997
CD MCA MCA5P-4104 (US) (promo)

I Am Too

2004
CD Oh Boy ? (US) (promo)
.

The Ballad Of The Kingsmen

2006
CD New Door TSLOOKCDP1 (EUR) (promo)

Looking For A Job

2006
CD New Door ? (?) (promo)

You Got Away With It (A Tale Of Two Fraternity Brothers)

04/2015
CD Thirty Tigers / Aimless 696859945847 (US) (limited edition)

Backlash / Shattered

2020
SP Aimless AR2020 (?) (limited edition, numbered)

Free Bird / It's the End of the World as We Know It (and I Feel Fine)
Albums
10/1994
CD MCA / Margaritaville MCAD-11067 (US)

Songs For The Daily Planet - My Generation (Part 2) / Easy Money / That Was Me / This Land Is Our Land / Alright Guy / I Spoke As A Child / Turn It Up / Trouble / Alot More / You Think You Know Somebody / Somebody's Coming / Joe's Blues / Talkin' Seattle Grunge Rock Blues

04/1996
CD MCA / Margaritaville MCAD-11412 (US)

Step Right Up - Elmo And Henry / I Believe You / Side Show Blues / Enough / T.V. Guide / Hey Hey / Moon Dawg's Tavern / Prison Walls / Horseshoe Lake / It All Adds Up / Tension / Late Last Night / 24 Hours A Day / Better Than Ever Blues Part 2

04/1998
CD MCA MCAD-11726 (US)

Viva Satellite - Rocket Fuel / Yesterdays And Used To Be's / The Joker / I Am Too / I Am Too / Out All Night / Guaranteed / Can't Complain / Positively Negative / Once He Finds Us / Godsend / Comin' Down / Never Let Me Down / Doublewide Blues

04/2000
CD Oh Boy OBR 020 (US)

Happy To Be Here - Happy To Be Here / Forty Five Miles / Long Year / D.B. Cooper / Lonely Girl / Keep Of The Grass / All Of My Life / Betty Was Black (And Willie Was White) / Ballad Of The Devil's Backbone Tavern / Just In Case / What's Wrong With You / Missing You / Back To The Crossroads

05/2002
CD Oh Boy OBR-023 (US)

New Connection - New Connection / Vinyl Records / Rose City / Beer Run / Easy / Crooked Piece Of Time / Anywhere / Stuck All Night / Statistician's Blues / Class Of 85 / Broke / Close Enough To You / Waco Moon

05/2003
CD Oh Boy OBR-024 (US)

Live - Near Truths And Hotel Rooms - Ladies And Gentlemen... / Tension / D.B. Cooper / Lonely Girl / Hello...Sorry / Beer Run / Reading On The Plane, Writing On The Phone / Statistician's Blues / Waco Moon / I Can't Complain / The Story Of The Ballad Of The Devil's Backbone Tavern / The Ballad Of The Devil's Backbone Tavern / Easy Money / Talking Seattle Grunge Rock Blues / Long Year / Typing Gibberish / Side Show Blues / Any Requests? / I Spoke As A Child / Doublewide Blues / Letter From Australia / Broke / Beer Run

07/2004
CD Oh Boy OBR-031 (US)

East Nashville Skyline - Age Like Wine / Tillamook County Jail / Play A Train Song / Alcohol And Pills (Fred Eaglesmith) / Good News Blues (Billy Joe Shaver) / The Ballad Of The Kingsmen / Iron Mike's Main Man's Last Request / Conservative Christian, Right-Wing Republican, Straight, White, American Males / Incarcerated / Nashville / Sunshine / Enjoy Yourself (Herbert Magidson, Carr Sigman)

2005
CD Hip-O B0005135-02 (US)

That Was Me - 1994-1998 - Alright Guy / Trouble / You Think You Know Somebody / Easy Money / That Was Me / Talking Seattle Grunge Rock Blues / Enough / Hey Hey / Moondawg's Tavern / Horseshoe Lake / Tension / Better Than Ever Blues (Part Two) / Late Last Night / Side Show Blues / I Can't Complain / Guaranteed / Double Wide Blues / Margaritaville

07/2006
CD New Door B00007386-72 (US)

The Devil You Know - If Tomorrow Never Comes / Looking For A Job / Just Like Old Times / Carla / You Got Away With It (A Tale Of Two Fraternity Brothers) / The Highland Street Incident / Thin Wild Mercury / The You Know / Unbreakable / All That Matters / Happy New year

2006
CD New Door CATR-05198-2 (US) (promo)

In Touch With Todd Snider's The Devil You Know - Looking For A Job (single version) / Todd and Nanci greet each other and discuss the story behind "Looking For A Job." / Looking For A Job (live in-studio featuring Nanci Griffith) / Nanci talks to Todd about "You Got Away With It." / You Got Away With It (live in-studio featuring Nanci Griffith) / Todd reflects on writing an album while the country is at war, and on Nanci's song "It's A Hard Life." / It's A Hard Life (live in-studio - Nanci Griffith featuring Todd Snider) / Todd talks about fate and its meaning to him. / Todd reflects on his influences and the role they play in his music. / Touring or recording? Todd reveals his preference! / Todd talks about living in Nashville. / Exchanging goodbyes and mutual admiration!

2006
CD First Beat Marketing – HH026-2 (US) (promo)

Hear It Here Vol. 26 - Various Featuring Todd Snider - Looking For A Job (Todd SNIDER) / Wait For Me (Bob SEGER) / The Road To Gila Bend (LOS LOBOS) / Will You Be Around (PLATINUM WORLD) / One Lat Time (Edie BRICKELL & NEW BOHEMIANS) / Little Perennials (INDIGO GIRLS) / Stand (Billy Ray CYRUS) / Two Lights In The Nightime (Bonnie RAITT) / Learn To Fly (CARBON LEAF) / Walk Over Me (Dirtie BLOND) / Running (Eliane ELIAS) / Dead Meat (Sean LENNON) / Bluebird (Anthony GOMES) / Swing (Trace ADKINS) / Do What I Can (Greg LASWE) / It's You (Annie STELA)

2007
CD New Door B0008730-02 (US)

Live At Grimey's Nashville - Looking For A Job / Thin Wild Mercury / The Devil You Know / Just Like Old Times / You Got Away With It (A Tale Of Two Fraternity Brothers) / If Tomorrow Never Comes / Happy New Year - All That Matters (reprise)

2007
CD Oh Boy OBR-071 (US)

Peace, Love And Anarchy - Rarities, B-Sides And Demos, Vol. I) - Nashville / Feel Like I'm Falling In Love / Missing You / Barbie Doll / Old Friend / Combover Blues / I Will Not Go Hungry / Stoney / Some Things Are / Deja Blues / Dinner Plans / East Nashville Skyline / From A Rooftop / Cheatham Street Warehouse

12/2008
CD Aimless TS01 (US)

Peace Queer - Mission Accomplished (Because You Gotta Have Faith) / The Ballad Of Cape Henry / Fortunate Son / Is This Thing Working? / Stuck On The Corner (Prelude To A Heart Attack) / Dividing The Estate (A Heart Attack) / Ponce Of The Flaming Peace Queer / Is This Thing On?

09/2009
CD Yep Roc YEP 2202 (US)

The Excitement Plan - Slim Chance / Greencastle Blues / America's Favorite Pastime / Doll Face / Bring 'em Home / Corpus Christi Bay / The Last Laugh / Unorganized Crime / Barefoot Champagne / Don't Tempt Me (with Loretta LYNN) / Money, Compliments, Publicity (Song Number Ten) / Good Fortune

2009
2 CD + 1 DVD Yep Roc CSCCD 1056 (US)

The Excitement Plan Box / 500 :

CD 1 : Slim Chance / Greencastle Blues / America's Favorite Pastime / Doll Face / Bring 'em Home / Corpus Christi Bay / The Last Laugh / Unorganized Crime / Barefoot Champagne / Don't Tempt Me / Money, Compliments, Publicity (Song Number Ten) / Good Fortune
CD 2 : Good Fortune featuring Kris

Kristofferson

/ Stuck On The Corner Story / Stuck On The Corner Live In Chicago / Santa Cruz / Freebird / America's Favorite Pastime Live / Mushroom Story / Conservative, Christian, Right Wing, Republican, Staright , White, American Males (live) / Don't Be Cruel (Elvis Hixx )
DVD :

Lost Footage (Includes Where's Todd?

And Some Other Stuff) / Stuck All Night / Vinyl Records / Tension / Peace Queer: The Movie / 18 Minutes / Interview About Peace Queer / Folley Beach (Todd Coming Up With The Song On The Bus)

02/2011
2 CD Aimless 7061174 (US)

Live - The Storyteller :

CD 1 : Greencastle Blues / Is This Thing Working? / Just Like Old Times / Eighteen Minutes Speech / Tension / Doll Face / Rose City / Stuck On The Corner / Sunshine / Bill Elliot Story / Sideshow Blues
CD 2 : 45 Miles / Looking For A Job / Play A Train Song / KK Rider Story / Don't It Make You Wanna Dance / East Nashville Skyline / The Devil You Know / The Ballad Of The Kingsmen / America's Favorite Pastime / Mushroom Story / Conservative Christian, Right-Wing Republican, Straight, White, American Males / If Tomorrow Never Comes / Good Fortune

03/2012
CD Aimless 67382 (US)

Agnostic Hymns & Stoner Fables - In The Beginning / New York Banker / West Nashville Grand Ballroom Gown / Precious Little Miracles / The Very Last Time / In Between Jobs / Brenda / Too Soon To Tell / Digger Dave's Crazy Woman Blues / Big Finish

04/2012
CD Aimless 467562 (US)

Time As We Know It - The Songs Of Jerry Jeff Walker - Vince Triple O Martin / Jaded Lover / Moon Child / Takin' It As It Comes / Derby Day / Sangria Wine / Continuing Saga Of The Classic Bummer Or Is This My Own Way Ticket To Cleveland / Little Bird / Hill Country Rain / Railroad Lady / Laying My Life On The Line / Pissin' In The Wind / Mr. Bojangles / Will There Be Any

03/2013
CD Aimless ? (US)

Happy New Year Vol. 1 - Barefoot Champagne / Can't Complain / Precious Little Miracles / Too Soon To Tell / Beer Run > Age Like Wine > Beer Run / Just Like Old Times / Ballad Of The Kingsmen / Sideshow Blues / Alright Guy > [Hill Country Goodbye Story] > Alright Guy / Long Year / [Santa Fe Story] > Mr. Bojangles / Guaranteed / Looking For A Job

10/2016
CD Aimless B01JREQ166 (US)

Eastside Bulldog - Hey Pretty Boy / 37206 / The Funky Tomato / Eastside Bulldog / Check It Out / Bocephus / Are You With Me / Enough Is Enough / Ways And Means / Come On Up

03/2019
CD Aimless AR64018 (US)

Cash Cabin Sessions, Vol. 3 - Working On A Song / Talking Reality Television Blues / Like A Force Of Nature / Just Like Overnight / The Blues On Banjo / Framed / The Ghost Of Johnny Cash / Dedication / Cowboy Jack Clements Waltz / Explanation / Watering Flowers In The Rain / A Timeless Response To Current Events

04/2021
CD Aimless AR39953 (US)

First Agnostic Church Of Hope And Wonder - Turn Me Loose (I'll Never Be The Same) / The Get Together / Never Let A Day Go By / That Great Pacific Garbage Patch / Handsome John / Sail On, My Friend / Battle Hymn Of The Album / Stone Yodel Number One / Agnostic Preacher's Lament / The Resignation Vs. The Comeback Kid
© Rocky Productions 27/07/2022