Chanteur Country US né Tracy Darrell Adkins, le 13 Juin 1962 à Sarepta (Louisiane).

Trace Adkins helped keep country's traditionalist flame burning during the crossover-happy late '90s, mixing classic honky tonk with elements of gospel, blues, and rock & roll. Adkins was born in the small Louisiana town of Sarepta in 1962 and took up the guitar at an early age; he went on to study music at Louisiana Tech, where he also played football and worked on an offshore oil rig after graduating. His finger was severed in an accident while on the job, and once several years had passed, he returned to music with the gospel quartet the New Commitments. In the early '90s he began to pursue a solo career, playing honky tonk bars and clubs as often as he could, and honing a powerful, wide-ranging baritone voice in the process. He spent several years on the circuit and finally moved to Nashville to try his luck in the industry; he was quickly signed to Capitol by Scott Hendricks, who had produced the likes of Brooks & Dunn, Faith Hill, and Alan Jackson.
Adkins issued his debut album, Dreamin' Out Loud, in 1996, and it established him as a rising star. The lead single, "Every Light in the House," went to number three; "I Left Something Turned on at Home" hit number two; and "(This Ain't) No Thinkin' Thing" went all the way to number one. His 1997 follow-up album, Big Time, spawned another Top Five hit in "The Rest of Mine," and "Lonely Won't Leave Me Alone" just missed the Top Ten. However, it wasn't quite the commercial powerhouse of Dreamin' Out Loud; neither was its follow-up, 1999's More, which featured just one Top Ten single in the title track. Nonetheless, all three albums made the country Top Ten.
Released in 2001, Chrome brought Adkins into the Top Five of the country album charts for the first time, as the Top Ten lead single "I'm Tryin'" proved to be his biggest hit since "The Rest of Mine." In July of that year, Adkins was arrested for drunk driving and later pled guilty. The title track of Chrome belatedly climbed into the Top Ten in early 2003. Capitol released Greatest Hits Collection, Vol. 1 in July of 2003 and its companion DVD, Video Hits, in February 2004 with Adkins' fifth studio album, the December 2003 release Comin' on Strong, sandwiched in between. In 2005, Adkins had a major hit with "Honky Tonk Badonkadonk" from his album Songs About Me. The album Dangerous Man was released a year later. Live in Concert appeared in 2007 as part of the Big Band Concert CD series. X (Ten) was issued in 2008. After the album was released, Adkins left Capitol and signed with Toby Keith's Show Dog imprint distributed by Universal. In May of 2010 he debuted his first single for the label, "This Ain't No Love Song." The album Cowboy's Back in Town was released in August of that year. Adkins saw some chart action from both the album and single; he supported them with an extended tour. While flying to a concert in Alaska on June 4, 2011, Adkins' home in Brentwood, Tennessee caught fire and burned to the ground. Though his wife, daughters, and a babysitter were at home during the catastrophe, no one was hurt. The title track of his 2011 album, Proud to Be Here, was written by Chris Wallin, Aaron Barker, and Ira Dean with Adkins in mind. The album was preceeded by the single "Gone Fishin'," which peaked at six on the Billboard country charts. Proud to Be Here wound up debuting at three on the Billboard 2003 but only generated one other charting single, "Million Dollar View," which scraped the country charts at 38. Two years later, Adkins returned with Love Will..., an album that refashioned the singer as a romantic crooner. It was released in May of 2013, debuting at 14 on the Billboard Top 200. Despite this high initial position, the first single "Watch the World End" didn't become a hit and neither did the album itself. In September, Showdog and Adkins announced that they were parting ways. A month later, Adkins released the Christmas album The King's Gift on Caliburn Records.
Adkins signed with the Broken Bow subsidiary Wheelhouse in 2015, releasing the single "Jesus and Jones" in early 2016. He continued to work on his debut for the label throughout 2016, releasing the single "Lit" in the summer. The album, titled Watered Down, appeared in March 2017.
https://en.wikipedia.org/wiki/Trace_Adkins
Talents : Vocals, Songwriter, Guitar, Actor
Style musical : Contemporary Country
Years in activity :
| | | | | | | | | | | | |
| --- | --- | --- | --- | --- | --- | --- | --- | --- | --- | --- | --- |
| 1910 | 20 | 30 | 40 | 50 | 60 | 70 | 80 | 90 | 2000 | 10 | 20 |
DISCOGRAPHY
Singles
03/1996
SP CAPITOL S7-19117 (US)
.
There's A Girl In Texas / Bad Way Of Saying Goodbye
07/1996
SP CAPITOL S7-19224 (US)
.
Every Light In The House / If I Fall
12/1996
SP CAPITOL S7-19524 (US)
.
(This Ain't) No Thinkin' Thing / 634-5789
04/1997
SP CAPITOL S7-19579 (US)
.
I Left Something Turned On At Home / I Can Only Love You Like
08/1997
SP CAPITOL S7-19698 (US)
.
The Rest Of Mine / Wayfaring Stranger
02/1998
SP CAPITOL S7-19897 (US)
.
Lonely Won't Leave Me Alone / Nothin' But The Taillights
04/1998
SP CAPITOL S7-19976 (US)
.
Big Time / Snowball In El Paso
11/1998
SP CAPITOL 58744 (US)
.
Christmas Song / Wayfaring Stranger
07/1999
SP CAPITOL 58812 (US)
.
Don't Lie / All Hat No Cattle
11/1999
SP CAPITOL 58817 (US)
.
Christmas Song / Santa Claus Is Coming To Town
11/1999
SP CAPITOL 72438-58817-7-0 (US) (Jukebox)
.
The Christman Song (Trace ADKINS) / Santa Claus Is Coming To Town (Chris LEDOUX)
12/1999
SP CAPITOL 38701 (US)
.
More / Night He Can't Remember
06/2000
SP CAPITOL 58880 (US)
.
I'm Gonna Love You Anyway / I Can Dig It
06/2001
SP CAPITOL 77667 (US)
.
I'm Tryin' / Chrome
2006
DI CAPITOL ? (US)
.
Swing
06/2006
CD CAPITOL 3631402 (US)
HONKY TONK BADONKADONK - Honky Tonk Badonkadonk

[playa remix] /

Honky Tonk Badonkadonk

[radio single mix] /

Honky Tonk Badonkadonk

[Jack Da house remix] /

Honky Tonk Badonkadonk

[Country Club mix] /

Honky Tonk Badonkadonk

['70S Groove mix] /

Honky Tonk Badonkadonk

[Eurofunk mix]

07/2006
CD EMI / CAPITOL 3632582 (US)
.
Honky Tonk Badonkadonk
2007
CD CAPITOL ? (US)
.
I Got My Game On
2008
DI CAPITOL ? (US)
.
Muddy Water
2008
DI CAPITOL ? (US)
.
You're Gonna Miss This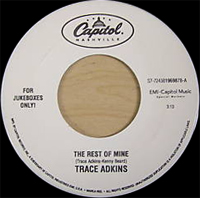 Albums
06/1996
CD CAPITOL 37222 (US)
DREAMIN' OUT LOUD - There's A Girl In Texas / I Left Something Turned On At Home / Every Light In The House / (This Ain't) No Thinkin' Thing / Dreamin' Out Loud / If I Fall (You're Goin' With Me) / It Was You / I Can Only Love You Like A Man / 634-5789 / Bad Way Of Saying Goodbye
10/1997
CD CAPITOL 55856 (US)
BIG TIME - Big Time / Took Her To The Moon / Rest Of Mine / Snowball In El Paso / See Jane Run / Twenty-Four Seven / Hold You Now / Nothin' But Taillights / Lonely Won't Leave Me Alone / Out Of My Dreams / Wayfaring Stranger
11/1999
CD CAPITOL 96619 (US)
MORE... - More / I'm Gonna Love You Anyway / She's Still There / Someday / Can I Want Your Love / Don't Lie / Working Man's Wage / Night He Can't Remember / I Can Dig It / Everything Takes Me Back / All Hat No Cattle / Every Other Friday At Five
10/2001
CD CAPITOL 30618 (US)
CHROME - Chrome / Help Me Understand / Once Upon A Fool Ago / I'm Tryin' / Thankful Man / I'm Payin' For It Now / And There Was You / Come Home / Scream / I'm Goin' Back / Give Me You / Love Me Like There's No Tomorrow
08/2003
CD CAPITOL 81512 (US)
GREATEST HITS COLLECTION VOLUME I - Then They Do / (This Ain't) No Thinkin' Thing, Rest Of Mine / Chrome / I'm Tryin' / There's A Girl In Texas / Every Light In The House / Don't Lie / I Left Something Turned On At Home / Big Time / Lonely Won't Leave Me Alone / Help Me Understand / More / Welcome To Hell
12/2003
CD CAPITOL 40517 (US)
COMIN' ON STRONG - Hot Mama / Comin' On Strong / Then Came The Night / I'd Sure Hate To Breakdown Here / Missing You / One Of Those Nights / Untamed / Then I Wake Up / One Nightstand / Baby's Gone / Rough And Ready
03/2005
CD EMI 64512 (US)
SONGS ABOUT ME - Songs About Me / Arlington / Find Me A Preacher / My Way Back / I Wish It Was You / Bring It On / My Heaven / Baby I'm Home / Metropolis / I Learned How To Love From You / Honky Tonk Badonkadonk
06/2006
CD EMI 63721 (US)

HONKY TONK BADONKADONK -

Honky Tonk Badonkadonk

[Eurofunk version]

/ Hot Mama / Songs About Me / I Left Something Turned On At Home / (This Ain't) No Thinkin' Thing / Every Light In The House / I'm Tryin' / Chrome / More / Rough & Ready / Can I Want Your Love / Honky Tonk Badonkadonk

/

Honky Tonk Badonkadonk / Honky Tonk Badonkadonk
08/2006
CD CAPITOL 717532 (US)

| | |
| --- | --- |
| | DANGEROUS MAN - Dangerous Man / Ladies Love Country Boys / I Came Here To Live / Swing / Aint' No Woman Like You / Southern Hallelujah / I Wanna Feel Something / High / Fightin' Words / The Stubborn One / Ride / Words Get In The Way / Honky Tonk Badonkadonk (video mix) |

02/2007
CD BIG BAND CONCERT 77403 (US)
LIVE IN CONCERT - Big Time / If I Fall / There's A Girld In Texas / I Can Only Love You Like A Man / See Jane Run / If I Could Hold You Now / Nothin' But Tail Lights / Rest Of Mine / Took Her To The Moon

/

I Left Something Turned On / Every Light In The House

/

Snowball In El Paso / Lonely Won't Leave Me Alone

/

634-5789 / Ain't No Thinkin' Thing
12/2007
CD CAPITOL 76926 (US)

AMERICAN MAN - GREATEST HITS - VOL. II -

Ladies Love Country Boys / I Got My Game On / You're Gonna Miss This / Honky Tonk Badonkadonk / Hot Mama / Rough & Ready / Arlington / Songs About Me / Chrome / I Wanna Feel Something / Swing / American Man / I Came Here To Live
05/2008
CD CAPITOL 2148612 (AUS)
GREATEST HITS VOL. I & II - Then They Do / (This Ain't) No Thinkin' Thing, Rest Of Mine / Chrome / I'm Tryin' / There's A Girl In Texas / Every Light In The House / Don't Lie / I Left Something Turned On At Home / Big Time / Lonely Won't Leave Me Alone / Help Me Understand / More / Welcome To Hell / Ladies Love Country Boys / I Got My Game On / You're Gonna Miss This / Honky Tonk Badonkadonk / Hot Mama / Rough & Ready / Arlington / Songs About Me / Chrome / I Wanna Feel Something / Swing / American Man / I Came Here To Live
11/2008
CD CAPITOL / EMI 202812 (US)
X - TEN - Sweet / Happy To Be Here / All I Ask For Anymore / Let's Do That Again / Hauling One Thing / Better Than I Thought It'd Be / Marry For Money / Til The Last Shot's Fired / I Can't Outrun You / Hillbilly Rich / Sometimes A Man Takes A Drink / Muddy Water
08/2010
CD SHOW DOG 14268 (US)
COWBOY'S BACK IN TOWN - Brown Chicken Brown Cow / Hold My Beer / Cowboy's Back In Town / This Ain't No Love Song / Hell, I Can Do That / A Little Bit Of Missin' You / Still Love You / Don't Mind I Don't / Ala-Freakin-Bama / Break Her Fall / Whoop A Man's Ass
10/2010
2 CD LCT 48837 (US)
DEFINITIVE GREATEST HITS - TIL THE LAST SHOT'S FIRED :

CD 1 : Honky Tonk Badonkadonk / Rough & Ready / (This Ain't) No Thinkin' Thing / Chrome / Marry For Money / Then They Do / Swing / I Left Something Turned On At Home / I'm Tryin' / All I Ask For Anymore / Big Time / There's A Girl In Texas / Hot Mama / Arlington
CD 2 : Ladies Love Coountry Boys / Lonely Won't Leave Me Alone / You're Gonna Miss This / Muddy Water / Til the Last Shot's Fired / Songs About Me / I Wanna Feel Something / The Rest Of Mine / I Got My Game On / Every Light In The House / Don't Lie / More / Help Me Understand / Dangerous Man

08/2011
CD SHOW DOG 15758 (US)
PROUD TO BE HERE - Proud To Be Here / Million Dollar View / Days Like This / That's What You Get / Just Fishin' / It's A Woman Thang / Love Buzz / It's Who You Know / Poor Folks / Always Gonna Be That Way
04/2012
CD CAPITOL / EMI 443182C (US)
10 GREAT SONGS - Rough & Ready / (This Ain't) No Thinkin' Thing / You're Gonna Miss This / I'm Tryin' / Honky Tonk Badonkadonk / Marry For Money / The Rest Of Mine / Ladies Love Country Boys / Then They Do / More
03/2013
CD CAPITOL 284072 (US)
ICON - Honky Tonk Badonkadonk / Rough & Ready / (This Ain't) No Thinkin' Thing / You're Gonna Miss This / More / Songs About Me / Then They Do / I'm Tryin' / I Left Something Turned On At Home / Hot Mama / Ladies Love Country Boys
05/2013
CD SHOW DOG B 001705802 (US)
LOVE WILL... -

When I Stop Loving You / So What If I Do / Come See Me / Right Now / Every One Of You / The Altar Of Your Love / Kiss You All Over (Trace ADKINS

feat. EXILE) /

If The Sun Comes Up / Say No To A Woman / Watch The World End (Trace ADKINS

feat. Colbie CAILLAT) /

Love Will

10/2013
CD Caliburn CALCD 001 (US)

The King's Gift - (TIODHLAC AN RIGH) -

Wexford Carol / Tannenbaum / O' Come Emmanuel (Trace ADKINS feat: Emma STEVENS) / Away In A Manger (Trace ADKINS feat: Emma STEVENS) / I Saw Three Ships (Trace ADKINS feat: The CHIEFTAINS / Alyth McCORMACK) / Silent Night (Trace ADKINS feat: Kevin COSTNER / Lily COSTNER) / We Three Kings (Trace ADKINS feat: Sonya ISAACS) / Carl Of The Drum (Trace ADKINS feat: Kenny ARONOFF) / Oh Holy Night (Trace ADKINS feat: The ISAACS) / What Child Is This?
11/2013
5 CD CAPITOL / UNIVERSAL B 001942202 (US)

5 Classic Albums :

CD 1 : Big Time / Took Her To The Moon / Snowball In El Paso / See Jane Run / Twenty-Four, Seven / Hold You Now / Nothin' But Taillights / Lonely Won't Leave Me Alone / Out Of My Dreams / Wayfaring Stranger
CD 2 : More / I'm Gonna Love You Anyway / She's Still There / Someday / Can I Want Your Love / Don't Lie / Working Man's Wage / The Night He Can't Remember / I Can Dig It / Everything Takes Me Back / All Hat, No Cattle / Every Other Friday At Five
CD 3 : Chrome

/

Help Me Understand / Once Upon A Fool Ago / I'm Tryin'

/

Thankful Man / I'm Payin' For It Now / And There Was You / Come Home / Scream / I'm Goin' Back / Give Me You / Love Me Like There's No Tomorrow
CD 4 : Songs About Me / Arlington / Find Me A Preacher / My Way Back / I Wish It Was You / Bring It On / My Heaven / Baby I'm Home / Metropolis / I Learned How To Love From You / Honky Tonk Badonkadonk
CD 5 : Dangerous Man / Ladies Love Country Boys / I Came Here To Live / Swing / Ain't No Woman Like You / Southern Hallelujah / I Wanna Feel Something / High / Fightin' Words / The Stubborn One / Ride / Words Get In The Way / Honky Tonk Badonkadonk

02/2014
2 CD CAPITOL B 001995502 (US)

Icon 2 :

CD 1 : Honky Tonk Badonkadonk / Rough & Ready / (This Ain't) No Thinkin' Thing / You're Gonna Miss This / More / Songs About Me / Then They Do / I'm Tryin' / I Left Something Turned On At Home / Arlington / Ladies Love Country Boys
CD 2 : I Got My Game On / Swing / Hot Mama / The Rest Of Mine / Every Light In The House / I Wanna Feel Something / Muddy Water / Marry For Money / Chrome / All I Ask For Anymore / Til The Last Shot's Fired

04/2014
CD CAPITOL / UNIVERSAL B0020392-02 (US)

20th Century Masters - The Millennium Collection - 10 Great Songs - Rough & Ready / (This Ain't) No Thinkin' Thing / You're Gonna Miss This / I'm Tryin' / Honky Tonk Badonkadonk / Marry For Money / The Rest Of Mine / Ladies Love Country Boys / Then They Do / More

03/2017
CD Wheelhouse 70153 (US)

Something's Going On - Ain't Just The Whiskey Talkin' / Jesus And Jones / Watered Down / Something's Going On / If Only You Were Lonely / Gonna Make You Miss Me / I'm Gone / Country Boy Problems / Lit / Still A Soldier / Whippoorwills And Freight Trains / Hang
© Rocky Productions 20/04/2017