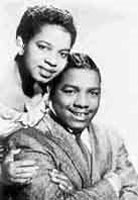 Duo Rock 'n' Roll US formé en 1951 à New Orleans (Louisiane). Shirley Goodman (née le 19 Juin 1936 à New Orleans (Louisiane)) & Leonard Lee (né le 29 Juin 1936) étaient surnommés les "Sweethearts Of The Blues" et conservaient sur disque un côté enfantin qui a faisait mouche dans les collèges et les lycées. Shirley & Lee se sont séparés en 1963. Lee est décédé le 23 Octobre 1976 et Shirley est décédée le 5 Juillet 2005.

Shirley Goodman and Leonard Lee, born just ten days apart in 1936, scored three massive R&B hits before either one of them were both 20 years old: "Feel So Good," "Let the Good Times Roll," and "I Feel Good" were all written by the talented young couple.
They had one trait in common among their recordings; this New Orleans-based duo almost never sang in harmony, let alone together at all. Their contrasting male-female duo style was later influential on early ska and reggae productions from Jamaica. Shirley & Lee recorded extensively for Eddie Messner and Leo Messner's L.A.-based Aladdin label. The Messners — along with former NBC radio exec. Lew Chudd's Imperial Records and Art Rupe's Specialty — seemed to have a knack for signing talent straight out of the Crescent City.
Shirley & Lee's debut single, "I'm Gone," was written and produced by Dave Bartholomew, Imperial's writer/arranger/producer/A&R man and a major contributor to New Orleans-style R&B. (It was Bartholomew's production work with Fats Domino which utilized that talents of a great house band — pianist Allen Toussaint, bassist Frank Fields, drummer Earl Palmer, and saxophonists Lee Allen, Red Tyler, and Herb Hardesty — that elevated nearly everything he worked on to "legendary" status.) With their backing "I'm Gone" went on to become a major R&B hit in the fall of 1952.
Early in their careers, Shirley & Lee became known as "the Sweethearts of the Blues," a nickname given not for their personal relationship, but for their romantic sagas of their songs, which often bordered on telling a fictional soap-opera storyline about two lovers. Their fans would buy the singles simply to keep up with the continuing story of the two sweethearts. The story continued with the very next single, "Shirley Come Back to Me," a heartbreaker released in early 1953, followed by "Shirley's Back," later that year. This happy theme continued through the happy ending for the next single, "The Proposal" b/w "Two Happy People."
By the end of the year, Aladdin was reveling in success of the story of Shirley & Lee. Of course, the couple in the songs had already been apart and were now back together, so they had to shake things up with the next release, called "Lee Goofed," and followed that with "Confessin'" but by now the audience seemed to be tiring of the soap opera, so Shirley & Lee moved on to new lyrical subject matter.
Messner decided to try something new for the duo in May of 1955, issuing a medium-tempo rocker called "Feel So Good." The song featured full Vocals group backup (reportedly by the Spiders) and did well, but it was the bluesy B-side, "You'd Be Thinking of Me," that put the duo back on the R&B hit charts. "Lee's Dream" also charted. In early 1956, Aladdin released the duo's slow blues ballad, "A Little Word," which received good airplay, but sales weren't spectacular. Trying to get back on track, Aladdin finally opted to issue a full-length album, Let the Good Times Roll, in December. It was reissued two years later on Score, Aladdin's budget label.
By the middle of 1957, Shirley & Lee were back on top, this time with the biggest hit in their careers. Goodman and Lee borrowed one of New Orleans' most familiar refrains and built a rocking tune around it called "Let the Good Times Roll." The recording was an instant smash and received substantial airplay, climbing up the charts in the process. It sold well-over one million copies and for more than 40 years has been a staple of oldies play lists. To date, there are over a hundred cover versions of the song, but most still prefer the original.
The pair stayed on Aladdin into 1959 before moving to Warwick, where they ended up re-recording "Let the Good Times Roll." Other tunes followed — "I Feel Good" and "The Flirt" among them — but like many acts, Shirley & Lee were never able to recapture the nationwide success of their biggest hit. After a few final singles in 1962-1963, this time for Imperial — Aladdin and Imperial continued their rivalry and tried to one-up each other until Aladdin was acquired by Imperial outright — the "Sweethearts of the Blues" decided to call it a day.
In 1974, Shirley Goodman reappeared on the R&B scene, this time paired with studio musicians — they called themselves Shirley and Company — for "Shame, Shame, Shame," released on the Vibration label. (The song also featured Jesus Alvarez supplying lead Vocals). The disco-fied hit topped the R&B charts at number one that summer and peaked at number 12 on the pop charts. It was written by producer Sylvia Robinson, who had also been part of a successful '50s duo, Mickey & Sylvia, with Mickey Baker. Robinson also penned Goodman's less successful follow-up "Cry, Cry, Cry." They issued one more single on Vibration, then dropped out of sight. Leonard Lee passed away on October 23, 1976.
http://www.tsimon.com/shirley.htm
https://en.wikipedia.org/wiki/Shirley_Goodman
Style musical : Rhythm 'n' Blues, Rock 'n' Roll, Doo Wop

https://www.youtube.com/watch?v=sB26r9cxXpE
Years in activity :
| | | | | | | | | | | | |
| --- | --- | --- | --- | --- | --- | --- | --- | --- | --- | --- | --- |
| 1910 | 20 | 30 | 40 | 50 | 60 | 70 | 80 | 90 | 2000 | 10 | 20 |
DISCOGRAPHY
78 t., Singles & EP
10/1952
78 t. ALADDIN 3153 (US)
.
Sweethearts / I'm Gone
10/1952
SP ALADDIN 45-3153 (US)
.
Sweethearts / I'm Gone
02/1953
78 t. ALADDIN 3173 (US)
.
Baby / Shirley Come Back To Me
02/1953
SP ALADDIN 45-3173 (US)
.
Baby / Shirley Come Back To Me
1953
78 t. ALADDIN 3192 (US)
.
Shirley's Back / So In Love
1953
SP ALADDIN 45-3192 (US)
.
Shirley's Back / So In Love
1953
78 t. ALADDIN 3205 (US)
.
The Proposal / Two Happy People
1953
SP ALADDIN 45-3205 (US)
.
The Proposal / Two Happy People
1954
78 t. ALADDIN 3222 (US)
.
Lee Goofed / Why Did I
1954
SP ALADDIN 45-3222 (US)
.
Lee Goofed / Why Did I
1954
78 t. ALADDIN 3244 (US)
.
I'm Confessin' / Keep On
1954
SP ALADDIN 45-3244 (US)
.
I'm Confessin' / Keep On
1954
78 t. ALADDIN 3258 (US)
.
Comin' Over / Takes Money
1954
SP ALADDIN 45-3258 (US)
.
Comin' Over / Takes Money
04/1955
78 t. ALADDIN 3289 (US)
.
Feel So Good / You'd Be Thinking Of Me
04/1955
SP ALADDIN 45-3289 (US)
.
Feel So Good / You'd Be Thinking Of Me
1955
78 t. ALADDIN 3302 (US)
.
Lee's Dream / I'll Do It
1955
SP ALADDIN 45-3302 (US)
.
Lee's Dream / I'll Do It
1956
78 t. ALADDIN 3313 (US)
.
That's What I'll Do / A Little Word
1956
SP ALADDIN 45-3313 (US)
.
That's What I'll Do / A Little Word
06/1956
78 t. ALADDIN 3325 (US)
.
Let The Good Times Roll / Do You Mean To Hurt Me So
06/1956
SP ALADDIN 45-3325 (US)
.
Let The Good Times Roll / Do You Mean To Hurt Me So
10/1956
78 t. ALADDIN 3338 (US)
.
I Feel Good / Now That It's Over
10/1956
SP ALADDIN 45-3338 (US)
.
I Feel Good / Now That It's Over
02/1957
78 t. ALADDIN 3362 (US)
.
When I Saw You / That's What I Wanna Do
02/1957
SP ALADDIN 45-3362 (US)
.
When I Saw You / That's What I Wanna Do
03/1957
78 t. ALADDIN 3369 (US)
.
I Wanna Dance / Marry Me
03/1957
SP ALADDIN 45-3369 (US)
.
I Wanna Dance / Marry Me
05/1957
78 t. ALADDIN 3380 (US)
.
Rock All Night / Don't You Know I Love You
05/1957
SP ALADDIN 45-3380 (US)
.
Rock All Night / Don't You Know I Love You
08/1957
78 t. ALADDIN 3390 (US)
.
Rockin' With The Clock / The Flirt
08/1957
SP ALADDIN 45-3390 (US)
.
Rockin' With The Clock / The Flirt
1957
78 t. ALADDIN 3394 (US)
.
Heart-Throbs - So Glad / All The Way Home
1957
SP ALADDIN 45-3394 (US)
.
Heart-Throbs - So Glad / All The Way Home
1957
SP Lamp 2010 (US)
.
Heart-Throbs - So Glad / All The Way Home
1957
EP VOGUE VE 170101 (UK)
Let The Good Times Roll / Do You Mean To Hurt Me So / I Feel Good / Now That It's Over
1958
78 t. ALADDIN 3405 (US)
.
I'll Thrill You / Love No One But You (I Love You So)
1958
SP ALADDIN 3405 (US)
.
I'll Thrill You / Love No One But You (I Love You So)
1958
78 t. ALADDIN 3418 (US)
.
Everybody's Rocking / Don't Leave Me Here To Cry
1958
SP ALADDIN 3418 (US)
.
Everybody's Rocking / Don't Leave Me Here To Cry
1958
78 t. ALADDIN 3432 (US)
.
Come On And Have Your Fun / All I Want To Do Is Cry
1958
SP ALADDIN 3432 (US)
.
Come On And Have Your Fun / All I Want To Do Is Cry
04/1959
78 t. ALADDIN 3455 (US)
.
When Day Is Done / True Love Never Dies
04/1959
SP ALADDIN 3455 (US)
.
When Day Is Done / True Love Never Dies
1959
78 t. ALADDIN 3459 (US)
.
When Day Is Done / True Love
1959
SP ALADDIN 3459 (US)
.
When Day Is Done / True Love
04/1960
SP WARWICK M-535 (US)
.
I've Been Loved Before / Like You Used To Do
08/1960
SP WARWICK 581 (US)
.
Let The Good Times Roll / Keep Loving Me
12/1960
SP WARWICK 609 (US)
.
Two Peas In A Pool / Your Love Makes The Difference
1960
EP VOGUE VE 170145 (UK)

Shirley, Come Back To Me / Baby / Lee Goofed / Why Did I

07/1961
SP WARWICK M -664 (US)
.
Well-A, Well-A / Our Kids
1962
SP WARWICK 679 (US)
.
Let's Live It Up / Girl, You're Married Now
1962
SP IMPERIAL X5818 (US)
.
Together We Stand (Divided We Fall) / The Joker
1962
SP IMPERIAL X5854 (US)
.
My Last Letter / I'm Old Enough
08/1962
SP IMPERIAL X5868 (US)
.
Don't Stop Now / A Little Thing
1963
SP IMPERIAL X5922 (US)
.
The Golden Rule / Hey Little Boy
1963
SP IMPERIAL X5944 (US)
.
SHIRLEY GOODMAN - When A Boy Meets A Girl / Don't Marry Too Soon
1963
SP IMPERIAL X5970 (US)
.
Dancing World / I'm Gone
1963
SP IMPERIAL X5979 (US)
.
Paper Doll / The Bring Of Disaster
1963
SP IMPERIAL 66000 (US)
.
Somebody Put A Jukebox In The Study Hall / Never Let Me Go
1969
SP WHIZ 610 (US)
.
SHIRLEY - They Put The Last Clean Shirt On Leroy Jones Today / You Care For Me
10/1969
SP WHIZ 615 (US)
.
SHIRLEY - Sugar Sugar / Gonna Waltz Right Out Of Your Life (1-2-3)
1969
SP GOOD OLD GOLD

GOG- 001 (US)

.

I'm Gone / Lee Goofed

1972
SP UNITED ARTISTS UP 35578 (DK)

Let The Good Times Roll / That's What I Wanna Do

1973
SP UNITED ARTISTS SPOTLIGHT SERIES XW087 (US)
.
Let The Good Times Roll / Feel So Good
07/1973
SP UNITED ARTISTS UA-XW274-W (US)
.
Let The Good Times Roll / That's What I Wanna Do
1973
SP GOLDIES 45 D-2547 (US)
.
Let The Good Times Roll

/ Baby Keep Loving Me

05/1975
SP VIBRATION VI-535 (US) (promo)
.
Cry, Cry, Cry / Cry, Cry, Cry
197?
SP TRIP OLDIES TR-153 (US)
.

Let The Good Times Roll (SHIRLEY & LEE) / Ko Ko Mo (GENE & EUNICE)

????
SP COLLECTABLES COL 3100 (US)
This Time (Troy SHONDELL) / Let The Good Times Roll (SHIRLEY & LEE)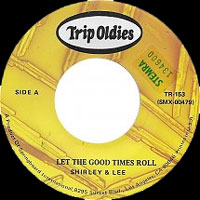 Unissued Tracks
| | | |
| --- | --- | --- |
| 1952 | ALADDIN unissued | The Real Thing |
| 1952 | ALADDIN unissued | The Reason Why |
| 1952 | ALADDIN unissued | Korea |
| 1953 | ALADDIN unissued | Every Fools Has His Day |
| 1954 | ALADDIN unissued | I Didn't Want You |
| 1956 | ALADDIN unissued | Everything (When I Saw You) |
| 1956 | ALADDIN unissued | We Will Forever Be Happy |
| 1957 | ALADDIN unissued | Before I Go |
| 1957 | ALADDIN unissued | Everything |
| 196? | WARWICK unissued | Hard To Believe |
| 196? | WARWICK unissued | I Was Lucky |
| 196? | WARWICK unissued | Keep The Magic Working |
| 196? | IMPERIAL unissued | Don't Marry Too Soon |
| 196? | IMPERIAL unissued | Honey Bee |
| 196? | IMPERIAL unissued | Honky Tonk Music |
| 1963 | IMPERIAL unissued | Surfer's Hangout |
| 196? | IMPERIAL unissued | Surf Heaven |
| 196? | IMPERIAL unissued | Thank You |
| 196? | IMPERIAL unissued | The Engagement |
| 196? | IMPERIAL unissued | When A Girl Meets A Boy |
| 196? | IMPERIAL unissued | When I Fall In Love |
| 196? | IMPERIAL unissued | Wouldn't Be Here |
| 196? | IMPERIAL unissued | You Wouldn't |
Albums
12/1956
LP 10" ALADDIN LP-807 (US)
LET THE GOOD TIMES ROLL -

Let The Good Times Roll / I'm Gone / Sweethearts / Keep On / Takes Money / Confessin' / Lee's Dream / I'll Do It / Tryin' To Fool Me / Comin' Over / So In Love Why Did I

1958
LP 12" SCORE SLP-4023 (US)
LET THE GOOD TIMES ROLL -

Let The Good Times Roll / I'm Gone / Sweethearts / Keep On / Takes Money / Confessin' / Lee's Dream / I'll Do It / Tryin' To Fool Me / Comin' Over / So In Love Why Did I

1961
LP 12" WARWICK W-2028 (US)
LET THE GOOD TIMES ROLL - Let The Good Times Roll / Lovers' Mistake / Like You Used To / You Moves Me / They've Got To Understand / Who Are We Fooling? / I Love The Way You Love / Keep Loving Me / It's Been So Long / Your Day Is Coming / I've Been Loved Before / Let's Live It Up
1962
LP 12" IMPERIAL LP-9179-A (US)
LET THE GOOD TIMES ROLL -

Let the Good Time Roll / Rock All Night / Feel So Good / Lee's Dream / Deed I Do / Keep On / I'm Gone / I Want To Dance / Sweethearts / Comin' Over / Confessin' / Takes Money

1971
LP 12" Jay Boy ‎JSX 2005 (UK)

Let The Good Times Roll - Bewildered / Good For Nothing Baby / Everybody Needs Somebody / Lovers' Mistake / Your Day Is Coming / I'll Never Be Free / Shirley Come Back To Me / After Last Night / Two Peas In A Pod / Let's Live It Up / Ya Moves Me / Let The Good Times Roll

1972
LP 12" UNITED ARTISTS 026 (US)
THE LEGENDARY PERFORMERS - I'm Gone / Sweethearts / Baby / Why Did I / Confessin' / Keep On / Comin' Over / Takes Money / Feel So Good / Lee's Dream / Deed I Do / That's What I'll Do / Let The Good Times Roll / I Feel Good / I Want To Dance / Rock All Night Long
1981
LP 12" ACE CH 47 (UK)

The Best Of Shirley & Lee -

Let The Good Times Roll / Rock All Night / Feel So Good (Feel So Fine) / I'm Gone / Lee's Dream / That's What I'll Do / Don't You Know I Love You? / Everybody's Rockin'! / Why Did I? / I Feel Good / Baby / I'll Thrill You
1982
LP 12" Curcio ‎GSR - 61 (I)

La Grande Storia Del Rock 61 -

Jimmy M

c

Griff & Junior Parker / Shirley & Lee - Jimmy McG

riff

&

J

unior

Parker

: The Inner Light / Oh! Darling / Good Things Don't Happen Every Day / A Losing Battle /

Shirley & Lee

: Let The Good Times Roll / Everybody Needs Somebody / Keep Lovin' Me / Good For Nothin' Baby / Lover's Mistake / Your Day Is Coming
1982
LP 12" Curcio ‎GSR - 84 (I)

La Grande Storia Del Rock 84 - SHIRLEY & LEE - OTIS SPANN -

SHIRLEY & LEE : Bewildered / Ya Moves Me / Let's Live It Up / Two Peas In A Pod / After Last Night (SHIRLEY & LEE) / Otis SPANN : Must Have Been The Devil / Great Northern Stomp / My Home In The Delta / Worried Life Blues / Meet In The Bottom / Chicago Blues / Spann's Boogie
1985
LP 12" MANHATTAN 5025 (US)
HAPPY DAYS - Bewildered / Good For Nothing Baby / Everybody Needs Somebody / Lover's Mistake / Your Day Is Coming / I'll Never Be Free / Shirley, Come Back To Me / After Last Night
1985
LP 12" MANHATTAN 5040 (US)

RESPECTFULLY YOURS -

After Last Night / Two Peas In A Pod / Let's Live It Up / You Moves Me / Everybody Needs Somebody (Warwick prev. unreleased) / Lover's Mistake / Your Day Is Coming / I'll Never Be Free (Warwick prev. unrel.)
1986
LP 12" IMPERIAL 1566331 (F)

The Imperial Sides 1962/1963 -

SHIRLEY & LEE : Together We Stand (Divided We Fall) / The Joker / My Last Letter / You Wouldn't / A Little Thing / The Engagement Song / Don't Stop Now / His Little Boy / Shirley

Goodman :

Don't Marry Too Soon / When A Boy Meets A Girl / When I Fall In Love / Honey Bee / Honky Tonk Music / Never Let Me Go / Surf Heaven / Somebody Put A Jukebox In The Study Hall
1990
CD EMI ‎CDP-7-92775-2 (US)
SHIRLEY & LEE - I'm Gone / Sweethearts / Baby / Why Did I? / Confessin' / Keep On / Comin' Over / Takes Money / Feel So Good / Lee's Dream / Deed I Do / That's What I'll Do / Let The Good Times Roll / I Feel Good / When I Saw You / I Want To Dance / Rock All Night / Don't You Know I Love You / I'll Thrill You / Everybody's Rockin'
07/1991
2 Lp 12" UNITED ARTISTS 069-G2 (US)
SHIRLEY & LEE - LEGENDARY MASTERS SERIES #8 :

DISC 1 : Let The Good Times Roll / A Little Word / Do You Mean To Hurt Me So / All I Want To Do Is Cry / You'd Be Thinking Of Me / Rock All Night / That's What I Wanna Do / I'm Gone / Sweethearts / That's What I'll Do / Shirley, Come Back To Me / Shirley's Back / Don't You Know I Love You / Feel So Good
DISC 2 : Come On And Have Your Fun / I'll Thrill You / Don't Leave Me Here To Cry / Before I Go / The Reason Why / I Didn't Want You / I'll Do It (Deed I Do) / Everybody's Rockin' / Rockin' With The Clock / Lee's Dream / The Flirt / Korea / Comin' Over / Marry Me / When Day Is Done / True Love (Never Dies)

1995
CD COLLECTABLES 5637 (US)
SHIRLEY & LEE -

The Legendary Master Series Volume 1 -

I'm Gone / Sweethearts / Baby / Why Did I? / Confessin' / Keep On / Comin' Over / Takes Money / Feel So Good / Lee's Dream / Deed I Do / That's What I'll Do / Let The Good Times Roll / I Feel Good / When I Saw You / I Want To Dance / Rock All Night / Don't You Know I Love You / I'll Thrill You / Everybody's Rockin'
03/1997
4 CD BEAR FAMILY BCD 15960 (GER)

THE SWEETHEARTS OF THE BLUES :

CD 1 : Sweethearts / I'm Gone / The Real Thing / Korea / Baby / Shirley, Come Back To Me / Shirley's Back

[alternate take]

/ Shirley's Back / Why Did I? / So In Love

[alternate take]

/ So In Love / The Reason Why / The Time Has Come / I Love You So

/

The Proposal / Two Happy People / Lee Goofed / Every Fool Has His Day / Down In My Heart / Keep On / Confessin' / When The Sun Goes Down / Tryin' To Fool Me / Rumors Blue / Comin' Over / Takes Money / I Didn't Want You / You'd Be Thinking Of Me / I'll Thrill You
CD 2 : Feel So Good / Lee's Dream / I'll Do It (Deed I Do) / Tell Me So / That's What I'll Do / A Little Word / Let The Good Times Roll / Do You Mean To Hurt Me So / Everything (When I Saw You) / We Will Be Forever Happy / I Feel Good / That's What I Wanna Do / Now That's Over / Everything (When I Saw You)

/

I Want To Dance / Marry Me / Before I Go / Don't You Know I Love You / Rock All Night / Rockin' With The Clock / The Flirt / Love No One But You / Live On The Farm

/

Everybody's Rockin' / Don't Leave Me Here To Cry / Come On And Have Your Fun / All I Want To Do Is Cry / True Love (Never Dies) / When Day Is Done / So Tired
CD 3 : Let The Good Times Roll / Shirley, Come Back To Me / Like You Used To Do / Bewildered / Who Are You Fooling / Keep Loving Me / You Moves Me / Let's Live It Up / I've Been Loved Before / I'll Never Be Free / After Last Night / I Love The Way You Love / Your Love Makes The Difference / I Was Lucky / Lover's Mistake / Everybody Needs Somebody / Your Day Is Coming / Two Peas In A Pod / Good For Nothing Baby / Well-A, Well-A / Our Kids / They've Got To Understand / Call Me A Fool / Hard To Believe

[take 7]

/ Hard To Believe

[take 8]

/ Behind The Make-Up / Keep The Magic Working / Girl You're Married Now / It's Been So Long
CD 3 : The Joker / Together We Stand / My Last Letter / I'm Old Enough / You Wouldn't / A Little Thing / The Engagement / Don't Stop Now (Keep The Good Times Rollin') / Hey Little Boy / The Golden Rule / Honky Tonk Music / Dancing World / Thank You / Wouldn't Be Here / The Brink Of Disaster / Paper Doll / When I Fall In Love / Don't Marry Too Soon / Honey Bee / When A Girl Meets A Boy / Never Let Me Go / Surf Heaven / Surfer's Hangout / Somebody Put A Juke Box In The Study Hall

05/2000
CD ACE CDCHD 751 (UK)
LET THE GOOD TIMES ROLL - Let The Good Times Roll / A Little Word / I Feel Good / All I Want To Do Is Cry / You'd Be Thinking Of Me / Rock All Night / That's What I Wanna Do / I'm Gone / Sweethearts / That's What I'll Do / Shirley, Come Back To Me / Shirley's Back / Don't You Know I Love You / Feel So Good / Come On And Have Your Fun / I'll Thrill You / Don't Leave Me Here To Cry / Before I Go / The Reason Why / I Didn't Want You / I'll Do It (Deed I Do) / Everybody's Rockin' / Rockin' With The Clock / Lee's Dream / The Flirt / Korea / Comin' Over / Marry Me / When The Day Is Done / True Love (Never Dies)
10/2005
CD WARWICK ? (US)
THE SWEETHEARTS OF THE BLUES - VOL. 1 - Sweethearts / I'm Gone / The Real Thing / Korea / Baby / Shirley, Come Back To Me / Shirley's Back / Shirley's Back / Why Did I? / So In Love / So In Love / The Reason Why / The Time Has Come / I Love You So / The Proposal / Two Happy People / Lee Goofed / Every Fool Has His Day / Down In My Heart / Keep On / Cofessin' / When The Sun Goes Down / Tryin' To Fool Me / Rumors Blue / Comin' Over / Takes Money / I Didn't Want You / You'd Be Thinking Of Me / I'll Thrill You
2005
CD Aladdin 3325 (F)
LET THE GOOD TIMES ROLL - Let The Good Times Roll / I Feel Good / Feel So Good / Rockin' With The Clock / Before I Go / Come On And Have Your Fun / When I Saw You / I Want To Dance / Rock All Night / Don't You Know I Love You / Everybody's Rockin' / Do You Mean To Hurt Me So / Keep On / I'll Do It / I'll Thrill You / Comin' Over / It Takes Money / Now That It's Over / We Will Be Forever Happy / Marry Me / That's What I Wanna Do / Baby / The Flirt / Confessin' / Sweethearts / Shirley Come Back To Me / Shirley's Back / Lee Goofed / The Proposal / I'm Gone / That's What I'll Do / When Day Is Done
12/2008
CD BEAR FAMILY BCD 15785 (GER)
ROCK - Let The Good Times Roll / Keep On / Comin' Over / Two Happy People / Feel So Good / Takes Money / I'll Thrill You / That's What I'll Do / I'll Do It (Deed I Do) / I Feel Good / Do You Mean To Hurt Me So / Everything (When I Saw You) / That's What I Wanna Do / I Want To Dance / Marry Me / Before I Go / Don't You Know I Love You / Rock All Nite / Rockin' With The Clock / The Flirt / Live On The Farm / Everybody's Rockin' / Come On And Have Your Fun / All I Want To Do Is Cry / When Day Is Done / Like You Used To Do / I'm Old Enough / Hey Little Boy / Somebody Put A Juke Box In The Study Hall / Let The Good Times Roll / I'm Gone
06/2018
2 CD JASMINE JASCD 848 (UK)

SHIRLEY & LEE's Golden Decade - Don't Stop Now Keep The Good Times Rollin' - Complete Singles

As & Bs 1952-1962 :

CD 1 : I'm Gone / Sweethearts / Baby / Shirley, Come Back To Me / Shirley's Back / So In Love / The Proposal / Two Happy People / Lee Goofed / Why Did I / Keep On / Confessin' / When The Sun Goes Down / Tryin' To Fool Me / Come Over / Takes Money / Feel So Good / You'd Be Thinking Of Me / Lee's Dream / I'll Do It / That's What I'll Do / A Little Word / Let The Good Times Roll / Do You Mean To Hurt Me So? / I Feel Good / Now That It's Over / That's What I Wanna Do / When I Saw You / I Want To Dance / Marry Me
CD 2 : Rock All Night / Don't You Know I Love You / Rockin' With The Clock / The Flirt / I'll Thrill You / Love No One But You / Everybody's Rockin' / Don't Leave Me Here To Cry / Come On And Have Your Fun / All I Want To Do Is Cry / When Day Is Done / True Love / Like You Used To Do / I've Been Loved Before / Let The Good Times Roll / Keep Loving Me / Your Love Makes The Difference / Two Peas In A Pod / Well-A, Well-A / Our Kids / Let's Live It Up / Girl, You're Married Now / Behind The Make Up / Keep The Magic Working / Hard To Believe / Call Me A Fool / The Joker / Together We Stand (Divided We Fall) / My Last Letter / I'm Old Enough / A Little Thing / Don't Stop Now
© Rocky Productions 31/07/2018