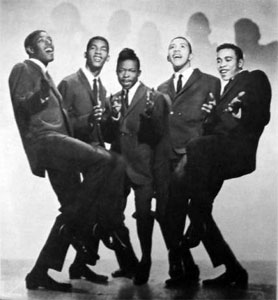 Groupe Doo Wop US originaires de Brooklyn (New York), composť de Nathaniel "Little Nate" Bouknight, Bobby Nurse, Randy Shade Alston, Gus Geter et Danny Small.

The Shells -- led by Nate Bouknight (aka "Little Nat") -- scored with a Top 30 hit with "Baby Oh Baby," charting for the tiny Johnson label in 1957. The group -- Bouknight, Randy "Shade Alston, Bobby Nurse, Danny Small, and Gus Geter -- continued to wax impressive 45s into the early '60s without much commercial interest, including 1958's "Sippin' Soda" and 1959's "She Wasn't Meant for Me."
In 1960, "Baby Oh Baby" was given a rare second chance when record collector archivists/reissue producers Donn Fileti and Wayne Stierle reissued the track to give it a second chance, hitting the pop charts on its second time around, charting at number 21. The Shells then made a hasty comeback, recording a mix of soul and pop standards as well as straight-ahead doo wop, such as "Be Sure My Love" and "So Fine." 1961 brought another fine effort, "Explain It to Me," and in 1962, the quintet cut the popular "Happy Holiday" with Ray Jones (aka Ray Lamont Jones) taking over lead vocals. In 1963, the Josie label paired the group together with the Dubs for half an LP, The Dubs Meet the Shells, a battle of the bands album in the tradition of The Paragons Meet the Jesters).
Talents : Nathaniel "Little Nate" Bouknight : Lead - Bobby Nurse : First Tenor - Randy Shade Alston : Second Tenor - Gus Geter : Baritone - Danny Small : Bass
Style musical : Doo Wop, Rhythm 'n' Blues
Years in activity :
| | | | | | | | | | | |
| --- | --- | --- | --- | --- | --- | --- | --- | --- | --- | --- |
| 1910 | 20 | 30 | 40 | 50 | 60 | 70 | 80 | 90 | 2000 | 10 |
DISCOGRAPHY
78 t. & Singles
08/1957
78 t. & SP JOHNSON 104 (US)
Baby Oh Baby / Angel Eyes
1958
78 t. & SP JOHNSON 106 (US)

Don't Say Goodbye / Pleading No More

05/1958
SP END E-1022 (US)
1959
SP END E-1050 (US)

Whispering Wings / Shooma Dom Dom

05/1959
SP ROULETTE 4156 (US)

She Wasn't Meant For Me / The Thief

1960
SP JOHNSON 104 (US)

Baby Oh Baby / What's In An Angel's Eyes

1960
SP SWIRL 101 (US)

Roy jones & The Shells - Satisfied / made for lovers

02/1961
SP JOHNSON 107 (US)

Explain It To Me / An Island Unknown

04/1961
SP JOHNSON 109 (US)

Better Forget Him / Can't Take It

06/1961
SP JOHNSON 110 (US)

O-Mi Yum-Mi Yum-Mi / In The Dim Light Of The Dark

09/1961
SP JOHNSON 112 (US)

Sweetest One / Baby Walk On In

1961
SP GONE 5103 (US)
Slippin' Soda / Pretty Little Girl
11/1962
SP JOHNSON 119 (US)

Deep In My Heart / (It's A) Happy Holiday

02/1963
SP JOHNSON 120 (US)

The Drive / A Toast To Your Birthday

1963
SP JOHNSON 125 (US)

Gene Holiday (with The SHELLS) - My heart runneth over / Scratch my name off the mail box

1963
SP JOHNSON 127 (US)

On My Honor / My Royal Love

08/1963
SP JOSIE 45-912 (US)

Our wedding day / Deep in my heart

1965 ?
SP ROULETTE

Golden Goodies Hits Series

GG-59 (US)

Sippin' Soda (SHELLS) / Schoolhouse Rock (Nicky & The Nobles)

1970
SP Boardwalk 17 (US)

Oh What a night (SHELLS) / Where or when (Groups In Choir) / Accappella In A Light Rain (Groups In Choir)

1973
SP JOHNSON 099 (US)
My Cherie / Explain To Me
1975
SP Monogram M-108 (US)

Will you miss me / I'm in the doghouse

1976
SP Clifton 00 (US)

If you were gone for me / Misty

1977
SP Clifton45-21 (US)

Will you miss me (Shells) / Someone up there (Little Nate & The Shells)

1977
SP Clifton 45-22 (US)

On my honor / In the light of the dark

1978
SP GOLDISC G 3043 (US)

You Were Mine (FIREFLIES) / Baby Oh Baby (SHELLS)

197?
SP Good Old Gold ‎022 (US)

Agent Double-O-Soul (Edwin STARR) / Baby Oh Baby (SHELLS)

1980 ?
SP GRECO 615 (US)

Baby Oh Baby / What's In An Angel's Eyes

????
SP COLLECTABLES COL 0162 (US)

Sippin' Soda / Pretty Little Girl

????
SP COLLECTABLES C1188 (US)

Baby Oh Baby / What's In An Angel's Eyes

????
SP COLLECTABLES COL-04063 (US)

Then You Can Tell Me Goodbye (CASINOS) / Baby Oh Baby (SHELLS)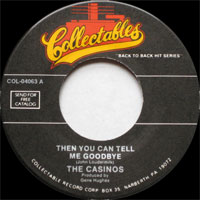 Unreleased
| | | |
| --- | --- | --- |
| 19?? | Conlo 879 (US) | When I'm Blue / Whiplash |
Albums
1962
LP 12" JOSIE JSS-4001 (US)

THE DUBS MEET THE SHELLS - DUBS : Could This Be Magic / Wisdom Of A Fool / Please Don't Ask Me To Be Lonely / Blue Velvet / Your Very First Love / This I Swear / SHELLS : Baby Oh Baby / Our Wedding Day / What's In An Angel's Eyes / Baby Walk On In / Sweetest One / Deep In My Heart
1966
LP 12" Candlelite LP 1000 (US)

Acappela Session with the Shells - Baby oh baby / Baby walk on in / Happy holiday / The way you do the things you do / The closer you are / Bad girl / I'm a happy man / Be sure my love / So fine / Outside looking in / Dream / If you were gone from me / Oh what a dream / Fine little girl / Life is but a dream / Oooo baby baby

08/1993
CD Juke Box Treasures 00411 (US)

Badder Than Badd - So Fine / Be Sure My Love / The Closer You Are / If You Were Gone From Me / Life Is But A Dream / Ooh, Baby Baby / I'm A Happy Man / Dream / Fine Little Girl / I'm On The Outside Looking In / Happy Holiday / Bad Girl / Oh What A Dream / Misty / Fine Little Girl / Baby, Walk On In / Session Studio Talk / Oh What A Night / Baby Oh Baby / The Way You Do The Things You Do

10/1993
CD COLLECTABLES COL CD 5077 (US)

Golden Classics - Baby Oh Baby / On My Honor / A Toast To Your Birthday / Baby, Walk On In / Pleading No More / Deep In My Heart / Happy Holiday / What's In My Angels Eyes / My Cherie / Explain It To Me / Don't Say Goodbye / Better Forget Him / Sipping Soda / An Island Unknown / In The Dim Light Of The Dark / Pretty Little Girl / Sweetest One / My Royal Love

09/1994
CD Juke Box Treasures JBT-6020 (US)
THE PARAGONS

and

THE JESTERS Meet the Shells and THE Dubs - Florence (PARAGONS) / So Strange (JESTERS) / Let's Start All Over Again (PARAGONS) / The Wind (JESTERS) / The Vows Of Love (PARAGONS) / Love No One But You (JESTERS) / Twilight (PARAGONS) / Kneel And Pray (PARAGONS) / Please Let Me Love You (JESTERS) / Two Hearts Are Better Than One (PARAGONS) / Florence (PARAGONS) / So You Will Know (PARAGONS) / Baby Oh Baby (

Shells

) / Darling (Dubs) / What's In An Angel's Eyes (

Shells

) / I Won't Have You Breaking My Heart (Dubs) / Deep In My Heart (

Shells

) / Connie (Dubs) / Be Sure My Love (

Shells

) / You're Welcome (Dubs) / On My Honor (

Shells

) / The Wind (JESTERS) / Fine Little Girl (

Shells

) / Lost In The Wilderness (Dubs) / Baby, Walk On In (

Shells

)
07/1995
CD Juke Box Treasures JBT-6032 (US)

Golden Hits - Baby Oh Baby / Deep In My Heart / Baby, Walk On In / An Island Unknown / What's In An Angel's Eyes / My Royal Love / My Cherie / Explain It To Me / Pleading No More / Baby Oh Baby (acapella version) / Rehearsal Session Talk / Can't Take It / O-Mi-Yummi-Yummi / Better Forget Him / In The Doghouse Now / Cry Baby Cry / Explain It To Me (previously unreleased, 1957 version) / The Drive / If You Were Gone From Me (previously unreleased) / A Toast To Your Birthday / Love You Never Knew (previously unreleased) / In The Dim Light Of The Dark / Happy Holiday / Don't Say Goodbye / Oh What A Dream (previously unreleased) / If You Were Gone From Me (acapella version) / Studio Session Talk / Do You Love Me (previously unreleased) / Someone Up There / There's Always Tomorrow (previously unreleased) / Fine Little Girl / Will You Miss Me / Sweetest One / On My Honor
© Rocky Productions 12/07/2018