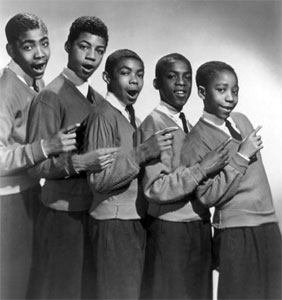 Groupe Doo Wop US formé en 1955 à New York et composé de Harold Atley puis Leslie Martin, James Edwards, Roger Hayes, James "Charlie" McKay et Renaldo Gamble.

The Schoolboys sound almost uncannily similar to Frankie Lymon & the Teenagers, but they predate them by close to a year in terms of recording and success. Formed in Harlem's Cooper Junior High School in 1954 or early 1955, with Harold Atley as leader, James Edwards (first tenor), Roger Hayes(second tenor), James "Charlie" McKay (baritone), and Renaldo Gamble (bass), they performed in school talent shows and became popular locally, only to see Atley exit after a few months. He was replaced by Leslie Martin, a boy soprano who had an almost operatic intensity to his singing and intonation. They appeared on Ted Mack's Original Amateur Hour and won first prize, which brought them the chance to record soon after, under the aegis of disc jockey Tommy Smalls, who had the popular Dr. Jive Show on WWRL in New York -- he gave them the name the Schoolboys and got them their recording. Their debut single, "Please Say You Want Me," a slow, moon/June-rhymed ballad featuring Martin's astonishingly powerful boy soprano voice, became a hit in the fall of 1955 and led to a series of releases, notable for the pleading nature of their lyrics, especially the ballads, which were usually backed by songs titled with girls' names. The group was never able to match the success of its debut release, however, and by 1956, the Teenagers Featuring Frankie Lymon, also organized in upper Manhattan, had supplanted them in the minds of the listening public.
The Schoolboys' original lineup disintegrated not too long after their one hit -- Renaldo Gamble joined Pearl McKinnon (herself a Frankie Lymon sound-alike) and the Kodaks. By 1957, the Schoolboys were history, their moment having passed to Lymon and company. It is alleged that some of the work credited to the group was really Martin and members of the Cadillacs, rather than his own group.
Talents : Harold Atley, then Leslie Martin : Leader - James Edwards : First Tenor - Roger Hayes : Second Tenor - James "Charlie" McKay : Baritone - Renaldo Gamble : Bass
Style musical : Doo Wop
Years in activity :
| | | | | | | | | | |
| --- | --- | --- | --- | --- | --- | --- | --- | --- | --- |
| 1910 | 20 | 30 | 40 | 50 | 60 | 70 | 80 | 90 | 2000 |
DISCOGRAPHY
78 t., Singles & EP
| | | |
| --- | --- | --- |
| 11/1956 | 78 t. OKEH 7076 (US) | Please Say You Want Me / Shirley |
| 11/1956 | SP OKEH 4-7076 (US) | Please Say You Want Me / Shirley |
| 04/1957 | 78 t. OKEH 7085 (US) | Mary / I Am Old Enough |
| 04/1957 | SP OKEH 4-7085 (US) | Mary / I Am Old Enough |
| 08/1957 | 78 t. OKEH 7090 (US) | Pearl / Carol |
| 08/1957 | SP OKEH 4-7090 (US) | Pearl / Carol |
| 1958 | SP JUANITA 103 (US) | The Slide / Angel Of Love |
| 08/1963 | SP MEMORY LANE 5-2205 (US) | Please Say You Want Me / Carol |
| 06/1972 | SP BIM BAM BOOM 107 (US) | The Slide / Angel Of Love |
| 1989 | EP Magic Carpet ‎511 (US) | Mary / Ding A Ling Coo Coo Mop / Pearl / I Am Old Enough |
| 19?? | SP COLLECTABLES 15-2205 (US) | Please Say You Want Me / Carol |
Album
| | | | |
| --- | --- | --- | --- |
| 19?? | LP 12" OKEH 1000 (US) | | THE SCHOOLBOYS MEET THE YOUGTONES - The SCHOOLBOYS : Shirley / Please Say You Want Me / Mary / I Am Old Enough / Pearl / The Slide / Angel Of Love / Carol / The YOUGTONES : Come On Baby / O Tell Me / Gonna Get Together Again / Can I Come Over / Patricia / By The Candleglow / It's Over Now / You I Adore |
| 10/1991 | CD COLLECTABLES COL-CD-5076 (US) | | Little Joe Cook & The Thrillers Meet The Schoolboys - Little Joe Cook & The Thrillers : This I Know / Peanuts / Lilly Lou / The Echoes Keep Calling Me / Let's Do The Slop / Please Don't Go / The Schoolboys : Shirley / Please Say You Want Me / Mary / I Am Old Enough / Pearl / Carol |
| 2003 | CD Note ‎NCD-10012 (UK) | | Back To "Doo-Wop" School - The Schoolboys & The Students - The SCHOOLBOYS : Please Say You Want Me / Shirley / Angel Of Love / Carol / I Am Old Enough / Mary / Ding A Ling Coo Coo Mop / Pearl / The Slide / The STRUDENTS : I'm So Young / Everyday Of The Week / My Vow To You / That's How I Feel / Mommy And Daddy / My Heart Is An Open Door / Mary / Mommy And Daddy (outtake) / My Heart Is An Open Door (outtake) / Bye Bye Truly |
© Rocky Productions 22/04/2018