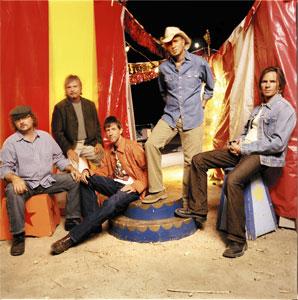 Groupe Country US formé en 1981 à Apopka (Floride).

One of those rare acts who actually became stars directly from winning Star Search, country-rockers Sawyer Brown wound up enjoying a long, hit-filled career and remained commercially viable into the new millennium. The group originally grew out of country-pop singer Don King's touring band, with guitarist Bobby Randall and drummer Joe Smyth signing on in 1979, and bassist Jim Scholten, keyboardist Gregg "Hobie" Hubbard, and guitarist/future lead singer Mark Miller all arriving in 1980. King stopped touring in 1981, and the group decided to stay together, naming themselves after the Nashville street where they rehearsed. They spent the next two years on the road, and their agent landed them an audition for the popular syndicated talent show Star Search. Sawyer Brown won the grand prize of 100,000 dollars, and it wasn't long before Liberty/Capitol signed them up in 1984. Their self-titled debut album was released in 1985, and their debut single, "Leona," climbed into the Top 20; its follow-up, "Step That Step," went all the way to number one, and the album fell one spot short of that same position. Their sophomore album, Shakin', was another hit, producing the Top Five single "Betty's Bein' Bad."
The band endured a singles-chart slump over 1986-1987, likely a result of their increasingly slick country-pop production, but they rebounded when "This Missin' You Heart of Mine" went to number two at the end of 1987. Another commercially disappointing period followed, lasting into 1991, but it was interrupted by the Top Five single "The Race Is On," which helped its accompanying album, The Boys Are Back, climb into the Top Five. Following 1991's Buick album, Sawyer Brown parted ways with Liberty and signed with Curb; around the same time, guitarist Randall departed and was replaced by Duncan Cameron. Through it all, they never stopped touring, which helped them maintain a following, and it paid off when "The Walk" went to number two in late 1991. Their first Curb album, The Dirt Road, produced two big hits in the Top Five title track and the band's second number one hit, "Some Girls Do." Their follow-up, 1992's Cafe on the Corner, was acclaimed by many critics as their most consistent, fully realized album, and it gave them three Top Five hits in the title track, "All These Years," and "Trouble on the Line." 1993's Outskirts of Town continued their hot streak, producing two more Top Fives in "The Boys & Me" and "Hard to Say," plus their third number one in "Thank God for You." The band capped off their commercial resurgence with Greatest Hits 1990-1995, a Top Five-selling compilation whose two new tracks, "I Don't Believe in Goodbye" and "This Time," both made the Top Five themselves.
Released later in 1995, the Top Ten This Thing Called Wantin' and Havin' It All produced another Top Five smash in "Treat Her Right" and was followed by two albums in 1997: the live Six Days on the Road (another Top Ten seller) and the gospel/CCM record Hallelujah He Is Born. The Top Ten Drive Me Wild arrived in 1999, and its title cut was also a Top Ten hit. Following 2002's poppy Can You Hear Me Now, the group parted ways with Curb and signed a new deal with Disney's country subsidiary Lyric Street.
Talents : Bobby Randall (1981-1991) : Guitar - Jim Scholten : Bass Guitar - Joe Smyth : Drums - Gregg "Hobie" Hubbard : keyboards - Mark Miller : Lead Vocals - Duncan Cameron (1991-2004) : Guitar - Shayne Hill (2004-) : Guitar
Style musical : Contemporary Country, Country Pop

https://youtu.be/n5a3MuR6M9g
Years in activity :
| | | | | | | | | | | |
| --- | --- | --- | --- | --- | --- | --- | --- | --- | --- | --- |
| 1910 | 20 | 30 | 40 | 50 | 60 | 70 | 80 | 90 | 2000 | 10 |
DISCOGRAPHY
Singles
1981
SP D & L DLS 70181 (US)
.

Let's Have A Party Tonight (SAVANNA (later pressings credit changed to Sawyer Brown)) / Third Down And Ten To Go (Stanford Preston)

09/1984
SP CAPITOL / CURB B-5403 (US)
.
Leona / Staying Afloat
01/1985
SP CAPITOL / CURB B-5446 (US)
Step That Step / Feel Like Me
05/1985
SP CAPITOL / CURB B-5477 (US)
Used To Be / It's Hard To Keep A Good Love Down
09/1985
SP CAPITOL / CURB B-5517 (US)
Betty's Bein' Bad / Lonely Girls
01/1986
SP CAPITOL / CURB B-5548 (US)
Heart Don't Fall Now / That's A No No
04/1986
SP CAPITOL / CURB B-5585 (US)
.
Shakin' / Billy Does Your Bulldog Bite
08/1986
SP CAPITOL / CURB B-5629 (US)
Out Goin' Cattin' (Sawyer

Brown

with "Cat" Joe

Bonsall

)

/ House Won't Rock
1986
SP CAPITOL STARLINE X-6333 (US)
.

Betty's Been Bad / Step That Step

12/1986
SP CAPITOL / CURB B-5677 (US)
.
Gypsies On Parade / Not Ready To Let You Go
04/1987
SP CAPITOL / CURB B-44007 (US)
.
Savin' The Honey For The Honey Moon / Lady Of The Evening
08/1987
SP CAPITOL / CURB B-44054 (US)
Somewhere In The Night / My Baby Drives A Buick
11/1987
SP CAPITOL / CURB B-44108 (US)
.
This Missin' You Heart Of Mine / Mighty Big Broom
03/1988
SP CAPITOL / CURB B-44143 (US)
.
Old Photographs / In This Town
08/1988
SP CAPITOL / CURB B-44218 (US)
.
My Baby's Gone (edited) / Blue Denim Soul
1988
SP CAPITOL 7PRO-79040 (US) (promo)
.

Puttin' The Dark Back Into The Night (remix) / Puttin' The Dark Back Into The Night (remix)

1988
SP CAPITOL 7PRO-79231 (US) (promo)
.

When Love Comes Callin' / When Love Comes Callin'

11/1988
SP CAPITOL / CURB B-44282 (US)
.
It Wasn't His Child / Falling Apart At The Heart
11/1988
SP CAPITOL 7PRO-79423 (US) (promo)

It Wasn't His Child / It Wasn't His Child

01/1989
SP CAPITOL / CURB B-44332 (US)
.
Old Pair Of Shoes / What Am I Going To Tell My Heart
07/1989
SP CAPITOL B-44431 (US)
.
The Race Is On / Passin' Train
01/1990
SP CAPITOL B-44483 (US)
.
I Did It For Love (edited) / Heartland
1991
SP CAPITOL 7PRO-79432 (US) (promo)
.

One Less Pony / One Less Pony

1991
SP CAPITOL 7PRO-79653 (US) (promo)
.

Mama's Little Baby Loves Me / Mama's Little Baby Loves Me

1991
SP CAPITOL 7PRO-79750 (US) (promo)
.

The Walk / The Walk

1992
CD CURB CURBD-1031 (US)

All These Years

03/1993
SP CURB NR-76912 (US)
.
All These Years / Some Girls Do
05/1993
SP CURB NR-76914 (US)
.
Thank God For You / Cafe On The Corner
1994
CD CURB CURB-1100 (US)
This Time
02/1995
SP CURB D7-76930 (US)
.
This Time / Hard To Say
04/1995
SP CURB D7-76936 (US)
.
Outskirts Of Town / I Don't Believe In Goodbye
08/1995
SP CURB D7-76955 (US)
.
(This Thing Called) Wantin' And Havin' / I Will Leave The Light On
11/1995
SP CURB D7-76975 (US)
.
Round Here / I Will Leave The Light On
03/1996
SP CURB D7-76987 (US)
Treat Her Right / She's Getting There
03/1997
SP CURB D7-73016 (US)
.
Six Days On The Road / This Night Won't Last Forever
10/1998
SP CURB D7-73075 (US)
.
Drive Me Wild / Were Everything To Me
2003
SP LYRIC STREET 2061 64079-7 (US)
.

I'll Be Around / I'll Be Around
Albums
| | | | |
| --- | --- | --- | --- |
| 01/1985 | LP 12" CAPITOL / CURB ST-12381 (US) | | SAWYER BROWN - Leona / Feel Like Me / Used To Blue / It's Hard To Keep A Good Love Down / Step That Step / Smokin' In The Rockies / Staying Afloat /Broken Candy / The Sun Don't Shine On The Same Folks All The Time / Going Back To Indiana |
| 09/1985 | LP 12" CAPITOL / CURB ST-12438 (US) | | SHAKIN' - When Your Heart Goes / The Secretary's Song / Heart Don't Fall Now / Shakin' / Sharin' The Moonshine / Betty's Bein Bad / I Believe / Lonely Girls / That's A No No / Billy Does Your Bull Dog Bite |
| 08/1986 | LP 12" CAPITOL / CURB ST-12517 (US) | | OUT GOIN' CATTIN' - Lady Of The Evening / Better Be Some Tears / Not Ready To Let You Go / Out Goin'Cattin' / The House Won't Rock / New Shoes / Graveyard Shift / Night Rockin' / Savin' The Honey For The Honeymoon / Gypsies On Parade |
| 08/1987 | CD CAPITOL / CURB CDP 7-46923 2 (US) | | SOMEWHERE IN THE NIGHT - Somewhere In The Night / Little Red Caboose / This Missin' You Heart Of Mine / Dr.Rock N. Roll / Still Hold On / Lola's Love / In This Town / A Mighty Big Broom / Still Life In Blue / Old Photographs |
| 06/1988 | CD CAPITOL / CURB CDP 7-90417 (US) | | WIDE OPEN - My Baby's Gone / Old Pair Of Shoes / What Am I Going To Tell My Heart / Blue Denim Soul / It Wasn't His Child / Wide Open / Fallin' Apart At The Heart / Ax To Grind / Running Out Of Reasons To Run / The Fieldhand |
| 06/1989 | CD CAPITOL / CURB CDP 7 92358 (US) | | THE BOYS ARE BACK - Puttin' The Dark Back Into The Night / Rosie Knows / I Did It For Love / The Race Is On / Hey Hey / Good While It Lasted / Locomotive / The Heartland / I'm Gonna Miss You After All / Gettin' Tough / Passin' Train |
| 08/1990 | CD CAPITOL / CURB CDP 7 94259 (US) | | GREATEST HITS - Step The Step / Heart Don't Fall Now / Betty's Bein Bad / The Race Is On / When Love Comes Callin' / Puttin' The Dark Back Into The Night / Leona / Used To Blue / Out Goin'Cattin' / Shakin' |
| 01/1991 | CD CAPITOL / CURB CDP 7 94260 (US) | | BUICK - Mama's Little Baby Loves Me / My Baby Drives A Buick / When You Run From Love / The Walk / 48 Hours Till Monday / Superman's Daughter / One Less Pony / Still Water / Stealin' Home / Thunder Bay |
| 01/1992 | CD CAPITOL / CURB CDP 7 95624 (US) | | THE DIRT ROAD - The Dirt Road / Some Girls Do / Another Trip To The Well / Time And Love / Ruby Red Shoes / Fire In The Rain / Burnin' Bridges / Sometimes A Hero / Ain't That Always The Way / When Twist Comes To Shout / The Walk |
| 08/1992 | CD CURB D2-77574 (US) | | CAFE ON THE CORNER - Cafe On The Corner / Trouble On The Line / All These Years / Travelin' Shoes / A Different Tune / Lesson In Love / Chain Of Love / Homestead In My Heart / I Kept My Motor Runnin' / Sister's Got A New Tattoo |
| 08/1993 | CD CURB D2-77626 (US) | | OUTSKIRTS OF TOWN - The Boys & Me / Farmer Tan / Outskirts Of Town / Thank God For You / Listenin' For You / Eyes Of Love / Hard To Say / Drive Away / Heartbreak Highway / Love To Be Wanted / Hold On |
| 1995 | CD CURB D2-77689 (US) | | GREATEST HITS 1990-1995 - Some Girls Do / Thank God For You / All These Years / The Dirt Road / This Time / The Walk / Trouble On The Line / Cafe On The Corner / I Don't Believe In Goodbye / The Boys & Me |
| 1995 | CD CURB CURCD013 (UK) | | GREATEST HITS - Some Girls Do / Thank God For You / All These Years / The Dirt Road / This Time / The Walk / Trouble On The Line / Cafe On The Corner / I Don't Believe In Goodbye / The Boys And Me / Step That Step / Betty's Bein' Bad / The Race Is On / When Love Comes Callin' / Leona / Used To Blue / Out Goin' Cattin / Shakin' |
| 08/1995 | CD CURB D2-77785 (US) | | THIS THING CALLED WANTIN' AND HAVIN' IT ALL - Nothin' Less Then Love / Big Picture / I Will Leave The Light On / This Thing Called Wantin' And Havin' It All / Another Mile / 'Round Here / She's Gettin' There / Treat Her Right / Like A John Deere / Small Town Hero |
| 10/1997 | CD CURB D2-77857 (US) | | HALLELUJAH HE IS BORN - Glory To The King / Sweet Mary Cried / Oh What A Night In Bethlehem / Hallelujah He Is Born / Where Christmas Goes / Christmas All Year Long / He Sent A Carpenter / Angles We Have Heard On High / Little Drummer Boy / Just One Night / The Wiseman's Song / Little Town Of Bethlehem |
| 1997 | CD CURB D2-77883 (US) | | SIX DAYS ON THE ROAD - Another Side / Talkin' 'bout You / This Night Won't last Forever / Six Days On The Road / Small talk / With This Ring / Transistor Rodeo / Night And Day / Half A Heart / Between You And Paradise / A Love Like This / Every Twist And Turn / The Nebraska Song |
| 03/1999 | CD CURB D2-77902 (US) | | DRIVE ME WILD ! - Break My Heart Again / We're Everything To Me / I'm In Love With Her / Drive Me Wild / Moon Over Miami / All Wound Up / 800 Pound Jesus / It All Comes Down To Love / Every Little Thing / Playin' A Love Song / Soul Searchin' |
| 11/2000 | CD CURB D2-77976 (US) | | THE HITS LIVE - Six Days On The Road / Hard To Say / This Time / Cafe On The Corner / The Walk / Step The Step / The Dirt Road / This Night Won't last Forever / All These Years / The Boys & Me / Thank God For You / The Race Is On / Drive Me Wild / Some Girls Do / Perfect World / Garage Band / 800 Pound Jesus / Lookin' For Love |
| 06/2002 | CD CURB D2-78737 (US) | | CAN YOU ARE ME NOW - Can You Hear Me Now / I Need A Girl Friend / Circles / Where Was I / Hard Hard World / She's An I've Got To Have You Girl / When The Sun Don't Always Shine / Someone / Come Back Baby / I Got A Plan |
| 04/2003 | CD CURB D2-78764 (US) | | TRUE BELIEVER - Travelin' Shoes / I Got A Plan / Lord, Would You Do That For Me / The Walk / Still Water / Circles / It Wasn't His Child / The Sun Don't Shine On The Same Folks All The Time / 800 Pound Jesus / Building A True Believer |
| 08/2005 | CD CURB D2-78879 (US) | | Mission Temple Firewords Stand - Mission Temple Fireworks Stand / Tarzan And Jane / They Don't Understand / With You Daddy . Your Faith; Keep Your Hands To Yourself / Ole' Kentuck / All I Want Is You; / One Little Heartbeat At A Time / Ladies Man / There Was A Time / Tryin' To Find (A Way To Make It Last) |
| 05/2008 | CD CURB D2-79041 (US) | | Best Of Sawyer Brown - Step That Step / The Race Is On / The Walk / Dirt Road / Some Girls Do / All These Years / Thank God For You / This Night Won't Last Forever / Six Days On The Road / They Don't Understand |
| 10/2008 | CD O-SEVEN 897452002009 (US) | | Rejoice - Go Tell It On The Mountain / Do You Hear What I Hear / God Rest Ye Merry Gentlemen / Rejoice / The First Noel / O Come, O Come Emmanuel / Gloria / O Come All Ye Faithful |
| 10/2011 | CD Beach Street ? (US) | | Travelin'Band - Ain't Goin' Out That Way / Smokin' Hot Wife / Walk Out Of The Rain / Travelin' Band / Come Along / New Set Of Tires / Closer To Me / Cool Night / Deliver Me / Y'all Ready / Runaway Heart |
| 09/2017 | CD CURB ? (US) | | All-Time Greatest Hits - Leona / Step That Step / Used To Blue / Betty's Bein' Bad / Heart Don't Fall Now / The Race Is On / The Walk / The Dirt Road / Some Girls Do / Cafe On The Corner / All These Years / Trouble On The Line / Thank God For You / The Boys And Me / Hard To Say / This Time / I Don't Believe In Goodbye / This Thing Called Wantin' And Havin' It All / Treat Her Right / Six Days On The Road / This Night Won't Last Forever / Drive Me Wild / Mission Temple Fireworks Stand / They Won't Understand |
© Rocky Productions 18/04/2018