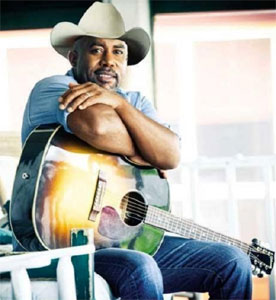 Chanteur Country US né le 13 Mai 1966 à Charleston (Caroline du Sud). Darius Rucker, chanteur bluesy et guitariste acoustique avec Hootie & The Blowfish avant de commencer une carrière de chanteur country. A également sorti un album solo de Rhythm & Blues et a fait une apparition notable en tant que cow-boy chantant dans une publicité Burger King.

As the frontman of Hootie & the Blowfish, Darius Rucker was one of the most popular frontmen in mainstream pop/rock during the mid-'90s. The band's debut album, Cracked Rear View, was virtually inescapable in 1995, eventually selling more than 16 million copies and becoming one of the most successful albums of all time. Hootie & the Blowfish couldn't re-create that magic on future records, though, and the group took a break from the studio after releasing 1998's Musical Chairs. Rucker used his free time to launch a solo career, which has allowed the singer to explore his R&B and country influences.
Growing up in Charleston, South Carolina, Rucker was exposed to the sounds of Otis Redding, Al Green, and Gladys Knight at an early age. Those R&B icons helped influence Hootie & the Blowfish's recordings, all of which featured Rucker's soulful baritone at the forefront, but it wasn't until his solo career that Rucker truly paid homage to the sounds of his youth. He initially planned to launch his solo career with The Return of Mongo Slade, which was scheduled for a summer 2001 release by Atlantic Records, but contractual changes prevented the album's release. A few months later, Rucker jumped ship for Hidden Beach Recordings, which then acquired the master recordings of his debut from Atlantic.
After making a cameo in the Farrelly brothers' film Shallow Hal, Rucker introduced his mellow, R&B-influenced music with 2002's Back to Then (essentially The Return of Mongo Slade with a different title), which featured collaborations with Jill Scott and Snoop Dogg. Rucker then returned his focus to Hootie & the Blowfish, releasing two albums with the group during the early 2000s before revisiting his solo career. This time, he opted for a country approach, and the twangy Learn to Live found an appropriate home among country music fans, who sent both the album and its flagship single, "Don't Think I Don't Think About It," to the top of the Billboard country chart. "It Won't Be Like This for Long" and "Alright" also peaked at number one, pushing the album to platinum status within a year of its release. Rucker smartly stayed in the country mold for his follow-up LP, Charleston, SC 1966, which appeared in fall 2010; it also spawned two number one singles in "Come Back Song" and "This."
His third solo album in a country vein, True Believers, followed in early 2013, and it generated a massive hit in the form of "Wagon Wheel," a number one country single that crossed over to 15 on the pop charts on its way to triple-platinum certification. As he prepped a fourth country long-player, Rucker released the "Homegrown Honey" single in the fall of 2014, along with the seasonal album Home for the Holidays. Southern Style appeared in March 2015; it debuted at number one on Billboard's country chart but didn't generate a second big hit. "If I Told You," the lead single from his next album, appeared in July 2016, but it took Rucker another full year to finish the record. Preceded by the summer single "For the First Time," the album When Was the Last Time appeared in October 2017, entering the Country Album chart at two and the Hot 100 at eight.
Hootie & the Blowfish reunited for a 25th anniversary tour of Cracked Rear View in 2019. That same year brought a new album from the group called Imperfect Circle; it peaked at number 26 on the Hot 100. Rucker returned to his solo career in August 2020 by releasing "Beers and Sunshine," the first single from his sixth solo album. The song debuted at number 24 on the Billboard Country Airplay chart, making it his highest debut to date, and was certified gold in Canada.
https://en.wikipedia.org/wiki/Darius_Rucker
Talents : Vocals, Guitar
Style musical : Contemporary Country, Pop-Rock

https://youtu.be/hvKyBcCDOB4
Years in activity :
| | | | | | | | | | | | |
| --- | --- | --- | --- | --- | --- | --- | --- | --- | --- | --- | --- |
| 1910 | 20 | 30 | 40 | 50 | 60 | 70 | 80 | 90 | 2000 | 10 | 20 |
DISCOGRAPHY
Singles & EP
1997
CD Elektra

Prcd

9878-2 (US) (promo)

Nanci Griffith with Darius Rucker - Gulf Coast Highway

2002
CD Hidden Beach ESK 56827 (US) (promo)

Wild One (album version) / Wild One (instrumental) / Wild One (a cappella)

2002
EP 12" 33 t. Hidden Beach XPR3575 (UK)

Back To Then - Album Sampler - Wild One / Sometimes I Wonder / Back To Then / Sleeping In My Bed / I'm Glad You're Mine

2002
CD SONY ? (EUR) (promo)

This Is My World

2008
CD Capitol 509992-42648-2-2 (US) (promo)

It Won't Be Like This For Long / It Won't Be Like This For Long / It Won't Be Like This For Long (Research Hook)

2008
CD Capitol 509992-15145-2-4 (US) (promo)

Don't Think I Don't Think About It / Don't Think I Don't Think About It / Suggested Research Hook

2008
CD Capitol 509996 93057 2 6 (US) (promo)

Winter Wonderland / Winter Wonderland / Winter Wonderland

2009
CD Capitol 509996 98993 2 4 (US) (promo)

Alright / Alright / Alright (Research Hook)

2009
CD Capitol 509993 06876 2 2 (US) (promo)

History In The Making / History In The Making / History In The Making (Hook #1) / History In The Making (Hook #2)

2009
CD Capitol 509993 09035 2 4 (US) (promo)

Candy Cane Christmas

2010
CD Capitol 509999 48721 2 5 (US) (promo)

This / This / This (Redearch Hook #1) / This (Research Hook #2)

2010
CD Capitol 509999 05187 2 0 (US) (promo)

Come Back Song / Come Back Song / Come Back Song (Research Hook 1) / Come Back Song (Research Hook 2)

2011
CD Capitol 509990 29130 2 5 (US) (promo)

I Got Nothin' / I Got Nothin' / I Got Nothin' (Research Hook #1) / I Got Nothin' (Research Hook #2)

2012
CD Capitol 509999 14222 2 4 (US) (promo)

True Believers / True Believers / True Believers (Research Hook #1) / True Believers (Research Hook #2)

2013
CD Capitol ? (US) (promo)
.

Miss You (radio edit)

2013
CD Capitol ? (US) (promo)
.

Radio (remix)

2013
CD Wrasse HH22S (UK) (promo)

Darius Rucker featuring Lady Antebellum - Wagon Wheel

2014
CD Capitol ? (US) (promo)
.

Homegrown Honey

2014
CD HUMP HEAD HUMP170S (UK) (promo)

What God Wants For Christmas

2015
CD Capitol ? (US) (promo)
.

Southern Style [radio edit]

2015
CD HUMP HEAD HUMP178S (UK) (promo)
Darius

Rucker

featuring Mallary

Hope

- Baby I'm Right
Albums
07/2002
CD Hidden Beach EK 86492 (US)

Back To Then - Wild One / Exodus / Sometimes I Wonder / Back To Then / This Is My World / I'm Glad You're Mine / Butterfly / Hold On / Ten Years / One More Night / Amazing Grace (interlude) / Somewhere / Sleeping In My Bed

09/2008
CD Capitol 09463 85506 2 4 (US)

Learn To Live - Forever Road / All I Want / Don't Think I Don't Think About It / Learn To Live / If I Had Wings / History In The Making / Alright / It Won't Be Like This For Long / Drinkin' And Dialin' / I Hope They Get To Me In Time / While I Still Got The Time / Be Wary Of A Woman

10/2010
CD Capitol 509996 26939 2 9 (US)

Charleston, SC 1966 - This / Come Back Song / Might Get Lucky / Whiskey And You / Southern State Of Mind / Love Will Do That / Craziest Thing / Things I'd Never Do / We All Fall Down / I Don't Care / She's Beautiful / I Got Nothin' / In A Big Way

2010
CD Capitol 509996 79270 2 9 (EUR)

Charleston, SC 1966 -

This / Come Back Song / Might Get Lucky / Whiskey And You / Southern State Of Mind / Love Will Do That / Craziest Thing / Things I'd Never Do / We All Fall Down / I Don't Care / She's Beautiful / I Got Nothin' / In A Big Way / This (remix) / Alright / History In The Making
2011
CD + DVD Capitol HHEAD014 (EUR)

Charleston, SC 1966 :

CD : This / Come Back Song / Might Get Lucky / Whiskey And You / Southern State Of Mind / Love Will Do That / Craziest Thing / Things I'd Never Do / We All Fall Down / I Don't Care / She's Beautiful / I Got Nothin' / In A Big Way / This (remix) / Alright / History In The Making
DVD : Coming Home

2013
CD Capitol 027082 (US)

True Believers - True Believers / Miss You / Wagon Wheel / Love Without You (featuring - Sheryl Crow) / Radio / Lost In You / I Will Love You Still (featuring - Mallary Hope) / Take Me Home / Shine / Heartbreak Road / Leavin' The Light On / Lie To Me

2014
CD Capitol B0021359-02 (US)

Home For The Holidays - Let It Snow, Let It Snow, Let It Snow / Have Yourself A Merry Little / Christmas / What God Wants For Christmas / You're A Mean One, Mr. Grinch / Baby, It's Cold Outside (featuring - Sheryl Crow) / I'll Be Home For Christmas / O Come, All Ye Faithful / Winter Wonterland / Candy Cane Christmas / Please Come Home For Christmas / Hark ! The Herald Angels Sing / White Christmas

2015
CD Capitol B0021931-02 (US)

Southern Style - Homegrown Honey / Good For A Good Time / Baby I'm Right (featuring - Mallary Hope) / Southern Style / High On Life / Perfect / You, Me And My Guitar / Low Country / Need You More / Half Full Dixie Cup / Lighter Up / You Can Have Charleston / So I Sang

2017
CD Capitol B0026385-02 (US)

When Was The Last Time - For The First Time / Bring It On / Life's Too Short / If I Told You / Don't / Twenty Something / Straight To Hell (featuring - Charles Kelley, Jason Aldean, Luke Bryan) / Count The Beers / Another Night With You / Hands On Me / She / Story To Tell

06/2022
CD Capitol B0035539-02 (US)

#1's - Volume 1 - Don't Think I Don't Think About It / It Won't Be Like This For Long / Alright / Come Back Song / This / Wagon Wheel / Homegrown Honey / If I Told You / For The First Time / Beers And Sunshine

10/2023
CD Capitol 1000124496 (US)

Carolyn's Boy - Beers And Sunshine / In This Together / Never Been Over / Fires Don't Start Themselves / Ol' Church Hymn / 7 Days / Same Beer Different Problem / Sara / Have A Good Time / Sure Would Have Loved Her / Southern Comfort / 3AM In Carolina / Lift Me Up / Stargazing
© Rocky Productions 7/10/2023