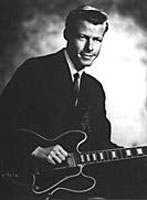 Chanteur Rock 'n' Roll US né Ralph Joseph Reynolds, le 3 Décembre 1932 à Denver (Colorado), mais élevé en Oklahoma. Jody Reynolds a débuté en 1958 sur Demon, puis il est passé chez Sundown (59), Indigo (61) et Brent Records (63). Jody Reynolds est décédé le 7 Novembre 2008 à Palm Desert (Californie).

Jody Reynolds had a million-seller in 1958 with "Endless Sleep." The single became a forerunner of death rock classics such as "Tell Laura I Love Her" from Ray Peterson and "Teen Angel" by Mark Dinning. Reynolds charted for the last time that same year with a number titled "Fire of Love." Despite the lack of a string of chart successes, his one big seller was enough to ensure Reynolds' membership in the Rockabilly Hall of Fame, which inducted him in 1999. In conjunction with the honor, Tru Gems Records issued a double-CD set of Reynolds' recordings, featuring guest performances by Bobbie Gentry, Jimmy Bryant, and others.
Reynolds was born in Colorado in 1938, but he was raised in Oklahoma. He learned how to play guitar during his early teen years, when he gravitated to the Western swing sounds of Hank Thompson, Bob Wills, and Eddy Arnold. In 1952, he founded a group called the Storms. Within three years, he was in Texas, where he played rockabilly, caught Roy Orbison's live act, and enjoyed the music of such performers as Carl Perkins and Elvis Presley.
Herb Montei, a Hollywood music publisher, turned down Reynolds when he heard his first demo submissions. After hearing "Endless Sleep," however, Montei agreed to manage the young rockabilly singer and he arranged for Reynolds to record the song for Demon Records. Reynolds had written the song in a single afternoon in 1956 in Yuma, AZ. Some of Reynolds' songs, including "Endless Sleep," give a writing credit to Dolores Nance, but the name is a pseudonym that Reynolds used.
Reynolds and the Storms later recorded a honky tonk sounding instrumental, "Thunder," for Indigo. The flip side was "Tarantula." Reynolds also released "Stormy" on Smash Records, which was backed by "Don't Jump." For Brent, he recorded "Raggedy Ann," which was produced by Alan Freed. "Fire of Love" has been featured in a few films, including Doctor Chance in France.
Reynolds remained with the Storms throughout the 1960s. He left the limelight during the 1970s. He settled in Palm Springs, CA, where he sells real estate.
https://en.wikipedia.org/wiki/Jody_Reynolds
Talents : Vocals, Guitar
Style musical : Rock 'n' Roll, Rockabilly, Country Pop
| | |
| --- | --- |
| ENDLESS SLEEP (1958) | |
Years in activity :
| | | | | | | | | | | | |
| --- | --- | --- | --- | --- | --- | --- | --- | --- | --- | --- | --- |
| 1910 | 20 | 30 | 40 | 50 | 60 | 70 | 80 | 90 | 2000 | 10 | 20 |
DISCOGRAPHY
78 t. & Singles
1958
78 t. DEMON 1507 (US)
.
Endless Sleep / Tight Capris (Jody REYNOLDS & The STORMS)
03/1958
SP DEMON FF-1507 (US)
.
Endless Sleep / Tight Capris (Jody REYNOLDS & The STORMS)
08/1958
SP DEMON FF-1509 (US)
.
Daisy Mae / Fire Of Love
11/1958
SP DEMON FF-1511 (US)
.
Elope With Me / Closin' In
01/1959
SP SUNDOWN 45-114 (US)
.
STORMS - Thunder (instr.) / Tarantula (instr.)
03/1959
SP DEMON FF-1515 (US)
.
Golden Idol / Beaulah Lee (Jody REYNOLDS & The STORMS)
08/1959
SP DEMON FF-1519 (US)
.
The Storm / Please Remember
04/1960
SP DEMON FF-1523 (US)
.
The Whipping Post / I Wanna Be With You Tonight
06/1960
SP DEMON FF-1524 (US)
.
Stone Gold / Raven Hair
08/1961
SP INDIGO 127 (US)
.
Jody REYNOLDS & The STORMS - Thunder (instr.) / Tarantula (instr.)
1961
SP DEMON FF-1801 (US)

| | |
| --- | --- |
| | Endless Sleep (Jody Reynolds) / Western Movies (OLYMPICS) |

1961
SP TITAN FF-1801 (US)

| | |
| --- | --- |
| | Endless Sleep (Jody Reynolds) / Western Movies (OLYMPICS) |

03/1963
SP SMASH S-1810 (US)
.
Don't Jump / Stormy
05/1963
SP BRENT 7042 (US)
.
Raggedy Ann / The Girl From King Marie
1963
SP Liberty

All Time Hit Series

54514 (US)
.
Endless Sleep (Jody

Reynolds

) / Western Movies (OLYMPICS)
1966
SP TITAN FF-1734 (US)
.
A Tear For Jesse / Devil Girl
1966
SP TITAN FF-1736 (US)
.
Bobbie GENTRY & Jody REYNOLDS - Stranger In The Mirror / Requiem For Love
09/1969
SP PULSAR 2419 (US)
.

Endless Sleep / My Baby's Eyes

1972
SP ERA Back To Back Hits Series 026 (US)
.
Endless Sleep (Jody

Reynolds

) / Western Movies (OLYMPICS)
1973
SP GOLDIES 45 D-2405 (US)
.
Endless Sleep / Tight Capris
1978
SP Janus 1JG 747 (US)
.

Chanson D'Amour (Song Of Love) (Art & Dotty Todd) / Endless Sleep (Jody Reynolds)

1979
SP Lightning LIG 9015 (UK) (picture disc)

To Know Him Is To Love Him (Teddy Bears) / Endless Sleep (Jody Reynolds)

1979
SP Old Gold OG 9015 (UK)
To Know Him Is To Love Him (Teddy Bears) / Endless Sleep (Jody

Reynolds

)
197?
SP TRIP OLDIES TRS-186 (US)
.

Ma Belle Amie (TEE-SET) / Endless Sleep (Jody Reynolds)

1983
SP COLLECTABLES COL 3040 (US)
.
Western Movies (OLYMPICS) / Western Movies (Jody

Reynolds

)
1987
SP Original Sound Oldies But Goodies OBG 4556 (US)
.
Endless Sleep (Jody

Reynolds

) / Western Movies (OLYMPICS)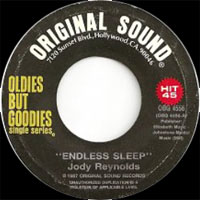 Unissued Tracks
| | | |
| --- | --- | --- |
| 19?? | Unissued track - (Buffalo Bop CD 55160 (#31)) | All Washed Up |
| 19?? | Unissued track - (Buffalo Bop CD 55160 (#23)) | Catapillar Crawl |
| 19?? | Unissued track - (Magnum Force LP 066 (#15) / Sunjay LP 579 (#16)) | Endless Sleep No. 2 |
| 19?? | Unissued track - (Buffalo Bop CD 55160 (#13) / Gee Dee Music CD 270106-2 (#19) / Stomper Time CD 8 (#30)) | ( Evil Hearted Me) Downright Evil |
| 19?? | Unissued track - (Buffalo Bop CD 55160 (#10) / Gee Dee Music CD 270106-2 (#11) / Stomper Time CD 8 (#8)) | Jeannie Mae |
| 19?? | Unissued track - (Buffalo Bop CD 55160 (#27) / Buffalo Bop CD 55168 (#19) / Gee Dee Music CD 270106-2 (#15)) | Long Black Train |
| 19?? | Unissued track - (Buffalo Bop CD 55160 (#14) / Gee Dee Music CD 270106-2 (#22)) | Making Out (instr.) |
| 19?? | Unissued track - (Buffalo Bop CD 55160 (#29) / Gee Dee Music CD 270106-2 (#25)) | Paper Doll |
| 19?? | Unissued track - (Buffalo Bop CD 55160 (#30) / Gee Dee Music CD 270106-2 (#13)) | Robbin' The Cradle |
| 19?? | Unissued track - (Buffalo Bop CD 55160 (#22)) | Runaway Heart |
| 19?? | Unissued track - (Buffalo Bop CD 55160 (#16) / Gee Dee Music CD 270106-2 (#27)) | Shot Down (instr.) |
| 19?? | Unissued track - (Buffalo Bop CD 55160 (#28) / Gee Dee Music CD 270106-2 (#20)) | Silhouettes |
| 19?? | Unissued track - (Buffalo Bop CD 55160 (#32)) | Two Of A Kind |
Need Infos
| | | |
| --- | --- | --- |
| 19?? | Need info - (Buffalo Bop CD 55160 (#12) / Gee Dee Music CD 270106-2 (#16)) | Anyway You Want Me |
| 19?? | Need info - (Gee Dee Music CD 270106-2 (#14)) | Baby Let's Play House |
| 19?? | Need info - (Gee Dee Music CD 270106-2 (#17) / Memphis CD 7033 (#4)) | Blue Moon Of Kentucky |
| 19?? | Need info - (Gee Dee Music CD 270106-2 (#24)) | Blue Suede Shoes |
| 19?? | Need info - (Buffalo Bop CD 55160 (#9) / Gee Dee Music CD 270106-2 (#9) / Magnum Force LP 066 (#9) / Sunjay LP 579 (#9)) | Come On Twist |
| 19?? | Need info - (Gee Dee Music CD 270106-2 (#21)) | Good Rockin' Tonight |
| 19?? | Need info | How's The World Treating You |
| 19?? | Need info - (Gee Dee Music CD 270106-2 (#18)) | I Forgot To Remember To Forget |
| 19?? | Need info - (Gee Dee Music CD 270106-2 (#26)) | I Got A Woman |
| 19?? | Need info - (Gee Dee Music CD 270106-2 (#10)) | I'm Left, You're Right, She's Gone |
| 19?? | Need info | Tragedy |
Albums
1978
LP 12" Tru-Gems T-G1002 (US)

Endless Sleep - Endless Sleep / Dark Side Of The Moon / Crazy 'bout My Own Life Style / Tennessee Woman / All Washed Up / Merry Go Round Of Life / Lonely Woman / Working Man's Wife / Growing Up In A Country Way / My Baby's Eyes / Dreamin' My Way Back Home

1988
LP 12" MAGNUM FORCE MFLP 066 (UK)

Endless Sleep -

Beulah Lee / Endless Sleep (first version) / Endless Sleep (second version) / Tight Capris / The Fire Of Love / I Wanna Be With You Tonight / Thunder / A Tear For Jesse / Daisy Mae / Come On Twist / The Whipping Post / Stranger In The Mirror / Tarantula / The Girl From King Marie / Devil Girl / Requiem For Love
1988
LP 12" SUNJAY SJLP 579 (SWE)
ENDLESS SLEEP - Beulah Lee / Endless Sleep / Tight Capris / The Fire Of Love / I Wanna Be With You Tonight / Thunder / A Tear For Jesse / Daisy Mae / Come On Twist / The Whipping Post / Stranger In The Mirror / Tarantula / The Girl From King Marie / Devil Girl / Requiem For Love / Endless Sleep
1994
CD C-Five C5CD 611 (UK)

Suntide Desert Jam 1973 - Guitar Legends - Jimmy Bryant - Jody Reynolds - Les Paul - Out Of Nowhere / I Can't Get Started / Jammin' The Blues / Medley : Yakety Axe - Undecided / Back Home Indiana / Caravan / Market Street Blues / Rode Of Desert View / Rose Room / Speedo / How High The Moon

1998
CD GEE-DEE CD 270142-2 (GER)
ENDLESS SLEEP - 27 ORIGINAL RECORDINGS - Beulah Lee / Endless Sleep / Tight Capris / The Fire Of Love / Raven Hair / Thunder / A Tear For Jessie / Daisy Mae / Come On, Twist / I'm Left, You're Right, She's Gone / Jeannie Mae / Tarantula / Robbin' The Cradle / Baby Let's Play House / Long Black Train / Anyway You Want Me / Blue Moon Of Kentucky / I Forgot To Remember To Forget / Downright Evil / Silhouettes / Good Rockin' Tonight / Making Out / The Whipping Post / Blue Suede Shoes / Paper Doll / I Got A Woman / Shot Down
02/2000
2 CD TRU-GEMS 1101-2 (US)
ENDLESS :

CD 1 : Feel So Good / Devil Girl / Crazy 'Bout My Old Life Style / Night Girl / Runaway Heart / Makin' Out (with Plas JOHNSON) / Endless Sleep / Ode To Love (with Bobbie GENTRY) / Tennessee Woman / All Washed Up / Sillhouettes / That's OK Mama / Stranger In The Mirror (with Bobbie GENTRY) / Two Of A Kind / Kisses In The Rain / Out Of Nowhere (with Les PAUL & Jimmy BRYANT) / Fire Fingers (with Jimmy BRYANT & Les PAUL) / Golden Idol / Shot Down / Thunder (with the STORMS) / I Got A Woman / I Wanna Be With You Tonight / Dark Side Of The Moon / Molly Darlin' / Tight Capris / Tarantula / Come On Twist
CD 2 : Beula Lee / Catapillar Crawl / Stranger Called The Blues / Rockabilly Man / Daisy Mae / Robbin' The Cradle / Somewhere In Between (about Elvis Presley) / Can't Help Falling In Love / Fire Of Love / Don't / Baby Come Home / Devil Moon, Angel Eyes / Maria Of New Mexico / Someday Is Here / Blue Russian Nights / Boot Heel Drag / You're A Heartbreaker / My Baby's Eyes / If That Old Juke Box Could Talk / Bobby Love's Swingtime Band / Shake The Bacon / No More Mr. Nice Guy / My Baby's Got Something / Dreamin' My Way Back Home / Bayou Boogie / Yesterday And Today

09/2003
CD BUFFALO BOP CD 55160 (GER)
ENDLESS SLEEP - Beaulah Lee / Endless Sleep / Tight Capris / Fire Of Love / (The Girl With The) Raven Hair / Thunder (instr.) / A Tear For Jesse / Daisy Mae / Come On Twist / Jeannie Mae / Tarantula (instr.) / Anyway You Want Me / (Evil Hearted Me) Downright Evil / Making Out (instr.) / The Whipping Post / Shot Down (instr.) / Golden Idol / The Storm / Closin' In / Please Remember / The Girl From King Marie / Runaway Heart / Catapillar Crawl / Devil Girl / Don't Jump / Stormy / Long Black Train / Silhouettes / Paper Doll / Robbin' The Cradle / All Washed Up / Two Of A Kind
05/2016
CD ACE CDCHD 1474 (UK)

The Complete Demon & Titan Masters - Endless Sleep / Tight Capris (Jody Reynolds & The Storms) / Fire Of Love / Daisy Mae / Elope With Me / Closin' In / Golden Idol / Beulah Lee (Jody Reynolds & The Storms) / The Storm / Please Remember / The Whipping Post / I Wanna Be With You Tonight / (The Girl With The) Raven Hair / Stone Cold / It Goes On And On / My Baby's Gone / Blue Moon / Ballad Of Love / Kiss Of Love / I'm Not Afraid Anymore / Makin Out The Storms / Shot Down The Storms / A Tear For Jesse / Devil Girl / Stranger In The Mirror (Bobbie GENTRY & Jody Reynolds) / Requiem For Love (Bobbie GENTRY & Jody Reynolds)

04/2017
LP 12" The Iron Mountain Analogue Research Facility ‎IMAR 107LP (AUS) (limited edition 500 copy)

Devil Girls With Raven Hair (1958-1966) - (The Girl With The) Raven Hair / Devil Girl / Endless Sleep / Fire Of Love / Stranger In The Mirror (with Bobbie GENTRY) / A Tear For Jesse / Stone Cold / The Storm / Requiem For Love (with Bobbie GENTRY) / Where The Woodbyne Twynes / Don't Jump / Thunder / The Whipping Post / Makin' Out / Tight Capris / Tarantula / Raggedy Ann / The Big Tragedy
© Rocky Productions 13/09/2017