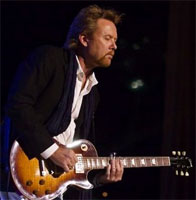 Chanteur Country US né le 21 Décembre 1956 à Abilene (Texas).

Part of a long line of Texas roots-music eclectics, Lee Roy Parnell's music was a blend of hardcore honky tonk, barroom rock & roll, blues, boogie, Western swing, blue-eyed soul, and occasional gospel. Unlike many other hard-to-pigeonhole artists, Parnell actually enjoyed a run of success on the country charts in the early '90s. He was born in Abilene, TX, on December 21, 1956, and grew up on his parents' ranch; his father had toured with a teenage Bob Wills in traveling medicine shows, and his first public performance came on Wills' radio show at age six. As a teenager, he played drums in a local band and soon picked up guitar as well, eventually concentrating on slide playing. He joined Kinky Friedman's Texas Jewboys in his late teens and moved to Austin in 1974 to join the city's budding music scene.
Parnell spent over a decade playing clubs in Austin, Houston, and Dallas/Fort Worth, honing his style and songwriting; he also married and held down a day job in radio. He moved to Nashville in 1987 and quickly landed a publishing contract and a regular spot at the famed Bluebird Café. He signed to Arista's Nashville division in 1989 and the next year released his self-titled debut album, a collection of horn-driven country-soul. It received good reviews but didn't break him commercially; that would happen with 1992's Love Without Mercy, which mostly dispensed with the horns and emphasized Parnell's slide guitar. "What Kind of Fool Do You Think I Am" and "Tender Moment" both went to number two on the country charts, and the title track also made the Top Ten. 1993's On the Road produced two more Top Tens in its title track and "I'm Holding My Own," and his duo with Ronnie Dunn (of Brooks & Dunn) on Hank Williams' "Take These Chains From My Heart" made the Top 20. 1995's We All Get Lucky Sometimes found Parnell tailoring his sound to country radio a bit more and featured duos with Trisha Yearwood, Mary Chapin Carpenter, and Tex-Mex accordionist Flaco Jimenez. It also spawned two Top Five hits in "A Little Bit of You" and "Heart's Desire." However, 1997's commercially disappointing Every Night's a Saturday Night proved to be Parnell's last new album for Arista, which issued the compilation Hits and Highways Ahead in 1999 to coincide with his departure. Parnell next wound up on the rootsy Vanguard label, debuting for them with 2001's Tell the Truth. He returned to the studio in 2006 with Back to the Well, which hit number ten on Billboard's blues chart. Parnell took a decade-plus hiatus after Back to the Well, finally returning to action in August 2017 with Midnight Believer.
https://en.wikipedia.org/wiki/Lee_Roy_Parnell
Talents : Vocals, Songwriter, Guitar, Slide Guitar
Style musical : Country Rock, Country-Blues, Contemporary Country, Western Swing Revival
Years in activity :
| | | | | | | | | | | | |
| --- | --- | --- | --- | --- | --- | --- | --- | --- | --- | --- | --- |
| 1910 | 20 | 30 | 40 | 50 | 60 | 70 | 80 | 90 | 2000 | 10 | 20 |
DISCOGRAPHY
Singles
198?
SP LRP 901060 (US)

Texas Rover / Show Business Is My Life

02/1990
SP ARISTA AS1-9912 (US)

Crocodile Tears / Let's Have Some Fun

06/1990
SP ARISTA AS-2028 (US)

Oughta Be A Law / Crocodile Tears

1990
SP ARISTA AS-2093 (US)

Family Tree / Red Hot

01/1992
SP ARISTA 07822-12400-7 (US)

The Rock /

Road Scholar
04/1992
SP ARISTA 07822-12431-7 (US)

What Kind Of Fool Do You Think I Am / Roller Coaster

09/1992
SP ARISTA 07822-12462-7 (US)

Love Without Mercy / Done Deal

02/1993
SP ARISTA 07822-12523-7 (US)

Tender Moment / The Rock

07/1993
SP ARISTA 07822-12588-7 (US)

On The Road /

Back In My Arms Again
12/1993
SP ARISTA 07822-12642-7 (US)

I'm Holding My Own /

Fresh Coat Of Paint
05/1994
SP ARISTA 07822-12695-7 (US)

Take These Chains From My Heart /

Straight Shooter
09/1994
SP ARISTA 07822-12747-7 (US)

The Power Of Love /

Straight And Narrow
05/1995
SP CAREER 07822-12823-7 (US)

A Little Bit Of You /

Giving Water To A Drowning Man
08/1995
SP CAREER 07822-12862-7 (US)

When A Woman Loves A Man /

If The House Is Rockin'
01/1996
SP CAREER 07822-12952-7 (US)

Heart's Desire /

Knock Yourself Out
05/1996
SP CAREER 07822-10503-7 (US)

Givin' Water To A Drowning Man /

Squeeze Me In
09/1996
SP CAREER 07822-13044-7 (US)

We All Get Lucky Sometimes /

I Had To Let It Go
03/1997
SP CAREER 07822-13078-7 (US)

Lucky Me, Lucky You /

Every Night's A Saturday Night
08/1997
SP CAREER 07822-13079-7 (US)

You Can't Get There From Here /

Mama Screw Your Wig On Tight
02/1998
SP ARISTA 07822-13098-7 (US)

All That Matters Anymore /

One Foot In Front Of The Other
07/1999
SP ARISTA ? (US)

She Won't Be Lonely Long /

Long Way To Fall
| | |
| --- | --- |
| | |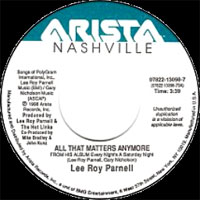 Albums
04/1990
CD ARISTA ARCD-8625 (US)
LEE ROY PARNELL - Oughta Be A Law / Fifty-Fifty Love / Where Is My Baby Tonight / Crocodile Tears / Family Tree / Let's Pretend / You're Taking Too Long / Mexican Money / Down Deep / Red Hot
04/1992
CD ARISTA 07822-18684-2 (US)
LOVE WITHOUT MERCY - What Kind Of Fool Do You Think I Am / Back In My Arms Again / Rock / Ain't No Short Way Home / Love Without Mercy / Road Scholar / Night After Night / Done Deal / Tender Moment / Roller Coaster
10/1993
CD ARISTA ARCD-18739-2 (US)
ON THE ROAD - On The Road / Country Down To My Soul / Power Of Love / I'm Holding My Own / They Don't Know You / Straight Shooter / Take These Chains From My Heart / Wasted Time / Straight And Narrow / Fresh Coat Of Paint
08/1995
CD CAREER 07822-18790-2 (US)
WE ALL GOT LUCKY SOMETIMES - Little Bit Of You / Knock Yourself Out / Heart's Desire / When A Woman Loves A Man / If The House Is Rockin' / We All Get Lucky Sometimes / Saved By The Grace Of Your Love / Givin' Water To A Drowning Man / I Had To Let It Go / Squeeze Me In / Cat Walk
06/1997
CD CAREER 07822-18841-2 (US)
EVERY NIGHT'S A SATURDAY NIGHT - Lucky Me Lucky You / You Can't Get There From Here / One Foot In Front Of The Other / All That Matters Anymore / Every Night's A Saturday Night / Tender Touch / Better Word For Love / Honky Tonk Night Time Man / Baton Rouge / Mama Screw Your Wig On Tight
08/1999
CD ARISTA 07822-18889-2 (US)
HITS AND HIGHWAYS AHEAD - She Won't Be Lonely Long / Heart's Desire / Love Without Mercy / On The Road / Long Way To Fall / Little Bit Of You / I'm Holding My Own / What Kind Of Fool Do You Think I Am / When A Woman Loves A Man / Tender Moment / If The House Is Rockin' / John The Revelator
06/2001
CD VANGUARD 79589 (US)
TELL THE TRUTH - Right Where It Hurts / Crossin' Over / Breaking Down Slow / South By Southwest / Tell The Truth / I Declare / Brand New Feeling / Guardian Angel / Takes What It Takes / Love's Been Rough On Me
03/2006
CD UNIVERSAL SOUTH B0003817-02 (US)
BACK TO THE WELL - Back To The Well / Something Out Of Nothing / Just Lucky That Way / Old Soul / Don't Water It Down / Daddies And Daughters / You Can't Lose 'em All / Breaking The Chain / The Hunger / That's All There Is / Saving Grace / Cool Breeze
03/2006
CD UNIVERSAL SOUTH UNSF-02672-2 (US) (promo)
BACK TO THE WELL - Back To The Well / Something Out Of Nothing / Just Lucky That Way / Old Soul / Don't Water It Down / Daddies And Daughters / You Can't Lose 'em All / Breaking The Chain / The Hunger / That's All There Is / Saving Grace / Cool Breeze
09/2013
CD SPV Yellow Label SPV 266252 (GER)

Lee Roy Parnell & Love Without Mercy -

Oughta Be A Law / Fifty-Fifty Love / Where Is My Baby Tonight / Crocodile Tears / Family Tree / Let's Pretend / You're Taking Too Long / Mexican Money / Down Deep / Red Hot / What Kind Of Fool Do You Think I Am / Back In My Arms Again / The Rock / Ain't No Short Way Home / Love Without Mercy / Road Scholar / Night After Night / Done Deal / Tender Moment
08/2017
CD BFD 117 (US)

Midnight Believer - Hours In Between / Midnight Believer / Pontchartrain / Too Far Gone / Sunny Days / Want Whatcha' Have / Hair Of The Dog / Going Uptown / Tied Up & Tangled / Some Time Ago
© Rocky Productions 1/10/2017