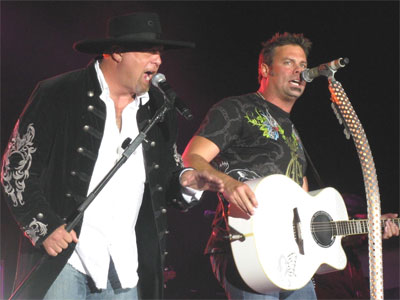 Duo US formé à Lexington (Kentucky) par Eddie Montgomery et Troy Gentry.

Country duo Montgomery Gentry evoke the sound and spirit of Southern rockers like Lynyrd Skynyrd, the Marshall Tucker Band, and Charlie Daniels, painting themselves as rowdy redneck rebels who still hold small-town values. Eddie Montgomery and Troy Gentry first played together in Early Tymz, a Lexington, Kentucky band led by Montgomery's brother, future country starJohn Michael Montgomery. Both Eddie and Troy had been performing on the local club scene since their teenage years, the former as a drummer in his father's band. After Early Tymz broke up, a new group called Young Country formed from its ashes, with John Michael billed out front. He eventually went solo, of course, and Montgomery Gentry first formed not long after, initially calling themselves Deuce.
After playing around Lexington for a time, Montgomery Gentry landed a deal with Columbia thanks to a showcase performance. Their debut album, Tattoos & Scars, was released in 1999 and made the country Top Ten on the strength of the Top 20 singles "Hillbilly Shoes" and "Daddy Won't Sell the Farm," plus the Top Five smash "Lonely and Gone" and the Charlie Daniels collaboration "All Night Long." They were named the CMA's Duo of the Year in 2000, breaking a run of eight consecutive years by Brooks & Dunn. In 2001, the follow-up album Carrying On was released; it also made the country Top Ten and produced the number two smash "She Couldn't Change Me." A third album, My Town, was completed quickly and released in 2002, bringing the duo their third Top Five hit in the title track.
The hard-driving You Do Your Thing arrived in 2004, followed by the greatest-hits collection Something to Be Proud Of: The Best of 1999-2005 in November of 2005. Some People Change appeared from Columbia Records in 2006, followed by Back When I Knew It All in early 2008. It all amounted to a pretty successful track record, with a dozen or more of their singles since 1999, plus all of their studio albums, entering the Top Ten charts (as did the greatest-hits collection). The duo's eighth studio album, Gravel Road, appeared in 2010. The Michael Knox-produced Rebels on the Run, the duo's first album for new label Average Joe's Entertainment, appeared in 2011; it debuted at nine on the Billboard country charts. A digital-only EP called Friends and Family showed up in October 2012, and after two years of solid touring the duo signed to Blaster Records and released the full-length Folks Like Us in June 2015.
Amidst plans for the release of Montgomery Gentry's ninth studio album in 2017, Troy Gentry was killed in a New Jersey helicopter crash on September 8th of that year, shortly before a scheduled concert by the duo. He was 50 years old. Here's to You, the album completed prior to Gentry's death, saw release on February 2, 2018. By that point, Eddie Montgomery had laid plans to continue touring and recording under the name Montgomery Gentry.
http://www.montgomerygentry.com/
https://en.wikipedia.org/wiki/Montgomery_Gentry
Style musical : Contemporary Country, Traditional Country, Country Rock

https://youtu.be/PXg8E0kzF1c
Years in activity :
| | | | | | | | | | | | |
| --- | --- | --- | --- | --- | --- | --- | --- | --- | --- | --- | --- |
| 1910 | 20 | 30 | 40 | 50 | 60 | 70 | 80 | 90 | 2000 | 10 | 20 |
DISCOGRAPHY
Singles
| | | |
| --- | --- | --- |
| 02/1999 | SP COLUMBIA 38-79115 (US) | Hillbilly Shoes / All Night Long |
| 06/1999 | SP COLUMBIA 38-79210 (US) | Lonely And Gone / I've Loved A Lot More Than I've Hurt |
| 10/2000 | SP COLUMBIA 38-79515 (US) | All Night Long / Merry Christmas From The Family |
| 02/2001 | SP COLUMBIA 38-79540 (US) | She Couldn't Change Me / Hillbilly Shoes (acoustic version) |
| 05/2002 | SP COLUMBIA 38-79786 (US) | My Town / Hell Yeah |
| 03/2003 | SP COLUMBIA 38-79864 (US) | Speed / She Couldn't Change Me |
Albums
04/1999
CD COLUMBIA CK-69156 (US)
TATTOOS AND SCARS - Hillbilly Shoes / Trying To Survive / Lonely And Gone / Self Made Man / Daddy Won't Sell The Farm / If A Broken Heart Could Kill / I've Loved A Lot More Than I've Hurt / Didn't Your Mama Tell Ya / Trouble Is / Tattoos And Scars / All Night Long
2000
CD COLUMBIA CK-69156 (US) (promo)
TATTOOS AND SCARS - ... IT WAS ALWAYS ABOUT THE MUSIC - Hillbilly Shoes / Trying To Survive / Lonely And Gone / Self Made Man / Daddy Won't Sell The Farm / If A Broken Heart Could Kill / I've Loved A Lot More Than I've Hurt / Didn't Your Mama Tell Ya / Trouble Is / Tattoos And Scars / All Night Long
05/2001
CD COLUMBIA CK-62167 (US)
CARRYING ON - She Couldn't Change Me / My Father's Son / Fine Line / Cold One Comin' On / While The World Goes Down The Drain / Hellbent On Saving Me / Carrying On / (I'm A) Ramblin' Man / Black Jack Fletcher And Mississippi Sam / Lucky To Be Here / Too Hard To Handle Too Free To Hold / Tried And True
08/2002
CD COLUMBIA CK-86520 (US)
MY TOWN - My Town (intro) / My Town / Break My Heart Again / Scarecrow / Bad For Good, Speed / Hell Yeah / Lonesome / Why Do I Feel Like Running / Free Fall / Lie Before You Leave / For The Money / Good Clean Fun
05/2004
CD COLUMBIA CK-90558 (US)
YOU DO YOUR THING - Something To Be Proud Of / You Do Your Thing / If You Ever Stop Loving Me / If It's The Last Thing I Do / She Loved Me / Gone / All I Know About Mexico / I Got Drunk / It's All Good / I Ain't Got It All That Bad / Talking To My Angel / I Never Thought I'd Live This Long
05/2004
CD + CD EP COLUMBIA CK-92455 (US) (promo)
YOU DO YOUR THING :

CD : Something To Be Proud Of / You Do Your Thing / If You Ever Stop Loving Me / If It's The Last Thing I Do / She Loved Me / Gone / All I Know About Mexico / I Got Drunk / It's All Good / I Ain't Got It All That Bad / Talking To My Angel / I Never Thought I'd Live This Long
CD EP : Didn't I / Merry Christmas From The Family (live) / Just Got Paid / Wanted Dead Or Alive / (I'm A) Ramblin' Man (Live) (

Waylon

& The

Waymore Blues Band

featuring Travis

Tritt

&

Montgomery Gentry

)

11/2005
CD SONY 94982 (US)
SOMETHING TO BE PROUD OF - GREATEST HITS - She Don't Tell Me To / Something To Be Proud Of / Gone / If You Ever Stop Loving Me / Hell Yeah / Speed / My Town / Didn't I / She Couldn't Change Me / Daddy Won't Sell The Farm / Lonely And Gone / Hillbilly Shoes / Merry Christmas From The Family
10/2006
CD SONY 82797-94888-2 (US)
SOME PEOPLE CHANGE - Some People Change / Hey Country / Lucky Man / Takes All Kinds / Your Tears Are Comin' / Clouds / Twenty Years Ago / What Do Ya Think About That / Redder Than That / A Man's Job / If You Wanna Keep An Angel / Free Ride In The Fast Lane
10/2007
CD Sbme 7-18090-2 (EUR)

Superhits - She Couldn't Change Me / Lonely And Gone / Daddy Won't Sell The Farm / (I'm A) Ramblin' Man / Cold One Comin' On / All Night Long / If You Ever Stop Loving Me / Bad For Good / You Do Your Thing / Good Clean Fun

06/2008
CD SONY 88697 22817 2 (US)

BACK WHEN I KNEW IT ALL -

The Big Revival / Long Line Of Losers / Now You're Talkin' / Back When I Knew It All / Roll With Me / One In Every Crowd / Look Some More / I Pick My Parties (with Toby KEITH) / One Trip / It Ain't About Easy / God Knows Who I Am
2008
2 CD Legacy / Sony / Columbia 88697368452 (US)

My Town / You Do Your Thing :

CD 1 : My Town (piano intro) / My Town / Break My Heart Again / Scarecrow / Bad For Good / Speed / Hell Yeah / Lonesome / Why Do I Feel Like Running / Free Fall / Lie Before You Leave / For The Money / Good Clean Fun
CD 2 : Something To Be Proud Of / You Do Your Thing / If You Ever Stop Loving Me / If It's The Last Thing I Do / She Loved Me / Gone / All I Know About Mexico / I Got Drunk / It's All Good / I Ain't Got It All That Bad (

Montgomery Gentry

feat: Hank

Williams, Jr.

) / Talking To My Angel / I Never Thought I'd Live This Long

02/2009
3 CD Sbme / SONY 88697371882 (EUR)

Triple Feature -

TATTOOS AND SCARS - CARRYING ON - MY TOWN

:

CD 1 : Hillbilly Shoes / Trying To Survive / Lonely And Gone / Self Made Man / Daddy Won't Sell The Farm / If A Broken Heart Could Kill / I've Love A Lot More Than I've Hurt / Didn't Your Mama Tell Ya' / Trouble Is / Tattoos & Scars / All Night Long
CD 2 : She Couldn't Change Me / My Father's Son / The Fine Line / Cold One Comin' On / While The World Goes Down The Drain / Hellbent On Saving Me / Carrying On / (I'm A) Ramblin' Man / Black Jack Fletcher And Mississippi Sam / Lucky To Be Here / Too Hard To Handle... Too Free To Hold / Tried And True
CD 3 : My Town (piano intro) / My Town / Break My Heart Again / Scarecrow / Bad For Good / Speed / Hell Yeah / Lonesome / Why Do I Feel Like Running / Free Fall / Lie Before You Leave / For The Money / Good Clean Fun

05/2009
CD Cracker Barrel A749446 (US)

For Our Heroes - Something To Be Proud Of / Daddy Won't Sell The Farm / Didn't I / Blue Collar Nights / Just Got Paid / Some People Change / She Loved Me / One Of Those Days / The Man That I Am / Tattoos And Scars / Wanted Dead Or Alive / My Town

09/2010
CD SONY 8869749694 (US)

Hits and More - Life Beside A Gravel Road -

Life Beside A Gravel Road / While You're Still Young / Lucky Man / Some People Change / One In Every Crowd / Roll With Me / What Do You Think About That / She Loves Me
10/2011
CD AVERAGE JOES ENTERTAINMENT 00233 (US)
REBELS ON THE RUN - Damn Right I Am / Ain't No Law Against That / Damn Baby / Empty / Where I Come From / I Like Those People / Rebels On The Run / Simple Things / Missing You / So Called Life / Work Hard, Play Harder
10/2011
2 CD T-Bird Americana TBIRDAM2 024 (US)

Tattoos & Scars and Carrying On :

CD 1 : Hillbilly Shoes / Trying To Survive / Lonely And Gone / Self Made Man / Daddy Won't Sell The Farm / If A Broken Heart Could Kill / I've Loved A Lot More Than I've Hurt / Didn't Your Mama Tell Ya' / Trouble Is / Tattoos & Scars / All Night Long
CD 2 : She Couldn't Change Me / My Father's Son / The Fine Line / Cold One Comin' On / While The World Goes Down The Drain / Hellbent On Saving Me / Carrying On / Ramblin' Man / Black Jack Fletcher And Mississippi Sam / Lucky To Be Here / Too Hard To Handle... Too Free To Hold / Tried And True

01/2012
CD COLUMBIA 8869 191983 2 (US)

Playlist : The Very Best Of Mongomery Gentry - Hillbilly Shoes / She Couldn't Change Me / Wanted Dead Or Alive / My Town / Speed / Hell Yeah / Gone; Some People Change / Lucky Man / What Do Ya Think About That / Back When I Knew It All / Roll With Me / One In Every Crowd / While You're Still Young

11/2012
CD BMG / SONY 192534(US)
COUNTRY - Something To Be Proud Of / Daddy Won't Sell The Farm / Hell Yeah / She Couldn't Change Me / Lucky Man / One In Every Crowd / Lonely And Gone / You Do Your Thing / My Town / All Night Long
06/2015
CD Blaster / Facedown BLS-01-15003 (US)

Folks Like Us -

We Were Here / Headlights / In A Small Town / Back On A Dirt Road / Two Old Friends / Folks Like Us / Pain / Hillbilly Hippies / Better For It / That's Just Living
02/2018
CD AVERAGE JOE'S 90011 (US)

Here's to You - Shotgun Wedding / Better Me / Needing A Beer / What'cha Say We Don't / Crazies Welcome / Get Down South / Drive On Home / Feet Back On The Ground / Drink Along Song / King Of The World / That's The Thing About America / All Hell Broke Loose
© Rocky Productions 3/02/2018