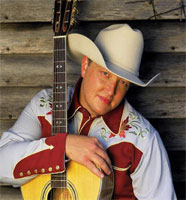 Chanteur Country US né Kenneth Edward Mellons, le 10 Juillet 1965 à Kingsport (Tennessee).

A resident of Nashville since the age of three, Ken Mellons found a Music City contract with Epic in 1994, after several appearances on the Grand Ole Opry spread the word about his talents. Born in Kingsport, TN, on July 10, 1965, Mellons soon moved with his family to Nashville, where he grew up on the standard honky tonk heroes: Merle Haggard, George Jones, and Lefty Frizzell. He played guitar and sang at school talent shows, and moved on to the clubs after high-school graduation. Impressed by one performance, the general manager of the Grand Ole Opry invited Mellons to make a guest appearance. He was invited back several times -- in fact, his Opry residence lasted from 1989 to 1992. While most kids his age were studying in college, Mellons was honing his craft alongside future country stars like Chely Wright and Lonestar's Dean Sams.
After slugging it out on the Opry's Country Music USA show, Mellons caught the attention of impresarios Hal Durham and Bud Wendall, who bumped him up to a Friday night spot at the Opry. Producer Jerry Cupit took notice, and a deal with Epic was proffered in 1993. Mellons' self-titled debut album was released one year later; the single "Jukebox Junkie" was a hit and continued to receive airplay for the rest of the decade. Mellons followed up his debut's success in 1995 with Where Forever Begins. He was married that same year and also moved from EMI to Curb, where he issued the confusingly titled Best of Ken Mellons in 2001. The record was actually made up of all new material, but for a "dance remix" of "Jukebox Junkie." In early 2003, Mellons issued the successful single "Mr. DJ," but parted ways with his Curb before an album could be released. Mellons wasn't in label limbo for long though. In 2004 he released Sweet on the Home label, which featured the single "Paint Me a Birmingham."
https://en.wikipedia.org/wiki/Ken_Mellons
Talents : Vocals, Songwriter, Guitar
Style musical : Traditional Country, Contemporary Country



https://youtu.be/smwiQdQuXR8
Years in activity :
| | | | | | | | | | | | |
| --- | --- | --- | --- | --- | --- | --- | --- | --- | --- | --- | --- |
| 1910 | 20 | 30 | 40 | 50 | 60 | 70 | 80 | 90 | 2000 | 10 | 20 |
Singles
03/1994
SP EPIC

77390 (US)

.

Lookin' In The Same Direction /

Seven Lonely Days
07/1994
SP EPIC

77579 (US)

.

Jukebox Junkie /

The Pleasure's All Mine
12/1994
SP EPIC

77764 (US)

.

I Can Bring Her Back /

Honky Tonk Teachers
03/1995
SP EPIC

77861 (US)

.
Workin' For The Weekend

/ Keepin' It Country
1995
CD EPIC ESK 7027 (US) (promo)

Workin' For The Weekend - Workin' For The Weekend (dance mix) / Workin' For The Weekend (edited dance mix) / Workin' For The Weekend (beat mix)

10/1995
SP EPIC

78066 (US)

.

Rub-A-Dubbin' /

Juke Box Junkie
02/1996
SP EPIC

78240 (US)

.

Stranger In Your Eyes /

Memory Remover
Albums
08/1994
CD EPIC

EK-53746 (US)

KEN MELLONS - Jukebox Junkie / I Can Bring Her Back / Lookin' In The Same Direction / Pleasure's All Mine / Workin' For The Weekend / Seven Lonely Days "Makes One Weak" / Keepin' It Country / Learnin' To Live Without You / Honky Tonk Teachers / Doctor Jesus
11/1995
CD EPIC

EK-66965 (US)

WHERE FOREVER BEGINS -

Don't Make Me Have To Come In There / I Went Crazy For Awhile / Rub-A-Dubbin' / Where Forever Begins / He'll Never Be A Lawyer / Stranger In Your Eyes / Memory Remover / He Ain't Even Cold Yet / Ever Ready / With His Hands
04/2001
CD CURB D2-77759 (US)
THE BEST OF KEN MELLONS - Jukebox Junkie (dance mix) / Shame On Me / Home Team / Farmer's Daughter / Ladies Night / Can You Feel It / Down To A Crawl / Bundle Of Nerves / Was It As Good For You / Cool As You
07/2004
CD HOME HR-2003-1 (US)
SWEET - Smack Dab / Just What I'm Wantin' To Do / Paint Me A Birmingham / Climb My Tree / Interstate Gypsy / You Can't Make My Heart Believe / Sweet / All I Need Is A Bridge / Single Again / Any Time Any Place / Institute Of Honky Tonks / If I've Learned Anything At All
10/2010
CD Jukebox Junkie ? (US)

Rural Route - Rural Route / Blue wind / Memory Remover / I'm Just A House / Tennessee Ridge Runner / Still They Call Me Love / Take It Like A Man / A Cold One Can't Cure / Tennessee / Don't Neglect The Rose / Still Brand New / King Of All Kings

06/2012
CD Jukebox Junkie ? (US)

Just What I'm Wantin' to Do - One's A Couple / Just What I'm Wantin' To Do / Sweet; Paint Me A Birmingham / Smack Dab / You Can't Make My Heart Believe / Climb My Tree / Interstate Gypsy / All I Need Is A Bridge / Single Again / Any Time, Any Place / Institute Of Honky Tonks / If I've Learned Anything At
© Rocky Productions 16/01/2016