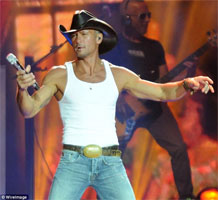 Chanteur Country US né le 1er Mai 1967 à Delhi (Louisiane).

When Tim McGraw debuted in the early '90s, few would have predicted that he would eventually take over Garth Brooks' position as the most popular male singer in country music. Yet that's exactly what he did, thanks to a string of multi-platinum albums, a high-profile marriage to fellow superstar Faith Hill, and Brooks' own inevitable decline. His sound epitomized the strain of commercial country that dominated his era: updated honky tonk and Southern-fried country-rock on the uptempo tunes, well-polished, adult contemporary-tinged pop on the ballads. Helped out early in his career by several novelty items, McGraw simply wound up cranking out hookier hits on a more consistent basis than any of his peers. By the late '90s, he was not only a superstar among country fans, but a mainstream celebrity with a large female following.
Samuel Timothy McGraw was born in Delhi, LA, on May 1, 1967. Though he didn't know it until years later, his father was baseball player Tug McGraw, a star relief pitcher for the Philadelphia Phillies and New York Mets who'd had a brief affair with McGraw's mother. He was raised mostly in the small town of Start, LA, near Monroe, and grew up listening to a variety of music: country, pop, rock, and R&B. He attended Northeast Louisiana University on a baseball scholarship, studying sports medicine, and it was only then that he started playing guitar to accompany his singing. He played the local club circuit and dropped out of school in 1989, heading to Nashville on the same day his hero Keith Whitley passed away. He sang in Nashville clubs for a couple of years and landed a deal with Curb in 1992. His debut single, the minor hit "Welcome to the Club," was released later that year, and his self-titled debut album appeared in 1993 but failed to even make the charts.
McGraw's fortunes changed with the lead single from his 1994 sophomore effort, Not a Moment Too Soon. "Indian Outlaw" was embraced as a light-hearted, old-fashioned novelty song by fans but was heavily criticized for what some regarded as patronizing caricatures of Native Americans. Despite some radio stations' refusal to air the song, it reached the country Top Ten and even crossed over to the pop Top 20. All the publicity helped send McGraw's next single, the ballad "Don't Take the Girl," all the way to the top of the country charts; it too made the pop Top 20. The album kept spinning off hits: "Down on the Farm" hit number two, the title track went to number one in 1995, and the novelty tune "Refried Dreams" also reached the Top Five. Not a Moment Too Soon was a genuine blockbuster hit, eventually selling over five million copies and topping both the country and pop album charts; it was also the best-selling country album of the year.
McGraw's follow-up, 1995's All I Want, immediately consolidated his stardom with the number one smash "I Like It, I Love It." The album topped the country charts, reached the pop Top Five, and sold over two million copies. Once again, it functioned as a hit factory thanks to the number two "Can't Be Really Gone," the number one "She Never Lets It Go to Her Heart," and the Top Five "All I Want Is a Life" and "Maybe We Should Just Sleep on It." Over 1996, McGraw supported the album with an extensive tour, accompanied by opening act Faith Hill. In October, after the tour was over, McGraw and Hill married, in a union of country star power that drew plenty of attention from mainstream media. It doubtlessly helped McGraw's next album, 1997's Everywhere, become another crossover smash; it topped the country charts, fell one spot short of doing the same on the pop side, and sold four million copies. The lead single was a McGraw-Hill duo called "It's Your Love," which not only hit number one country, but made the pop Top Ten. Three more singles from the album — "Everywhere," "Where the Green Grass Grows," and "Just to See You Smile" — hit number one, and two others — "One of These Days" and "For a Little While" — reached number two. Meanwhile, "Just to Hear You Say That You Love Me," another husband-and-wife duo from Hill's 1998 album Faith, climbed into the Top Five.
With the multi-platinum success of Everywhere, McGraw was poised to take over Brooks' throne as the king of contemporary country, a transition that only accelerated when Brooks confounded his fans with the Chris Gaines project. McGraw, meanwhile, just kept topping the charts. His next album, 1999's triple-platinum A Place in the Sun, hit number one country and pop, and four of its singles also hit number one: "Please Remember Me" (which featured Patty Loveless), "Something Like That," "My Best Friend," and "My Next Thirty Years." 2000 brought McGraw's first Greatest Hits compilation, a best-selling smash, and another Top Ten duo from Hill's Breathe album, "Let's Make Love." The song later won McGraw his first Grammy, for Best Country Vocals Collaboration. Also in 2000, McGraw had a brush with the law when he and tourmate Kenny Chesney got involved in a scuffle with police officers, after Chesney attempted to ride one of the officers' horses; McGraw was later cleared of assault charges and spent the rest of 2000 on a second tour with Hill.
Released in 2001, Set This Circus Down (number one country, number two pop) kept McGraw's hit streak going into the new millennium, giving him four more number ones — "Grown Men Don't Cry," "Angry All the Time," "The Cowboy in Me," and "Unbroken" — just like that. In 2002, his duo with protégée Jo Dee Messina, "Bring on the Rain," also went to number one. For the follow-up album, McGraw defied country convention by entering the studio not with session musicians, but with his road band, the Dancehall Doctors, a unit that had been together since 1996 (with some members around even before that). Tim McGraw was released in late 2002 and produced Top Ten hits in "Red Rag Top" and "She's My Kind of Rain"; it also featured a startlingly faithful cover of Elton John's "Tiny Dancer." McGraw kept the formula the same on 2004's chart-topping Live Like You Were Dying, utilizing his road band, as well as co-mixing/producing the record himsef. Let It Go followed in 2007, with Southern Voice arriving in 2009.
McGraw resumed recording in early 2010 with longtime co-producer Byron Gallimore. He finished the album Emotional Traffic and even toured in anticipation of its imminent release, but his longtime label Curb refused to release it, feeling it followed Southern Voice too quickly. The dispute landed both artist and label in court, resulting in a separation agreement. McGraw landed a major role in the film Country Strong, which was released in 2011. He followed it with the single "Felt Good on My Lips," which reached the top spot on Billboard's Hot Country Songs chart, and was followed by "Better Than I Used to Be"; both were pre-release singles for Emotional Traffic, which was finally issued in January of 2012, two years after it was completed and delivered to Curb. He signed to Big Machine for Two Lanes to Freedom, which was released in early 2013; the album spawned three back-to-back number one singles on the Billboard Hot Country Songs chart, including "Highway Don't Care" with Taylor Swift and Keith Urban guesting. McGraw wasted no time following up that success, issuing the pre-release single "Lookin' for That Girl" in advance of his 2014 album, Sundown Heaven.
"Lookin' for That Girl" was eclipsed by "Meanwhile Back at Mama's," a ballad featuring harmonies from Faith Hill, and that song was riding high in the country Top Ten when Sundown Heaven Town saw its release in September 2014. The album debuted at number one on the U.S. country chart and number three on the Billboard 200 and generated two other hits: the number one "Shotgun Rider" and the Catherine Dunn duet "Diamond Rings and Old Barstools." In August 2015, he released "Top of the World," his first single from Damn Country Music, which appeared in November. Early the next year, second single "Humble and Kind," an inspirational song written by Lori McKenna, topped Billboard's country chart. Within the next year, it racked up even bigger awards, including CMA Song of the Year, Grammy's Best Country Song, and AMA's Country Song of the Year. Early in 2017, he released "Speak to a Girl," the first song from a duets album with Hill. The song peaked at number six on the Billboard Hot Country Songs chart. The full-length The Rest of Our Life appeared in November of that year, debuting at number one on the U.S. country chart and reaching number two on the Billboard 200. Over the next few years, McGraw kept busy with a series of non-album singles including 2018's "Neon Church" and 2019's "Thought About You" and "Drive." Neither song was featured on his next album, Here On Earth. Arriving in August 2020, Here On Earth featured the single "I Called Mama," which peaked at 17 on Billboard Country Airplay.
Here on Earth debuted at number one on Billboard's Country charts, number 14 on its Hot 100 chart. Three months after its release, the compilation McGraw Machine Hits: 2013-2019 appeared.
https://en.wikipedia.org/wiki/Tim_McGraw
Talents : Vocals
Style musical : Country-Pop, Contemporary Country, Traditional Country

https://youtu.be/bFClhxM7LY4
Years in activity :
| | | | | | | | | | | | |
| --- | --- | --- | --- | --- | --- | --- | --- | --- | --- | --- | --- |
| 1910 | 20 | 30 | 40 | 50 | 60 | 70 | 80 | 90 | 2000 | 10 | 20 |
DISCOGRAPHY
Singles
02/1994
SP CURB D7-76920 (US)
.
Indian Outlaw / Don't Take The Girl
05/1994
SP CURB D7-76923 (US)
.
Don't Take The Girl / Indian Outlaw (radio mix)
05/1994
SP CURB D7-76925 (US)
.
Welcome To The Club / Don't Take The Girl
02/1995
SP CURB D7-76931 (US)
.
Not A Moment Too Soon / Refried Dreams
08/1995
SP CURB D7-76961 (US)
.
I Like It I Love It / I Like It I Love It (dance mix)
11/1995
SP CURB D7-76971 (US)
.
Can't Be Really Gone / That's Just Me
04/1997
SP CURB D7-73019 (US)
It's Your Love (with Faith HILL) / She Never Lets It Go To Her Heart
1997
CD WARNER MUSIC PROCD 9297 (US) (promo)
Faith HILL with Tim McGRAW - Just To hear You Say / That You Love
04/1998
SP CURB D7-73056 (US)
.
One Of These Days / Just To See Your Smile
03/1999
SP CURB D7-73080 (US)
.
Please Remember Me / For A Little While
1999
SP Curb ‎7-16792 (US)
.

Let's Make Love (album version) (

Faith HILL with Tim McGRAW) /

There Will Come A Day (album version)

2000
CD WARNER BROS. PRO-CDR-100228 (US) (promo)

Faith HILL with Tim McGRAW - Let's Make Love

09/2004
CD CURB 103 (US)
.

Just Be Your Tear

03/2005
CD CURB 106 (US)
Live Like You Were Dying (pop mix) / Just Be Your Tear / Live Like You Were Dying (video)
06/2006
CD CURB 120 (US)
When The Stars Go Blue / She's My Kind Of Rain
2013

CD BIG MACHINE BMRTM0103 (US) (promo)

Tim McGraw with Taylor Swift featuring Keith Urban - Highway Don't Care - Intro / Highway Don't Care (radio edit) / Highway Don't Care (radio edit) / Highway Don't Care (album version)

06/2021
SP 12" BIG MACHINE BMRTM0422D (US)
Tim Mc

Graw

- Tyler

Hubbard

-

Undivided / I Called Mama (live acoustic)
Albums
04/1993
CD CURB 77603 (US)
TIM McGRAW - Welcome To The Club / Two Steppin' Mind / Only Thing That I Have Left / You Can Take It With You (When You Go) / Ain't No Angels / Memory Lane / Tears In The Rain / What She Left Behind / What Room Was The Holiday In / I Keep It Under My Hat
03/1994
CD CURB 77659 (US)
NOT A MOMENT TOO SOON - It Doesn't Get Any Countrier Than This / Give It To Me Strait / Wouldn't Want It Any Other Way / Down On The Farm / Not A Moment Too Soon / Indian Outlaw / Refried Dreams / Don't Take The Girl / 40 Days And 40 Nights / Ain't That Just Like A Dream
09/1995
CD CURB 77800 (US)
ALL I WANT - All I Want Is A Life / She Never Lets It Go To Her Heart / She Can't Be Really Gone / Maybe We Should Just Sleep On It Tonight / I Didn't Ask And She Didn't Say / Renegade / I Like It I Love It / Great Divide / You Got The Wrong Man / Don't Mention Memphis / When She Wakes Up (And Finds Me Gone) / That's Just Me
06/1997
CD CURB 77886 (US)
EVERYWHERE - Where The Green Grass Grows / For A Little While / It's Your Love / Ain't That The Way It Always Ends / I Do But I Don't / One Of These Days / Hard On The Ticker / Everywhere / Just To See You Smile / You Just Get Better All The Time / You Turn Me On
05/1999
CD CURB 77942 (US)
A PLACE IN THE SUN - Trouble With Never / Seventheen / She'll Have You Back / Somebody Must Be Prayin' For Me / My Best Friend / Senorita Margarita / Some Things Never Change / You Don't Love Me Anymore / Something Like That / Please Remember Me / Carry On / My Next Thirty Years / Eyes Of A Woman / Place In The Sun
11/2000
CD CURB 77978 (US)
GREATEST HITS - Indian Outlaw / Don't Take The Girl / She Never Lets It Go To Her Heart / I Like It I Love It / Just To See You Smile / It's Your Love / Where The Green Grass Grows / For A Little While / Please Remember Me / Something Like That / My Best Friend / Maybe We Should Just Sleep On It Tonight / Down On The Farm / My Next Thirty Years / Let's Make Love
04/2001
CD CURB 78711 (US)
SET THIS CIRCUS DOWN - Cowboy In Me / Telluride / You Get Used To Somebody / Unbroken / Things Change / Angel Boy / Forget About Us / Take Me Away From Here / Smilin' / Set This Circus Down / Angry All The Time / Let Me Love You / Grown Men Don't Cry / Why We Said Goodbye
11/2002
CD CURB 78746 (US)
TIM McGRAW AND THE DANCEHALL DOCTORS - Comfort Me / Tickin' Away / Home / Red Ragtop / That's Why God Made Mexico / Watch The Wind Blow By / Illegal / Sleep Tonight / I Know How To Love You Well / Sing Me Home / She's My Kind Of Rain / Who Are They / Real Good Man / All We Ever Find / Tiny Dancer
08/2004
CD CURB 78858 (US)

LIVE LIKE YOU WERE DYING -

How Bad Do You Want It / My Old Friend / Can't Tell Me Nothin' / Old Town New / Live Like You Were Dying / Drugs Or Jesus / Back When / Something's Broken / Open Season On My Heart / Everybody Hates Me / Walk Like A Man / Blank Sheet Of Paper / Just Be Your Tear / Do You Want Fries With That / Kill Myself / We Carry On
03/2006
CD CURB 78891 (US)
GREATEST HITS VOL. 2 - Live Like You Were Dying / My Old Friend / Like We Never Loved At All (with Faith HILL) / The Cowboy In Me / When The Stars Go Blue / Real Good Man / She's My Kind Of Rain / Grown Men Don't Cry / Not A Moment Too Soon / Watch The Wind Blow By / Over And Over (Nelly McGRAW) / Everywhere / Beautiful People / Red Ragtop / My Little Girl {Flicka} / I've Got Friends That Do
03/2007
CD CURB 78974 (US)
LET IT GO - Last Dollar (Fly Away) / I'm Workin' / Let It Go / Let It Go / Suspicions / Kristofferson / Put Your Lovin' On Me / Nothin' To Die For / Between The River And Me / Train #10 / I Need You / Comin' Home / Shotgun Rider
10/2008
CD CURB 79118 (US)
GREATEST HITS 3 - Back When

[radio edit]

/ Last Dollar (Fly Away)

[radio edit] /

If You're Reading This

[live]

/ Do You Want Fries With That / Unbroken / Can't Be Really Gone / Angry All The Time / Suspicions

[radio edit]

/ Find Out Who Your Friends Are (with Tracy LAWRENCE) / Let It Go / Real Good Man

[live]

/ Nine Lives (with Def LEPPARD)
10/2009
CD CURB 79152 (US)
SOUTHERN VOICE - Still / Ghost Town Train (She's Gone) / Good Girls / I Didn't Know It At The Time / It's A Business Doing Pleasure With You / If I Died Today / Mr. Whoever You Are / Southern Voice / You Had To Be There / I'm Only Jesus / Forever Seventeen / Love You Goodbye
11/2010
2 CD CURB 79205 (US)
NUMBER ONE HITS :

CD 1 : Live Like You Were Dying / Don't Take The Girl / It's Your Love / Just To See You Smile / Something Like That / My Next Thirty Years / The Cowboy In Me / She Never Lets It Go To Her Heart / I Like It, I Love It / When The Wind Blows By / Please Remember Me / Real Good Man
CD 2 : Southern Voice / My Best Friend / Everywhere / Grown Men Don't Cry / Back When / Angry All The Time / Last Dollar (Fly Away) / Unbroken / Where The Green Grass Grows / Not A Moment Too Soon / Indian Outlaw [dance mix] / Felt Good On My Lips

01/2012
CD CURB 793202 (US)
EMOTIONAL TRAFFIC - Halo / Right Back At Ya / One Part Two Part / I Will Not Fall Down / The One / Better Than I Used To Be / Touchdown Jesus / The One That Got Away / Felt Good On My Lips / Hey Now / Only Human / Die By My Own Hand
01/2013
CD CURB 79351 (US)
TIM Mc GRAW & FRIENDS - Sail On (

Tim McG

RAW

feat. Lionel R

ICHIE) /

Twisted (

Tim McG

RAW

feat. Colt F

ORD) /

Owe Them More Than That (Tim McG

RAW

feat. Kenny ROGER) /

Me And Tennessee [From the Motion Picture Country Strong] (Tim McG

RAW

feat. Gwyneth PALTROW) /

Middle Age Crazy (Tim McG

RAW

feat. Jon BRION, Jerry Lee LEWIS) /

Can't Hurt A Man (Tim McG

RAW

feat. Randy TRAVIS) /

Find Out Who Your Friends Are (Tim McGraw

feat. Tracy LAWRENCE) /

Cold, Cold Heart (Tim McG

RAW

feat. Tony B

ENNETT) /

Milk Cow Blues (Tim McG

RAW

feat. Ray B

ENSON) /

Bring On The Rain (Tim McG

RAW

feat. Jo Dee MESSINA) /

It's Your Love (Tim McG

RAW

feat. Faith HILL)
02/2013
CD BIG MACHINE BMRTM 0100 A (US)

TWO LANES OF FREEDOM - Two Lanes Of Freedom / One Of Those Nights / Friend Of A Friend / Southern Girl / Truck Yeah / Nashville Without You / Book Of John / Mexicoma / Number 37405 / It's Your World / Highway Don't Care (Tim McGRAW feat. Taylor SWIFT, Keith URBAN)

02/2013
CD BIG MACHINE 0150 (Deluxe Edition) (US)
TWO LANES OF FREEDOM - ACCELERATED DELUXE - Two Lanes Of Freedom / One Of Those Nights / Friend Of A Friend / Southern Girl / Truck Yeah / Nashville Without You / Book Of John / Annie I Owe You A Dance / Mexicoma / Number 37405 / It's Your World / Tinted Windows / Highway Don't Care

(Tim McGRAW

feat. Taylor SWIFT, Keith URBAN) / Truck Yeah / Let Me Love It Out Of You
02/2014
CD CURB ? (US)

Love Story -

It's Your Love (Tim McG

raw

feat: Faith

Hill

) / Just To See You Smile / My Best Friend / When The Stars Go Blue / She's My Kind Of Rain / Everywhere / Not A Moment Too Soon / Watch The Wind Blow By / My Little Girl [From My Friend Flicka] / Unbroken / Tiny Dancer / Still / I Just Love You / What About You
09/2014
CD BIG MACHINE 0200 (US)

Sundown Heaven Town -

Overrated / City Lights / Shotgun Rider / Dust / Diamond Rings And Old Barstools (Tim McG

raw

feat: Catherine D

unn

) / Words Are Medicine / Sick Of Me / Meanwhile Back At Mama's (Tim McG

raw

feat: Faith H

ill

) / Keep On Truckin' / Last Turn Home / Portland, Maine / Lookin' For That Girl / Still On The Line (No Ghost Ending)
06/2015
2 CD CURB 79413 (US)

35 Biggest Hits :

CD 1 : Indian Outlaw / Don't Take The Girl / Down On The Farm / Not A Moment Too Soon / I Like It, I Love It / Can't Be Really Gone / She Never Lets It Go To Her Heart / It's Your Love / Everywhere / Just To See You Smile / One Of These Days / Where The Green Grass Grows / For A Little While / Please Remember Me / Something Like That / My Best Friend / My Next Thirty Years / Grown Men Don't Cry / Angry All The Time
CD 2 : The Cowboy In Me / Red Ragtop / She's My Kind Of Rain / Real Good Man / Watch The Wind Blow By / Live Like You Were Dying / Back When / My Old Friend / When The Stars Go Blue / My Little Girl / Last Dollar (Fly Away) / If You're Reading This / Let It Go / Southern Voice / Felt Good On My Lips / Better Than I Used To Be / Just When I Needed You Most [live]

11/2015
CD BIG MACHINE 0300 (US)

Damn Country Music -

Here Tonight (Tim McG

raw)

feat: Gracie McG

raw

) / Losin' You / How I'll Always Be / Damn Country Music / Love Runs / What You're Lookin' For / Top Of The World / Don't Make Me Feel At Home / Want You Back / California (Tim McG

raw

feat: Big & Rich) / Humble And Kind
10/2016
4 CD CURB 79442 (US)
Mc

Graw - The Ultimate Collection :

CD 1 : Indian Outlaw / Don't Take The Girl / Down On The Farm / Not A Moment Too Soon / Refried Dreams / I Like It, I Love It / Can't Be Really Gone / All I Want Is A Life / She Never Lets It Go To Her Heart / Maybe We Should Just Sleep On It / It's Your Love (Tim McG

raw

feat : Faith H

ill

) / Everywhere / Just To See You Smile / One Of These Days / Where The Green Grass Grows
CD 2 : For A Little While / Please Remember Me / Something Like That / My Best Friend / My Next Thirty Years / Some Things Never Change / Grown Men Don't Cry / Angry All The Time / The Cowboy In Me / Unbroken [radio edit] / Red Ragtop [radio edit] / She's My Kind Of Rain / Real Good Man / Watch The Wind Blow By / Live Like You Were Dying / Back When [radio edit]
CD 3 : Over & Over (Tim Mc

Graw

feat:

Nelly

) / Do You Want Fries With That / My Old Friend / When The Stars Go Blue [radio edit] / My Little Girl / Last Dollar (Fly Away) [radio edit] / Suspicions [radio edit] / If You're Reading This / Kristofferson / Let It Go / Nothin' To Die For / It's A Business Doing Pleasure With You / Southern Voice / Still / Felt Good On My Lips [radio edit] / Better Than I Used To Be
CD 4 : Free Man / Bang, Bang, Bang / Candle For A Cowboy / How Forever Feels / The Joker / I Drink / Shotgun Rider / Louisiana / Wherever The Trail May Lead / Don't Take The Girl [acoustic] / Just When I Needed You Most [live] / Felt Good On My Lips [live video version] / The Ride [live]

11/2017
CD Arista / Nashville 88985433212 (US)

The Rest of Our Life - Tim McGraw & Faith Hill - The Rest Of Our Life / Telluride / The Bed We Made / Cowboy Lullaby / Break First / Love Me To Lie / Sleeping In The Stars / Damn Good At Holding On / Devil Callin' Me Back / Speak To A Girl / Roll The Dice

2018
CD CURB D2 79504 (US)

The Biggest Hits of Tim McGraw - Live Like You Were Dying / It's Your Love / My Little Girl [From The Motion Picture "Flicka"] / Don't Take The Girl / Felt Good On My Lips / I Like It, I Love It / Indian Outlaw / Just To See You Smile / My Best Friend / Something Like That

02/2020
LP 12" CURB D 179526 (US)

The Biggest Hits -

Indian Outlaw / Don't Take The Girl / I Like It, I Love It / It's Your Love / Just To See You Smile / Something Like That / Live Like You Were Dying / My Little Girl / Felt Good On My Lips / Highway Don't Care / Humble And Kind
08/2020
CD BIG MACHINE 3005363 (US)

Here on Earth - L.A. / Chevy Spaceship / Here On Earth / Damn Sure Do / Hallelujahville / Good Taste In Women / Hard To Stay Mad At / Sheryl Crow / Not From California / Hold You Tonight / 7500 OBO / If I Was A Cowboy / I Called Mama / Gravy / War Of Art / Doggone

11/2020
CD BIG MACHINE / Universal BMRTM 0460A (US)

MCGraw Machine Hits - 2013-2019 - How I'll Always Be / Humble And Kind / Top Of The World / Diamond Rings And Old Barstools / Shotgun Rider / Meanwhile Back At Mama's / Southern Girl / Highway Don't Care / One Of Those Nights / Truck Yeah / Drive / May We All / Redneck Girl
© Rocky Productions 21/11/2020