Chanteuse Country US née Malinda Gayle McCready, le 30 Novembre 1975 à Fort Meyers (Floride). Un mois après le décès de son compagnon, Mindy McCready a mis fin à ses jours le 17 Février 2013.

Mindy McCready's debut album, Ten Thousand Angels, elevated her into Nashville's music spotlight and established her as a promising singer.
Born and raised in southern Florida, McCready (born Malinda Gayle McCready) graduated from high school at the age of 16 with the intention of beginning her musical career early. Following her graduation, she took a part-time job in her mother's ambulance company and began concentrating on performing her music. When she was 18 years old, she moved to Nashville. She had made her mother a promise that she would go to college if she failed to break into the music industry within the space of a year. After a few months in Nashville, she met producer/songwriter Norro Wilson, who directed her demo tapes to producer David Malloy. Impressed with her tapes, Malloy agreed to work with McCready. For the next year, McCready and Malloy refined the singer's style and crafted a high-class demo tape. Eventually, Malloy took the tape to RLG Records, who signed McCready after seeing her perform a live concert; she completed the deal exactly 51 weeks after she moved to Nashville.
McCready released her debut album, Ten Thousand Angels, in April of 1996 to positive reviews. Within six months of its release, it had gone gold. If I Don't Stay the Night followed in 1997, trailed two years later by I'm Not So Tough. She signed with Capitol Records in April 2000, releasing her debut album for the label, the self-titled Mindy McCready, two years later. But the wheels were starting to come off in McCready's personal life, and in 2004 she pleaded guilty to various drug charges and was fined, given community service, and put on probation. Things got worse. In 2005, McCready ended up in the hospital after being seriously assaulted by her ex-boyfriend -- who was subsequently charged with attempted homicide. Trouble kept coming for McCready, and in 2007 she was given a one-year jail sentence for violating her probation; she also attempted suicide in December 2008.
By 2009, she emerged to appear in the cast of VH1's reality TV series Celebrity Rehab 3. A new album, I'm Still Here, which featured do-overs of her first two hits from way back in 1996 ("Ten Thousand Angels" and "Guys Do It All the Time"), finally appeared in March of 2010. The singles "I Want a Man" and the title track failed to chart, however, and McCready's personal troubles only continued. She gave birth to her second son in 2012, with producer David Wilson, but early in 2013, Wilson committed suicide at their home in Arkansas. Then, just a few weeks later, on February 17, McCready herself was found dead at the same home, an apparent suicide. Tributes and memorials immediately poured in from the country music community, including Carrie Underwood, LeAnn Rimes, and Wynonna Judd.
https://en.wikipedia.org/wiki/Mindy_McCready
Talents : Vocals
Style musical : Contemporary Country, Country-Pop

https://youtu.be/PRvua3lYgBQ
Years in activity :
| | | | | | | | | | | | |
| --- | --- | --- | --- | --- | --- | --- | --- | --- | --- | --- | --- |
| 1910 | 20 | 30 | 40 | 50 | 60 | 70 | 80 | 90 | 2000 | 10 | 20 |
DISCOGRAPHY
Singles & EP
01/1996
SP BNA 64470-7 (US)
.

Ten Thousand Angels / Not Somebody's Fool

07/1996
CD BNA 64586-2 (US)
.

Guys Do It All The Time / Guys Do It All The Time (dance mix)

09/1996
SP BNA 64650-7 (US)
.

Maybe He'll Notice Her Now / Breakin' It

01/1997
SP BNA 64757-7 (US)
.

A Girl's Gotta Do / Maybe He'll Notice Her Now

10/1997
SP BNA 64990-7 (US)

What If I Do / If I Don't Stay The Night

1997
CD BNA BDJ 649892 (UK) (promo)

What If I Do (radio mix) / What If I Do (radio mix) / What If I Do (radio mix) / What If I Do (attitude mix)

1997
CD BNA BDJ65381-2 (US) (promo)

You'll Never Know / You'll Never Know / You'll Never Know

01/1998
SP BNA 65394-7 (US)

You'll Never Know / Long, Long Time

1998
CD BNA BDJ65457-2 (US) (promo)

| | |
| --- | --- |
| | MINDY - "THE OTHER SIDE" - The Other Side (edit) / The Other Side (edit) / The Other Side (edit) / The Other Side / You'll Never Know (remix) / What If I Do (radio version) |

1998
CD Marlboro Country Music ‎74321 56482 2 (GER)

You'll Never Know / Have A Nice Day / Without Love

06/1998
SP BNA 65512-7 (US)

The Other Side Of This Kiss / If I Don't Stay The Night

10/1998
SP BNA 65605-7 (US)

Let's Talk About Love /

Long, Long Time
1998
CD BNA MINDY1 (UK) (promo)
Oh Romeo
1998
CD BMG ‎74321 59724 (EUR)

Oh Romeo / Oh Romeo (acoustic) / Cross Against The Moon

1998
CD BNA 74321 60593 2 (UK)

Oh Romeo / Oh Romeo (acoustic) / What If I Do (attitude mix)

07/1999
SP BNA 65768-7 (US)
.

One In A Million / ?

1999
CD BNA BDJ65855-2 (US) (promo)

All I Want Is Everything (intro edit) / All I Want Is Everything (intro edit) / All I Want Is Everything (intro edit)

10/2000
CD CAPITOL 58890 (US)
.

Scream / I Just Want Love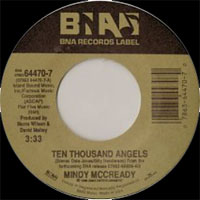 Albums
04/1996
CD BNA 07863-66806-2 (US)
TEN THOUSAND ANGELS - Ten Thousand Angels / Guys Do It All The Time / All That I Am / Maybe He'll Notice Her Now (with Richie McDONALD) / Girl's Gotta Do (What A Girl's Gotta Do) / Have A Nice Day / It Ain't A Party / Without Love / Tell Me Something I Don't Know / Breakin' It
11/1997
CD BNA 07863-67504-2 (US)
IF I DON'T STAY THE NIGHT - What If I Do / This Is Me / If I Don't Stay The Night / Cross Against The Moon / For A Good Time Call / Oh Romeo / The Other Side Of This Kiss / You'll Never Know / Fine Art Of Holding A Woman / Only A Whisper / Long, Long Time
08/1999
CD BNA 07863-67765-2 (US)
I'M NOT SO TOUGH - I'm Not So Tough / Tumble And Roll / All I Want Is Everything / Two Different Things / Dream On / I've Got A Feeling / Thunder And Roses / Over And Over / Lucky Me / Hold Me / Take Me Apart
01/2000
CD BNA 07863-67920-2 (US)
SUPER HITS - Ten Thousand Angels / Guys Do It All The Time / Maybe He'll Notice Her Now (with Richie McDONALD) / A Girl's Gotta Do (What A Girl's Gotta Do) / What If I Do / You'll Never Know / The Other Side Of This Kiss / Oh Romeo / Over And Over / Long, Long Time
03/2002
CD CAPITOL 7243-5-25931-2-5 (US)
MINDY McCREADY - Maybe, Maybe Not / Lips Like Yours / Lovin' Your Man / Be With Me / The Fire / Scream / I Just Want Love / Don't Speak / If I Feel Your Hand / You Get To Me / Tremble
08/2003
CD RCA 82876-54210-2 (US)
PLATINUM & GOLD COLLECTION - Guys Do It All The Time / A Girl's Gotta Do (What A Girl's Gotta Do) / Ten Thousand Angels / Maybe He'll Notice Her Now (with Richie McDONALD) / You'll Never Know / All I Want Is Everything / Let's Talk About Love / If I Don't Stay The Night / For A Good Time Call / This Is Me / Tumble And Roll / It Ain't A Party
04/2004
CD BMG 82876-48370-2 (US)
ALL AMERICAN COUNTRY - A Girl's Gotta Do (What A Girl's Gotta Do) / Guys Do It All The Time / The Other Side Of This Kiss / If I Don't Stay The Night / Long, Long Time / It Ain't A Party / What If I Do / One In A Million / Tell Me Something I Don't Know / Only A Whisper
03/2008
CD ARTIST GARAGE / CAPICE ? (US)
ALL FOR YOU - Good Again / Ten Thousand Angels / If I Don't Stay The Night / Guys Do It All The Time / You'll Never Know / Maybe He'll Notice Her Now / I've Got A Feeling / She Remembers Love / For A Good Time Call / Fine Art Of Holding A Woman
03/2010
CD LINUS ENTERTAINMENT 270120 (US)
I'M STILL HERE - Wrong Again / By Her Side / I Want A Man / I'm Still Here / I Want To Love You / Songs About You / The Way You Make Me Melt / The Dance / I Hate That I Love You / Fades / By Her Side

[version]

/ Guys Do It All The Time

[version]

/ Ten Thousand Angels

[version]

05/2013
CD Columbia / RCA 71895 (US)

Playlist : The Very Best of Mindy McCready -

Guys Do It All The Time / A Girl's Gotta Do (What A Girl's Gotta Do) / Ten Thousand Angels / Maybe He'll Notice Her Now (Mindy McC

ready

feat: Richie McD

onald

) / You'll Never Know / All I Want Is Everything / Let's Talk About Love / If I Don't Stay The Night / For A Good Time Call / This Is Me / Tumble And Roll / It Ain't A Party
© Rocky Productions 19/12/2015