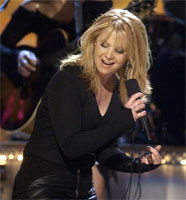 Chanteuse Country US née Patty Lee Rimey, le 4 Janvier 1957 à Pikeville (Kentucky).

One of the most popular female singers of the new traditionalist movement, Patty Loveless rose to stardom thanks to her blend of honky tonk and country-rock, not to mention a plaintive, emotional ballad style. Her late-'80s records for MCA were generally quite popular, earning her comparisons to Patsy Cline, but most critics agreed that she truly came into her own as an artist when she moved to Epic in the early '90s.
Loveless was born Patricia Lee Ramey in Pikeville, KY, in 1957 and spent most of her childhood in nearby Elkhorn City, where her father worked in the coal mines. Her immediate family loved music, and two of her distant cousins later found fame as Loretta Lynn and Crystal Gayle. Unfortunately, her father contracted black lung disease, forcing the family to move from their rural home to Louisville for the sake of convenient medical treatment. Patty found escape from the culture shock in music, and her father gave her a guitar when she was 11. Soon she was singing and writing songs with her older brother Roger, and the two started performing at local country jamborees. At one such show, the Wilburn Brothers caught their act and gave them a standing invitation to Nashville. Roger and a 14-year-old Patty made the trip on a weekend when the Wilburns were out of town, but managed to talk their way into Porter Wagoner's office instead, impressing him with a performance of Patty's original "Sounds of Loneliness."
Wagoner took Patty under his wing, inviting her to perform with him and Dolly Parton on the weekends. In 1973, after finishing high school, she became a featured vocalist with the Wilburn Brothers' band (a post once held by Loretta Lynn) and also signed with their publishing company. She later married the band's drummer, Terry Lovelace, and moved to his hometown near Charlotte, NC, in 1976. There she sang pop, rock, and R&B material with a local cover band for several years and endured bouts with alcoholism and drug use. In the early '80s, she returned home, hired her brother Roger as her manager, and altered the spelling of her married name to Loveless. After traveling to Nashville to record demos of country songs, she landed a publishing deal with Acuff-Rose and moved to Nashville permanently in 1985; she also divorced Lovelace around the same time, and her demo tape impressed MCA exec Tony Brown enough that he offered her a contract later that year.
With Roger's producer friend Emory Gordy, Jr., at the controls, Loveless released her first chart single, "Lonely Days, Lonely Nights," and her self-titled debut album in 1986. She enjoyed some modest success, but didn't really make a splash until the 1988 follow-up, If My Heart Had Windows, which gave her two Top Ten hits in the title cut (originally recorded by George Jones) and Steve Earle's "A Little Bit of Love." Late in 1988, she released the follow-up album that made her a star, Honky Tonk Angel. "Timber, I'm Falling in Love" became her first number one hit in 1989, and three more singles — "Blue Side of Town," "Don't Toss Us Away," and "The Lonely Side of Love" — reached the Top Ten before year's end, by which time Loveless had married producer Gordy. In 1990, the album's fifth single, "Chains," became her second number one. Her next album, On Down the Line, came out later that year and brought her two Top Five hits in the title cut and "I'm That Kind of Girl." Following 1991's Up Against My Heart and its Top Five hit "Hurt Me Bad (In a Real Good Way)," Loveless made some major changes in her career. She parted ways with her brother as manager and switched labels to Epic, taking husband Gordy with her as producer; moreover, she was forced to undergo throat surgery to repair her Vocals cords before she was able to complete her label debut.
Only What I Feel was released in early 1993 and earned Loveless the best reviews of her career to date, thanks to a newfound level of confidence. The number one smash "Blame It on Your Heart" helped the record go platinum, and "How Can I Help You Say Goodbye?" and "You Will" also went Top Ten. 1994's When Fallen Angels Fly won equal acclaim, not to mention the CMA's Album of the Year Award; it spun off four Top Ten hits in "I Try to Think About Elvis," "Halfway Down," "You Don't Even Know Who I Am," and "Here I Am." 1996's The Trouble with the Truth continued Loveless' renaissance with two more number one smashes, "You Can Feel Bad (If It Makes You Feel Better)" and "Lonely Too Long," and the Top Five "She Drew a Broken Heart"; that year, she won the ACM's Female vocalist of the Year Award. However, 1997's Long Stretch of Lonesome abruptly halted her commercial momentum; despite a similar level of consistency, none of its singles made the Top Ten. Perhaps a shift toward slick country-pop played a role in Loveless' sales slump, as 2000's solid Strong Heart met with a similar fate.
In response, Loveless turned away from hitmaking and embraced the acoustic Kentucky bluegrass of her youth, which was enjoying a renaissance of its own thanks to O Brother, Where Art Thou? The result, Mountain Soul, was released in 2001 and earned numerous critical plaudits, also selling decently in spite of its lack of concern for commercialism. Loveless kept that acoustic approach for her 2002 holiday album Bluegrass and White Snow: A Mountain Christmas, and it also informed her proper follow-up, 2003's On Your Way Home. The ambitious Dreamin' My Dreams appeared two years later, followed by Sleepless Nights in 2008. In 2009, Loveless followed up Mountain Soul with Mountain Soul II on the Suguaro Road imprint. Unlike its predecessor, II contained classic country, mountain, and bluegrass songs, as well as original material instead of strictly bluegrass tunes.
https://en.wikipedia.org/wiki/Patty_Loveless
Talents : Vocals, Guitar
Style musical : Contemporary Country, Traditional Country, Songwriter, Soft Rock

http://www.youtube.com/watch?v=3XV7mxfIIr0
Years in activity :
| | | | | | | | | | | | |
| --- | --- | --- | --- | --- | --- | --- | --- | --- | --- | --- | --- |
| 1910 | 20 | 30 | 40 | 50 | 60 | 70 | 80 | 90 | 2000 | 10 | 20 |
DISCOGRAPHY
Singles
10/1985
SP MCA MCA-52694 (US)
.
Lonely Days Lonely Nights / Country I'm Coming Home To You
02/1986
SP MCA MCA-52787 (US)
.
I Did / Lonely Days Lonely Nights
10/1986
SP MCA MCA-52969 (US)
.
Wicked Ways / Half Over You
02/1987
SP MCA MCA-53040 (US)
.
You Are Everything / I Did
06/1987
SP MCA MCA-53097 (US)
.
After All / I Did
09/1987
SP MCA MCA-53179 (US)
.
You Saved Me / Fly Away
01/1988
SP MCA MCA-53270 (US)
.
If My Heart Had Windows / So Good To Be In Love
05/1988
SP MCA MCA-53333 (US)
.
Little Bit In Love / I Can't Get You Off Of My Mind
09/1988
SP MCA MCA-53418 (US)
.
Blue Side Of Town / I'll Never Grow Tired Of You
12/1988
SP MCA MCA-53477 (US)
.
Don't Toss Us Away / After All
04/1989
SP MCA MCA-53641 (US)
.
Timber I'm Falling In Love / Go On
08/1989
SP MCA MCA-53702 (US)
.
Lonely Side Of Love / I'll Never Grow Tired Of You
12/1989
SP MCA MCA-53764 (US)
.
Chains / I'm On Your Side
04/1990
SP MCA MCA-79004 (US)
.
On Down The Line / Feeling Of Love
08/1990
SP MCA MCAS7-53895 (US)
.
Night's Too Long / Overtime
12/1990
SP MCA MCAS7-53977 (US)
.
I'm That Kind Of Girl / Some Morning Soon
04/1991
SP MCA MCAS7-54075 (US)
.
Blue Memories / You Can't Run Away From Your Heart
08/1991
SP MCA MCAS7-54178 (US)
.
Hurt Me Bad (In a Areal Good Way) / God Will
12/1991
SP MCA MCAS7-54271 (US)
.
Jealous Bone / I Come Straight To You
04/1992
SP MCA MCA7-54371 (US)
.
Can't Stop Myself From Loving You / If It's The Last Thing I Do
07/1992
SP REPRISE 7-18846 (US)
.
Send A Message To My Heart (Dwight

Yoakam

& Patty

Loveless

) / Takes A Lot To Rock You (Dwight

Yoakam

)

04/1993
SP EPIC 34-74906 (US)
.
Blame It On Your Heart / What's A Broken Heart
07/1993
SP EPIC 34-77076 (US)
.
Nothin' But The Wheel / Love Builds A Bridges
11/1993
SP EPIC 34-77271 (US)
.
You Will / You Don't Know How Lucky You Are
03/1994
SP EPIC 34-77416 (US)
.
How Can I Help You Say Goodbye / How About You
07/1994
SP EPIC 34-77609 (US)
.
I Try To Think About Elvis / Ships
11/1994
SP EPIC 34-77734 (US)
.
Here I Am / When The Fallen Angels Fly
03/1995
SP EPIC 34-77856 (US)
.
You Don't Even Know Who Am I / Over My Shoulder
06/1995
SP EPIC 34-77956 (US)
.
Halfway Down / Feelin' Good About Feelin' Bad
12/1995
SP EPIC 34-78209 (US)
.
You Can Feel Bad / Feelin' Good About Feelin' Bad
12/1995
CD EPIC ESK 78209 (US)
You Can Feel Bad
03/1996
SP EPIC 34-78309 (US)
.
Thousand Times A Day / Feelin' Good About Feelin' Bad
07/1996
SP EPIC 34-78371 (US)
.
Lonely Too Long / Feelin' Good About Feelin' Bad
11/1996
SP EPIC 34-78451 (US)
.
She Drew A Broken Heart / ?
1996
SP Collectables COL 4680 (US)
.
Blame It On Your Heart (Patti LOVELESS) / That's My Story (Collin R

aye

)
199?
SP Collectables COL-90080(US)
.

Don't Toss Us Away / Chains

04/1997
SP EPIC 34-78549 (US)
.
Trouble With Truth / ?
09/1997
SP EPIC 34-78704 (US)
.
You Don't Seem To Miss Me / Where Are You Boy
05/1999
SP MCA MCAS7-72107 (US)
.
My Kind Of Woman My Kind Of Man (with Vince GILL) / + Vince GILL
06/2000
SP EPIC 34-79447 (US)
.
That's The Kind Of Mood I'm In / You Don't Get No More
06/2000
CD EPIC 34K 79447 (US)

That's The Kind Of Mood I'm In / You Don't Get No More

07/2003
CD EPIC 34-79954 (US)
Lovin' All Night / Nothin' Like The Lonely
Albums
02/1987
CD MCA MCAD-5915 (US)
PATTY LOVELESS - Lonely Days Lonely Nights / I Did / You Are Everything / Blue Is Not A Word / Slow Healing Heart / After All / Wicked Days / Half Over You / Some Blue Moons Ago / Sounds Of Loneliness
01/1988
CD MCA MCAD-42092 (US)
IF MY HEART HAD WINDOWS - So Good To Be In Love / Workin' Man's Hands / You Saved Me / If My Heart Had Windows / Little Bit In Love / I Can't Get You Off My Mind / Baby's Gone Blues / Little Bit On The Lonely Side / Fly Away / Once In A Lifetime
09/1988
CD MCA MCAD-42223 (US)
HONKY TONK ANGEL - I Won't Gamble With Your Love / I'll Never Grow Tired Of You / Go On / Chains / If You Think / Timber I'm Falling In Love / Lonely Side Of Love / Don't Toss Us Away / Blue Side Of Town / I'm On Your Side
05/1990
CD MCA MCAD-6401 (US)
ON DOWN THE LINE - Overtime / Night's Too Long / Blue Memories / Some Morning Soon / You Can't Run Away From Your Heart / On Down The Line / I've Got To Stop Loving You And Start Living Again / Looking In The Eyes Of Love / I'm That Kind Of Girl / Feelings Of Love
09/1991
CD MCA MCAD-10336 (US)
UP AGAINST MY HEART - Jealous Bone / Nobody Loves You Like I Do / I Already Miss You / Hurt Me Bad / If You Don't Want Me / I Came Straight To You / If It's The Last Thing I Do / Can't Stop Myself From Loving You / Waiting For The Phone To Ring / God Will
04/1993
CD EPIC EK-53236 (US)
ONLY WHAT I FEEL - You Will / How About You / Nothin' But The Wheel / Love Builds The Bridges / Mr Man In The Moon / Blame It On Your Heart / You Don't Know How Lucky You Are / All I Need / What's A Broken Heart / How Can I Help You Say Goodbye
05/1993
CD MCA MCAD-10653 (US)
GREATEST HITS - If My Heart Had Windows / Blue Side Of Town / Don't Toss Us Away / Timber I'm Falling In Love / Lonely Side Of Love / Chains / On Down The Line / I'm That Kind Of Girl / Hurt Me Bad / Jealous Bone
08/1994
CD EPIC EK-64188 (US)
WHEN FALLEN ANGELS FLY - Handful Of Dust / Halfway Down / When Fallen Angels Fly / You Don't Even Know Who I Am / Feelin' Good About Feelin' Bad / Here I Am / Try To Think About Elvis / Ships / Old Weakness / Over My Shoulder
1994
CD RSM RSM-029 SQ (GER) (bootleg)

That Kind Of Girl - LIVE IN TORRENCE California 1993 - Jealous Bone / Chains / Lonely Side Of Love / If My Heart Had Windows / Can't Stop Myself From Loving You / You Will / Mr. Man In The Moor / How Can I Help You Say Goodbye / Blue Side Of Town / Hurt Me Bad (In A Real Good Way) / Don't Toss Us Away / I'm That Kind Of Girl / Nothin' But The Wheel / Blame It On Your Heart / Blue Memories / Some Morning Soon / On Down The Line (with Vince Gill) / Night's Too Long

05/1996
CD MCA MCAD-20938 (US)
PATTY LOVELESS SINGS SONGS OF LOVE - Timber I'm Falling In Love / After All / Lonely Days Lonely Nights / Jealous Bone / Blue Side Of Town / Wicked Days / I Did, You Saved Me / Can't Stop Myself From Loving You / Lonely Side Of Love
01/1996
CD EPIC EK-67269 (US)
THE TROUBLE WITH THE TRUTH - Tear Stained Letter / Trouble With The Truth / I Miss Who I Was / Everybody's Equal In The Eyes Of Love / Lonely Too Long / You Can Feel Bad / Thousand Times A Day / She Drew A Broken Heart / To Feel That Way At All / Someday I Will Lead The Parade
09/1997
CD EPIC EK-67997 (US)
LONG STRETCH OF LONESOME - Party Ain't Over Yet / To Have You Back Again / I Don't Want To Feel Like That / High On Love / Like Water Into Wine / That's Exactly What I Mean / You Don't Seem To Miss Me / Too Many Memories / Long Stretch Of Lonesome / Where I'm Bound
03/1999
CD EPIC EK-69809 (US)
CLASSICS - Can't Get Enough / You Can Feel Bad / Lonely Too Long / I Just Wanna Be Loved By You / You Don't Even Know Who I Am / Here I Am / You Don't Seem To Miss Me / Nothin' But The Wheel / My Kind Of Woman My Kind Of Man / Blame It On Your Heart / Try To Think About Elvis / How Can I Help You Say Goodbye
08/2000
CD MCA 088 112 352-2 (US)

20th Century Masters: The Millenium Collection - The Best Of Patty Loveless - If My Heart Had Windows / Little Bit In Love / Blue Side Of Town / Don't Toss Us Away / Timber I'm Falling In Love / Lonely Side Of Love / Chains / On Down The Line / Night's Too Long / I'm That Kind Of Girl / Blue Memories / Hurt Me Bad

08/2000
CD EPIC EK-69880 (US)
STRONG HEART - You're So Cool / Last Thing On My Mind / My Heart Will Never Break This Way Again / You Don't Get No More / That's The Kind Of Mood I'm In / Thirsty / Strong Heart / Key Of Love / She Never Stopped Loving Him / Pieces On The Ground
06/2001
CD EPIC EK-85651 (US)
MOUNTAIN SOUL - Boys Are Back In Town / Richest Fool Alive / Daniel Prayed / Just Someone I Used To Know / Out Of Control Raging Fire / Rise Up Lazarus / Cheap Whiskey / Pretty Little Miss / I Know You're Married / Sorrowful Angels / Soul Of Constant Sorrow / You'll Never Leave Harlan Alive / Two Coats / Sounds Of Loneliness
10/2002
CD EPIC EK-85967 (US)
BLUEGRASS AND WHITE SNOW - A MOUNTAIN CHRISTMAS - Away In A Manger / Silent Night / Joy To The World / Carol Of Tthe Bells / First Noel / Little Drummer Boy / Silver Bells / O Little Town Of Bethlehem / Christmas Time's A Comin' / Santa Train / Christmas Day At My House / Beautiful Star Of Bethlehem / Bluegrass White Snow
09/2003
CD EPIC EK-86620 (US)
ON YOUR WAY HOME - Draggin' My Heart Around / Nothin' Like The Lonely / I Wanna Believe / On Your Way Home / I Don't Wanna Be That Strong / Born Again Fool / Lookin' For A Heartache / Higher Than The Wall / Lovin' All Night / Last In A Long lonesome Line / Grandpa That I Know
09/2003
CD + DVD EPIC ESD 57035 (US)
ON YOUR WAY HOME :

CD : Draggin' My Heart Around / Nothin' Like The Lonely / I Wanna Believe / On Your Way Home / I Don't Wanna Be That Strong / Born Again Fool / Lookin' For A Heartache / Higher Than The Wall / Lovin' All Night / Last In A Long lonesome Line / Grandpa That I Know
DVD : Here I Am (Austin City Limits) / Pretty Little Miss (Austin City Limits) / You'll Never Leave Harlan Alive (Austin City Limits) / Lovin' All Night (Music Video) / Epic Records Discography / Photo Gallery / Credits

06/2005
CD MCA B0003344-02 (US)
THE DEFINITIVE COLLECTION - Lonely Days, Lonely Nights / Wicked Ways / I Did / After All / You Saved Me / If My Heart Had Windows / A Little Bit In Love / Blue Side Of Town / Don't Toss Us Away / Timber, I'm Falling In Love / The Lonely Side Of Love / Chains / On Down The Line / The Night's Too Long / I'm That Kind Of Girl / Blue Memories / Hurt Me Bad (In A Real Good Way) / Jealous Bone / Can't Stop Myself From Loving You / Nobody Loves You Like I Do / You Can Feel Bad / Lonely Too Long
08/2005
CD EPIC EK-94481 (US)
DREAMING MY DREAMS - Keep Your Distance / Old Soul / When Being Who You Are Is Not Enough / Nobody Here By That Name / Same Kind Of Crazy / Everything But The Words / Dreaming My Dreams With You / On The Verge Of Tears / Never Ending Song Of Love / Big Chance / My Old Friend The Blues / When I Reach The Place I'm Going / +

[CD-ROM Track]

10/2006
2 CD MADACY 52633 (US)
THE PATTY LOVELESS COLLECTION :

CD 1 : Blue Side Of Town / I Won't Gamble With Your Love / Go On / If You Think / Chains / Don't Toss Us Away / The Lonely Side Of Love / I'll Never Grow Tired Of You / Timber I'm Falling In Love / I'm On Your Side
CD 2 : Overtime / The Night's Too Long / Blue Memories / Some Morning Soon / You Can't Run Away From Your Heart / On Down The Line / I've Gotta Stop Loving You (And Start Living Again) / Looking In The Eyes Of Love / I'm That Kind Of Girl / Feelings Of Love

03/2007
CD EPIC / LEGACY 703351 (US)
16 BIGGEST HITS - Timber, I'm Falling In Love / Chains / Blame It On Your Heart / You Will / How Can I Help You Say Goodbye / I Try To Think About Elvis / Here I Am / You Don't Even Know Who I Am / Halfway Down / You Can Feel Bad / A Thousand Times A Day / Lonely Too Long / She Drew A Broken Heart / You Don't Seem To Miss Me (with George JONES) / That's The Kind Of Mood I'm In / Lovin' All Night
03/2008
CD BMG / Sony 7-18658-2 (US)

Super Hits - Blame It on Your Heart; How Can I Help You Say Goodbye; Here I Am; She Drew a Broken Heart; I Miss Who I Was (With You); To Have You Back Again; The Last Thing on My Mind; Boys Are Back in Town; On Your Way Home; Keep Your Distance

09/2008
CD SAGUARO ROAD M19660 (US)
SLEEPLESS NIGHTS - Why Baby Why / The Pain Of Loving You / He Thinks I Still Care / Sleepless Nights (with Vince GILL) / Crazy Arms / There Stands The Glass / That's All It Took (with Jedd HUGHES) / Color Of The Blues / I Forgot More Than You'll Ever Know / Next In Line / Don't Let Me Cross Over / Please Help Me, I'm Falling / There Goes My Everything / Cold, Cold Heart
09/2009
CD SAGUARO ROAD 24976 (US)
MOUNTAIN SOUL II - Busted / Fools Thin Air / A Handful Of Dust / Half Over You / Prisoner's Tears / Working On A Building / Friends In Gloryland / (We Are All) Children Of Abraham / Big Chance / When The Last Curtain Falls / Blue Memories / You Burned The Bridge / Bramble And The Rose / Feelings Of Love / Diamond In My Crown
10/2011
CD MCA 16184 (US)
Icon - Jealous Bone / Timber, I'm Falling In Love / A Little Bit In Love / Blue Side Of Town / Hurt Me Bad (In A Real Good Way) / If My Heart Had Windows / Chains / On Down The Line / The Lonely Side Of Love / Don't Toss Us Away / I'm That Kind Of Girl
11/2012
CD BMG / Sony 194233 (US)

Country - Patty Loveless -

Blame It On Your Heart / Nothin' But The Wheel / I Try To Think About Elvis / You Don't Even Know Who I Am / Halfway Down / You Can Feel Bad / Lonely Too Long / The Trouble With The Truth / You Don't Seem To Miss Me / High On Love
05/2013
CD EPIC 71867 (US)

Playlist : The Very Best of Patty Loveless -

Blame It On Your Heart / Nothin' But The Wheel / I Try To Think About Elvis / You Can Feel Bad / Lonely Too Long / Like Water Into Wine / Wine, Women And Song / Can't Get Enough / I Know You're Still Married (But I Love You Still) (Patty

Loveless

feat: Travis

Tritt

) / Lovin' All Night / Draggin' My Heart Around / Never Ending Song Of Love (Patty

Loveless

feat: Dwight

Yoakam

) / Keep Your Distance / Three Little Babes (Patty

Loveless

feat: The

Chieftains

)
© Rocky Productions 15/08/2015