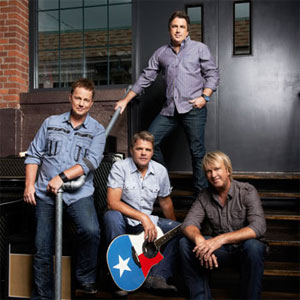 Groupe Country US formé en 1992 et comprenant Dean Sams, Michael Britt, Richie McDonald puis Cody Collins, Keech Rainwater et John Rich.

Though their name might lead you to believe that Lonestar was formed in Texas, the quintet actually hails from Tennessee. Originally called Texassee, the band features Richie McDonald (lead Vocals, guitar), John Rich (lead Vocals, bass), Michael Britt (lead guitar, background Vocals), Dean Sams (keyboard, background Vocals), and Keech Rainwater (drums). All the members are in fact Texas natives — they just formed in Tennessee in 1992.
In 1993, Lonestar played their first concert at Backstage Pass in Nashville in January of 1993. A booking agent happened to hear the show. Impressed, he added the group to his roster, and the group headed out on the road. Over the next two years, they played nearly 500 shows. In 1994, the group landed a record contract with BNA Records. The following year they released their eponymous debut, which spawned the Top Ten hit "Tequila Talkin'." Crazy Nights followed in 1997, and two years later Lonestar returned with Lonely Grill, which featured the hit "Amazed." Their seasonal effort This Christmas Time followed in fall 2000, and I'm Already There appeared the next spring. They released three more records after their 2003 greatest-hits compilation From There to Here: 2004's Let's Be Us Again, 2005's Coming Home, and 2006's Mountains. In late 2007, the band announced that Cody Collins had replaced Richie McDonald as lead singer, and that their next album, My Christmas List, would be distributed by Cracker Barrel restaurants; McDonald also happened to release a seasonal album called If Every Day Could Be Christmas that same year.
Lonestar hired Cody Collins as their new lead vocalist and set about recording their eighth album, Party Heard Around the World. The album appeared in April 2010, debuting at 103 on the Billboard 200 and 20 on the Top Country Albums chart, and it soon faded, generating no big hit singles. Soon, Collins left Lonestar and McDonald -- whose solo career also failed to catch fire -- returned to the fold. The reunited Lonestar released Life as We Know it on June 4, 2013. They signed to Shanachie for their next album, 2016's Never Enders.
Talents : Richie : Lead Vocal, Guitar - John : Lead Vocal, Bass - Michael : Lead Guitar, Background Vocals - Dean : Keyboard, Background Vocals - Keech : Drums. Puis Cody Collins : Lead Vocal, Guitar
Style musical : Contemporary Country, Traditional Country

https://youtu.be/YT0wEX2NmDI
Years in activity :
| | | | | | | | | | | |
| --- | --- | --- | --- | --- | --- | --- | --- | --- | --- | --- |
| 1910 | 20 | 30 | 40 | 50 | 60 | 70 | 80 | 90 | 2000 | 10 |
DISCOGRAPHY
Singles
| | | |
| --- | --- | --- |
| 08/1995 | SP BNA 64386-7 (US) | No News / Tequila Talkin' |
| 04/1996 | SP BNA 64549-7 (US) | Runnin' Away With My Heart / I Love The Way You Do That |
| 08/1996 | SP BNA 64637-7 (US) | When Cowboys Didn't Dance / Ragtop Cadillac |
| 04/1997 | SP BNA 64841-7 (US) | Come Cryin' To Me / What Would It Take |
| 08/1997 | SP BNA 64942-7 (US) | You Walked In / Keys To My Heart |
| 01/1998 | SP BNA 65395-7 (US) | Say When / Amie |
| 03/1999 | CD BNA 65694-2 (US) | Saturday Night |
| 03/1999 | SP BNA 65755-7 (US) | Amazed / Tell Her |
| 08/1999 | SP BNA 65906-7 (US) | Smile / Amazed |
| 03/2000 | SP BNA 60212-7 (US) | What About Now / Smile |
| 03/2001 | SP BNA 69083-7 (US) | I'm Already There / Tell Her |
| 07/2001 | SP BNA 69105-7 (US) | With Me / Out Go The Lights |
| 01/2002 | SP BNA 69134-7 (US) | Not A Day Goes By / Unusually Unusual |
Albums
10/1995
CD BNA 66642 (US)
LONESTAR - Heartbroke Every Day / Tequila Talkin' / I Love The Way You Do That / Runnin' Away With My Heart / What Would It Take / Does Your Daddy Know About Me / Ragtop Cadillac / No News / Paradise Knife And Gun Club / When Cowboys Didn't Dance
06/1997
CD BNA 67422 (US)
CRAZY NIGHTS - Come Cryin' To Me / Everything's Changed / Cheater's Road / Week In Juarez / John Doe On A John Deere / You Walked In / Say When / Amie / Crazy Nights / Keys To My Heart / What Do We Do With The Rest Of The Night
06/1999
CD BNA 67762 (US)
LONELY GRILL - Come Cryin' To Me / Everything's Changed / Cheater's Road / Week In Juarez / John Doe On A John Deere / You Walked In / Say When / Amie / Crazy Nights / Keys To My Heart / What Do We Do With The Rest Of The Night
09/2000
CD BNA 67975 (US)
THIS CHRISTMAS TIME - Santa Claus Is Comin' To Town / Please Come Home For Chrismas / Have Yourself A Merry Little Christmas / If Every Day Could Be Christmas / Little Drummer Boy / O Holy Night / Reason For The Season / What Child Is This / Winter Wonderland / Christmas Song / This Christmas Time
01/2001
CD BNA 67011 (US)
I'M ALREADY THERE - Out Go The Lights / Unusually Unusual / Not A Day Goes By / I Want To Be The One / With Me / Without You / I'm Already There / Let's Bring It Back / Must Be Love / Softly / Every Little Thing She Does / Like A Good Cowboy
06/2003
CD BNA 51616 (US)
FROM THERE TO HERE - GREATEST HITS - Tequila Talkin' / No News / Runnin' Away With My Heart / Come Cryin' To Me / You Walked In / Everything's Changed / Amazed / Smile / What About Now / Tell Her / I'm Already There / With Me / Not A Day Goes By / My Front Porch Looking In / I Pray / Walking In Memphis / Love Can Change Your Mind / Gimme All Your Lovin'
05/2004
CD BNA 59751 (US)
LET'S BE US AGAIN - County Fair / Class Reunion (That Used To Be Us) / Let's Be Us Again / That Gets Me / Women Rule The World / What I Miss The Most / Let Them Be Little / TGIF / Summertime / Now / Mr Mom / From There To Here / Somebody's Someone
04/2005
CD COLLECTABLES 8403 (US)
LONESTAR - Heartbroke Every Day / Tequila Talkin' / I Love the Way You Do That / Runnin' Away With My Heart / What Would It Take / Does Your Daddy Know About Me / Ragtop Cadillac / No News / Paradise Knife And Gun Club / When Cowboys Didn't Dance
09/2005
CD BNA 70394 (US)
COMING HOME - You're Like Comin' Home / Doghouse / I Am A Man / I'll Die Tryin' / Wild / Noise / Little Town / I Never Needed You / What's Wrong With That / Two Bottles Of Beer / I Just Want To Love You / When I Go Home Again
09/2006
CD BNA / LEGACY 246 (US)
16 BIGGEST HITS - Tequila Talkin' / No News / Runnin' Away With My Heart / Come Cryin' To Me / Say When / Everything's Changed / Amazed / Smile / What About Now / Tell Her / I'm Already There / Unusually Unusual / Not A Day Goes By / My Front Porch Looking In / Let's Be Us Again / Mr. Mom
10/2006
CD BNA / SONY 87114 (US)
MOUNTAINS - Mountains / Nothing To Prove / Long Lost Smile / Thought It Was You / Hey God / I Wanna Do It For You / Cowboy Girl / What She Had To / One Of Those Nights / Careful Where You Kiss Me / Always In The Band
09/2007
CD MADACY 53448 (US)
PLATINUM - Come Cryin' To Me / Everything's Changed / Cheater's Road / A Week In Juarez / John Doe On A John Deere / You Walked In / Say When / Amie / Crazy Nights / Keys To My Heart / What Do We Do With The Rest Of The Night / Heartbroke Every Day / Tequila Talkin' / I Love The Way You Do That / Runnin' Away With My Heart / What Would It Take / Does Your Daddy Know About Me / Ragtop Cadillac / No News / Paradise Knife And Gun Club / When Cowboys Didn't Dance
09/2007
CD SBME 713432 (EUR)
SUPER HITS - No News / Come Cryin' To Me / I'm Already There / You're Like Comin' Home / Doghouse / Softly / Don't Forget Me / Mr. Mom / Smile / Tequila Talkin'
11/2007
CD CRACKER BARREL ? (US)
MY CHRISTMAS LIST - Joy To The World / Away In A Manger / Silent Night / O Come All Ye Faithful / Up On A Housetop / Deck The Halls / That's What Christmas Is For / Jingle Bells / We Wish You A Merry Christmas / My Christmas List / White Christmas
07/2008
CD PLAYLIST 27469 (US)
THE VERY BEST OF LONESTAR - Tequila Talkin' / No News / Amazed / I've Gotta Find You / Smile / What About You / I'm Already There / Unusually Unusual / My Front Porch Looking In / Walking In Memphis / Let's Be Us Again / Mr. Mom / You're Like Comin' Home / Mountains /

[multimedia track]

11/2009
3 CD SONY A755525 (US)
TRIPLE FEATURE :

CD 1 : Come Cryin' To Me / Everything's Changed / Cheater's Road / A Week In Juarez / John Doe On A John Deere / You Walked In / Say When / Amie / Crazy Nights / Keys To My Heart / What Do We Do With The Rest Of The Night
CD 2 : Out Go The Lights / Unusually Unusual / Not A Day Goes By / I Want To Be The One / With Me / Without You / I'm Already There / Let's Bring It Back / Must Be Love / Softly / Every Little Thing She Does / Like A Good Cowboy
CD 3 : Country Fair / Class Reunion (That Used To Be Us) / Let's Be Us Again / That Gets Me / Women Rule The World / What I Miss The Most / Let Them Be Little / T.G.I.F. / Summertime / Now / Mr. Mom / From There To Here / Somebody's Someone

04/2010
CD SAGUARO ROAD 2559 (US)

PARTY HEARD AROUND THE WORLD -

Beat (I Can Feel Your Heart) / Live, Laugh And Love / She Wants What She Wants / You're The Reason Why / Y.O.U. / Making Memories / The Future / Goodbye Is Goodbye / Let Me Love You / Party Heard Around The World / Tough / Mean As You
06/2013
CD 4 STAR FSR 000012 (US)
LIFE AS WE KNOW IT -

The Countdown / Maybe Someday / How Can She Be Everywhere? / Pretty Good Day / With My Eyes Open / Party All Day / Life As We Know It / If It Wasn't For You / I Miss When / I Did It For The Girl / Just The Rain / Oh Yeah

04/2014
CD Up Country UPRC 010CD

Lonestar / Crazy Nights -

Heartbroke Every Day / Tequila Talkin' / I Love The Way You Do That / Runnin' Away With My Heart / What Would It Take / Does Your Daddy Know About Me / Ragtop Cadillac / No News / Paradise Knife And Gun Club / When Cowboys Didn't Dance / Come Cryin' To Me / Everything's Changed / Cheater's Road / A Week In Juarez / John Doe On A John Deere / You Walked In / Say When / Amie / Crazy Nights / Keys To My Heart / What Do We Do With The Rest Of The Night?
04/2016
CD Shanachie SHANCD 6210 (US)

Never Enders -

Never Enders / I Know It Was You / My Own Hometown / Twice / This Time / I've Been Wrong Before / I Want A Love / Us / Here We Go Again / Boomerang
© Rocky Productions 30/04/2016