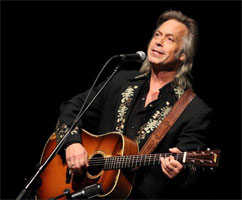 Chanteur Country US né le 11 Avril 1957 à Statesville (Caroline du Nord).

Singer/songwriter Jim Lauderdale helped lay out the blueprint for the Americana movement of the '90s, earning high critical marks for an eclectic series of albums that spanned hard country, slick pop, rootsy rock & roll, blues, folk, R&B, and bluegrass. He never sold that many records on his own, but his compositions were recorded — often with considerable success — by a number of contemporary country stars, including George Strait, Patty Loveless, Vince Gill, Mark Chesnutt, Kathy Mattea, and George Jones, among others. Lauderdale was born in Statesville, NC, in 1957 and grew up loving country music; however, he was also drawn to the theater and later moved to New York, where he landed roles in two national touring productions. He subsequently settled in Los Angeles, where he began playing the now-legendary alt-country hot spot the Palomino Club. With Dwight Yoakam producer Pete Anderson behind the boards, he recorded a track for the seminal compilation A Town South of Bakersfield, which helped him — briefly — land a record deal with CBS. He completed an album in 1989, but the label declined to release it; it finally appeared over ten years later on an overseas label as Point of No Return.Undaunted, Lauderdale signed with the Bluewater music publishing firm in Nashville, where his compositions found immediate success in the contemporary country world. Additionally, he sang backup on records by Yoakam, Lucinda Williams, and Rosie Flores and toured with everyone from Freedy Johnston, Nick Lowe, and Hootie & the Blowfish to Johnny Cash and Merle Haggard. He earned another shot with Reprise and issued his debut album, Planet of Love, in 1991, with production from Rodney Crowell and John Leventhal. The album was greeted with strong reviews by many critics, who hailed Lauderdale as a major new talent. Still, it would be three years before he would release another record; he returned in 1994, now on Atlantic, and issued two acclaimed albums over the next two years in Pretty Close to the Truth and Every Second Counts. In 1996, he moved over to roots label Rounder's Upstart subsidiary for Persimmons, yet another critical success.
Hopping to BNA, Lauderdale released Whisper in 1998, then returned to the majors on RCA, issuing the somewhat slicker-sounding, more commercial Onward Through It All in 1999. That same year, Lauderdale also took a detour into traditional bluegrass, recording the collaborative album I Feel Like Singing Today with the legendary Ralph Stanley for Rebel. Lauderdale finally found a more permanent home on Dualtone and debuted with 2000's The Other Sessions, a return to hardcore country. 2002 brought two projects: another album with Stanley, called Lost in the Lonesome Pines, and a country record called The Hummingbirds. Ever prolific, Lauderdale released Wait Til Spring in 2003, Headed for the Hills in 2004, Bluegrass in 2006, and The Bluegrass Diaries in 2007. Honey Songs, credited to Jim Lauderdale & the Dream Players, was issued in 2008. Could We Get Any Closer? appeared in 2009. Moving to Sugar Hill Records, Lauderdale released Reason and Rhyme in 2011, this time teaming with lyricist and longtime collaborator Robert Hunter on a set of new bluegrass-themed songs. He next teamed with longtime friend and fellow country roots singer and songwriter Buddy Miller for 2012's Buddy and Jim, released by New West Records.
Though he didn't record until the middle of 2013, Lauderdale released three albums on his Sky Crunch label within two months. The first, Old Time Angels was a bluegrass date that appeared in October. It was followed by the simultaneously issued solo acoustic Blue Moon Junction and the grimy swamp rock Black Roses in November. The latter was produced by Luther Dickinson (who also played guitar), with Cody Dickinson on drums, Amy LaVere on upright bass and backing vocals, and Spooner Oldham and Ian McLagan on piano. Lauderdale spent time writing for country artists and for the TV series Nashville, and released I'm a Song in June of 2014 on Sky Crunch through New West. Lauderdale was also the subject of a feature-length documentary film, Jim Lauderdale: The King of Broken Hearts, which was directed by Jeremy Dylan and released in the fall of 2014.
Lauderdale's ambitious double-set Soul Searching was released in October 2015; one disc was recorded in Memphis, the other in Nashville, and each found Lauderdale playing with veteran musicians steeped in classic blues and R&B sounds as the artist explored his love of classic soul music. This Changes Everything, released through Sky Crunch in the fall of 2016, was a set of tunes written and performed in classic honky tonk style, and less than six months later, Lauderdale had another album ready for release. Arriving in 2017, London Southern was recorded in England at London's Goldtop Studios, with producers Neil Brockbank and Robert Trehern at the controls and several members of Nick Lowe's backing band providing accompaniment. In August 2018, the prolific Lauderdale dropped two albums on the same day -- Time Flies, a collection of recent recordings in a contemporary style, and Jim Lauderdale & Roland White, a collaboration with the legendary bluegrass mandolinist that was recorded in 1979 but not previously released. 2019's From Another World was an ambitious project that fused elements of country, pop, and psychedelic rock. For 2020's When Carolina Comes Home Again, Lauderdale assembled a set of tunes that paid homage to his native North Carolina as well as its sibling to the South. John Oates and Robert Hunter were among the songwriters who collaborated with Lauderdale for the project.
https://en.wikipedia.org/wiki/Jim_Lauderdale
Talents : Vocals, Guitar, Songwriter
Style musical : Contemporary Country, Traditional Country, Honky Tonk

http://youtu.be/TvwpbYcTwLM
Years in activity :
| | | | | | | | | | | | |
| --- | --- | --- | --- | --- | --- | --- | --- | --- | --- | --- | --- |
| 1910 | 20 | 30 | 40 | 50 | 60 | 70 | 80 | 90 | 2000 | 10 | 20 |
DISCOGRAPHY
Singles & EP
11/1988
SP EPIC 34-08113 (US)
.

Stay Out Of My Arms / Highways Through My Home

05/1989
SP EPIC 34-68908 (US)
.

Lucky Thirteen / Might Seem Like A Loser

1989
SP Sonet ‎T-20120 (SWE)

Back To Rosalie / Love With Rosalie (

Trio Rosalique

)
04/1991
SP REPRISE 7-19344 (US)
.

Maybe / What You Don't Know

1995
SP ATLANTIC 7-87087 (US)
.
Radar Gun (The

Bottle Rockets

) / Always On The Outside
1997
CD BNA BDJ65344-2 (US) (promo)

In His Voice -

Halfway Down / Where The Sidewalk Ends / Gonna Get A Life / King Of Broken Hearts / Stay Out Of My Arms

01/1998
CD BNA 65397-2 (US)
.
Goodbye Song
2009
CD Direct Holdings Americas Inc. ? (US) (promo)
Tanya

Tucker

with Jim

Lauderdale

-

Love's Gonna Live Here
Albums
11/1991
CD REPRISE 26556-2 (US)
PLANET OF LOVE - Heaven's Flame / Maybe / Wake Up Screaming / I Wasn't Fooling Around / Bless Her Heart / Where The Sidewalk Ends / Planet Of Love / King Of Broken Hearts / What You Don't Know / My Last Request
08/1994
CD ATLANTIC 82608-2 (US)
PRETTY CLOSE TO THE TRUTH - This Is The Big Time / I'm On Your Side / Why Do I Love You / Divide And Conquer / Grace's Song / Run Like You / Can't Find Mary / Don't Trust Me / Three Way Conversation / Pretty Close To The Truth / When The Devil Starts Crying
09/1995
CD ATLANTIC 82826-2 (US)
EVERY SECOND COUNTS - Stay Out Of My Arms / Point Of No Return / Hold On My Love / Big Town Small World Blues / Try Not To Be So Lonely / Lucky 13 / Might Seem Like A Loser / It's Better This Way / Highway Through My Home / No One To Talk To (But The Blues)
09/1996
CD UPSTART 035 (US)
PERSIMMONS - Life By Numbers / Do You Like It / And That's A Lot / Am I Only Dreaming This / Don't Leave Your Light Low / Seems Like You're Gonna Take Me Back / I Thought We Had A Deal / Tears So Strong / Please Pardon Me / Some Things Are Too Good To Last / Nobody's Perfect / Had A Little Time / That's Not Right Babe / Optimistic Messenger / Jupiter's Rising
02/1998
CD BNA 07863-66996-2 (US)
WHISPER - Goodbye Song / Whisper / Sometimes / Take Me Down A Path / She Used To Say That To Me / In Harm's Way / Without You Here It's Not The Same / It's Hard To Keep A Secret Anymore / We're Gone / What Do You Say To That / You're Tempting Me / Hole In My Head / I'll Lead You Home
08/1999
CD REBEL REB-CD-1755 (US)
I FEEL LIKE SINGING TODAY - Jim LAUDERDALE & Ralph STANLEY & The CLINCH MOUNTAIN BOYS - I Feel Like Singing Today / You'll Find Her Name Written There / Maple On The Hill / Fly, Lovebird Fly / Joy, Joy, Joy / Like Him / I Wish Today Could Be Tomorrow / Another Sinner's Prayer / Highway Through My Home / What About You / This World Is Not My Home / Harbor Of Love / I Will Wait For You / Who Will Sing For Me / Who Thought The Railroad Wouldn't Last
08/1999
CD BNA 07863-67822-2 (US)
ONWARD THROUGH IT ALL - You Just Know / I Already Loved You / Calico / Lost Sunset / Trust (Guiding Star) / Onward Through It All / It's Just Like You / Almost Next To Nothing / Please Be San Antone / Lonely Chill / We Really Shouldn't Be Doing This / What I Want You To Say / One That Didn't Get Away / Understanding Everything / As If We Would Never Love Again / Still Not Out Of The Woods
04/2001
CD WEST SIDE WESA 883 (UK)
POINT OF NO RETURN - Stay Out Of My Arms / Point Of No Return / Hold On My Love / Big Town Small World Blues / Try Not To Be So Lonely / Lucky 13 / Might Seem Like A Loser / It's Better This Way / Highway Through My Home / No One To Talk To (But The Blues).
06/2001
CD DUALTONE 1101-2 (US)
THE OTHER SESSIONS - If I Were You / Just To Get To You / I'd Follow You Anywhere / What's On My Mind / Merle World / You'll Know When It's Right / Honky Tonk Haze / First Things First / Oh My Goodness / Diesel Diesel Diesel / Born Believers / It's Not Too Late
05/2002
CD DUALTONE 80302-01121-2 (US)
THE HUMMINGBIRDS - Midnight Will Become Day / There And Back Again / I'm Happiest When I'm Moving / It's A Trap / Eternal / Morning / Hummingbird / Let's Not Say It's Over / I Know Better Now / It's Worth Looking Up / Jacob's Ladder / Rollin' The Dice / New Cascade
05/2002
CD DUALTONE 80302-01125-2 (US)
LOST IN THE LONESOME PINES - Jim LAUDERDALE & Ralph STANLEY & The CLINCH MOUNTAIN BOYS - Deep Well Of Sadness / Apples Are Just Turning Ripe / Lost In The Lonesome Pines / Zacchaeus / Quit That, I Think Somebody Better Come Back Home / Redbird / Forever Ain't No Trouble Now / She Would Not Tell Her More / I Should Have Listened To Good Advice / Oh Soul / She's Looking At Me / Boat Of Love / Listen To The Shepherd
07/2003
CD DUALTONE 80302-01140-2 (US)
WAIT TILL SPRING - Jim LAUDERDALE with Donna THE BUFFALO - Wait Till Spring / Different Kind Of Lightning / Some Other Bayou / Slow Motion Trouble / Ginger Peach / That's Not The Way It Works / Sapphire / This World Is Getting Mean / Awake Now / Holding Back / Wowowo
05/2004
CD DUALTONE 80302-01155-2 (US)
HEADED FOR THE HILLS - High Timberline / Looking Elsewhere / Sandy Ford (Barbara Lee) / Headed For The Hills / Trashcan Tomcat / Paint And Glass / Tales From The Sad Hotel / Crazy Peg And Darby Doyle / Leaving Mobile / Joanne / I'll Sing Again / Head For The Sun / Upside Down
09/2006
CD YEP ROC YEP 2136 (US)

Country Super Hits Vol. 1 - Honky Tonk Mood Again / Playing On My Heart Strings / Two More Wishes / Cautious / If You've Never Seen Her Smile / Right Where You Want Me / Are You Okay / Single Standard Time / I Met Jesus In A Bar / That's Why We're Here / Change / You Can't Stop Her / She's Got Some Magic Going On

09/2006
CD YEP ROC YEP 2137 (US)

Bluegrass - Mighty Lonesome / Time's A Looking Glass / I'm Still Living For You / I Shouldn't Want You So Bad / Who's Leaving Who / Forever Ends Today / Love In The Ruins / There Goes Bessie Brown / It Wasn't I Had To / It's So Different / My Treasure / Don't Blame The Wrong Guy / There They Turn Around

09/2007
CD YEP ROC YEP 2158 (US)
THE BLUEGRASS DIARIES - This Is the Last Time I'm Ever Gonna Hurt / All Roads Lead Back To You / I Wanted To Believe / Looking For A Good Place To Land / Can We Find Forgiveness / Chances / One Blue Mule / Are You Having Second Thoughts / My Somewhere Just Got Here / It's Such A Long Journey Home / Ain't No Way To Run
02/2008
CD YEP ROC 2159 (US)
HONEY SONGS - Jim LAUDERDALE & The DREAM PLAYERS - Honeysuckle Honeypie / I Hope You're Happy / Hittin' It Hard / It's Finally Sinking In / Borrow Some Summertime / The Daughter Of Majestic Sage / Molly's Got A Chain / Those Kind Of Things Don't Happen Every Day / Stingray / I'm Almost Back
2008
CD Festivalinks (US)

Festivalink Presents Jim Lauderdale at Merlefest 4/26/08 - This Is The Last Time (I'm Ever Gonna Hurt) / Can We Find Forgiveness / It's A Trap / Chances / Highway Through My Home

08/2009
CD SKY CRUNCH 442 (US)
COULD WE GET ANY CLOSER ? - I Took A Liking To You / All She Wrote / Calico / Tennessee Dawn / The Ghosts Of The Ridge / Today / Could We Get Any Closer? / Almost Satisfied / I'm Kind Of Learning As I Go / That's Why I'm Here With You / Lead Me / Honey Hurry Home
05/2010
CD THIRTY TIGERS 7060823 / Sky Crunch 4001 (US)
PATCHWORK RIVER - Patchwork River / Jawbone / Good Together / Alligator Alley / Louisville Roll / Tall Eyes / Turn To Stone / El Dorado / Up My Sleeve / Far In The Far Away / Between Your Heart And Mine / Winnona / My Lips Are Sealed
06/2011
CD Sugar Hill 14070 (US)
REASON AND RHYME - Cruel Wind And Rain / Love's Voice / Don't Tempt The Devil (With Your Love) / Tiger & The Monkey / Not Let You Go / Fields Of The Lord / Jack Dempsey's Crown / Don't Give A Hang / Reason And Rhyme / Doin' It On My Own / Janis Jones
09/2012
CD COMPASS / Sky Crunch 7 4590-2 (US)
CAROLINA MOONRISE -

Bluegrass Songs By Robert Hunter and Jim Lauderdale -

Anybody's Guess / Can I Have This Dance / Cole Bernier / Don't Back Down / Fiddler's Heaven / I Won't Let It Show / Iodine / On The Level / The Night The Moon Fell Down / Triple Crossroad Blues / Troublemaker / Wild And Free
11/2012
LP 12" NEW WEST ? (US) (limited edition)
BUDDY & JIM - BUDDY MILLER / JIM LAUDERDALE - I Lost My Job Of Loving You / The Train That Caried My Gal From Town / That's Not Even Why I Love You / South In New Orleans / It Hurts Me / Vampire Girl / Forever And A Day / Lonely One In This Town / Looking For A Heartache / I Want To Do Everything For You / The Wobble
11/2012
CD NEW WEST NW 6268 (US)
BUDDY & JIM - BUDDY MILLER / JIM LAUDERDALE - I Lost My Job Of Loving You / The Train That Caried My Gal From Town / That's Not Even Why I Love You / South In New Orleans / It Hurts Me / Vampire Girl / Forever And A Day / Lonely One In This Town / Looking For A Heartache / I Want To Do Everything For You / The Wobble
10/2013
CD SKY CRUNCH 7177 (US)

Old Time Angels -

Old Time Angels / Tell Me What I Mean / I Might Seem Like A Loser (But I'm Really Not) / Wild Blue Yonder / I Loved Her After All / Just Say You Want Me There / Losing Ground / I've Been A Fool One Time Before / I Wish You Would Let Me Make Your Day / I Don't Want To Be A Sinner Anymore / Hold On Honey Hold On
11/2013
CD SKY CRUNCH / Smith Music Group 7178 (US)

Black Roses -

Throw My Bucket Down / No Later Than Soon / Ride On / 13 Clocks / By The Horns / When Jones Came Home / Taking The Rap / Madame Macy / They Have A Saying / By The Yard / Tossing Pebbles At The Sky / Chase Me / Ebenezer / Black Roses
11/2013
CD SKY CRUNCH / Smith Music Group 7179 (US)

Blue Moon Junction -

Land Of My Dreams / 13 Horsemen / Blue Moon Junction / Just In Case / Morgan Montague / Fox Tail Waltz / Shadowfall / Liza Lou / Wet Behind The Ears / Let Me Be / What A Way To End / Lovelorn Rover / Solitary Word
07/2014
CD SKY CRUNCH / Smith Music Group 7184 (US)

I'm a Song -

Let's Have A Good Thing Together / Past It / You've Got A Way All Yours / I'm A Song / The Feeling's Hanging On / I Lost You (Jim

Lauderdale

feat: Buddy Miller) / Doin' Time In Bakersfield (Jim L

auderdale

feat: Lee Ann W

omack

) / A Day With No Tomorrow (Jim L

auderdale

feat: Lee Ann W

omack

) /

End Of The World Rag / Neon Hearts / I Wish You Loved Me / Makin' Honey / Let Him Come To You / Today I've Got The Yesterdays (Jim

Lauderdale

feat: Patty

Loveless

) / There's No Shadows In The Shade / Hope And Find / The Day The Devil Changed / The King Of Broken Hearts / The World Is Waiting Below / We Will Rock Again
03/2017
CD Proper PRPCD 138 (EUR)

London Southern -

Sweet Time / I Love You More / We've Only Got So Much Time Here / You Came To Get Me / What Have You Got To Lose / If I Can't Resist / Don't Let Yourself Get In The Way / No Right Way To Be Wrong / Different Kind Of Groove Some Time / I Can't Do Without You / Don't Shut Me Down / This Is A Door
07/2018
CD Yep Roc CDYEP 2597 (US)

Jim Lauderdale & Roland White - Forgive And Forget / Gold And Silver / (Stone Must Be The) Walls Built Around Your Heart / Six White Horses / I Might Take You Back Again / Try And Catch The Wind / Don't Laugh / Regrets And Mistakes / February Snow / (That's What You Get) For Loving Me / Gonna Lay Down My Old Guitar / Nashville Blues

08/2018
CD Yep Roc CDYEP 2594 (US)

Time Flies - Time Flies / The Road Is A River / Violet / Slow As Molasses / Where The Cars Go By Fast / When I Held The Cards In My Hand / Wearing Out Your Cool / Wild On Me Fast / While You're Hoping / It Blows My Mind / If The World's Still Here Tomorrow

06/2019
CD Yep Roc

CDYEP 2679 (US)

From Another World -

Some Horses Run Free / When You Can't Have What Your Heart Wants / The Secrets Of The Pyramids / Like People From Another World / One Away / Listen / For Keeps / Slow Turn In The Road / I'll Forgive You If You Don't / The Graceland Horses / Ever Living Loving Day / Are You Trying To Make A Song Out Of Us?
03/2020
CD Yep Roc YEP-2695X

(US)

When Carolina Comes Home Again - When Carolina Comes Home Again / As A Sign / Misery's Embrace / The Last To Know / It Just Takes One To Wander / Cackalacky / You'll Have To Earn It / You've Got This / Mountaineer / I'm Here To Remind You / Moonrider / Spin A Yarn / Better Than You Found It / Trashcan Tomcat / Headed For The Hills

07/2021
CD Yep Roc CDYEP 3002

(US)

HOPE - The Opportunity To Help Someone Through It / Sister Horizon / The Brighter Side Of Lonely / Mushrooms Are Growing After The Rain / Memory / Breathe Real Slow / Brave One / Don't You Dream Anymore? / We Fade In We Fade Out / It's Almost More Than All The Joy / Here's To Hoping / When Searching For Answers / Joyful Noise
© Rocky Productions 24/07/2021