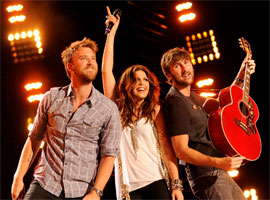 Trio Country US formé en 2006 à Augusta (Georgie). Lady Antebellum est composé de Charles Kelley, Dave Haywood et Hillary Scott.

Formed in 2006 by Charles Kelley (brother of singer/songwriter Josh Kelley), Hillary Scott (daughter of Grammy-winning country artist Linda Davis), and Dave Haywood, Lady Antebellum make contemporary country music that relies on the trio's rich harmonies and impeccable instrumental skills. Since its inception, the trio has graduated from dive bars to the Grand Ole Opry, opening for Phil Vassar, Rodney Atkins, and Carrie Underwood along the way. The group signed with Capitol Nashville in 2007 and released its first single, "Love Don't Live Here," which peaked at number three on the country charts. A self-titled debut album followed in April 2008, featuring production from Victoria Shaw and Paul Worley and stocked with more country hits (including the chart-topping single "I Run to You," which also enjoyed crossover success as a Top 40 pop hit).
Within a year and a half, Lady Antebellum's debut had gone platinum and earned a Grammy nomination, and the band enjoyed its newfound success while putting the finishing touches on a second album. Need You Now appeared in early 2010, and its leadoff single -- "Need You Now" -- became the group's highest-charting song to date, topping the country charts and peaking at number two on the Billboard Hot 100. It eventually sold over three million copies. The album experienced similar success, going gold during its second week of release and reaching platinum status soon after. By early 2011, Need You Now had sold more than three million copies in America alone, and the band took a break from recording a third studio album in order to attend the Grammys, where Lady Antebellum took home five awards.
Lady Antebellum's third studio album, 2011's Own the Night, for which the group wrote ten of the 12 tracks, as well as co-producing the project with Worley, generated a hot single on the country chart right out of the box, "Just a Kiss," which became the trio's fastest-rising single yet and crossed over, topping Billboard's adult contemporary chart. The next single, "Dancin' Away with My Heart," reached number two on Billboard's country chart. Lady Antebellum next released the holiday album On This Winter's Night in the fall of 2012; the record entered the Billboard Top 10 upon its release and was certified gold in the US.
In May of 2013, Lady Antebellum released Golden, their fourth full-length studio album. Preceded by the hit single "Downtown," Golden entered the Billboard charts at number one, but its second single, "Goodbye Town," underperformed. The album was revived by a deluxe edition released in November of 2013, thanks to the inclusion of the single "Compass." Written by the pop-making machine Stargate, "Compass" became a Top Ten country single in early 2014. The trio quickly followed Golden with 747 in the fall of 2014; helmed by Nathan Chapman, it was their first record not produced by Paul Worley. "Bartender," the record's first single, became a Top Ten country single prior to the album's release. 747 produced two other modest hits -- "Freestyle" and "Long Stretch of Love," which appeared in 2015 -- before ending its album cycle. Lady Antebellum took a hiatus in 2016, with Charles Kelley and Hillary Scott both pursuing solo projects, and then returned in the summer of 2017 with Heart Break, which was nominated for a Grammy Award. In early 2019, Lady Antebellum did a residency at Palms Casino Resort in Las Vegas and returned with a new single, "What If I Never Get Over You," a few months later.
Talents : Charles Kelley : Vocals - Dave Haywood : Guitar, Vocals - Hillary Scott : Vocals
Style musical : Country-Pop, Contemporary Country

http://www.youtube.com/watch?v=Rs38lKxmtI4
Years in activity :
| | | | | | | | | | | |
| --- | --- | --- | --- | --- | --- | --- | --- | --- | --- | --- |
| 1910 | 20 | 30 | 40 | 50 | 60 | 70 | 80 | 90 | 2000 | 10 |
DISCOGRAPHY
Singles & EP
2007
CD CAPITOL ? (US)
Love Don't Live Here
04/2010
CD PARLOPHONE ? (UK) (promo)

Need You Now (radio edit)

10/2010
CD EP Capitol 509996 47670 2 4 (US) (limited edition)
A MERRY LITTLE CHRISTMAS - Have Yourself A Merry LittleChristmas / All I Want For Christmas Is You / Blue Christmas / On This Winter's Night / Let It Snow, Let It Snow, Let It Snow / Silver Bells
2010
CD PARLOPHONE CDRDJ 6822 (UK) (promo)

I Run To You (radio edit) / I Run To You (instrumental)

2010
CD PARLOPHONE ? (UK) (promo)

American Honey

05/2011
CD CAPITOL 509990 82752 2 6 (US)
Just A Kiss /

Bottle Up Lightning

2011
CD PARLOPHONE ? (UK) (promo)

We Owned The Night (UK radio edit) / We Owned The Night (original edit) / We Owned The Night (instrumental)

2013
CD CAPITOL US-CN1-13-00001 (NL) (promo)

Downtown

2013
CD EMI ? (HK) (promo)

Downtown
Albums
04/2008
CD CAPITOL 032062 (US)
LADY ANTEBELLUM - Love Don't Live Here / Lookin' For A Good Time / All We'd Ever Need / Long Gone / I Run To You / Love's Lookin' Good On You / Home Is Where The Heart Is / Things People Say / Slow Down Sister / Can't Take My Eyes Off You / One Day You Will
01/2010
CD LIBERTY 97702 (US)
NEED YOU NOW - Need You Now / Our Kind Of Love / American Honey / Hello World / Perfect Day / Love This Pain / When You Got A Good Thing / Stars Tonight / If I Knew Then / Something 'bout A Woman / Ready To Love Again
09/2011
CD CAPITOL 94431 (US)
OWN THE NIGHT - We Owned The Night / Just A Kiss / Dancin' Away With My Heart / Friday Night / When You Were Mine / Cold As Stone / Singing Me Home / Wanted You More / As You Turn Away / Love I've Found In You / Somewhere Love Remains / The Heart Of The World
10/2012
CD CAPITOL 04818 (US)

ON THIS WINTER'S NIGHT - A Holly Jolly Christmas / Christmas Baby (Please Come Home) / All I Want For Christmas Is You / I'll Be Home For Christmas / This Christmas / The First Noel / On This Winter's Night / Let It Snow, Let It Snow, Let It Snow / Have Yourself A Merry Little Christmas / Silent Night (Lord Of My Life) / Blue Christmas / Silver Bells

11/2012
2 CD EMI / PARLOPHONE / VIRGIN P 7236542 (UK)
NEED YOU NOW / OWN THE NIGHT :

CD 1 :

Need You Now / Our Kind Of Love / American Honey / Hello World / Perfect Day / Love This Pain / When You Got A Good Thing / Stars Tonight / If I Knew Then / Lookin' For A Good Time / Ready To Love Again /

I Run To You
CD 2 :

We Owned The Night / Just A Kiss / Dancin' Away With My Heart / Friday Night / When You Were Mine / Cold As Stone / Singing Me Home / Wanted You More / As You Turn Away / Love I've Found In You / Somewhere Love Remains / Heart Of The World /

Need You Now

05/2013
CD CAPITOL 91872 (US)
GOLDEN -

Get To Me / Goodbye Town / Nothin' Like The First Time / Downtown / Better Off Now (That You're Gone) / It Ain't Pretty / Can't Stand The Rain / Golden / Long Teenage Goodbye / All For Love /

Better Man / Generation Away
09/2014
CD Big Machine / Universal 3790439 (US)
747 - Long Stretch Of Love / Bartender / Lie With Me / Freestyle / Down South / One Great Mystery / Sounded Good At The Time / She Is / Damn You Seventeen / 747 / Just A Girl
06/2017
CD CAPITOL 002638602 (US)

Heart Break - Heart Break / You Look Good / Somebody Else's Heart / This City / Hurt / Army / Good Time To Be Alive / Think About You / Big Love In A Small Town / The Stars / Teenage Heart / Home / Famous

11/2019
CD Big Machine 3004708 (US)
OCEAN - What If I Never Get Over You / Pictures / Crazy Love / You Can Do You / What I'm Leaving For / Be Patient With My Love / Alright / Let It Be Love / On A Night Like This / Boots / The Thing That Wrecks You / Mansion / Ocean
© Rocky Productions 16/11/2019