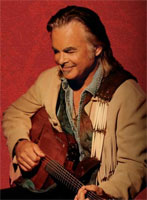 Chanteur Country US né Hal Michael Ketchum, le 9 Avril 1953 à Greenwich (New York). Hal Ketchum est décédé le 23 Novemvre 2020.

Singer/songwriter/drummer Hal Ketchum was raised in the Adirondack Mountains in upstate New York. He began drumming at age 15 and soon joined an R&B trio. At age 17, Ketchum moved to Florida and then to Texas, where he quickly got involved playing at a local dancehall and began to hone his songwriting skills. He went to Nashville in 1986 to write songs, and three years later released his debut album, Threadbare Alibis; soon after, Ketchum signed with Forerunner Music, which eventually led to a record contract with Curb. He released his first Curb album, Past the Point of Rescue, in 1991. "Small Town Saturday Night," the first single, reached number two and the second single, "I Know Where Love Lies," reached number 13. In 1992, he scored two more hits and released his third album, Sure, Love, which produced three Top 20 hits, including the number two "Hearts Are Gonna Roll." The following year, Ketchum joined the Grand Ole Opry. In 1994, he released his fourth album, Every Little Word, which, while not quite as successful as its predecessors, still produced two Top 40 hits. In 1995, he released Greatest Hits; a collection of vintage 1977 sessions titled Hal Yes was due in 1998 but postponed until the following year, when it was finally released as Awaiting Redemption. Working next with Curb Records, Ketchum released Awaiting Redemption in 1999, Lucky Man in 2001, The King of Love in 2003, One More Midnight in 2007, and Father Time in 2008.
Hal Ketchum passed away on November 23, 2020.
https://en.wikipedia.org/wiki/Hal_Ketchum
Talents : Vocals, Songwriter, Guitar, Drums
Style musical : Contemporary Country, Traditional Country, Americana

http://youtu.be/PZFqZ3Hlhrk
Years in activity :
| | | | | | | | | | | | |
| --- | --- | --- | --- | --- | --- | --- | --- | --- | --- | --- | --- |
| 1910 | 20 | 30 | 40 | 50 | 60 | 70 | 80 | 90 | 2000 | 10 | 20 |
DISCOGRAPHY
Singles
04/1991
SP CURB NR-76865 (US)
.

Small Town Saturday Night / Don't Strike A Match

09/1991
SP CURB NR-76892 (US)
.

I Know Where Love Lies / Long Day Comin'

1992
CD CURB CURBD-1002 (US) (promo)

Five O'Clock World

07/1992
CD CURB 76903 (US) (DJ single)
.

Five O'Clock World / Five O'Clock World

1992
CD CURB CURB-1025 (US) (promo)
.

Sure Love

1993
CD CURB CURB-1029 (US) (promo)
.

Hearts Are Gonna Roll

08/1993
CD CURB NR-76915 (US)
.
Mama Knows The Highway / Mama Knows The Highway
04/1994
SP CURB D7-76922 (US)
.

Fall In Love Again / Drive On

1994
CD CURB CUBC005 (UK) (promo)

Past The Point Of Rescue / Small Town Saturday Night / Five O'Clock World

1994
CD CURB CUBP007 (UK) (promo)

Every Little Word / Swing Low

1995
CD CURB

Curb

D-1163 (US) (promo)
Every Little Word
02/1995
CD CURB D7-76929 (US)
.

Stay Forever / Every Little Word

1995
CD CURB CUBC009 (UK)

Stay Forever / Softer Than A Whisper / I Know Where He Lives

08/1995
CD CURB D7-76965(US)
.

Every Little Word / The Veil Of Tears

03/1998
CD CURB D7-73051 (US)

I Saw The Light / When Love Looks At You

2007
CD CURB CUBC133 (UK) (promo)

Just This Side Of Heaven

2007
CD CURB CUBC135 (UK) (promo)

One More Midnight
Albums
1989
CD Sawdust SDLP 4.00749 (GER)
THREADBARE ALIBIS - Twenty Years / Someplace Far Away / Sawmill Song / Bobbie's Song / Better Left Unsaid / Morning Side Of Dawn / Belgian Team / Black Burning Air / Came Down To Ride / Naomi
05/1991
CD CURB D2-77450 (US)
PAST THE POINT OF RESCUE - Small Town Saturday Night / I Know Where Love Lives / Old Soldiers / Somebody's Love / Past The Point Of Rescue / Five O'Clock World / I Miss My Mary / Don't Strike A Match (To The Book Of Love) / Long Day Comin' / She Found The Place
09/1992
CD CURB D2-77581 (US)
SURE LOVE - Sure Love / Mama Knows The Highway / You Lovin' Me / Hearts Are Gonna Roll / Softer Than A Whisper / Ghost Town / Daddy's Oldsmobile / Till The Coast Is Clear / Trail Of Tears / Someplace Far Away
05/1994
CD CURB D2-77660 (US)
EVERY LITTLE WORD - (Tonight We Just Might) Fall In Love / Every Little Word / Swing Low / Another Day Gone / That's What I Get For Losing You / Stay Forever / Walk Away / Veil Of Tears / No Easy Road / Drive On
03/1996
CD CURB D2-77797 (US)
THE HITS - Small Town Saturday Night / Mama Knows The Highway / I Know Where Love Lives / Past The Point Of Rescue / Someplace Far Away / Sure Love / Satisfied Mind / Hang In There Superman / Five O'Clock World / Hearts Are Gonna Roll / Stay Forever / I Miss My Mary / That's What I Get For Losin' You / Wings Of A Dove
05/1998
CD CURB D2-77895 (US)
I SAW THE LIGHT - Girl Like You / I Saw The Light / Tell Me / Long Way Down / When Love Looks Back At You / Love Me Love Me Not / Wave Of Your Hand / Unforgiven / Too Many Memories / For Tonight / You'll Never Hurt That Way Again
05/1999
CD CURB D2-77948 (US)
AWAITING REDEMPTION - Days Of Wonder / Long Way Down / Love Me Love Me Not / Too Many Memories / Awaiting Redemption / Slow Down Sunset / Tell Me / Unforgiven / When Blue Was Just A Color / Turn Of The Wheel / Dear Anna Lee / Lonely Old Me
05/2001
CD CURB D2-78707 (US)
LUCKY MAN - (She's Something) You're Everything / You Can't Go Back / That's How Much You Mean To Me / Loving You Makes Me A Better Man / Don't Let Go / Dreams Of Martina / She's Still In Dallas / Two Of The Lucky Ones / Richest Man In Texas / Livin' Life Lovin' You / Keep Mom And Dad In Love / She Is
03/2003
CD CURB D2-78760 (US)
THE KING OF LOVE - Everytime I Look In Your Eyes / Run Loretta Run / As Long As You Love Me / King Of Love / On Her Own Time / God Makes Stars / Ruby And The Rose / Takin' My Time / Way She Loves Me / Carpenter's Way / Evangeline / Prisoner Of Love / Too Much Of Nothing / Skies Over Dublin / Angel Song
02/2007
CD CURB CURCD 225 (UK)

One More Midnight - One More Midnight / Just This Side Of Heaven / Travelin' Teardrop Blues / Save Tonight For Me / Gonna Start Livin' Again / Alamo / Poor Lila's Ghost / My Love Will Not Change / Forever Mine / One Of The Things / The Moment / Little Red Dress / Medal Of Honor

05/2008
CD CURB D2-79058 (US)
GREATEST HITS - Small Town Saturday Night / Past The Point Of Rescue / I Know Where Love Lives / Sure Love / Hearts Are Gonna Roll / Stay Forever / Mama Knows The Highway / Five O'Clock World / Someplace Far Away / She Is

[radio edit]

09/2008
CD CURB D2-79109 (US)
FATHER TIME - Invisible / Yesterday's Gone / Millionaire's Wife / Million Dollar Baby / Ordinary Day / Continental Farewell / Surrounded By Love / The Day He Called Your Name / The Preacher And Me / If You Don't Love Me, Baby (Just Let Me Go) / Sparrow / Down Along The Guadalupe / Jersey Girl / Strangest Dreams
10/2014
CD Music Road MRRCD 022 (US)

I'm the Troubadour -

Baby I'm Blue / I'm The Troubadour / You Loving Me / I Know Where Love Lives / Stay Forever / Days Like This / Drive On / The Saddle / I Shall Remain / Devil Moon / Sweet Loreen / Lord Help Me Please / Midnight Works For Me / Chickadee / New Mexican Rain
© Rocky Productions 19/01/2021