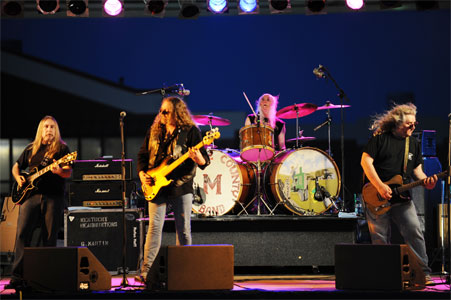 Groupe Country Rock US formé à Edmonton (Kentucky) en 1986 et comprenant Richard Young, Fred Young, Greg Martin, Anthony Kenney (en 1992), Doug Phelps (après1992), Ricky Lee Phelps (après 1992) et Mark Orr (en 1992).

The Kentucky Headhunters created a hybrid of honky tonk, blues, and Southern rock that appealed to fans of both rock and country music. While they were only officially together for a few albums, the band nevertheless left a long shadow. The origins of the Kentucky Headhunters lie in 1968, when Fred and Richard Young began playing together with their cousins Greg Martin and Anthony Kenney at the Youngs' grandmother's home. Mark Orr also later joined them. The first incarnation of the band was called the Itchy Brothers, and the group played together informally for over a decade. After about 13 years, the bandmembers began launching separate careers: Richard Young went off to write songs for Acuff-Rose, while Fred Young began touring with country beauty Sylvia. Martin became a member of Ronnie McDowell's band, while Kenney dropped out of music. In 1985, Martin decided to reassemble the Itchy Brothers. When Kenney declined to rejoin the group, Martin remembered Doug Phelps, who he had met while on tour with McDowell. Phelps joined the new project, which was named the Kentucky Headhunters. Besides Martin and Phelps, the band also included the Young brothers and Doug's brother Ricky Lee Phelps.
The Headhunters started playing twice monthly on the Chitlin' Show, a radio program on WLOC Munfordville, KY. From these 90-minute performances, the Headhunters built up a following. They sent an eight-song demo to Mercury, and soon after, the label signed the group. The original demo tape was remixed and became the basis of the band's first album, 1989's Pickin' On Nashville, which upon its release received overwhelmingly positive reviews and quickly became a hit. "Dumas Walker" reached number 15 in the spring of 1990, followed by the group's biggest hit, the number six "Oh, Lonesome Me." In 1991, the Headhunters released their second effort, Electric Barnyard. The album received mixed reviews, couldn't muster a single, and sold weakly. In summer 1992, the Phelps brothers left the group to form Brothers Phelps, a more traditional country group. The remaining Headhunters brought ex-Itchy Brothers Anthony Kenney and Mark Orr to the group, and the rehashed lineup released Rave On! in 1993. The album marked a progression towards bluesy Southern rock, which came to fruition with That'll Work later that same year. In 1996, Doug returned on lead Vocalss, and a year later the band issued Stompin' Grounds. Songs From the Grass String Ranch followed in 2000, and Soul appeared in spring 2003. Big Boss Man was released in 2005 and Flying Under the Radar in 2006, both from CBUJ Entertainment. Dixie Lullabies, the group's 12th album, and their first studio recording of new original material since 2003, appeared from Red Dirt Records in 2011.
http://www.kentuckyheadhunters.com/
Talents : Richard Young : Rhythm Guitar - Fred Young : Drums - Greg Martin : Lead Guitar - Anthony Kenney : Bass Guitar - Doug Phelps : Bass Guitar - Ricky Lee Phelps : Lead Singer - Mark Orr : Lead Singer
Style musical : Country Rock, Southern Rock, Contemporary Country

http://youtu.be/vv8n5psg2D4
Years in activity :
| | | | | | | | | | | |
| --- | --- | --- | --- | --- | --- | --- | --- | --- | --- | --- |
| 1910 | 20 | 30 | 40 | 50 | 60 | 70 | 80 | 90 | 2000 | 10 |
DISCOGRAPHY
Singles
09/1989
CD MERCURY

874 744-7 (US)

.

Walk Softly On This Heart Of Mine /

Skip A Rope
01/1990
CD MERCURY

876 536-7 (US)

.

Dumas Walker /

High Steppin' Daddy
05/1990
CD MERCURY

875 450-7 (US)

.

Oh Lonesome Me /

My Daddy Was A Milkman
09/1990
CD MERCURY

878 214-7 (US)

.

Rock 'n' Roll Angel /

Rag Top
04/1991
CD MERCURY

868 122-7 (US)

.

The Ballad Of Davy Crockett /

Smooth
06/1991
CD MERCURY

868 418-7 (US)

.

With Body And Soul /

Some Folks Like To Steal
09/1991
CD MERCURY

868 760-7 (US)

.

It's Chitlin' Time /

Dumas Walker
11/1991
CD MERCURY

866 134-7 (US)

.

Only Daddy That'll Walk The Line /

Walk Softly On His Heart Of Mine
02/1993
CD MERCURY

864 808-7 (US)

.

Honky Tonk Walkin' /

Redneck Girl
05/1993
CD MERCURY

862 150-7 (US)

.

Dixie Fried /

Celina, Tennessee
1997
CD BNA

64782-7 (US)

Singin' The Blues / Kentucky Wildcat
Albums
© Rocky Productions 11/01/2015