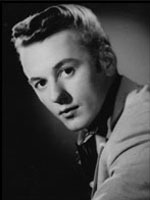 Chanteur Rock 'n' Roll US né Louis Terence Josie, le 14 Juillet 1938 à Medina (Ohio), Lou Josie a enregistré pour Argo Records de Chicago (Illinois) (58), Herald (58) et Baton Records de New York (59). Il a aussi utilisé le nom de Jimmy King.

Born July 14th, 1938 in Medina Ohio, Louis Terence Josie is a son of a steel worker. His mother was a homemaker and loved country music.
Lou spent a lot of his younger years listening to Alan Freed on WJW out of Cleveland, Ohio. Lou also was privleged to see Elvis Presley perform live in Cleveland. Those early experiences along with his mother's radio convinced Lou that he was going to be a singer songwriter.
Lou became a resident session guitartist at Cleveland's Audio Recording Studio, allowing him to record songs that he was writing, and producing such singles as "Why Did You Leave Me" and " Some One Else Instead".
Argo and Chess record labels produced some of Lou's earlier recordings such as "Breezin' Out" and "Time's A Wastin'". The sleeping giant of that time was the song "Vacation's Over" which did not come available until 1978.
Throughout the 50s and 60s Lou performed at Englands "Albert Hall" and "The Cavern" as part of the instrumental group "Bee Bumble and the Stingers". Lou also performed his single act with such greats as Chuck Berry, Eddie Cochran, Little Richard, Ritchie Valens, Eddie Arnold, and many more of that era...
Lou has had many great performers record his songs - "Hey Harmonica Man" (Stevie Wonder), "Fugitive" (Ventures), "Blue Side of the Gray" (Atlanta), and his biggest hit song "Midnight Confessions" (The Grass Roots).
Lou Josie is a member of the Rock-A-Billy Hall of Fame. His songs have transcended the Rock-A-Billy years into the Rock and Roll years, and are still being recorded today.
Talents : Vocals, Guitar, Songwriter
Style musical : Rock 'n' Roll, Doo Wop
Years in activity :
| | | | | | | | | | | | |
| --- | --- | --- | --- | --- | --- | --- | --- | --- | --- | --- | --- |
| 1910 | 20 | 30 | 40 | 50 | 60 | 70 | 80 | 90 | 2000 | 10 | 20 |
DISCOGRAPHY
Singles
Unissued Track
Albums
© Rocky Productions 18/12/2008