Groupe Doo Wop et Rhythm 'n' Blues formé en 1959 à Richmond (Virginie). Les Jarmels comprenaient : Nathaniel Ruff (né en 1939, décédé dans les années 1990), Ray Smith (né en 1941), Paul Burnett (né en 1942, décédé le 23 mars 2001), Earl Christianson (né en 1940, décédé dans les années 60) et Tom Eldridge (né 1941, décédé le 19 juin 2000).

The Jarmels were one of those one-hit wonder groups, responsible for a number 12 single in 1961 entitled "A Little Bit of Soap." If none of their other five singles did remotely as well, that song has lingered in the public consciousness, partly with help from periodic new hit versions by the Exciters in the mid-1960s and Showaddywaddy in England during the 1980s.
The Jarmels came from Richmond, Virginia, where the five members had all begun singing together in church and school. Nathaniel Ruff (b. 1939), Ray Smith (b. 1941), Paul Burnett (b. 1942), Earl Christian (b. 1940), and Tom Eldridge (b. 1941) may have come from Virginia, but the name of the group they formed in the late 1950s came from a street in Harlem. Their manager was Jim Gribble, who also managed the Mystics and the Passions, and brought The Jarmels to Laurie Records in New York in 1961. They were a rather unusual addition to the Laurie roster, for most of the company's artists were white, and sounded more pop than R&B-influenced. The Jarmels combined pop and R&B influences, most notably the sound of the post-1958 Drifters.
Their first single, "Little Lonely One," was a hit in New York but never charted nationally. Their second record, "A Little Bit of Soap," written by future Neil Diamond/Van Morrison manager Bert Berns, (who also produced the Drifters), got to number 12 in America in the summer of 1961 during a six-week run on the charts. This was The Jarmels' first and last chart success, none of their four subsequent singles charting at all. They recorded their last single, "Come on Girl," in 1963, and the group soldiered on for a while into the mid-1960s with numerous personnel changes -- their later membership included Major Harris, who subsequently became part of the Delfonics.
Talents : Nathaniel Ruff : Tenor - Ray Smith : Baritone - Paul Burnett : ? - Earl Christianson : Tenor - Tom Elridge : Bass
Style musical : Doo Wop, Rhythm 'n' Blues, Pop

https://youtu.be/nxmcWS5l9JE
Years in activity :
| | | | | | | | | | | |
| --- | --- | --- | --- | --- | --- | --- | --- | --- | --- | --- |
| 1910 | 20 | 30 | 40 | 50 | 60 | 70 | 80 | 90 | 2000 | 10 |
DISCOGRAPHY
Singles & EP
03/1961
SP LAURIE 3085 (US)
.
1961
SP TOP RANK T 1054 (DK)
Little Lonely One / She Loves To Dance
07/1961
SP LAURIE 3098 (US)
.
A Litlle Bit Of Soap / The Way You Look Tonight
11/1961
SP LAURIE 3116 (US)
.
I'll Follow You / Gee Oh Gosh
1961
EP TOP RANK 20.008 (F)
Little Lonely One / She Loves To Dance / A Litlle Bit Of Soap / The Way You Look Tonight (Swing Time)
1961
EP TOP RANK 27.053 (S)

Santa Lucia (Little Lonely One) / A Ella Le Gusta Bailar (She Loves To Dance) / Un Trocito De Jabon (A Little Bit Of Soap) / Como Estas Tu Esta Noche (The Way You Look Tonight)

04/1962
SP LAURIE 3124 (US)
.

Red Sails In The Sunset / Loneliness

09/1962
SP LAURIE 3141 (US)
.

One By One / Little Bug

06/1963
SP LAURIE L-3174 (US)
.
Come On Girl / Keep Your Mind On Me
1963
EP VOGUE EPL 8091 (US)
CHIFFONS : He's So Fine / Oh My Love / JARMELS : Little Bug / One By One
1978
SP LAURIE DOUBLE GOLD LDG 109 (US)
.
A Litlle Bit Of Soap (JARMELS) / Baby Let's Wait (

Royal Guardsmen

)
1984 ?
SP COLLECTABLES COL 3058 (US)
.
The Way You Look Tonight (JARMELS) / I Have A Boyfriend (CHIFFONS)
| | |
| --- | --- |
| | |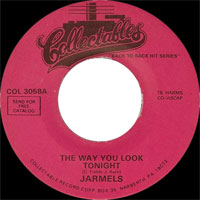 Need Information
| | | |
| --- | --- | --- |
| 19?? | Need info | Why Am I A Fool For You |
| 19?? | Need info | You Don't Believe A Word I Say |
Albums
1986
LP 12" ACE ‎CH 174 (UK)

The Complete Jarmels -

A Little Bit Of Soap / She Loves To Dance / One By One / Keep Your Mind On Me / Come On Girl / Why Am I A Fool For You / The Way You Look Tonight / Little Lonely One / Gee Oh Gosh / Red Sails In The Sunset / Loneliness / I'll Follow You / You Don't Believe A Word I Say / Little Bug
1990
CD ACE 929 (UK)
THE MYSTICS MEETS THE JARMELS - The MYSTICS & The JARMELS - The White Cliffs Of Dover / All Through The Night / A Sunday Kind Of Love / It's Only A Paper Moon / So Tenderly / Star-Crossed Lovers / Again / Don't Take The Stars / Darling I Know / To Think Of You Again (I Begin) / Over The Rainbow / Let Me Steal Your Heart Away / Hushabye / Blue Star / Adam & Eve / Goodbye Mister Blues / A Little Bit Of Soap / She Loves To Dance / One By One / Keep Your Mind On Me / Come On Girl / Why Am I A Fool For You / The Way You Look Tonight / Little Lonely One / Gee Oh Gosh / Red Sails In The Sunset / Loneliness / I'll Follow You / You Don't Believe A Word I Say / Little Bug
08/1994
CD COLLECTABLES COL-5044 (US)
14 GOLDEN CLASSICS - A Little Big Of Soap / She Loves To Dance / One By One / Keep Your Mind On Me / Come On Girl / Why Am I A Fool For You / The Way You Look Tonight / Little Lonely One / Gee Oh Gosh / Red Sails In The Sunset / Loneliness / I'll Follow You / You Don't Believe A Word I Say / Little Bug
01/2011
CD CD

Baby

/ Legends 5637730456 (US)

Legendary Jarmels - 50 Years -

You're Everything To Me / Who Would Have Thought / Please Be True / Cool / Love Song For You / More Soap / I Will Return / I Set You Free / Patient And Kind / Jesus Got My Back
© Rocky Productions 27/10/2014