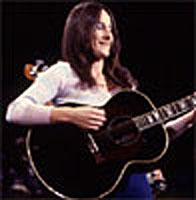 Chanteuse Country US née le 3 Février 1949 à Jacksonville (Floride). Linda Hargrove a aussi enregistré un album sous son nom de mariage, Linda Bartholomew. Elle est décédée le 24 Octobre 2010.

Linda Hargrove was a singer, songwriter, and multi-instrumentalist who forever seemed to be in the wrong place at the wrong time. In the mid-'70s, she was one of the first Nashville artists to blend country sounds with a modern pop/rock sheen; by the time that such a hybrid came to dominate the charts a decade later, however, Hargrove was largely out of the music industry.
Born in Tallahassee, FL, on February 3, 1949, Hargrove began playing piano and guitar while still a preteen. Throughout her formative years, she was largely unresponsive to country music, preferring instead pop and R&B, and by the tail end of the 1960s was performing in a local blue-eyed soul band. It was not until the release of Bob Dylan's Nashville Skyline album that she became fascinated by the possibilities which country music offered; when another Florida group, After All, decided to record seven of Hargrove's songs, she followed the band to Nashville in 1970. A year later, Sandy Posey recorded Hargrove's "Saw Someone Else Before Me," which brought her to the attention of producers Billy Sherrill and Pete Drake, who helped the fledgling performer find work as a session guitarist and songwriter.
In 1973, Leon Russell recorded a pair of Hargrove tunes for his country album Hank Wilson Is Back. In the same year, Drake introduced her to ex-Monkee Michael Nesmith; together with James Miner, Hargrove and Nesmith co-wrote the song "Winonah," which the latter recorded for his Pretty Much Your Standard Ranch Stash album. Nesmith also signed Hargrove to his short-lived experimental C&W label Countryside; she recorded an LP for the label, but it never saw the light of day after Countryside was dropped by its parent company, Elektra/Asylum. Elektra did, however, release her 1973 album Music Is Your Mistress, as well as its follow-up, the next year's Blue Jean Country Queen.
In 1975, Hargrove moved to Capitol Records, for whom she released her only Top 40 hit, "Love Was (Once Around the Dance Floor)," from the LP Love, You're the Teacher. In the same year, Johnny Rodriguez took her composition "Just Get Up and Close the Door" to the top of the charts. She released two more country albums, 1976's Just Like You and 1977's Impressions, but found little commercial success. Shortly thereafter, she began to focus exclusively on inspirational music, and under her married name of Linda Bartholomew released the Christian album A New Song in 1981. She was largely out of music for the next several years until issuing another inspirational record, Greater Works, in 1987. Following its release, she again left the industry due to health problems; after recovering from leukemia, in the mid-'90s she began making tentative steps towards resuming her career as a country performer. Linda Hargrove died Oct. 24, 2010.
https://en.wikipedia.org/wiki/Linda_Hargrove
Talents : Vocals, Guitar, Songwriter
Style musical : Country Rock, Country-Pop, Urban Cowboy

https://youtu.be/37TNwvOKvJ0
Years in activity :
| | | | | | | | | | | | |
| --- | --- | --- | --- | --- | --- | --- | --- | --- | --- | --- | --- |
| 1910 | 20 | 30 | 40 | 50 | 60 | 70 | 80 | 90 | 2000 | 10 | 20 |
DISCOGRAPHY
Singles
| | | |
| --- | --- | --- |
| 06/1973 | SP ELEKTRA EK-45854 (US) | Fallen Angel / My Secret Self |
| 10/1973 | SP ELEKTRA EK-45870 (US) | Let It Shine / The Farmer's Former Wife |
| 02/1974 | SP ELEKTRA EK-45877 (US) | What If We Were Runnin' Out Of Love / New York City Song |
| 08/1974 | SP ELEKTRA E-45204 (US) | Blue Jean Country Queen / Where Do I Begin |
| 11/1974 | SP ELEKTRA E-45215 (US) | I've Never Loved Anyone More / Grandma Was The Motor |
| 10/1975 | SP CAPITOL 4153 (US) | Love Was ( Once Around The Dance Floor) / Half My Hearts In Texas |
| 02/1976 | SP CAPITOL 4228 (US) | Love You're The Teacher / Save The Children |
| 06/1976 | SP CAPITOL 4283 (US) | Fire At First Sight / Twenty Twenty Hindsight |
| 10/1976 | SP CAPITOL 4355 (US) | Most Of Fall / Only Man Made Thing |
| 02/1977 | SP CAPITOL 4390 (US) | Down To My Pride / Old Fashioned Love |
| 06/1977 | SP CAPITOL 4447 (US) | Mexican Love Songs / Not Even For Love |
| 09/1978 | SP RCA PB-11378 (US) | You Are Still The One / I Forgave |
| 01/1979 | SP RCA PB-11493 (US) | Only One Of You I've Got / Carnival Of Love |
Albums
1973
LP 12" ELEKTRA EKS-75063 (US)
MUSIC IS YOUR MISTRESS - Fallen Angel / New York City Song / Let It Shine / Sing Feelin' Sing / My Secret Self / Farmer's Former Wife / Music Is Your Mistress / I Feel Free Now / Couples / Don't Let It Bother You / Song I Was Too Foolish To Believe / When He Leads His Lambs Away
1974
LP 12" ELEKTRA 7E-1013 (US)
BLUE JEAN COUNTRY QUEEN - Blue Jean Country Queen / Lonesome City Blues / City Of The Angels / Bye Bye Babylon / Lilies Of The Field / What If We Were Runnin' Out Of Love / Keep Me Warm / I've Never Loved Anyone More / Where Do I Begin / I Don't Blame My Papa / Grandma Was The Motor / Dirty Cheezy Jeans
12/1975
LP 12" CAPITOL ST-11463 (US)
LOVE YOU'RE THE TEACHER - Love Was (Once Around The Dance Floor) / All Alone In Austin / Time Wounds All Heels / Love You're The Teacher / Save The Children / You Just Loved The Leavin' Out Of Me / I Wanna Do It Right The First Time / (Just Get Up And) Close The Door / Half My Heart's In Texas / To Hear My Family Sing
09/1976
LP 12" CAPITOL ST-11564 (US)
JUST LIKE YOU - Most Of All / Your Love Sure Saved Me From Myself / Old Fashioned Love / Just Like You / We've Gone As Far As We Can Do / Fire At First Sight / Down To My Pride / 20-20 Hindsight / Winonah / Only Man Made Thing In Heaven Are The Scars On Jesus' Hand
11/1977
LP 12" CAPITOL ST-11685 (US)
IMPRESSIONS - If You Will Walk With Me / Hangin' On / Star-Crossed Lovers / Flicker Of The Flame / Impressions / Mexican Love Songs

/

Not Even For Love / I'd Rather Keep My Distance (And Your Mem'ry) / Nashville You Ain't Hollywood / Mem'ries
1981
LP 12" FIG TREE 1001 (US)
A NEW SONG - Linda BARTHOLOMEW - New Song / New Creation / His Time / I Just Lift Them Up / Praise The Lord No 2 / Some Said It Thundered / He Died For You / Justified / Jesus I Will / Praise The Lord No 1
10/2005
LP 12" PANACEA ? (US)
ONE WOMAN'S LIFE - God Bless The Wine / One Woman's Life / Tennessee Whiskey / I've Never Loved Anyone More / Hole In The Universe / Pretty Little Panacea / Other Side Of Goodbye / Never Crossed A Bridge / Surrounded By My Own / Dreamin' / Pour It Out / I'll Live On
© Rocky Productions 5/02/2007