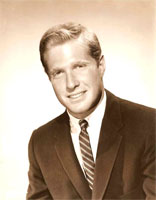 Acteur, compositeur et chanteur US né Paul Schwartz, le 20 Août 1937 à Oklahoma City (Oklahoma).

Paul Hampton (born August 20, 1937) is an American actor, singer, lyricist and writer. He is listed as one of one hundred major architects of American rock and roll in the British rock journal "Footsoldiers and Kings." While he was a sophomore at Dartmouth College, he was signed to Columbia Records and Columbia Pictures at the same time to write music with Hal David and Burt Bacharach. In 1960, with Bacharach he co-composed and performed "Two Hour Honeymoon". After this initial outing he co-wrote hits for Don Gibson ("Sea of Heartbreak"), Gene Pitney ("Donna Means Heartbreak"), Johnny Tillotson ("I Rise, I Fall")and hits for overseas artists ("Angry at the Old Oak Tree.") Also he wrote the theme for "My Mother the Car" and sang it under the group name Albuquerque. He made two albums, "Beautiful Beginnings" and "Rest Home For Children."
Some of his songs have been recorded by Sammy Davis Jr., Bette Midler, Eddy Arnold, Tom Jones, Merle Haggard, Ricky Nelson, Elvis Presley, Gene Pitney and Johnny Cash.
His film career began in 1958 starring in Senior Prom. Many television appearances ensued such as The Doris Day Show, The Smothers Brothers Comedy Hour, McCloud, Ironside, Combat!, Benson and others. Some notable movie appearances were in Lady Sings the Blues, Hit!, More Dead than Alive," and the award-winning television show Never Forget. Hampton continues to act and compose today (2010).
In 2008 Tony award winning actress and singer Idina Menzel recorded Hampton's song "Hope" for the Major League Baseball Stand Up To Cancer charitable program.
He is the ASCAP award-winning songwriter for "Sea of Heartbreak", used in the soundtrack for the films The Butcher Boy, Perfect World, Heartbreak Ridge and Clay Pigeons. In 2010 singer Rosanne Cash covered the song in a duo with Bruce Springsteen which received a Grammy nomination and was promoted as the single from her album The List.
https://en.wikipedia.org/wiki/Paul_Hampton
Talents : Actor, Singer, Lyricist, Writer
Style musical : Rockabilly
Years in activity :
| | | | | | | | | | | |
| --- | --- | --- | --- | --- | --- | --- | --- | --- | --- | --- |
| 1910 | 20 | 30 | 40 | 50 | 60 | 70 | 80 | 90 | 2000 | 10 |
DISCOGRAPHY
Singles
11/1957
SP COLUMBIA 4-41037 (US)
.
Play It Cool / Classy Babe
01/1958
SP COLUMBIA 4-41089 (US)
.
Rockin' Doll / Please Love Me
03/1958
SP COLUMBIA 4-41145 (US)
.
Slam Bam Thank Ya Ma'am / Live A Life Of Love
09/1958
SP COLUMBIA 4-41254 (US)
.
The Longer I Love You / Love
12/1960
SP TOP RANK 2095 (US)
.
Don't Pretend / Trick
11/1961
SP CAMEO C 204 (US)
.
Nothing's Impossible (If You Really Want It Bad Enough) / Maybe Tomorrow
07/1962
SP WARNER BROS. 5290 (US)
.
If You Don't Want Me Now (You Can't Have Me Later) / When Will Your Heart Change Its Ways
02/1963
SP WARNER BROS. 5340 (US)
.
A Chance To Belong (with Cinthy

Churchill

) / It's Not There Anymore
07/1963
SP BATTLE BF-45919 (US)
I'm In Love With A Bunny (At The Playboy Club) / Bandera
04/1966
SP DECCA 31928 (US)
.
What Good Am I / One Drownin' Man
01/1967
SP A & M 831 (US)
.
Echoes From The Thunder / Let's Not Take The Lovin' Out Of Love
11/1968
SP DUNHILL D-4167 (US)
The Long Drive Home / Somebody - Someone - Something
11/1969
SP Warner Bros. / Seven Arts 7353 (US)
.
Fast Wind / When Rockets Don't Explode
1974
SP Crested Butte CBA-1205 (US) (promo)
.
Mercy Merci [mono] / Mercy Merci [stereo]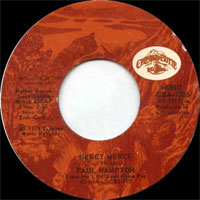 © Rocky Productions 6/05/2014