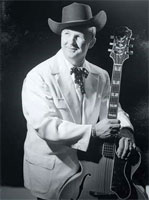 Chanteur US né Sidney Louis Gunter. Hardrock, le 27 Février 1925 à Birmingham (Alabama). Hardrock Gunter forme son premier groupe à l'age de 13 ans: les "Owl Ramblers". Il devient ensuite guitariste des "Golden River Boys" jusqu'en 1941. En 1950, il enregistre son premier disque chez Bama Records. Hardrock Gunter, qui n'a jamais connu de succès, a aussi enregistré chez MGM, Decca, Sun, Emperor, Seeco, D, Gee Gee, Starday, Cullman, et Essgee Records. Il a pris sa retraite en 1973. Hardrock Gunter est décédé le 15 Mars 2013.

Though he doesn't get the same attention as other rock & roll pioneers, Hardrock Gunter was one of the earliest country boogie artists to start shifting the music into full-fledged rockabilly. A native of Birmingham, AL, he was born Sidney Louis Gunter Jr. in February 27, 1925, and earned his nickname when a car hood fell on his head with no noticeable effect, leading to the observation that it was as hard as a rock. An admirer of Hank Penny, Gunter formed his first band, the Hoot Owl Ramblers, at age 13, and also played talent shows under the name Goofy Sid. In 1939, he joined Happy Wilson's Golden River Boys, with whom he remained for several years; after Gunter and the other members served in World War II, they reorganized the band in 1946. Gunter began appearing on a local children's television show in 1949, and the following year he got a chance to record for the Bama label. His first release, 1950's "Birmingham Bounce," was tabbed by a small minority of critics as the first (or one of the first) rock & roll records, even prior to Jackie Brenston's "Rocket 88." It was covered by Red Foley for a hit, and recorded by the likes of Amos Milburn and Lionel Hampton as well.
Gunter signed with Foley's label, Decca, and his 1951 duet with Roberta Lee, "Sixty Minute Man," was one of the first country records to cross over to R&B audiences. He released several more singles on Decca through 1953, also working a couple of years as a DJ in Wheeling, WV. He went on to cut some material for MGM and Sun, the latter of which included some of his best-known singles -- "Gonna Dance All Night" b/w "Fallen Angel" (1954) and "Juke Box Help Me Find My Baby" (1956). The latter song originally appeared on a smaller label, but was leased and re-edited by Sam Phillips without success. Gunter recorded for several other labels during the late '50s and early '60s, including King, Emperor, Island, Starday, and Seeco, without much commercial success. He quit the music business in 1964 to run an insurance agency. Hardrock Gunter died March 15, 2013.
http://www.hardrockgunter.com/
https://en.wikipedia.org/wiki/Hardrock_Gunter
Talents : Vocals, Guitar, Songwriter
Style musical : Rockabilly, Country Boogie, Rock 'n' Roll
Years in activity :
| | | | | | | | | | | | |
| --- | --- | --- | --- | --- | --- | --- | --- | --- | --- | --- | --- |
| 1910 | 20 | 30 | 40 | 50 | 60 | 70 | 80 | 90 | 2000 | 10 | 20 |
DISCOGRAPHY
78 t. & Singles & EP
03/1950
78 t. & SP BAMA 104 (US)
.
Birmingham Bounce / How Can I Believe You Love Me
1950
78 t. & SP BAMA 201 (US)
.

Gonna Dance All Night / Why Don¢t You Show Me That You Care

1950
78 t. & SP BAMA 202 (US)
.

Dad Gave My Hog Away / Lonesome Blues

01/1951
78 t. & SP BULLET 725 (US)
.

Hardrock GUNTER & The PLEBBLES - My Bucket's Been Fixed / The Little Things You Do

03/1951
78 t. & SP BULLET 727 (US)
.

Rifle Belts And Bayonets / Maybe Baby You'll Be True

02/1951
78 t. DECCA 46300 (US)
.
Boogie Woogie On A Saturday Night / Honky Tonk Blues
02/1951
SP DECCA 9-46300 (US)
.

Boogie Woogie On A Saturday Night / Honky Tonk Blues

08/1951
78 t. DECCA 46350 (US)
.
I've Done Gone Hog Wild / I Believe That Mountain Music
08/1951
SP DECCA 9-46350 (US)
.

I've Done Gone Hog Wild / I Believe That Mountain Music

09/1951
78 t. DECCA 46363 (US)
.
Hardrock GUNTER & Roberta LEE - Sixty Minute Man / Tennessee Blues
09/1951
SP DECCA 9-46363 (US)
.
Hardrock GUNTER & Roberta LEE - Sixty Minute Man / Tennessee Blues
10/1951
78 t. DECCA 46367 (US)
.
Dixieland Boogie / If I Could Only Live My Dreams
10/1951
SP DECCA 9-46367 (US)
.

Dixieland Boogie / If I Could Only Live My Dreams

11/1951
78 t. DECCA 46383 (US)
.
Hesitation Boogie / Don't You Agree
11/1951
SP DECCA 9-46383 (US)
.
Hesitation Boogie / Don't You Agree
03/1952
78 t. DECCA 46401 (US)
.
Silver And Gold / Senator From Tennessee
03/1952
SP DECCA 9-46401 (US)
.

Silver And Gold / Senator From Tennessee

05/1952
78 t. DECCA 28191 (US)
.
Honky Tonk Baby / I'm Looking For Another You
05/1952
SP DECCA 9-28191 (US)
.
Honky Tonk Baby / I'm Looking For Another You
06/1953
78 t. MGM 11520 (US)
.
Like Lovers Do / Naptown Indians
06/1953
SP MGM K11520 (US)
.

Like Lovers Do / Naptown Indians

10/1953
78 t. MGM 11596 (US)
.
Sunday Angel Side / Where Have You Been
10/1953
SP MGM K11596 (US)
.
Sunday Angel Side / Where Have You Been
12/1953
SP DECCA 9-28932 (US)
.
You Played On My Piano / Perfect Woman
05/1954
78 t. & SP SUN 201 (US)
.
Gonna Dance All Night / Fallen Angel
12/1954
78 t. KING 1416 (US)
.
I Won't Tell Who's To Blame / First, Last And Always
12/1954
SP KING 45-1416 (US)
.

I Won't Tell Who's To Blame / First, Last And Always

10/1955
SP KING 45-1505 (US)
.
I'll Give 'em Rhythm / I Put My Britches On Just Like Everybody Else
01/1956
SP KING 48-4858 (US)
.

Before My Time / Turn The Other Cheek

07/1956
SP CROSS COUNTRY CX524 (US)
.
The RHYTHM ROCKERS / Vocals, Hardrock GUNTER - Juke Box, Help Me Find My Baby / Fiddle Bop
09/1956
78 t. & SP SUN 248 (US)
.
The RHYTHM ROCKERS / Vocals, Hardrock GUNTER - Juke Box, Help Me Find My Baby / Fiddle Bop
1956
EP BRUNSWICK OE 9167 (UK)

Mountain Music Vol.1 -

I Believe That Mountain Music Is Here To Stay / If I Could Only Live My Dreams / I've Done Gone Hog Wild / I'm Looking For Another You
03/1957
SP EMPEROR 45-112 (US)
.
HARDROCK & The RHYTHM ROCKERS with Buddy DURHAM SINGERS - Whoo ! I Mean Whee ! / We Three
01/1958
SP ISLAND IR6 (US)
.
Sidney Jo LEWIS - Boppin' To Grandfather's Clock / Beggars Can't Be Choosers
1958
SP FLAG F-112 (US)
.
RHYTHM ROCKERS - My Heart Is A Fireplace / Motivatin'
1959
SP CULLMAN 6406 (US)
.

Let Me Be A Fool / It Will Show

03/1959
SP CULLMAN 6410 (US)
.
If You Want To Be A Queen / Is It Too Late
1959
EP ISLAND J80H7543/4 (US)
.
W.W.V.A JAMBOREE SPECIAL - Bill

Browning

:

Gonna Be A Fire / Down In The Holler Where Sally Lives / COOK BROTHERS : Juke Box Play For Me / You Gotta Go / Buddy

Durham :

You're Just A Baby / Ida Red Rock / Hardrock GUNTER : Birmingham Bounce / Rock-A-Bop Baby
01/1960
SP D 1112 (US)
.

Hardrock Gunter & The Pop-Corn Poppers - Jumping Mule / Traveling

1961
SP GEE GEE 104 (US)
.

Spring Has Sprung / The Summer

02/1962
SP EMPEROR 45-EM-B-H-1-62 (US)
.

Hardrock

& The

Rhythm Rockers

- Hillbilly Twist / As Long As You're Happy (instr.)
02/1962
SP STARDAY 581 (US)
.
Hardrock GUNTER & Buddy DURHAM - Hillbilly Twist / As Long As You're Happy (instr.)
1964 ?
EP 33 t. ROBERTS R.R.K.R. 1610 (US)

Kenny ROBERTS & Hardrock GUNTER - America's King Of The Yodelers - Going Down The Country / I've Lived A Lifetime For You / That's My Pa / She Taught Me To Yodel / Chocolate Ice Cream Cone / Slide Them Jugs Down The Mountain

1971
SP Essgee SG-871 (US)
.

Guitar On The Mountain / Pussyfootin'

1972
SP Essgee SG-372 (US)
.

Before My Time / Steel Guitar Rag

1972
EP 33 t. Heather Enterprises SG-172 (US)

Im So Lonesome / A Mansion of The Hill / Hey Good Lookin' / I Saw The Light / Cold Cold Heart

1973
SP MORGAN 273 (US)
.

Don't Hold No Benefit For Me / Come Back And See

1979 ?
SP ROLLERCOASTER RRC2006 (UK)
Jukebox Help Me Find My Baby / Fiddle Bop
1981
SP Longhorn HG4501 (US)
.

Don't Bite The Hand That's Feeding You / Rebel Guitar Picker

04/2005
SP HOMEBREW HB 7 (NL)
HARDROCK GUNTER & THE RAGTIME WRANGLERS - Safiltha Budsuckle / Rockin' In The Cradle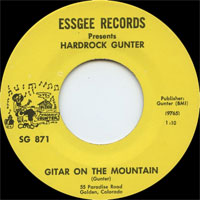 Albums
| | | | |
| --- | --- | --- | --- |
| 1960 | LP 12" SEECO CELP-422 (US) | | SONGS THEY CENSORED IN THE HILLS - Blood Shot Eyes / I'll Go Chasin' Women / She Came Runnin' Down The Mountain / Rye Whiskey, Rye Whiskey / It May Be Silly (But Ain't It Fun" / The Freckle Song / Oh! What a Beauty! / A Little Bit Ain't Gonna Help Us Much / Mountain Dew / With Only Two Hairs On His Chest / Take Away Your Rosy Lips / The Right Key But The Wrong Keyhole / Conversation With A Mule / Out Behind The Barn |
| 1961 | LP 12" GEE GEE LP-161 (US) | | Hardrock Gunter And His Town and Country Music Play Popcorn Dancing For The Social Set - Jealous Heart / Cold, Cold Heart / Your Cheatin' Heart / Pins And Needles / A White Sport Coat / Bonaparte's Retreat / Tennessee Waltz / Half As Much / Singing The Blues / Chattanooga Shoe Shine Boy / Nobody's Lonesome For Me / Jambalaya |
| 1972 | LP 12" Heather Enterprises LSG-172 (US) | | The Music Of Hank Williams - Hey Good Lookin' / Your Cheatin' Heart / Cold, Cold Heart / Jambalaya / A Mansion On The Hill / I'm So Lonesome I Could Cry / I Saw The Light / Ramblin' Man / Weary Blues From Waitin' / Why Don't You Love Me / Baby We're Really In Love / I'm A Long Gone, Daddy |
| 02/1984 | LP 12" CHARLY CR 30228 (UK) | | BOOGIE WOOGIE ON A SATURDAY NIGHT - Boogie Woogie On A Saturday Night / I've Done Gone Hog Wild / Dixieland Boogie / Hesitation Boogie / Honky Tonk Blues / Tennesse Blues / The Senator From Tennessee / You Played On My Piano / Sixty Minute Man (with Roberta LEE) / Honky Tonk Baby (with Roberta LEE) / Silver & Gold / Perfect Woman / Don't You Agree / I'm Looking For Another You / If I Could Only Live My Dream / I Believe That Mountain Music Is Here To Stay |
| 1994 | LP 12" Cowgirlboy LP-5119 (GER) | | Bloodshot Eyes - Like The Lovers Do / Naptown Indiana / Blood Shot Eyes / But I'll Go Chasin' Women / She Came Runnin' Down The Mountain / Rye Whiskey / It May Be Silly / Freckle Song / Oh What A Beauty / Little Bit Ain't Gonna Help Us Much / Mountain Dew / With Only Two Hairs On His Chest / Take Away Your Rosy Lips / Right Key But The Wrong Keyhole / Conversation With A Mule / Out Behind The Barn |
| 08/1999 | CD HYDRA BCK-27108 (GER) | | I'LL GIVE 'EM RHYTHM - DANCE-O-RAMA - Boogie Woogie On A Saturday Night / I've Done Gone Hog Wild / I Believe That Mountain Music Is Here To Stay / Honky Tonk Blues / Sixty Minute Man / Hesitation Boogie / Dixieland Boogie / Silver And Gold / The Senator From Tennesee / You Played On My Piano / Perfect Woman / Honky Tonk Baby / Where Have You Been / Like Lovers Do / Naptown End / First, Last, And Always Game Of Love / I'll Give 'Em Rhythm / Turn The Other Cheek / I Put My Britches On Just Like Everybody Else / It May Be Silly (But Ain't It Fun) / A Little Bit Ain't Gonna Help Us Much / Pins And Needles / A White Sports Coat / Half As Much / Singing The Blues / Colubus Stockade Blues / Hillbilly Twist / Music Music Music / Rebel Guitar Picker |
| 11/2000 | CD Orchard 5255 (US) | | HARDROCK GUNTER - If You Ever Leave Me, I'm Going With You (Hardrock GUNTER, WISDOM, JOHN & His TONKIN' HONKERS) / Walking The Floor Over You (Hardrock GUNTER, WISDOM, JOHN & His TONKIN' HONKERS) / Pistol Packin' Mama (Hardrock GUNTER, WISDOM, JOHN & His TONKIN' HONKERS) / When My Blue Moon Turns To Gold Again (Hardrock GUNTER, WISDOM, JOHN & His TONKIN' HONKERS) / Wabash Cannonball (Hardrock GUNTER, WISDOM, JOHN & His TONKIN' HONKERS) / I'm My Own Grandpaw (Hardrock GUNTER, WISDOM, JOHN & His TONKIN' HONKERS) / Kansas City (Hardrock GUNTER, WISDOM, JOHN & His TONKIN' HONKERS) / Bill Bailey - Just Because (Hardrock GUNTER, WISDOM, JOHN & His TONKIN' HONKERS) / 5 Foot 2 - Please Don't Talk About Me (Hardrock GUNTER, WISDOM, JOHN & His TONKIN' HONKERS) / Just Because (Hardrock GUNTER, WISDOM, JOHN & His TONKIN' HONKERS) / You're Nobody 'Til Somebody Loves You (Hardrock GUNTER, WISDOM, JOHN & His TONKIN' HONKERS) / Alabama Jubilee (Hardrock GUNTER, WISDOM, JOHN & His TONKIN' HONKERS) / There'll Be Some Changes Made (Hardrock GUNTER, WISDOM, JOHN & His TONKIN' HONKERS) / Who's Sorry Now (Hardrock GUNTER, WISDOM, JOHN & His TONKIN' HONKERS) / Somebody Stole My Gal (Hardrock GUNTER, WISDOM, JOHN & His TONKIN' HONKERS) / Do You Ever Think of Me (Hardrock GUNTER, WISDOM, JOHN & His TONKIN' HONKERS) / In The Shade Of The Old Apple Tree (Hardrock GUNTER, WISDOM, JOHN & His TONKIN' HONKERS) / My Blue Heaven (Hardrock GUNTER, WISDOM, JOHN & His TONKIN' HONKERS) / The Hormone Shot / Alabama Doctor / Predestination / The Jogger / Get Weighed / Doctor's Advice / The Pope's Visit / The Elephant Story / The Circus Worker / The Gold Plated Banjo |
| 12/2000 | CD Orchard 5254 (US) | | GONNA ROCK 'N' ROLL, GONNA DANCE ALL NIGHT - Hardrock GUNTER & The RHYTHM ROCKERS - Birmingham Bounce / Lonesome Blues / (Gonna Rock 'n' Roll) Gonna Dance All Night / How Can I Believe You Love Me / My Bucket's Been Fixed / Rifle Belt And Bayonet / Maybe Baby You'll Be True / Birmingham Bounce / Boppin' To Grandfather's Clock / Beggars Can't Be Choosers / It Can't Be Right / Rock-A-Bop Baby / Whoo I Mean Whee / We Three (My Echo, My Shadow And Me) / Jukebox Help Me Find My Baby / Fiddle Bop / Hardrock Rocks The Moon (How High The Moon) / Bloodshot Eyes / Take Away Your Rosy Lips / The Right Key But The Wrong Keyhold / Mountain Dew / I'll Go Chasin' Women / Spring Has Sprung / Tico Tico / Go Low Boogie / Bonaparte's Retreat / Chattanoogie Shoe Shine Boy / Dad Gave My Hog Away / Guitar On The Mountain / Fallen Angel / Gonna Dance All Night |
| 2010 | CD BACM CD D 305 (UK) | | That Bouncin' Man From Alabam - I've Done Gone Hogwild / I Believe That Mountain Music Is Here To Stay / Honky Tonk Blues / Sixty Minute Man / Tennessee Blues / Hesitation Boogie / If I Could Only Live In My Dreams / Don't You Agree / Dixieland Boogie / Silver And Gold / The Senator From Tennessee / Perfect Woman / Honky Tonk Baby / I'm Looking For Another You / At The Jamboree Saturday Night / Where Have You Been / Like The Lovers Do / Naptown, Indiana / Sunday Angel / First, Last And Always Game Of Love / I Won't Tell Who's To Blame / Turn The Other Cheek / Before My Time / I Put My Britches On Just Like Everybody Else / I'll Give 'Em Rhythm / Birmingham Bounce |
© Rocky Productions 13/03/2014