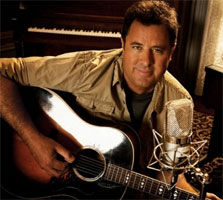 Chanteur Country US né le 12 Avril 1957 à Norman (Oklahoma).

Vince Gill paid nearly a decade and a half of dues en route to becoming one of the most popular country stars of the '90s. Starting out as a bluegrass singer and multi-instrumentalist, he initially made his name with country-rockers Pure Prairie League and spent the '80s as part of country's new traditionalist wing before finding massive success as a contemporary country hitmaker. Gill had strong mainstream appeal, yet enough songwriting chops and grounding in tradition that he could maintain his artistic credibility without being branded a crossover-happy hack. That balance made him the kind of performer that awards ceremonies can feel good about honoring, and honor him they did — Gill has won more CMA Awards than any performer in history, and his 14 Grammys tie him with Chet Atkins for the most ever by a country artist.
Vincent Grant Gill was born April 12, 1957, in Norman, OK. His father, a judge, played banjo and guitar, and Vince picked up both by his teen years; he later added fiddle, dobro, mandolin, and bass to his repertoire. In high school, Gill played in the bluegrass band Mountain Smoke, which gained enough of a local reputation to open a concert for Pure Prairie League. Gill graduated in 1975 and moved to Louisville to join the band Bluegrass Alliance, with whom he stayed for a year. He then briefly played with Ricky Skaggs' Boone Creek outfit before setting out for Los Angeles, where he joined fiddler Byron Berline's group Sundance. In 1979, he accompanied a friend to audition for Pure Prairie League, mostly out of curiosity as to whether they remembered his high-school band, and they wound up hiring him as their lead singer. Gill recorded three albums with the band, helping them land a Top Ten pop hit with "Let Me Love You Tonight," and also began writing songs for them. He departed in 1981 to join Rodney Crowell's backing band, the Cherry Bombs, where he met Emory Gordy, Jr., and Tony Brown, both of whom would later produce his solo records. In 1982, he appeared on the David Grisman album Here Today, and the following year he landed a solo deal with RCA thanks to his connection with Brown.
Gill, his wife Janis (née Oliver, a member of the Sweethearts of the Rodeo), and their young daughter moved to Nashville. With Gordy producing, Gill issued his debut mini-album, Turn Me Loose, in 1984, with a style in keeping with his recent country-rock past. He notched his first charting country single with the minor Top 40 entry "Victim of Life's Circumstance," and the following year completed his follow-up, The Things That Matter. A duo with Rosanne Cash, "If It Weren't for Him," gave Gill his first Top Ten hit, and his next single, "Oklahoma Borderline," duplicated its predecessor's success. 1987's The Way Back Home gave Gill his biggest RCA hit in the Top Five "Cinderella." In the meantime, he also worked as a session guitarist, wrote songs for other artists, and toured with Emmylou Harris.
In 1989, Gill left RCA to sign with MCA, where he reunited with Tony Brown, now a successful producer. Though he'd enjoyed some success in his own right, Gill wasn't really a star. That all changed with the release of his label debut, 1989's When I Call Your Name. A duo with Reba McEntire, "Oklahoma Swing," made the Top 20, but the title track was the true breakout hit, climbing to number two and winning Gill his first Grammy. Its follow-up, "Never Knew Lonely," hit number three, and the album went on to sell over a million copies. Perhaps partly as a result, Gill declined an offer from Mark Knopfler to become a full-time member of Dire Straits. Gill's follow-up album, 1991's Pocket Full of Gold, was another platinum smash, giving him four Top Ten singles in "Liza Jane," the title track, "Look at Us," and the number two smash "Take Your Memory with You." 1992's I Still Believe in You made Gill an outright superstar; the title ballad was an enormous hit that became his first number one single, and its follow-up, "Don't Let Our Love Start Slippin' Away," also topped the charts. The album took only a few months to go platinum, and still spun off more hits: two more number ones in "One More Last Chance" and "Tryin' to Get Over You," and the number three "No Future in the Past." Additionally, "The Heart Won't Lie," another duo with McEntire from her It's Your Call album, went to number one in 1993. Over the next few years, I Still Believe in You would sell over four million copies.
Gill issued the stopgap holiday album Let There Be Peace on Earth in late 1993, and returned with When Love Finds You in 1994, which became his first album to break the pop Top Ten. It, too, sold over four million copies, and gave him five Top Five country hits: "What the Cowgirls Do," the title track, "Whenever You Come Around," "Which Bridge to Cross (Which Bridge to Burn)," and "You Better Think Twice." Gill was clearly a country hit factory by this point, but instead of coasting into the inevitable decline, he got more ambitious with his next project, 1996's High Lonesome Sound. Returning to his bluegrass roots, Gill crafted a tour of American roots music styles that earned him some positive critical attention, even if overall reviews were mixed. It proved commercially potent as well, giving him several more hits, including the Top Fivers "Worlds Apart," "Pretty Little Adriana," and "A Little More Love." In 1998, Gill released his most universally acclaimed album, The Key, which was both a return to hardcore country and a chronicle of the breakup of his marriage to Janis Oliver. Although country radio shied away from its more traditional approach (save for the Top Five hit "If You Ever Have Forever in Mind"), it sold well, going platinum and becoming Gill's first album — surprisingly — to top the country charts.
Rumors about Gill's relationship with pop singer and onetime Christian star Amy Grant proved to be true, and the couple married in early 2000. Gill's next album, Let's Make Sure We Kiss Goodbye, was largely a tribute to his new romance that many critics found overly sentimental. It gave him another Top Ten hit in "Feels Like Love," but it was uncharacteristically snubbed come Grammy time, despite securing four nominations. Gill returned to critical favor with his next outing, 2003's Next Big Thing, which marked the first time he produced an entire album on his own. In 2006 he released the ambitious These Days, a four-disc set of new material, on MCA Nashville. He followed it with another album of original material, Guitar Slinger, five years later in 2011. The album was recorded at Gill's home studio and featured contributions from Grant, and the couple's three daughters, Jenny, Sarah, and Corinna. In 2013, Gill appeared on his wife's return to recording, How Mercy Looks from Here, in a guest duet on Earl Klugh's Hand Picked, and issued the roots country album, Bakersfield, in collaboration with pedal steel guitarist Paul Franklin.Three years after Bakersfield, Gill returned with the solo -- and soulful -- album Down to My Last Bad Habit; it debuted at four on Billboard's Country charts,
In 2017, Gill joined the Eagles as a touring member, playing many of the parts once performed by the late Glenn Frey. After touring, Gill began penning and demo'ing a singer/songwriter album that transformed itself into a concept record about his roots in Oklahoma. Titled Okie, Gill reclaimed the once derogatory term coined during the emigration of many of its citizens during the Dust Bowl years of the 1930s. He wrote or co-wrote a dozen songs including album-opener and first single "A Letter to My Mama," that reflects country's time-honored traditions of family, faith, and home. The set's closing track, "When My Amy Prays," comes full circle to celebrate his marriage and spirituality. Okie was released during the late summer of 2019.
https://en.wikipedia.org/wiki/Vince_Gill
Talents : Vocals, Guitar
Style musical : Traditional Country, Contemporary Country, Bluegrass
Years in activity :
| | | | | | | | | | | | |
| --- | --- | --- | --- | --- | --- | --- | --- | --- | --- | --- | --- |
| 1910 | 20 | 30 | 40 | 50 | 60 | 70 | 80 | 90 | 2000 | 10 | 20 |
DISCOGRAPHY
Singles
01/1984
SP RCA VICTOR PB-13701 (US)
.
Victim Of Life's Circumstances / Don't Say That You Love Me
05/1984
SP RCA VICTOR PB-13809 (US)
.
Oh Carolina / Half A Chance
09/1984
SP RCA VICTOR PB-13860 (US)
.
Turn Me Loose / Victim Of Life's Circumstances
1985
SP RCA VICTOR PB 49993 (US)

Turn Me Loose / Victim Of Life's Circumstances

02/1985
SP RCA VICTOR PB-14020 (US)
.
True Love / Livin' The Way I Do
06/1985
SP RCA VICTOR PB-14140 (US)
.
If It Weren't For Him / Savannah (Do You Ever Think Of Me)
10/1985
SP RCA VICTOR PB-14216 (US)
.
Oklahoma Borderline / She Don't Know
05/1986
SP RCA VICTOR PB-14371 (US)
With You / Colder Than Winter
1987
SP RCA VICTOR 5131-7-RAA (US) (promo)
Cinderella / Cinderella
03/1987
SP RCA VICTOR 5131-7-R (US)
.
Cinderella / Something's Missing
08/1987
SP RCA VICTOR 5257-7-R (US)
.
Let's Do Something / It Doesn't Matter Anymore
01/1988
SP RCA VICTOR 5331-7-R (US)
.
Everybody's Sweetheart / Way Back Home
05/1988
SP RCA VICTOR 8301-7-R (US)
.
Radio / Way Back Home
08/1989
SP MCA MCA-53717 (US)
.
Never Alone / Oh Girl (You Know Where To Find Me)
01/1990
SP MCA MCA-53780 (US)
.

Oklahoma Swing (with

Reba MC ENTIRE

) /

?
05/1990
SP MCA MCA-79011 (US)
.
When I Call Your Name / Rita Ballou
09/1990
SP MCA MCA-53892 (US)
.
Never Knew Lonely / Riding The Rodeo
01/1991
SP MCA MCAS7-54026 (US)
.
Pocket Full Of Gold / Little Left Over
05/1991
SP MCA MCAS7-54123 (US)
.
Liza Jane / What's A Man To Do
09/1991
SP MCA MCAS7-54179 (US)
.
Look At Us / I Quit
01/1992
SP MCA MCAS7-54282 (US)
.
Take Your Memory With You / Sparkle
05/1992
SP MCA MCAS7-54406 (US)
.
I Still Believe In You / One More Last Chance
09/1992
SP MCA MCAS7-54489 (US)
.
Don't Let Our Love Start Slippin' Away / Love Never Broke Anyone's Heart
12/1992
SP MCA MCAS7-54540 (US)
.
No Future In The Past / Pretty Words
01/1993
SP MCA MCAS7-54599 (US)
.

Heart Won't Lie (with

Reba MC ENTIRE

) / Will He Ever Go Away

06/1993
SP MCA MCAS7-54715 (US)
.
One More Last Chance / Under These Conditions
12/1993
SP MCA MCAS7-54776 (US)
.
Tryin' To Get Over You / Nothing Like A Woman
1993
CD REPRISE PRO-CD-6882 (US) (promo)

Michael McDonald duet with Vince GILL - Matters Of The Heart (single version edit) / Matters Of The Heart (full version remix) / Matters Of The Heart (All Steel Mutes edit)

1993
MAXI MCA MCD 17903 (F)

I Still Believe In You / When I Call Your Name / Liza Jane

04/1994
SP MCA MCAS7-54833 (US)
.
Whenever You Come Around / South Side Of Dixie
07/1994
SP MCA MCAS7-54879 (US)
.
What The Cowgirls Do / Go Rest High On The Mountain
09/1994
SP MCA MCAS7-54937 (US)
.
When Love Finds You / If I Had My Way
1994
CD A & M 31458 0803 2 (US)

Amy GRANT with Vince GILL - House Of Love (The classic Philly Soul mix) / House Of Love (The south street remix) / House Of Love (LP version) / Lucky One (Kupper 12" mix) (Amy GRANT)

1994
CD MCA MCA5P-2955 (US)

Vince GILL & Gladys KNIGHT - Ain't Nothing Like The Real Thing (album version) / Ain't Nothing Like The Real Thing (instrumental)

01/1995
SP MCA MCAS7-54976 (US)
.
Which Bridge To Cross (Which Bridge To Burn) / If There's Anything I Can Do
05/1995
SP MCA MCAS7-55035 (US)
.
You Better Think Twice / Real Lady's Man
08/1995
SP MCA MCAS7-55098 (US)
.
Go Rest High On That Mountain / Maybe Tonight
10/1995
SP COLUMBIA 38-78079 (US)
.
I Will Always Love You (Dolly

Parton

with Special Guest Vince

Gill

) / Speakin' Of The Devil (Dolly

Parton

)
1995
CD A & M 581 233 2 (UK)

Amy GRANT with Vince GILL - House Of Love (radio mix) / Big Yellow Taxi (paradise mix) / That's What Love Is For / Lead Me On

1995
CD A & M 580 864-2 (EUR)

Amy GRANT with Vince GILL - House Of Love (The classic Philly Soul mix) / House Of Love (The South Street remix)

03/1996
SP MCA MCAS7-55188 (US)
.
High Lonesome Sound (Vince GILL) / High Lonesome Sound (Vince GILL featuring Alison KRAUSS &

Union Station

)
07/1996
SP MCA MCAS7-55213 (US)
.
Worlds Apart / Down To New Orleans
10/1996
SP MCA MCAS7-55251 (US)
.
Pretty Little Adriana / Tell Me Lover
03/1997
SP MCA MCAS7-55307 (US)
.
Little More Love / Jenny Dreamed Of Trains
06/1997
SP MCA MCAS7-72010 (US)
.
You And You Alone / Given More Time
12/1997
SP MCA MCAS7-72036 (US)
.
It's Not Over (with Mark CHESNUTT & Alison KRAUSS) / Useless
05/1998
SP MCA MCAS7-72055 (US)
.
If You Ever Have Forever In Mind / Given More Time
10/1998
SP MCA MCAS7-72072 (US)
.
Kindly Keep It Country / I Never Really Knew You
01/1999
SP MCA MCAS7-72085 (US)
.
Don't Come Cryin' / I'll Take Texas
05/1999
SP MCA MCAS7-72107 (US)
.
My Kind Of Woman My Kind Of Man (with Patty LOVELESS) / All Those Years
1999
CD COLUMBIA CSK42713 (US)

Barbra Streisand / Vince Gill - If You Ever Leave Me

01/2000
SP MCA 088-172148-7 (US)
.
Let's Make Sure We Kiss Goodbye / Let Her In
05/2000
SP MCA 088-172168-7 (US)
.
Feels Like Love / When I Look Into Your Heart (with Amy GRANT)
01/2001
SP MCA 088-172195-7 (US)
.
Shoot Straight From Your Heart / When I Look Into Your Heart
2003
SP MCA B0000123-21 (US)
.

Next Best Thing / Someday

11/2003
SP MCA B0001648-21 (US)
.

Young Man's Town / We Had It All

2007
CD MCA 028222 (US)
.
How Lonely Looks

[radio edit]

/ How Lonely Looks

[radio edit]

/ How Lonely Looks

[radio edit]

2007
CD MCA 02769 (US)
.
What You Give Away (with Sheryl CROW) / What You Give Away (with Sheryl CROW) / What You Give Away
2008
CD UNIVERSAL ? (US)
.
What You Give Away / The Reason Why / Go Rest High On That Mountain
10/2012
CD RCA G010002899054Q (US)

Kelly Clarkson featuring Vince Gill - Don't Rush
| | |
| --- | --- |
| | |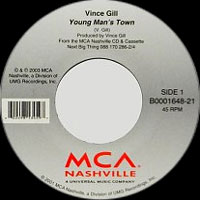 Albums
1982
LP 12" ROUNDER 0169 (US)

Here Today - David Grisman / Herb Pedersen / Vince Gill / Jim Buchanan / Emory Gordy, Jr. ‎- I'll Love Nobody But You / Once More / Foggy Mountain Chimes / The Children Are Crying / Hot Corn, Cold Corn / Lonesome River / My Walkin' Shoes / Love & Wealth / Billy In The Low Ground / Making Plans / Sweet Little Miss Blue Eyes / Going Up Home To Live In Green Pastures

03/1984
LP 12" RCA VICTOR MHL1-8517 (US)
TURN ME LOOSE - Turn Me Loose / Oh Carolina / Don't Say That You Love Me / Waitin' For Your Love / Half A Chance / Victim Of Life's Circumstances / Till The Best Comes Along / Livin' The Way I Do
04/1985
LP 12" RCA VICTOR CPL1-5348 (US)
THE THINGS THAT MATTER - She Don't Know / With You / Savannah / Colder Than Winter / True Love / If It Weren't For Him / Ain't It Always That Way / Oklahoma Borderline
06/1987
LP 12" RCA 5923-1-R (US)
THE WAY BACK HOME - Everybody's Sweetheart / Way Back Home / Cinderella / Let's Do Something / Radio / Baby That's Tough / Losing Your Love / It Doesn't Matter Anymore / Something's Missing
10/1989
LP 12" RCA 9814-1-R (US)
THE BEST OF VINCE GILL - Turn Me Loose / Oh Carolina / Victim Of Life's Circumstances / Lucy Dee / Oklahoma Borderline / Cinderella / Let's Do Something / Radio / I've Been Hearing Things About You / Never Knew Lonely
11/1989
LP 12" MCA MCA-42321 (US)
WHEN I CALL YOUR NAME - Never Alone / Sight For Sore Eyes / Oh Girl / Oklahoma Swing / When I Call Your Name / Ridin' The Rodeo / Never Knew Lonely / We Won't Dance / We Could Have Been / Rita Ballou
03/1991
CD MCA MCAD-10140 (US)
POCKET FULL OF GOLD - I Quit / Look At Us / Take Your Memory With You / Pocket Full Of Gold / Strings That Tie You Down / Liza Jane / If I Didn't Have You In My World / Little Left Over / What's A Man To Do / Sparkle
03/1992
CD RCA 07863-61130-2 (US)
I NEVER KNEW LONELY - Never Knew Lonely / What If I Say Goodbye / Way Back Home / Livin' The Way I Do / Everybody's Sweetheart / True Love / Losing Your Love / Midnight Train / Colder Than Winter
09/1992
CD MCA MCAD-10630 (US)
I STILL BELIEVE IN YOU - Don't Let Our Love Start Slippin' Away / No Future In The Past / Nothing Like A Woman / Tryin' To Get Over You / Say Hello / One More Last Chance / Under These Conditions / Pretty Words / Love Never Broke Anyone's Heart / I Still Believe In You
09/1993
CD MCA MCAD-10877 (US)
LET THERE BE PEACE ON EARTH - Do You Hear What I Hear / Have Yourself A Merry Little Christmas / One Bright Star / What Child Is This / Santa Claus Is Comin' To Town / I'll Be Home For Christmas / Let There Be Peace On Earth / White Christmas / Till The Season Comes Around Again / It Won't Be The Same This Year
08/1994
CD RCA 07863-66432-2 (US)
VINCE GILL AND FRIENDS - Whenever You Come Around / You Better Think Twice / Real Lady's Man / What The Cowgirls Do / When Love Finds You / If There's Anything I Can Do / South Side Of Dixie / Maybe Tonight / Which Bridge To Cross / If I Had My Way / Go Rest High On That Mountain
09/1994
CD MCA MCAD-11047 (US)
WHEN LOVE FINDS YOU - Whenever You Come Around / You Better Think Twice / Real Lady's Man / What The Cowgirls Do / When Love Finds You / If There's Anything I Can Do / South Side Of Dixie / Maybe Tonight / Which Bridge To Cross / If I Had My Way / Go Rest High On That Mountain
1994
CD RSM 060 (US)
POCKET FULL OF LIVE SONGS - Oklahoma Borderline / Cinderella / Pocket Full Of Gold / Ridin' The Rodeo / One More Last Chance / Take Your Memory With You / Tryin' To Get Over You / Rita Ballou / Whenever You Come Around / What The Cowgirls Do / Don't Let Our Love Start Slippin' Away / Nothing Like A Woman / South Side Of Dixie / When I Call Your Name / Liza Jane / I Still Believe In You
03/1995
CD RCA 07863-66535-2 (US)
THE ESSENTIAL - Victim Of Life's Circumstances / Oh Carolina / I've Been Hearing Things About You / Turn Me Loose / The Radio / Livin' The Way I Do / Midnight Train / True Love / Ain't It Always That Way / Oklahoma Borderline / With You / The Way Back Home / Losing Your Love / Everybody's Sweetheart / Don't Say That You Love Me / Something's Missing / Colder Than Winter / Cinderella / Let's Do Something / I Never Knew Lonely
11/1995
CD MCA MCAD-11394 (US)
SOUVENIRS - Never Alone / Never Knew Lonely / When I Call Your Name / Liza Jane / Look At Us / Take Your Memory With You / Pocket Full Of Gold / Heart Won't Lie / Don't Let Our Love Start Slippin' / I Still Believe In You / No Future In The Past / Tryin' To Get Over You / One More Last Chance / I Can't Tell You Why / I Will Always Love You
05/1996
CD MCA MCAD-11422 (US)
HIGH LONESOME SOUND - One Dance With You / High Lonesome Sound / Pretty Little Adriana / Little More Love / Down To New Orleans / Tell Me Lover / Given More Time / You And You Alone / Worlds Apart / Jenny Dreamed Of Trains / High Lonesome Sound
10/1996
CD RCA 07863-66944-2 (US)
SUPER HITS - I Never Knew Lonely / Oklahoma Borderline / Losing Your Love / Half A Chance / Cinderella / Radio / Savannah / With You / Baby That's Tough / Everybody's Sweetheart
10/1996
CD CMG 741416 (US)
SUPER HITS - Victim Of Life's Circumstances / Turn Me Loose / True Love / Oh Carolina / Oklahoma Borderline / Let's Do Something / With You / Cinderella / If It Weren't For Him (with Rosanne CASH) / Everybody's Sweetheart
11/1997
CD BMG 07863-44528-2 (US)
VINTAGE GILL - Let's Do Something / It Doesn't Matter Anymore / I Never Knew Lonely / Oh Carolina / Oklahoma Borderline / Radio / Till The Best Comes Along / Baby That's Tough / What If I Say Goodbye / Way Back Home
04/1998
CD MADACY 5336 (US)
DOUBLE BARREL COUNTRY - THE LEGENDS OF COUNTRY MUSIC - I Never Knew Lonely / Cinderella / Everybody's Sweetheart / Oklahoma Borderline / Oh Carolina / + Keith WHITLEY
08/1998
CD MCA MCAD-70017 (US)
THE KEY - Don't Come Cryin' To Me / If You Ever Have Forever In Mind / I Never Really Knew You / Kindly Keep It Country / All Those Years / I'll Take Texas / My Kind Of Woman My Kind Of Man / There's Not Much Love Here Anymore / Let Her In / Hills Of Caroline / Live To Tell It All / What They All Call Love / Key To Life
09/1998
CD MCA MCAD-70038 (US)
BREATH OF HEAVEN - Winter Wonderland / Christmas Song / O Little Town Of Bethlehem / Silver Bells / It's The Most Wonderful Time Of The Year / Blue Christmas / O Holy Night / Let It Snow Let It Snow Let It Snow / Cradle In Bethlehem / Breath Of Heaven / O Come All Ye Faithful
1998
CD MCA MCA3P-1039 (US)

Hit Disc For Radio Only - When I Call Your Name / Don't Let Our Love Start Slippin' Away / Pocket Full Of Gold / I Still Believe In You / Liza Jane / Go Rest High On That Mountain / One More Last Chance / Never Knew Lonely / Pretty Little Adriana / What The Cowgirls Do

04/2000
CD MCA 088 170 098-2 (US)
LET'S MAKE SURE WE SAY GOODBYE - One / Feels Like Love / Let's Make Sure We Kiss Goodbye / For The Last Time / When I Look Into Your Heart / Shoot Straight From Your Heart / Luckiest Guy In The World / Little Things / Baby Please Don't Go / Look What Love's Revealing / That Friend Of Mine / Hey God
08/2000
CD HALLMARK XPR-2019 (UK)

Tis The Season - Vince GILL & Olivia NEWTON-JOHN - There's No Place Like Home / Sleigh Rid / Silver Bells / Deck The Hall / The First Noel / Ave Maria / It Came Upon Midnight Clear / Away In A Manger / O Little Town Of Bethlehem / Silent Night / O Holy Night

05/2002
CD EAGLE ROCK 028 (US)
MASTERS - Savannah / If I Weren't For Him / It Doesn't Matter Anymore / The Way Back Home / Baby That's Tough / Something's Missing / Waiting For Your Love / Lucy Dee / She Don't Know / Victim Of Life's Circumstances / Oh Carolina / Turn Me Loose / Oklahoma Borderline / Livin' The Way I Do / Midnight Train / Losing Your Love / Colder Than Winter / Never Knew Lonely / The Radio / Cinderella
02/2003
CD MCA 088 170 286-2 (US)
NEXT BIG THING - Next Big Thing / She Never Makes Me Cry / Don't Let Our Love Start Slippin' Away / Someday / These Broken Hearts / We Had It All / Young Man's Town / Real Mean Bottle / Whippoorwill River / Sun's Gonna Shine On You / From Where I Stand / You Ain't Foolin' Nobody / Old Time Fiddle / Without You / Two Hearts / This Old Guitar And Me / In These Last Few Days
09/2003
CD MCA 54211-2 (US)
PLATINUM AND GOLD COLLECTION - Cinderella / Oklahoma Borderline / I Never Knew Lonely / If It Weren't Him / Everybody's Sweetheart / Let's Do Something / Turn Me Loose / Oh Carolina / Victim Of Life's Circumstances / Radio / True Love / Lucy Dee
09/2003
CD MCA 000092302 (US)

20TH CENTURY MASTERS - THE MILLIENUM COLLECTION - THE BEST OF VINCE GILL -

I Still Believe In You / One More Last Chance / What The Cowgirls Do / You Better Think Twice / High Lonesome Sound (with Alison KRAUSS & UNION STATION) / Pretty Little Adriana / A Little More Love / If You Ever Have Forever In Mind / My Kind Of Woman - My Kind Of Man (with Patty LOVELESS) / Feels Like Love / Next Big Thing
10/2003
CD COLLECTABLES 9515 (US)
ALL AMERICAN COUNTRY - Cinderella / Everybody's Sweetheart / If It Weren't For Him / True Love / Turn Me Loose / Victim Of Life's Circumstances / With You / I Can't Hold Back / Fool Fool / Savannah (Don't You Ever Think Of Me)
09/2004
CD COLLECTABLES 9543 (US)
VINTAGE GILL - I Never Knew Lonely / Oh Carolina / Let's Do Something / Radio / Oklahoma Borderline / It Doesn't Matter Anymore / Baby That's Tough / 'Til The Best Comes Along / What If I Say Goodbye / Way Back Home
08/2006
CD MADACY 52273 (US)
CHRISTMAS COLLECTION - Winter Wonderland / The Christmas Song / O Little Town Of Bethlehem / Silver Bells / It's The Most Wonderful Time Of The Year / Blue Christmas / O Holy Night / Let It Snow, Let It Snow, Let It Snow / A Cradle In Bethlehem / Breath Of Heaven (Mary's Song) / O Come All Ye Faithful / Do You Hear What I Hear / Have Yourself A Merry Little Christmas / One Bright Star / What Child Is This / Santa Claus Is Coming To Town / I'll Be Home For Christmas / Let There Be Peace On Earth / White Christmas / Til The Season Comes Around Again / It Won't Be The Same This Year
10/2006
4 CD MCA B0006021-02 (US)
THESE DAYS :

CD 1 : Workin' On A Big Chill / Love's Standin' / Cowboy Up (featuring Gretchen WILSON) / Sweet Thing / Bet It All On You / Nothin' For A Broken Heart (with Rodney CROWELL) / Son Of A Ramblin' Man (featuring Del McCOURY) / Smilin' Song (featuring Michael McDONALD) / The Rhythm Of The Pourin' Rain (featuring Bekka BRAMLETT) / Nothin' Left To Say
CD 2 : All Prayed Up / Cold Gray Light Of Gone (featuring The Del McCOURY Band) / A River Like You (featuring Jenny GILL) / Ace Up Your Pretty Sleeve / Molly Brown / Girl (Guest vocalist: Rebecca Lynn HOWARD) / Give Me The Highway (featuring The Del McCOURY Band) / Sweet Augusta Darlin' / Little Brother / Almost Home (with Guy CLARK)
CD 3 : This New Heartache / The Only Love / Out Of My Mind (featuring Patty LOVELESS) / The Sight Of Me Without You / I Can't Let Go (featuring Alison KRAUSS & Dan TYMINSKI) / Don't Pretend With Me / Some Things Never Get Old (featuring Emmylou HARRIS) / Sweet Little Corrina (featuring Phil EVERLY) / If I Can Make Mississippi (featuring Lee Ann WOMACK) / Take This Country Back (with John ANDERSON)
CD 4 : What You Don't Say (featuring LeAnn RIMES) / The Reason Why (featuring Alison KRAUSS) / The Rock Of Your Love (featurwith Diana KRALL) / Time To Carry On (featuring Jenny GILL) / No Easy Way / This Memory Of You (featuring Trisha YEARWOOD) / How Lonely Looks / Tell Me One More Time About Jesus (featuring Amy GRANT) / Everything And Nothing (featuring Katrina ELAM) / Which Way Will You Go / These Days

02/2008
CD HUMPHEAD 26 (US)
NEXT BIG THING / LET'S MAKE SURE WE SAY GOODBYE - Next Big Thing / She Never Makes Me Cry / Don't Let Our Love Start Slippin' Away / Someday / These Broken Hearts / We Had It All / Young Man's Town / Real Mean Bottle / Whippoorwill River / Sun's Gonna Shine On You / From Where I Stand / You Ain't Foolin' Nobody / Old Time Fiddle / Without You / Two Hearts / This Old Guitar And Me / In These Last Few Days / One / Feels Like Love / Let's Make Sure We Kiss Goodbye / For The Last Time / When I Look Into Your Heart / Shoot Straight From Your Heart / Luckiest Guy In The World / Little Things / Baby Please Don't Go / Look What Love's Revealing / That Friend Of Mine / Hey God
01/2010
CD MCA B0013590-02 (US)
LOVE SONGS - One / That Friend Of Mine / When Love Finds You / You And You Alone / Let's Make Sure We Kiss Goodbye / Faint Of Heart / Luckiest Guy In The World / The Rock Of Your Love / If I Didn't Have You In My World / The Only Love / Given More Time / What They All Call Love / Nothing Like A Woman / Whenever You Come Around
08/2010
CD MCA B0014529-02 (US)
ICON - When I Call Your Name / Don't Let Our Love Start Slippin' Away / I Still Believe In You / The Heart Won't Lie / One More Last Chance / Tryin' To Get Over You / What The Cowgirls Do / When Love Finds You / Pretty Little Adriana / If You Ever Have Forever In Mind / A Little More Love / Feels Like Love
09/2010
2 CD AMERICAN LEGENDS ALE 220005 (US)
VINTAGE GILL / ALL AMERICAN COUNTRY :

CD 1 : I Never Knew Lonely / Oh Carolina / Let's Do Something / The Radio / Oklahoma Borderline / It Doesn't Matter Anymore / Baby That's Tough / Til The Best Comes Along / What If I Say Goodbye / The Way Back Home
CD 2 : Cinderella / Everybody's Sweetheart / If It Weren't For Him / True Love / Turn Me Loose / Victim Of Life's / Circumstances / With You / I Can't Hold Back / Fool Fool / Savannah (Don't You Ever Think of Me)

10/2011
CD MCA B0015510-02 (US)
GUITAR SLINGER - Guitar Slinger / Tell Me Fool / Threaten Me With Heaven / When The Lady Sings The Blues / Who Wouldn't Fall In Love With You / When Lonely Comes Around / True Love / Bread And Water / Billy Paul / The Old Lucky Diamond Motel / If I Die / Buttermilk John
03/2013
CD BMG / Sony 192540
COUNTRY - Oklahoma Borderline / Victim Of Life's Circumstances / Oh Carolina / If It Weren't Gor Him / Cinderella / Let's Do Something / Everybody's Sweetheart

/

Radio / I Never Knew Lonely

/

Midnight Train
04/2013
CD MCA B 0018066-02 (US)
BALLADS -

I Still Believe In You / Look At Us / When Love Finds You / Someday / Let's Make Sure We Kiss Goodbye / If I Didn't Have You In My World / The Only Love / What They All Call Love / Nothing Like A Woman / Whenever You Come Around / You And You Alone / When I Call Your Name

07/2013
CD MCA B 0018655-02 (US)
BAKERSFIELD - VINCE GILL & PAUL FRANKLIN - Foolin' Around / Branded Man / Together Again / The Bottle Let Me Down / He Don't Deserve You Anymore / I Can't Be Myself / Nobody's Fool But Yours / Holding Things Together / But I Do / The Fightin' Side Of Me
02/2016
CD MCA 002435402 (US)

Down to My Last Bad Habit - Reasons For The Tears I Cry / Down To My Last Bad Habit / Me And My Girl / Like My Daddy Did / Make You Feel Real Good / I Can't Do This / My Favorite Movie / One MoreMistake I Made (Vince Gill feat: Chris Botti) / Take Me Down (Vince GILL feat: Little Big Town) / I'll Be Waiting For You (Vince GILL feat: CAM) / When It's Love / Sad One Comin' On (A Song For George Jones)

08/2019
CD MCA 003035602 (US)

OKIE - I Don't Want To Ride The Rails No More / The Price Of Regret / Forever Changed / An Honest Man / What Choice Will You Make / Black And White / The Red Words / When My Amy Prays / A Letter To My Mama / Nothin' Like A Guy Clark / That Old Man Of Mine / A World Without Haggard

08/2023
CD MCA 003782702 (US)

Sweet Memories - The Music Of Ray Price & The Cherokee Cowboys - VINCE GILL & PAUL FRANKLIN - One More Time / I'd Fight The World / You Wouldn't Know Love / Walkin' Slow (And Thinking 'bout Her) / The Same Two Lips / Weary Blues From Waitin' / Kissing Your Picture (Is So Cold) / Sweet Memories / Danny Boy / Your Old Love Letters / Healing Hands Of Time
© Rocky Productions 05/08/2023