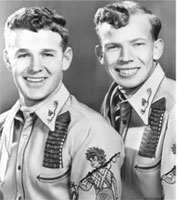 Duo Country US, les Farmer Boys se composaient de Bobby Adamson (né le 20 Septembre 1933 à Exeter (Californie)) et de Woodie Wayne Murray (né le 11 Septembre 1933 à Deer (Arkansas)). C'est leur cousin Herb Henson qui les fit enregistré chez Capitol Records en 1955.

From the early '50s until 1964, the Farmer Boys tried hard to make it as a national recording act, mixing Western swing with honky tonk, and in the process, helping to found the Bakersfield sound. Bobby Adamson (born September 20, 1933) and his fellow Arkansan Woody Murray (born September 11, 1933) were transplanted Southerners living in California and met when a teenage Adamson started singing along to a record on a jukebox and was joined by Murray.
They started singing together informally at dances around 1952, with Adamson on lead and Murray handling harmonies and playing rhythm guitar. After appearing at the Happy-Go-Lucky Club in Tulare, they were invited by Cousin Herb Henson to appear on his nightly television show on KERO out out of Bakersfield, CA, where they became regulars, performing five nights a week. Henson dubbed the duo the Farmer Boys, due to their both having lived in Farmersville, CA, and the name stuck.
The duo had auditioned without success for MGM Records, then a major country label. At the end of 1954, however, they auditioned for Ken Nelson at Capitol Records, and their first recording session followed on January 12, 1955. Nelson intended to make them Capitol's answer to Homer & Jethro, and their first session resounded with these influences in songs like "You're a Humdinger" and "Onions, Onions," of which the latter became their most requested song and something of a signature tune. Novelty songs became their mainstay, with numbers like "Flip Flop" becoming successful singles.
the Farmer Boys began playing the Grand Ole Opry and touring with Webb Pierce, Hank Locklin, and Carl Smith, as well as Elvis Presley. It was the effect that Elvis was having on music that resulted in the Farmer Boys cutting their own rockabilly sides at the behest of Nelson, who wanted to try to compete for the youth market. In May of 1956, they recorded a pair of near-classics, "Cool Down Mame" and "My Baby Done Left Me."
Their real sound was country, however, and they quickly returned to their roots. The duo's lead guitarist on most of their sessions was Merle Haggard alumnus Roy Nichols, whose lean, crisp playing helped give their records a special impact. By their last session for Capitol, in early 1957, their backing group was the Desert Stars, whose members included lead guitarist Gene Breedon and pedal steel player Norman Hamlet, as well a young Buck Owens, who wrote or co-wrote all four songs from the session, on rhythm guitar.
By that time, Adamson and Murray had tired of doing nothing but silly novelty numbers and wanted to add more ballads to their repertory. The Capitol contract ended in 1957, and the group never did release another record. They tried working with Breedon in a session, and Buck Owens remained enough of a fan to attend their performances, even as his own career was taking off. the Farmer Boys called it quits in 1964, leaving behind a fascinating and varied body of work, including honky tonk numbers, novelty tunes, a smattering of rockabilly (which has gotten them pegged in that category by faulty rock & roll historians), all representing some of the prime early examples of the Bakersfield sound.
https://en.wikipedia.org/wiki/The_Farmer_Boys
Style musical : Traditional Country, Honky Tonk, Rockabilly
Years in activity :
| | | | | | | | | | | | |
| --- | --- | --- | --- | --- | --- | --- | --- | --- | --- | --- | --- |
| 1910 | 20 | 30 | 40 | 50 | 60 | 70 | 80 | 90 | 2000 | 10 | 20 |
DISCOGRAPHY
Singles
Albums
1974
LP 12" CMH CMH 235 (GER)
THE FARMER BOYS - You Lied / You're A Humdinger / I'm Just Too Lazy / Onions, Onions / Lend A Helpin' Hand / Charming Betsy / It Pays To Advertise / Flip Flop / Oh! How It Hurts / Somehow, Someway, Someday / Cool Down Mame / Flash, Crash And Thunder / My Baby Done Left Me / No One / Yearning, Burning Heart
06/1994
CD BEAR FAMILY BCD 15579 (US)
FLASH, CRASH AND THUNDER -

Flash, Crash And Thunder / Cool Down Mame / Yearning, Burning Heart / Somehow, Someway, Someday / Flip Flop / Charming Betsy / Lend A Helpin' Hand / It Pays To Advertise / Someone To Love / My Baby Done Left Me / Oh! How It Hurts / No One / You Lied / You're A Humdinger / I'm Just Too Lazy / Onions, Onions
© Rocky Productions 11/01/2005