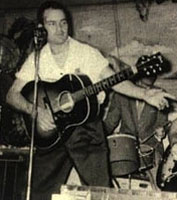 Chanteur US né Jack Wayne Earls, le 23 Août 1932 à Woodbury (Tennessee). Jack Earls débute comme chanteur de Hillbillies en 1954 et enregistre son premier disque début 1956 à la Sun Records de Memphis (Tennessee). Grâce à la raucité de sa voix et son phrasé hargneux, Jack développait un Rockabilly très particulier mais proche des racines Country, grâce à la contrebasse qui possédait un son unique. Remercié par Sam Phillips, malgré une personnalité évidente, on le retrouvera en 1975 chez Olympic Records. Jack Earls est décédé le 12 Juin 2023 à Woodbury (Tennessee).

Jack Earls' early career is proof that Sam Phillips and Sun Records had a much deeper and wider talent pool than "just" Elvis Presley, Carl Perkins, Johnny Cash. and Jerry Lee Lewis to draw on. His sides, all but two unreleased, are as good as anything the label ever issued and Jack Earls' later career is proof that there is occasionally justice in the cosmos — 25 years after Elvis Presley was put in the ground, Earls was playing Las Vegas. One of Sun Records' first wave of rockabilly artists, Earls was there when Elvis Presley was writing the book on how to meld hillbilly music with rock & roll, though his own impact on the music was more subtle. In contrast to Elvis, Earls only lasted at Sun for one single, "Slow Down," though that record did do well. By most accounts, he was also present in the studio the day that Elvis cut "Mystery Train," and ran home to get his copy of the single so that the Hillbilly Cat could learn the words.
Earls was born on August 23, 1932, in Woodbury, TN. One of seven children, he spent most of his childhood living on a farm in Manchester. He developed a taste for country music and a desire to make his own music, listening to the two owners of the farm play their instruments and sing. Already encouraged by his mother to sing, at 16 he also took up the guitar and by 17 he was living in Memphis. As early as 1949, he formed his first band, but pursuing music full-time had to wait behind other of life's considerations — he was married in 1950 and by the mid-'50s already had a growing family to feed. Still, he loved country music and thought he could make a living at it and in 1954, Earls formed a group that included Johnny Black, brother of music legend Bill Black, on guitar. This was a country band that played local bars and roadhouses, doing hillbilly music, one of hundreds in the Memphis area. The band's decision to spend ten dollars to cut a demo at Sam Phillips' Memphis Recording Services during the summer of 1955 put Earls into Phillips' orbit — the producer liked the song, an original by Earls called "A Fool For Lovin' You," and enjoyed Earls' singing, but told him he'd need a new band if they were to record anything.
Earls and Johnny Black stayed together, Black switching from guitar to upright bass, while Warren Gregory joined on lead guitar and Danny Wahlquist came in on drums. Their first recording session yielded a finished version of "Lovin' You" but also introduced a new original, called "Hey Jim," that Phillips liked even better for the A-side. Then Earls brought in yet another original song that Phillips liked even better than "Hey Jim" for his debut. "Slow Down" reportedly had the legendary producer jumping up and down with excitement when it was cut at Sun, and it became the A-side even though Phillips had already renamed Earls' band the Jimbos to capitalize on the expected popularity of "Hey Jim." "Slow Down" sold somewhere between 40,000 and 50,000 copies without ever charting, getting enough exposure in and around Memphis to perform respectably as a local and regional release. It might've done better but for the fact that Earls, who held down a job at a bakery to feed his family, couldn't really tour and stuck to playing venues close to Memphis. "Slow Down" elicited interest from DJs from as far away as Texas, who played the record on their air and would happily have put Earls & the Jimbos on live, had they made the trip to the Lone Star State.
The $2,500 that Earls received for the sales that "Slow Down" did enjoy would have to suffice in lieu of a recording career, especially when Phillips declined to issue any further records — he was around the studio enough, including the date when Elvis was trying to cut "Mystery Train," and he cut enough sides to make a full LP, but Sun never issued any of them, possibly a result of Phillips' awareness that Earls couldn't do much to support their release with more than a few local gigs. It would have taken a truly exceptional record to overcome that handicap and Phillips evidently just never heard it in any of the sides that the man cut. Listening to those sides 40-plus years later, one's jaw drops at the stuff that was left on the shelf. Loose, hot rocking versions of "Crawdad Hole" that ought to have had teenagers bouncing off the walls and slow romantic laments like "If You Don't Mind" that were perfect for slow dancing and would've won over country listeners as well; ballads such as "A Fool for Lovin' You," frenetic rhythm numbers like "Let's Bop" that...well, the title tells it; and Warren Gregory's lead guitar underlines the key points with the kind of dexterity you usually got from the likes of Karl Farr, exceeded only by Earls' frantic Vocals vamping. "Sign on the Dotted Line," a slow, burning country rocker sounds like Gene Vincent on a trip through rural Tennessee; "When I Dream," a slowie with elegant guitar and drum accompiment that could've been part of Elvis' repertory and ought to have gotten a try from Tony Bennett or maybe Bobby Darin; the ominous, raw "Take Me to That Place," based on Earls' observation of the inmates at an institution for the insane he used to drive by in his truck while making deliveries, that ought to have found its way into the repertory of the Stray Cats 30 years later. And finally, the minimalist "My Gal Mary Ann," where the hottest guitar and drum work is all muted behind Earls' frantic, powerful countrified tenor, sounding like Carl Perkins with some loco-weed in his feed. They were all originals and one would've thought the publishing alone might amount to something serious for all concerned — the man was a natural musician and songwriter and deserved a lot more recognition than he got.
By January of 1957, Earls' contract with Sun was over and so was his recording career, despite offers from Meteor Records and King Records. He kept performing as his time and energy allowed until 1963, when he moved to Detroit. For the next few decades, he made his living exclusively on an assembly line at Chrysler, raising his family and living the life of a responsible middle-class citizen, while Elvis Presley's star rose, fell, and rose again, Jerry Lee Lewis and Carl Perkins got in and out of dire straits, and Johnny Cash became the musical conscience of the working man. He made a few attempts at recording in the 1970s, resulting in singles of "Take Me to That Place" b/w "Mississippi Man," "She Sure Can Rock Me" b/w "Crawdad Hole," and "Flip Flop and Fly" b/w "Rock Bop."
Finally, in the 1990s, after 40 years of pursuing music in his spare time, Earls began to realize some of the glory that might've been due him. The burgeoning interest in American rock & roll and rockabilly music in Europe in general and England in particular drew Earls over to Great Britain, where he was greeted like a superstar. His Sun sides were compiled, first on LP by Bear Family Records and later in the 1990s on a CD from Charly Records entitled Hey Slim, Let's Bop, which is only slightly less essential listening than Elvis Presley's Sun recordings. In the years since, Jack Earls has played concerts in America as well played Las Vegas in tandem with Janis Martin and other survivors from rockabilly's first generation.
Jack Earls died on June 12, 2023 in Woodbury (Tennessee).
https://en.wikipedia.org/wiki/Jack_Earls
Talents : Vocals, Guitar
Style musical : Rockabilly, Rock 'n' Roll

https://youtu.be/kesFpPi14Kk
SLOW DOWN (1956)

A FOOL FOR LOVIN' YOU (1956)

CRAWDAD HOLE (1956) (Sun unissued)
Years in activity :
| | | | | | | | | | | | |
| --- | --- | --- | --- | --- | --- | --- | --- | --- | --- | --- | --- |
| 1910 | 20 | 30 | 40 | 50 | 60 | 70 | 80 | 90 | 2000 | 10 | 20 |
DISCOGRAPHY
Singles & EP
04/1956
78 t. & SP SUN 240 (US)
.
Jack EARLS & The JIMBOS - Slow Down / A Fool For Lovin' You
1973
SP RY-HO RH 107 (US)
.

Mississippi Man / Take Me To That Place

01/03/1975
SP OLYMPIC 45-OR 001 (US)
She Sure Can Rock Me / Crawdad Hole
1976
SP OLYMPIC 45-OR 00? (US)
.
Roll Over Beethoven / Take Me To That Place
1976
SP OLYMPIC 45-OR 00? (US)
.
Call Me Shorty / Mississippi Man
1976
SP OLYMPIC 45-OR 007 (US)
Flip Flop And Fly / Rock Bop
1979
SP SUN 621 (F)
.

Let's Bop / When I Drea

1998
SP ENVIKEN 45-02 (SWE)
.
Jack EARLS & The SLEAZY RUSTIC BOYS - My Little Mama / Game Of Love
1999
EP STOMPERTIME STEP 4 (UK)
SLOW DOWN' IT'S JACK EARLS - Slow Down / Rock Bop / Be-Bop-A-Lula / I Started Rockin' A Long Time Ago
2001
SP NORTON / SUN JUKEBOX SERIES 847 (US)
.
Take Me To That Place / Come On Little Mama (alternative take) (Ray HARRIS)
2020
SP CORNELIUS

CO 4503 (UK)

My Gal Mary Ann / Hey Jim
Unissued Tracks
| | | |
| --- | --- | --- |
| 1955 | SUN unissued - (Bear Family LP 15273 (#6) / Charly CD 8197 (#2) / El Toro CD 1011 (#28)) | They Can't Keep Me From You [vers. 1] |
| 1955 | SUN unissued - (Sun (England) LP 1019 (#8)) | You Can't Keep Me From You |
| 1956 | SUN unissued - (Stomper Time 10 1 (#10)) | Comin' Back Home |
| 1956 | SUN unissued - (AVI CD 5003 (#4) / Bear Family LP 15273 (#5) / Bopcat LP 200 (#5) / Bopcat LP 700 (#4) / Charly CD 8099 (#11) / Charly CD 8197 (#4) / Charly LP 30101 (#12) / Disky CD 03 (#20) / Dressed To Kill/BMG CD 66 (#17) / Fed CD 06 (#31) / Magnum Force LP 056 (#7) / Magnum Force CD 082 (#8) / Mustang CD 4 (#3) / Olympic LP 4 (#12) / Presto CD 2 (#41) / Rock-It/Olympic LP 1001 (#11) / Rockhouse LP 8411 (#6) / Rockhouse CD 9319 (#27) / SAAR CD [1] (#18) / Stomper Time 10 1 (#2) / Sun (England) 10 507 (#4) / Sun (England) LP 1019 (#7) / [label?] CD 1979/9911 (#10)) | Crawdad Hole |
| 1956 | SUN unissued - (Bear Family LP 15273 (#12) / Charly CD 8197 (#6) / Redita [1st series] LP 110 (#10) / Stomper Time 10 1 (#3) | Crawdad Hole [alt. vers. 1] |
| 1956 | SUN unissued - (Charly CD 8197 (#9)) | Crawdad Hole [alt. vers. 2] |
| 1956 | SUN unissued | Game Of Love |
| 1956 | SUN unissued - (Bear Family LP 15273 (#13) / Charly CD 8197 (#10) / Redita [2nd series] LP 126 (#11)) | If You Don't Mind |
| 1956 | SUN unissued - (AVI CD 5003 (#2) / Bear Family LP 15273 (#1) / Cambra Sound LP 104 (#21) / Charly CD 16 (#7) / Charly CD 8161 (#9) / Charly CD 8197 (#11) / Charly LP 10019 (#5) / Charly LP 30124 (#5) / Disky CD 03 (#54) / Dressed To Kill/BMG CD 66 (#40) / J!mco CD 89193 (#12) / NME LP 5 (#2) / Pie CD 153 (#14) / Smith & Co. CD 2440 (#63) / Sun (England) 10 506 (#10) / Sun (England) LP 6467 028 (#20)) | Let's Bop |
| 1956 | SUN unissued - (Bear Family LP 15273 (#3) / Bear Family CD 16311 (#18) / Charly CD 36 (#16) / Charly CD 8197 (#13) / Disky CD 04 (#30) / J!mco CD 89194 (#19) / Sun (England) LP 1024 (#5)) | My Gal Mary-Ann |
| 1956 | SUN unissued - (Dial LP 004 (#8) / Stomper Time 10 1 (#1) / Stomper Time EP 4 (#2)) | Rock Bop |
| 1956 | SUN unissued - (AVI CD 5003 (#6) / Bear Family LP 15273 (#4) / Bellaphon LP 15140 (#12) / Charly CD 8197 (#12) / Charly LP 10019 (#4) / Charly LP 30124 (#4) / Disky CD 05 (#21) / Disky CD 5203 (#21) / Sun (England) LP 6467 028 (#21)) | Sign On The Dotted Line [vers. 1] |
| 1956 | SUN unissued - (Charly CD 8197 (#18) / Sun (England) LP 1019 (#14)) | Sign On The Dotted Line [vers. 2] |
| 1957 | SUN unissued - (AVI CD 5003 (#5) / Bear Family LP 15273 (#8) / Bear Family CD 16210 (#17) / Charly CD 8197 (#14) / Charly CD 8274 (#35) / Disky CD 04 (#50) / Stomper Time 10 1 (#7) / Sun (England) LP 1024 (#4)) | Take Me To That Place [vers. 1] |
| 1957 | SUN unissued - (Charly CD 8197 (#17)) | Take Me To That Place [vers. 2] |
| 1957 | SUN unissued - (Bear Family LP 15273 (#14) / Charly CD 8197 (#15)) | They Can't Keep Me From You [vers. 2] |
Albums
1990
LP 12" BEAR FAMILY BFX 15273 (GER)
LET'S BOP - Let's Bop / Slow Down / My Gal Mary-Ann / Sign On The Dotted Line / Crawdad Hole / They Can't Keep Me From You / Hey Slim / Take Me To That Place / A Fool For Lovin' You / Hey Jim / When I Dream / Crawdad Hole / If You Don't Mind / They Can't Keep Me From You
1996
LP 10" STOMPER TIME STEN 1 (UK)
JACK EARLS SINGS - Rock Bop (=Let's Bop) / Crawdad Hole / She Sure Can Rock Me / Roll Over Beethoven (alt. take) / Take Me To That Place / Call Me Shorty / Roll Over Beethoven / Comin' Back Home / Flip Flop And Fly / Crawdad Hole (alt. take) / Mississippi Man / Call Me Shorty (alt. take)
1999
CD CHARLY CD 8197 (UK)
HEY SLIM, LET'S BOP - Hey Jim / They Can't Keep Me From You (vers. 1) / Hey Slim / Crawdad Hole / When I Dream (vers. 1) / Crawdad Hole (alt. vers. 1) / Slow Down / A Fool For Lovin' You / Crawdad Hole (alt. vers. 2) / If You Don't Mind / Let's Bop / Sign On The Dotted Line (vers. 1) / My Gal Mary-Ann / Take Me To That Place (vers. 1) / They Can't Keep Me From You (vers. 2) / When I Dream (vers. 2) / Take Me To That Place (vers. 2) / Sign On The Dotted Line (vers. 2)
2001
CD NAVAJO #0101 (US)
JACK EARLS LIVE - Flip Flop & Fly / Take Me To That Place / Hey Jim / Sign On The Dotted Line / Let's Bop / They Can't Keep Me From You / She Sure Can Rock Me / My Gal Mary Ann / I Started Rocking A Long Time Ago / Game Of Love / Roll Over Beethoven / My Little Mama / Crawdad Hole / Come On Little Mama / A Fool For Lovin' You / Rock & Roll Ruby / Oh Babe / Slow Down / Medley Of Carl Perkins
2002
CD ENVIKEN ENRECCD 113 (SWE)
JACK EARLS& THE SLEAZY RUSTIC BOYS - GAME OF LOVE - Honky Tonk / Game Of Love / My Little Mama (take 1) / When I Dream / Trying To Find My Way / Coming Back Home / Baby Love / Tribute To Carl Perkins
05/2010
2 CD BEAR FAMILY BCD 16935 (GER)
SLOW DOWN - THE SUN YEARS, PLUS - (Jack EARLS & The JIMBOS) :

CD 1 : Hey Jim

[version]

/ Let's Bop

[version]

/ Take Me To That Place

[version]

/ They Can't Keep Me From You

[version]

/ Slow Down / A Fool For Loving You / Sign On The Dotted Line

[version]

/ Hey Jim

[version]

/ Crawdad Hole

[version]

/ Crawdad Hole

[version]

/ When I Dream

[version]

/ My Gal Mary Ann / If You Don't Mind / Let's Bop

[version]

/ Hey Jim

[version]

/ They Can't Keep Me From You

[version]

/ Crawdad Hole

[version]

/ Take Me To That Place

[version]

/ When I Dream

[version]

/ Let's Bop

[version]

/ Sign On The Dotted Line

[version]

/ Hey Slim / A Fool For Loving You

[version]

/ Crawdad Hole

[version]

/ Take Me To That Place

[version]

/ They Can't Keep Me From You

[version]

/ Hey Jim

[version]

/ Let's Bop

[version]

CD 2 : Flip, Flop And Fly / Crawdad Hole

[version]

/ Mississippi Man / Call Me Shorty / Take Me To That Place / She Sure Can Rock Me / Roll Over Beethoven / Comin' Back Home / Crawdad Hole / Be Bop A Lula / Rock Bop / Memories / I Started Rockin' A Long Time Ago

[version]
© Rocky Productions 13/06/2023