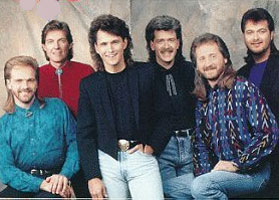 Groupe Country US formé en 1984. Diamond Rio se compose de Marty Roe (né le 28 Décembre 1960 à Lebanon (Ohio)), Jimmy Olander (né le 26 Août 1961 à Minneapolis (Minnesota)), Gene Johnson (né le 10 Août 1948 à Jamestown (New York)), Dan Truman (né le 29 Août 1956 à Flagstaff (Arizona)), Dana Williams (né le 22 Mai 1961 à Dayton (Ohio)) et Brian Prout (né le 4 Décembre 1955 à Troy (New York)).

Diamond Rio found major commercial success in the '90s by playing an eclectic hybrid of modern country, traditional bluegrass (especially in their harmony singing), and a hint of rock & roll. The band was composed of Marty Roe (lead Vocals, guitar), Jimmy Olander (guitar, banjo), Gene Johnson (mandolin, Vocals), Dan Truman (keyboards), Dana Williams (bass), and Brian Prout (drums). Roe had already been touring professionally since age 12, when he was a member of Windsong, and Olander had previously worked with the Nitty Gritty Dirt Band and Foster & Lloyd. The band first got together at Nashville's Opryland theme park, and spent the first part of the '80s performing bluegrass music there under the name the Tennessee River Boys. The future members of Diamond Rio joined one by one, and in 1986, they left Opryland to try their luck as a touring band. Dana Williams was the last official member to join in 1989, upon which point the band changed its name to Diamond Rio (taken from the side of a truck) and landed a contract with Arista.
Although Diamond Rio had some initial health issues to deal with, they pulled through, and the band's self-titled debut album was released in 1991 and quickly became a platinum-selling smash. Its lead single, "Meet in the Middle," went all the way to the top of the country charts, making them the first ever country group to have their debut single also be a number one hit, and it also spun off a stunning four additional Top Ten hits -- "Mirror Mirror," "Mama Don't Forget to Pray for Me," "Norma Jean Riley," and "Nowhere Bound." By the time that run ended, the group had already recorded a follow-up, Close to the Edge, which appeared in late 1992. The Top Tens "In a Week or Two" and "Oh Me, Oh My, Sweet Baby" continued the group's incredible run of success, helping the album go gold, while "This Romeo Ain't Got Julie Yet" just missed the Top Ten, their first single to do so. Released in 1994, Love a Little Stronger produced a number two hit in its title track, but since the album was more of a showcase for the group's musicianship and eclectic tastes, it wasn't as commercially successful as its predecessors. The group took a similar approach for 1996's IV, but this time it slowly caught fire; "That's What I Get for Lovin' You" and "Walkin' Away" both went Top Five, and a re-release of the album's first single, "Holdin'," did likewise.
With their commercial momentum restored, Diamond Rio issued Greatest Hits in 1997; both of the compilation's two new songs -- "How Your Love Makes Me Feel" and "Imagine That" -- went Top Five, and the former became their second number one hit. The all-new Unbelievable followed in 1998, and landed two more Top Five hits in "You're Gone" and the title cut, the latter of which inched into the pop Top 40 as well. The group kept going strong on its sixth album, 2001's One More Day, whose title song was the band's third number one. Released in 2002, Completely ran that total to four with the chart-topping "Beautiful Mess," and added another Top Ten hit in "I Believe." In 2006, after 15 years together as a band, Diamond Rio issued Greatest Hits, Vol. 2, which contained their first single, "Meet in the Middle," songs that were on records released after the first Greatest Hits, as well as four new tracks. A holiday album, The Star Still Shines, appeared in 2007, with a set of religious and gospel songs, The Reason, following in 2009.
https://en.wikipedia.org/wiki/Diamond_Rio
Talents : Marty Roe : Lead Vocals, Guitar - Jimmy Olander : Lead Guitar, Banjo - Gene Johnson : Mandolin, Vocals - Dan Truman : Keyboards - Dana Williams : Bass, Vocals - Brian Prout : Drums
Style musical : Contemporary Country, Bluegrass

https://youtu.be/aShsW0Ecbm0
Years in activity :
| | | | | | | | | | | | |
| --- | --- | --- | --- | --- | --- | --- | --- | --- | --- | --- | --- |
| 1910 | 20 | 30 | 40 | 50 | 60 | 70 | 80 | 90 | 2000 | 10 | 20 |
DISCOGRAPHY
Singles
| | | |
| --- | --- | --- |
| 02/1991 | SP ARISTA AS-2182 (US) | Meet In The Middle / Ballad Of Conley And Billy |
| 06/1991 | SP ARISTA AS-2262 (US) | Mirror Mirror / Ballad Of Conley And Billy |
| 10/1991 | SP ARISTA AS-2258 (US) | Mama Don't Forget To Pray For Me / Norma Jean Riley |
| 02/1992 | SP ARISTA 12407-7 (US) | Norma Jean Riley / Pick Me Up |
| 06/1992 | SP ARISTA 12441-7 (US) | Nowhere Bound / They Don't Make Hearts Like They Used To |
| 10/1992 | SP ARISTA 12457-7 (US) | In A Week Or Two / Close To The Edge |
| 03/1993 | SP ARISTA 12464-7 (US) | Oh Me Oh My Sweet Baby / Nothing In This World |
| 07/1993 | SP ARISTA 12580-7 (US) | This Romeo Ain't Got Julie Yet / I Was Meant To Be With You |
| 10/1993 | SP ARISTA 12610-7 (US) | Sawmill Road / I Was Meant To Be With You |
| 05/1994 | SP ARISTA 12696-7 (US) | Love A Little Stronger / It Does Get Better |
| 10/1994 | SP ARISTA 12764-7 (US) | Night Is Fallin' In My Heart / Down By The Riverside |
| 02/1995 | SP ARISTA 12787-7 (US) | Bubba Hyde / Norma Jean Riley |
| 05/1995 | SP ARISTA 12839-7 (US) | Finish What We Started / Appalachian Dream |
| 11/1995 | SP ARISTA 12934-7 (US) | Walkin' Away / It's All In Your Head |
| 04/1996 | SP ARISTA 12992-7 (US) | That's What I Get For Loving You / Big (instrumental) |
| 08/1996 | SP ARISTA 13019-7 (US) | It's All In Your Head / Is That Askin' Too Much |
| 12/1996 | SP ARISTA 13067-7 (US) | Holdin' / She Sure Did Like To Run |
| 05/1997 | SP ARISTA 13091-7 (US) | Imagine That / How Your Love Makes Me Feel |
| 10/1998 | SP ARISTA 13138-7 (US) | Unbelievable / You're Gone |
| 04/1999 | SP ARISTA 13153-7 (US) | I Know The River Feels / What More Do You Want From Me |
| 11/2000 | SP ARISTA 69036-7 (US) | One More Day / Stuff |
| 04/2001 | SP ARISTA 69085-7 (US) | Sweet Summer / I'm Already Gone |
| | |
| --- | --- |
| | |
Albums
05/1991
CD ARISTA AL 8673 (US)
DIAMOND RIO - Meet In The Middle / This State Of Mind / They Don't Make Hearts / Mirror Mirror / Ballad Of Conley And Billy / Nowhere Bound / It's Gone / Norma Jean Riley / Mama Don't Forget To Pray For Me / Pick Me Up / Poultry Promenade
10/1992
CD ARISTA AL 8656 (US)
CLOSE TO THE EDGE - Oh Me Oh My Sweet Baby / In A Week Or Two / It Does Get Better Than This / Sawmill Road / Calling All Hearts / This Romeo Ain't Got Julie Yet / I Was Meant To Be With You / Old Weakness Coming On Strong / Demons And Angels / Nothing In This World / Close To The Edge
07/1993
CD ARISTA AS 2599 (US)
GREATEST HITS - Meet In The Middle / Mirror Mirror / Mama Don't Forget To Pray For Me / Norma Jean Riley / Nowhere Bound / In A Week Or Two / Oh Me Oh My Sweet Baby / This Romeo Ain't Got Julie Yet / Sawmill Road
07/1994
CD ARISTA 8745 (US)
LOVE A LITTLE STRONGER - Love A Little Stronger / You Ain't In It / Finish What We Started / Night Is Fallin' / Down By The Riverside / Wild Blue Yonder / Bubba Hyde / Gone Out Of Our Mind / Appalachian Dream / Kentucky Mine
02/1996
CD ARISTA 8812 (US)
IV - Holdin' / Walkin' Away / That's What I Get For Loving You / She Misses Him On Sunday The Most / She Sure Did Like To Run / It's All In Your Head / Who Am I / Love Takes You There / Is That Askin' Too Much / Just Another Heart / Big
07/1998
CD ARISTA 8866 (US)
UNBELIEVABLE - Two Pump Texaco / Miss That Girl / You're Gone / What More Do You Want From Me / Unbelievable / Long Way Back / I Thought I'd Seen Everything / Hold Me Now / I Know How The River Feels / Start All Over Again
03/1999
CD ARISTA 8884 (US)
SUPER HITS - Love A Little Stronger / Bubba Hyde / Mama Don't Forget To Pray For Me / Oh Me Oh My Sweet Baby / This Romeo Ain't Got Julie Yet / Who Am I / She Sure Did Like To Run / Down By The Riverside / Poultry Preomenade
02/2001
CD ARISTA 67999 (US)
ONE MORE DAY - That's Just That / One More Day / Sweet Summer / I'm Already Gone / I Could Do It With My Eyes Closed / Till The Heartache's Gone / Here I Go Fallin' / I Think I Love You / Hearts Against The Wind / You Make Me Feel / Love Of A Woman / I'm Trying / Stuff
08/2002
CD ARISTA 67046 (US)
COMPLETELY - Beautiful Mess / Big Ol' Fire / I Believe / Something Cool / Box / We All Fall Down / Wrinkles / Completely / Better Idea / If You'd Like Some Lovin' / You'll Find Me / Rural Philharmonic / Make Sure You've Got It All
10/2003
CD BMG 48214 (US)
ALL AMERICAN COUNTRY - In A Week Or Two / Love A Little Stronger / Walkin' Away / You're Gone / This Romeo Ain't Found Julie Yet / Mama Don't Forget To Pray For Me / Sawmill Road / Two Pump Texaco / She Misses Him On Sunday The Most / Down By The Riverside
02/2004
2 CD MADACY 50248 (US)
PLATINUM COLLECTION :

CD 1 : Oh My Sweet Baby / In A Week Or Two / It Does Get Better Than This / Sawmill Road / Calling All Hearts / This Romeo Ain't Got Julie Yet / I Was Meant To Be With You / Old Weakness / Demons And Angels / Nothing In The World / Close To The Edge
CD 2 : Meet In The Middle / This State Of Mind / They Don't Make Hearts / Mirror Mirror / Ballad Of Conley And Billy / Nowhere Bound / It's Gone / Norma Jean Riley / Mama Don't Forget To Pray For Me / Pick Me Up / Poultry Promenade

05/2006
CD ARISTA 80981 (US)
GREATEST HITS II - God Only Cries / Beautiful Mess / One More Day / Sweet Summer

[version]

/ Redneck Love Gone Bad / Over You / Unbelievable / You're Gone / That's What I Get For Loving You / Wrinkles / I Believe / Meet In The Middle / In God We Still Trust
05/2007
CD SONY ? (US)
SUPER HITS - Meet In The Middle / Norma Jean Riley / We All Fall Down / How Your Love Makes Me Feel / A Better Idea / I Know How The River Feels / Big Ol' Fire / Holdin' / Kentucky Mine / Rural Philharmonic
08/2007
CD LEGACY 8869712255 (US)
16 BIGGEST HITS - How Your Love Makes Me Feel / Walkin' Away / Holdin' / Meet In The Middle / Unbelievable / Beautiful Mess / One More Day / Love A Little Stronger / Oh Me, Oh My, Sweet Baby / Mirror Mirror / You're Gone / Nowhere Bound / Norma Jean Riley / In A Week Or Two / I Believe / This Romeo Ain't Got Julie Yet
10/2007
CD WORD DISTRIBUTION 887339 (US)

A DIAMOND RIO CHRISTMAS - THE STAR STILL SHINES - The Star Still Shines / Winter Wonderland / The Christmas Song (Chestnuts Roasting On An Open Fire) / Let It Snow! Let It Snow! Let It Snow! / O Come, O Come Emmanuel / Sleigh Ride / Christmas Time Is Here / I'll Be Home For Christmas / Christmas Times A Comin' / Hark! The Herald Angels Sing / Have Yourself A Merry Little Christmas / Christmas Is Coming

10/2008
CD PLAYLIST 739000 (US)

THE VERY BEST OF DIAMOND RIO - Norma Jean Riley / Meet In The Middle / Lyin' Eyes / Love A Little Stronger / Night Is Fallin' In My Heart / Ten Feet Away / That's What I Get For Loving You / How Your Love Makes Me Feel / Imagine That / You're Gone / One More Day / Beautiful Mess / I Believe / Can't You Tell

09/2009
CD CURB / WARNER BROS. WD2-887395 (US)

THE REASON - The Reason / This Is My Life / God Is There / Reaching For Me / Into Your Hands / Just Love / Moments Of Heaven On Earth / My God Does / Wherever I Am / What Are We Gonna Do Now / In God We Still Trust

2011
2 CD CURB / WORD WD2-888340 (US)
THE REASON / THE STAR STILL SHINES :

CD 1 : The Reason / This Is My Life / God Is There / Reaching For Me / Into Your Hands / Just Love / Moments Of Heaven On Earth / My God Does / Wherever I Am / What Are We Gonna Do Now / In God We Still Trust
CD 2 :

The Star Still Shines / Winter Wonderland / The Christmas Song (Chestnuts Roasting On An Open Fire) / Let It Snow! Let It Snow!

Let It Snow! /

O Come, O Come Emmanuel / Sleigh Ride / Christmas Time Is Here / I'll Be Home For Christmas / Christmas Times A Comin' / Hark! The Herald Angels Sing / Have Yourself A Merry Little Christmas / Christmas Is Coming

12/2012
CD SPV Yellow Label SPV 260822 (GER)

Diamond Rio / Close to the Edge -

Meet In The Middle / This State Of Mind / They Don't Make Hearts (Like They Used To) / Mirror Mirror / The Ballad Of Conley And Billy (The Proof's In The Pickin") / Nowhere Bound / It's Gone / Norma Jean Riley / Mama Don't Forget To Pray For Me / Pick Me Up / Poultry Promenade / Oh Me, Oh My, Sweet Baby / In A week Or Two / It Does Get Better Than This / Sawmill Road / Calling All Hearts (Come Back Home) / This Romeo Ain't Got Julie Yet / I Was Meant To Be With You / Old Weakness / Demons And Angels / Nothing In This World / Close To The Edge
2012
CD BMG / Sony 192543 (US)

Country - Unbelievable / Love A Little Stronger / One More Day / Beautiful Mess / Walkin' Away / Night Is Fallin' In My Heart / Sweet Summer / You're Gone / Meet In The Middle / I Believe

08/2016
2 CD Real Gone 489 (US)

The Definitive Hits Collection :

CD 1 : Meet In The Middle / Mirror Mirror / Mama Don't Forget To Pray For Me / Norma Jean Riley / Nowhere Sound / In A Week Or Two / Close To The Edge / Oh Me, Oh My, Sweet Baby / This Romeo Ain't Got No Julie Yet / Sawmill Road / Lyin' Eyes / Love A Little Stronger / Night Is Fallin' In My Heart / Ten Feet Away / Kentucky Mine / Workin' Man Blues / Bubba Hyde / Finish What We Started / Walkin' Away / That's What I Get For Loving You
CD 2 : It's All In Your Head / Holdin' / How Your Love Makes Me Feel / Imagine That / You're Gone / Unbelievable / Two Pump Texaco / I Know How The River Feels / Stuff / One More Day / Sweet Summer / That's Just That / I'm Trying / Hearts Against The Wind / Beautiful Mess / I Believe / Wrinkles / One Believer / God Only Cries / Walking In Jerusalem
© Rocky Productions 5/08/2016