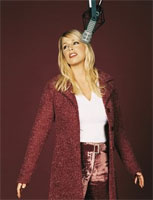 Chanteuse Country US née le 30 Janvier 1972 à Austinburg (Ohio).

Singer Tammy Cochran was born and raised in Ohio, in a little rural town called Austinburg. Its tranquil setting would be just right for a country song. She knew all of her neighbors and people smiled and waved when someone walked by. There was also enough sadness and pain in Cochran's life to write a country song about. She was the last born of three children, the only daughter of Mabel and Delmar Cochran. Cochran had two older brothers, Shawn and Alan, both tragically born with cystic fibrosis. Shawn was only 14 when he lost his battle with the disease in 1980. Alan made it to 1991, to the age of 23. Her brothers' lives, illness, and deaths touched Cochran in a way that shows in her music. Especially in a touching song she co-wrote, called "Angels in Waiting."
Cochran's father taught her the words to her first song, "Heartaches by the Numbers," when she was around eight years old. A short time later she was given a child's record player that came with a microphone and that was that. Her favorite pastime instantly became singing along with country tunes by artists like Barbara Mandrell and Loretta Lynn. She preferably sang in front of an audience, with her brothers' help. The story is that they charged their parents a whole 50 cents to attend each of those early performances.
Over the next few years young Cochran gained experience singing at her family's church. By the time she was 12 she entered her first talent contest, a local one, that she won. With a newfound confidence, she entered more contests, winning over and over. The next step was to join a band, and she did, a number of them. While still in her teens, she put together a band of her own called TC Country. The group appeared at fairs, weddings, and clubs.
Planning for a future that might never live up to her dreams of musical fame, Cochran finished high school and took vocational training so she could be a secretary. That responsible thing done, she went right on struggling to reach that dream. In 1991, full of determination, she picked up and moved to Nashville, TN, with her supportive parents as well. For years Cochran tried to make a name for herself, to find a label that would back her. In 1996 she married, and mostly gave up her hopes of making a living with her voice and songs. The marriage only lasted a couple of years, and so did her time away from singing.
In 1998 all of the years of hard work began to pay off at last. It started when she was introduced to Shane Decker after one of her performances. Decker worked for Warner-Chappell Music as a songwriter. He offered to help her get a demo ready. He also helped her land a job writing songs at Warner-Chappell. Good things seemed to happen quickly after that. In no time Cochran's music was being showcased for labels, and when the dust settled, she had a signed contract with the major label Sony.
In May 2001, Tammy Cochran's self-titled debut album hit the stores. Her first single was already burning up the airwaves, and its music video appearing on CMT to rave reviews. Suddenly Cochran was one of those overnight success stories you hear about -- that was only years of hard work in the making. Life Happened, her sophomore release, dropped the following year, with Where I Am arriving via the Shanachie label in 2007.
https://en.wikipedia.org/wiki/Tammy_Cochran
Talents : Vocals
Style musical : Country-Pop, Contemporary Country

http://youtu.be/jUdvCUXkg-c
Years in activity :
| | | | | | | | | | | | |
| --- | --- | --- | --- | --- | --- | --- | --- | --- | --- | --- | --- |
| 1910 | 20 | 30 | 40 | 50 | 60 | 70 | 80 | 90 | 2000 | 10 | 20 |
DISCOGRAPHY
Singles
| | | | |
| --- | --- | --- | --- |
| 05/2000 | CD SONY 79415 (US) | | If You Can / When Love Was Enough |
| 10/2000 | CD SONY 79502 (US) | | So What |
| 03/2003 | CD EPIC 79865 (US) | | Love Won't Let Me / Angels On Waiting |
Albums
05/2001
CD EPIC EK 69736 (US)
TAMMY COCHRAN - I Cry / If You Can / So What / What I Learned From Loving You / That Ain't Right / Say Goodbye / When Love Was Enough / Going Going Gone / Better Off Broken / Angels In Waiting
09/2002
CD EPIC EK 86052 (US)
LIFE HAPPENED - Love Won't Let Me / Wanted / Go Slow / What Kind Of Woman Would I Be / White Lies And Picket Fences / I'm Getting There / Life Happened / I Used To Be That Woman / Dead Of The Night / All In Hour You Look At Things / If You Can
07/2007
CD SHANACHIE 6204 (US)
WHERE I AM - So Long / And More / Nobody's Here / Gone / The Ride Of Your Life / Where I Am / On My Side Of The World / As Soon As I'm Over You / In Our House / Highwire / Long Way Down / Chemistry
03/2010
CD CD BABY 10552751 (US)
30 SOMETHING AND SINGLE -

The One That Got Away / 30 Something And Single / Let It End / You Don't Want To Love Too Much / All Over But The Leaving / Stand By Your Man / He's Found Jesus / Closer / Angels In Waiting / He Really Thinks He's Got It / Half The World Away (Shawn's Song)
© Rocky Productions 15/07/2012