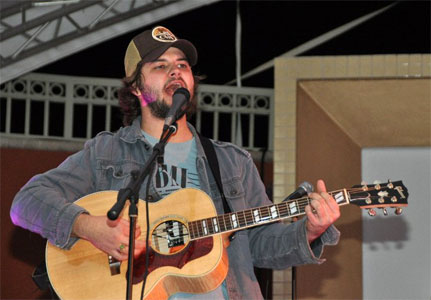 Chanteur Country US né le 1er Août 1986 à Ellaville (Georgie).

A native of Ellaville, Georgia, Brent Cobb's country songs often celebrate and mythologize rural small-town life. The cousin of Nashville producer Dave Cobb (Shooter Jennings, Sturgill Simpson), Brent made his first bid for success during a short stint in Los Angeles, where he recorded his 2006 debut, No Place Left to Leave, which Dave produced. Not long after, his friend Luke Bryan, a fellow Georgian for whom Cobb had opened some shows, convinced him to relocate to Nashville, where he soon found some success as a Music Row songwriter. He signed a publishing deal with Carnival Music and, by 2011, was landing songs with Bryan, Kellie Pickler, Eli Young Band, Miranda Lambert, and others. He continued to record his own music, releasing a self-titled EP in 2012 and opening shows for Blake Shelton and other high-profile country stars. With his cousin Dave now firmly established in Nashville, the two Cobbs paired up once again to record Brent's sophomore LP, Shine on Rainy Day. Released by Elektra in 2016, the album featured a warm, stripped-down sound evocative of classic artists like Kris Kristofferson and Jesse Winchester.
Shine on Rainy Day earned Brent Cobb a nomination for Best Americana Album in 2018, by which time he'd completed its sequel, Providence Canyon. Working again with his cousin Dave, Cobb crafted a lush record in the spirit of the '70s; the album peaked at two on Billboard's Heatseekers chart.
Cobb left Nashville for his native Georgia after the release of Providence Canyon. A departure from Low Country Sound/Elektra coincided with his departure. He signed to Ol' Buddy Records and hired Brad Cook, a producer best known for his work with indie rockers Bon Iver and Waxahatchee, to record 2020's mellowly adventurous Keep 'Em on They Toes.
https://www.brentcobbmusic.com/
https://www.facebook.com/BrentCobbMusic/
https://en.wikipedia.org/wiki/Brent_Cobb
Talents : Vocals, Guitar, Songwriter
Style musical : Americana, Traditional Country, Roots Rock, Honky Tonk

https://youtu.be/hIRIzJUc27Q
Years in activity :
| | | | | | | | | | | | |
| --- | --- | --- | --- | --- | --- | --- | --- | --- | --- | --- | --- |
| 1910 | 20 | 30 | 40 | 50 | 60 | 70 | 80 | 90 | 2000 | 10 | 20 |
DISCOGRAPHY
Albums
2002
CD Carnival Recording 00139 (US)

Brent Cobb -

Diggin' Holes / Love On Me / To Be Saved / Good To Go For Cheap / Dear You
2006
CD Beverly Martel 005 (US)

No Place Left to Leave -

Richland / No Place Left To Leave / Butterfly / Lavenders And Loving Gestures / Bar, Guitar And A Honky Tonk Crowd / Don't Want To Leave / Black Bottle / Dirt Road In Georgia / Black Creek / Hold Me Closely
10/2016
CD Low Country Sound 555755 (US)

Shine on Rainy Day -

Solving Problems / South Of Atlanta / The World / Diggin' Holes / Country Bound / Traveling Poor Boy / Shine On Rainy Day / Let The Rain Come Down / Down In The Gulley / Black Crow
05/2018
CD Elektra / Low Country Sound 567126 (US)

Providence Canyon - Providence Canyon / King Of Alabama / Mornin's Gonna Come / Come Home Soon / Sucker For A Good Time / High In The Country / If I Don't See Ya / .30-06 / Lorene / When The Dust Settles / Ain't A Road Too Long

10/2020
CD Ol' Buddy 49683CD (US)

Keep 'Em on They Toes - Keep 'em On They Toes / Shut Up And Sing / Good Times And Good Love / Sometimes I'm A Clown / This Side of the River / Dust Under My Rug / Soapbox / When You Go / The World Is Ending / Little Stuff

02/2022
CD Ol' Buddy 32802CD (US)

And Now, Let's Turn to Page... - Just A Closer Walk With Thee / When It's My Time / In The Garden / Are You Washed In The Blood? / Softly And Tenderly / Old Rugged Cross / We Shall Rise / Old Country Church / Blessed Be The Tie That Binds

09/2023
CD Ol' Buddy 56721CD (US)

Southern Star - Southern Star / It's A Start / Livin' The Dream / Patina / 'On't Know When / Kick The Can / Devil Ain't Done / When Country Came Back To Town / Miss Ater / Shade Tree
© Rocky Productions 23/09/2023