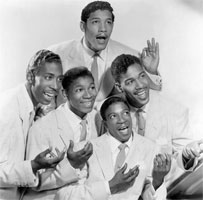 Groupe Doo Wop US formé en 1951 à New York. Les Chords comprenaient Carl et Claude Feaster, Jimmy Keyes, Floyd "Buddy" McRae et Ricky Edwards. Il ont aussi utilsé les noms de Chord Cats et Sh-Booms. Ils se sont séparés en 1961.

The Chords -- Carl and Claude Feaster, Jimmy Keyes, Floyd "Buddy" McRae, and Ricky Edwards -- formed in 1951 in the Bronx, but weren't discovered until three years later, when they were spotted singing in a subway station, a performance that ultimately landed them a recording contract with Atlantic Records.
Jerry Wexler, Atlantic's top talent A&R man, had the Chords cover a Patti Page hit, "Cross Over the Bridge" (it was also covered by the Flamingos for Chance), but it was the B-side, "Sh-Boom," a swinging R&B Vocals tune with a catchy intro made up of seemingly nonsensical syllables ("shh-boom, shh-boom, yadda da da yadda da da da da da") that caused considerably more commotion.
"Sh-Boom" is supposed to have been titled after the threat of an atom bomb explosion which, in the midst of Cold War posturing in 1954, was a very real topic on the public's mind. However, this demented ditty also included the surreally optimistic message that everything was ultimately fine and as the rest of the lyrics suggested, "life could be a dream." By the end of June 1954, "Sh-Boom" had climbed up the charts nationwide, charting on both the R&B (number five) and pop (number two) lists, a nearly unprecedented feat for its time. For all practical purposes -- along with the Crows' 1953 hit "Gee" (another upbeat B-side hit that DJs flipped over) -- "Sh-Boom" introduced the white audience to black R&B music for the first time.
Not everyone thought the song was a precursor of good things to come. Peter Potter, host of TV's popular Juke Box Jury, was seemingly aghast at the state of this then-new trend in pop music and attacked "Sh-Boom" asking if anyone would remember the admittedly demented ditty in five, let alone 20 years time and whether any record label would even think to re-release it in the future. (The answers to his rhetorical questions were, of course, yes and yes.)
The songwriters were deluged by music publishing companies wanting to buy the rights to "Sh-Boom" in order to reap huge potential earnings (the group quickly came to an agreement with Hill & Range). Soon there were cover versions hitting radio stations across the country simultaneously with the Chords' original single. Some were memorable and some otherwise, including a countrified take by the Billy Williams Quartet for Coral, and most notably, the Crew Cuts' version for Mercury.
The Chords soon appeared on TV shows (still an invention not yet in many American homes), but were knocked for a loop when they learned there was a more-obscure group already using the name Chords. They were forced to change their name to the Chordcats. Subsequent Atlantic record ads noted that their group was the creators and originators of "Sh-Boom," even though the Canadian Crew Cuts' paler pop version by then had knocked the Chords' R&B-styled version off the charts.
Atlantic later moved the Chords over to their new Cat Records subsidiary, releasing numerous additional singles which mostly failed to chart. A last-gasp attempt to resurrect the act came in mid-1955 when the group renamed themselves the Sh-Booms after their one big hit. The group went through several personnel changes during the late '50s, recording a handful of forgettable records for Vik Records in 1957, and eventually returned to Atlantic in 1960 for one last recording before slipping away into the ether.
https://www.keysoundrecords.com/TheChords.html
Talents : Carl : Lead - Claude : Baritone - Jimmy : First Tenor - Floyd : Second Tenor - Ricky : Bass
Style musical : Doo Wop, Rhythm 'n' Blues

https://youtu.be/wp2IyWM4ycs
| | |
| --- | --- |
| SH-BOOM (1954) (Chords) | |
Years in activity :
| | | | | | | | | | | | |
| --- | --- | --- | --- | --- | --- | --- | --- | --- | --- | --- | --- |
| 1910 | 20 | 30 | 40 | 50 | 60 | 70 | 80 | 90 | 2000 | 10 | 20 |
DISCOGRAPHY
78 t. & Singles
| | | |
| --- | --- | --- |
| 1954 | 78 t. CAT 104 (US) | CHORDS - Sh-Boom / Cross Over The Bridge |
| 1954 | SP CAT 45-104 (US) | CHORDS - Sh-Boom / Little Maiden |
| 09/1954 | 78 t. CAT 109 (US) | CHORDS - Zippity Zum / Bless You |
| 09/1954 | SP CAT 45-109 (US) | CHORDS - Zippity Zum / Bless You |
| 11/1954 | 78 t. CAT 112 (US) | CHORDCATS - A Girl To Love / Hold Me Baby |
| 11/1954 | SP CAT 45-112 (US) | CHORDCATS - A Girl To Love / Hold Me Baby |
| 1955 | 78 t. CAT 117 (US) | SH-BOOMS - Could It Be / Pretty Wild |
| 1955 | SP CAT 45-117 (US) | SH-BOOMS - Could It Be / Pretty Wild |
| 1955 | 78 t. RONNEX 1096 (B) | Zippity Zum (I'm In Love) (CHORDS) / Hold Me Baby (CHORDCATS) |
| 1955 | SP RONNEX 1096 X 45 (B) | Zippity Zum (I'm In Love) (CHORDS) / Hold Me Baby (CHORDCATS) |
| 1957 | SP VIK 4X-0295 (US) | SH-BOOMS - I Don't Want To Set The World On Fire / Lu Lu |
| 1960 | SP ATLANTIC 45-2074 (US) | SH-BOOMS - Blue Moon / Short Skirts |
| 1961 | SP ATCO 45-6213 (US) | SH-BOOMS - Sh-Boom / Little Maiden |
Unissued Tracks
| | | |
| --- | --- | --- |
| 195? | Cat unissued | Hold Me , Never Let Me Go |
| 195? | Cat unissued | Lulu |
| 195? | Cat unissued | Love Oh love |
| 195? | Cat unissued | Heartbeat |
| 1957 | Vik unissued | Don't Be Mad At My Heart |
Albums
| | | | |
| --- | --- | --- | --- |
| ???? | LP 12" CAT 1000 (US) | | THE BEST OF THE CHORDS - Sh-Boom / Little Maiden / Blue Moon / Cross Over The Bridge / A Girl To Love / Hold Me Baby / Lover, Lover, Lover / I Don't Want To Set The World On Fire / Lv-Lv / Could It Be / Pretty Wild / Bless You / Zippity-Zum / More, More, More |
| 2005 | CD CAT CCD-7000 (US) | | THE BEST OF THE CHORDS - Sh-Boom / Little Maiden / Cross Over The Bridge / Zippity Zum / Bless You (For Being An Angel) / Hold Me Baby / A Girl To Love / Heartbeat / Pretty Wild (take 27 & 28) / Could It Be / Love Oh Love / Pretty Wild (take 25 - master) / I Don't Want To Set The World On Fire / Don't Be Mad At My Heart / Lu-Lu (slow version) / Lu-Lu (master) / Short Skirts / Blue Moon / Lover, Lover, Lover / More, More, More / She Was Love / Don't Run Away |
| 12/2006 | CD KEY SOUND ? (US) | | IN MINT CONDITION - More More More / Hold Me Baby / The Way You Look Tonight / Why Do Fools Fall In Love / Love Me By Name / Sh Boom |
© Rocky Productions 21/11/2023