| | | |
| --- | --- | --- |
| | | |
| | | |
| | | |

Chanteur Rockabilly US né le 4 Mars 1936 à Forest Hill (Louisiane), Jay Chevalier, a enregistré chez Cajun (57-58), Recco (59), Goldband (60), Pel (61), Speedy (61), Crest (62) et Cotton Town Jubilee Records (62-63). Il est mort le 30 Mars 2019.

US Rockabilly singer, Jay Chevalier was born on March 4, 1936 in Forest Hill near Lecompte, Louisiana and reared in the small town of Midway just south of Alexandria. He says he grew up "poor and naked in the piney wood hills along the banks of Bayou Boeuf." In 1954, Chevalier enlisted in the Marine Corps where he formed his first band, which appeared on Jimmy Dean's national TV show on CBS in 1957. Upon his discharge, he recorded his first record, Rockin [!!] Roll Angel. Gene Vincent had just recorded Be-Bop-A-Lula, and the two became good friends, working together in Norfolk, Virginia.
In 1959, three-time Louisiana Governor Earl K. Long, who was barred by the State Constitution from succeeding himself, was running for lieutenant governor on a ticket headed by another former governor, James A. Noe of Monroe. Chevalier, intrigued by the flamboyant character and his history, composed and recorded The Ballad of Earl K. Long which was initially banned from radio play because it was suspected to be a political ploy, although Chevalier had never personally met Long. Within a short time the song found its way onto the airways and was enthusiastically received, resulting in sales of more than 100,000 copies of the single in the state. Long won the election. That same year, Chevalier also released Billy Cannon, a rollicking tribute to LSU's only Heisman Trophy winner who helped his team win the 1958 national championship. On Halloween Night, 1959, Cannon electrified a partisan LSU crowd and stunned the Ole Miss Rebels with a fourth-quarter, 89-yard punt return to give the Tigers a 7-3 victory. Chevalier attended the game with Gov. Long and while he was not really a football fan, he witnessed the pandemonium of the Tiger Stadium crowd after the touchdown and wrote the song that night. A record was released within days, adding to Cannon's already mythical appeal, and the name Jay Chevalier became a household word from Shreveport to Lake Charles to New Orleans.
By 1962, he was performing an extended engagement at the Golden Nugget in Las Vegas. In 1963, he added a nineteen-year-old Baton Rouge girl, Grace Broussard, to his show that already included Dale Houston. Dale & Grace had just recorded an old Don and Dewey Squires song, I'm Leaving It All up to You. It was while the three were on tour that the song took off, eventually rising to number 1 in the nation and selling two million copies. Also in 1963, a homesick Chevalier recorded another regional hit, Come Back to Louisiana. The song was revived when it was featured in the 1996 movie Blaze, in which Paul Newman played Earl Long. Chevalier served as a consultant for the movie and played the role of Sen. Paul Braden. In the '70s, Chevalier returned to Louisiana from Las Vegas and managed a number of political campaigns. Chevalier made a brief entry into politics with an unsuccessful bid for the office of lieutenant governor in 1995. Come Back to Louisiana was re-recorded in 2006 to encourage victims of Hurricane Katrina to return home and to rebuild. The Louisiana Legislature adopted it as the official state song in 2006, giving Louisiana, already the only state with two state songs – You Are My Sunshine by former Gov. Jimmie Davis and Give Me Louisiana – three official ballads. Chevalier, who now lives in the New Orleans suburb of Kenner, had his office flooded and his home suffered tree damage during Hurricane Katrina. Somehow, it seems only natural that he would remake Come Back to Louisiana and end up singing it a cappella to the Louisiana Legislature. He still performs several times a year and has performed for two international festivals in England: the Hemsby Festival (2005) and the Americana Festival (2006).
Chevalier is a member of the Rockabilly Hall of Fame. He was inducted into the Louisiana Political Hall of Fame in January 2003 and on December 7, 2008, Jay Chevalier was inducted into the Louisiana Music Hall of Fame. He was also designated "Official State Troubadour" by an act of the Louisiana Legislature in 2006.
Jay Chavalier died on March 30, 2019.
https://en.wikipedia.org/wiki/Jay_Chevalier
Talents : Vocal, Guitar, Songwrier
Style musical : Rockabilly, Rock 'n' Roll, Traditional Country

http://youtu.be/TPlHXp8T4Bk
Years in activity :
| | | | | | | | | | | | |
| --- | --- | --- | --- | --- | --- | --- | --- | --- | --- | --- | --- |
| 1910 | 20 | 30 | 40 | 50 | 60 | 70 | 80 | 90 | 2000 | 10 | 20 |
DISCOGRAPHY
Singles
1958
SP CAJUN C-45-101 (US)
.
Rockin' Roll Angel / Down Heart Break Trail
08/1959
SP RECCO 1002 (US)
.
Ballad Of Marc Elishe / Ballad Of Earl K. Long
09/1960
SP GOLDBAND G-1105 (US)
.
Jay CHEVALIER & The MOON MEN - Castro Rock / Mona
08/1961
SP MONTEL MX 902 (US)
.

Jay Chevalier & The Long Shots - I Ula Francana (My Louisiana Maid) / True So True

1961
SP MONTEL MX 906 (US)
.

Jay Chevalier & The Long Shots - Mr. Football (Billy Cannon) / Cuttin' Cane

09/1961
SP PEL 201 (US)
.
Billy Cannon / High School Days Almost Over
09/1961
SP SPEEDY 1005 (US)
.

Jay Chevalier & The Long Shots - Big Cloud Pt. 1 / Big Cloud Pt. 2

03/1962
SP CREST 45-1097 (US)
.
Jay CHEVALIER with The FEATURES - Check Out Time / It Doesn't Matter
12/1962
SP COTTON TOWN JUBILEE 102 (US)
.
Khruschev And The Devil / Too Many Bubbles
10/1963
SP COTTON TOWN JUBILEE 110 (US)
.

Jay Chevalier & The Louisiana Longshots - Louisiana Living / Simpely & Softly

1965
SP MINARET M-120 (US)
.
Jay

Chevalier

& The

Louisiana Longshots

- Big Wheels / Birmingham Jail
1967
SP MINARET 125 (US)
.

Jolie Bloui / My Heart Went To My Head

196?
SP LONGSHOT 1413 (US)
.
South To Louisiana / I'm Leaving It All Up To You
1970
SP BLACKBIRD CW 517 (US)
.

Politician Boogy / Gold Plated Frame

1976
SP ROUND TABLE RT-1776 (US) (promo)
.

American History / American History

1977
SP CREOLE GOLD CG-1110 (US)
.

John T. Jones / If I Can't Be Near The One I Love (I'll Love The One Near)

1978
SP CREOLE GOLD CG-1111 (US)

Bayou Baby / A Woman I Had To Pay

1978
SP CREOLE GOLD CG-1113 (US)
.
Shelley

Ford

& Jay

Chevalier -

A Cajun Toast / Un Toast Cajun (French version)
1979
SP CREOLE GOLD CG-1114 (US)
.
Shelley

Ford

& Jay

Chevalier -

Disco Blues / Super Country USA
1979
SP CREOLE GOLD CG-1116 (US)
.

Jay & Shelley - Texas Lady / Nine Times Out Of Ten

1991
SP DUKE DR-1111 (US)
.

Blaze (Jay Chevalier & The Louisiana Longshots) / Ballad Of David Duke (Jay & The Dukemen)

19??
SP CONTEMPO CON00172 (US)
.

Ballad Of A "38" / Big River Stud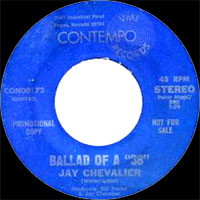 Unissued Track
| | | |
| --- | --- | --- |
| 1966 | Unissued - (Flyright LP 556 (#14)) | If I Can't Be Near The One I Love |
Need Infos
| | | |
| --- | --- | --- |
| 19?? | Need info - (Hydra CD 27123 (#22)) | Cuttin' Cane |
| 19?? | Need info - (Hydra CD 27123 (#7)) | High School Hop |
| 19?? | Need info - (Hydra CD 27123 (#21)) | Keeping Late Hours |
| 19?? | Need info - (Buffalo Bop LP 2053 (#2)) | Rockin' Roll Angel [alt. vers.] |
Albums
1963
LP 12" COTTON TOWN JUBILEE LP-103 (US)
JAY CHEVALIER AND THE LOUISIANA LONG SHOTS AT THE GOLDEN NUGGET - Come Back To Louisiana / Satan's Ground / Jolie Blond / A Wish Or Two / American History / Bill Bailey Ain't Going Home / Louisiana Living / Simply & Softly / Heart Of Her Man / Broom Stick Cowboy / Too Many Bubbles / Johnny's Holding The Reason I Cry
1992
CD RUNDELL LP 015 (GER)
COTTON TOWN JUBILEE - Cotton Town Jubilee Promotion Disc (Earl

Grace

, Jim

Owens,

Sonny

Williams

) / Come Back To Louisiana (Jay CHEVALIER) / Going Steady Ring (Tommy JAY) / Midnight Blues (Charlie

Fritts

) / Troy's Boogie (Troy COLLIER) / In Between (Marlon GRISHAM) / Kruschev Meets The Devil (Jay CHEVALIER) / I Like Your Company (Chuck COMER) / The Same Old Key That Let You Out Will Let You In (Sonny WILLIAMS) / Everytime I See You (Sylvia MOBLEY) / Bill Bailley Ain't Going Home (Jay CHEVALIER) / Cotton Patch Hop (Sonny WILLIAMS) / Better Run Suzie (Ray COBLE) / Satan's Ground (Jay CHEVALIER) / Wild Mountain Call (Johnny DUNCAN) / Big Ball In Brocklyn (Bill MEDLOCK) / Too Many Bubbles (Jay CHEVALIER) / It Was Sweet While It Lasted, But It Ended Too Soon (Sonny WILLIAMS) / That's My Desire (Bill MEDLOCK) / Please Don't Say Goodbye (Sonny WILLIAMS) / Gone, Gone, Gone (Charlie

Fritts

) / Lousiana Living (Jay CHEVALIER)
2002
CD CREOLE GOLD 001 (US)
LOST IN LOUISIANA 1959 -

Lost In Louisiana 1959 / New Orleans Blues / Rock And Roll Blues / The Legend Of Johnny Be Good / Rock n' Roll Angel / Ballad Of Earl K. Long / Castro Rock / Billy Cannon / Keeping Late Huors / If You'll Pick Up All The Pieces / Come Back To Louisiana / Texas Lady / Blaze / Some Kind Of Fool / Super Country USA / Somewhere In Arizona / Nine Times Out Of Ten / Cold Cold Heart / San Antonio Rose / In The Garden

09/2004
CD HYDRA 27123 (GER)
ROCKIN' COUNTRY SIDES - Castro Rock / Mona / Rock & Roll Angel / Ballad Of Earl K. Long / Ballad Of Marc Elishe / Billy Cannon / Highschool Hop / Big Cloud

[inst.] /

It Doesn't Matter / Khrushchev And The Devil / Too Many Bubbles / Come Back To Louisiana / Satan's Ground / Bill Bailey Ain't Going Home / Check Out Time / Louisiana Living / Big Wheels/ I'm Leaving It All Up To You / South To Louisiana / Keeping Late Hours / Cuttin' Cane / Mr. Football (Billy Cannon) / Jolie Blonde / American History / Johnny's Holding The Reason Why I Cry / Bayou Baby / John T. Jones / Blaze / Jambalaya

[live]
© Rocky Productions 6/11/2023