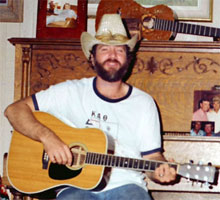 Chanteur Country US né le 1er Décembre 1944 à Midland (Texas).

Born 1 December 1944, Midland, Texas, USA. After graduating from high school in 1963, Chesnut attended University of Texas, Austin, and while there worked part-time at KVET AM as an engineer and disc jockey. In 1968, while still a student, Chesnut recorded two songs written by Herman M. Nelson, 'About To Be Woman' and 'Leaves', with a band led by Bill Josey Snr. In the 70s, he worked as a single and also in duo with Rodney Crowell, which became a trio when Chesnut's first wife, Linda, was added as drummer. Moving to Nashville, Tennessee, he became a staff writer for publisher Acuff-Rose Music, whose co-owner, Roy Acuff, encouraged him to make two albums in the late 70s. Mostly, he sang his own compositions, among which were Grammy Award-nominee 'Show Me A Sign' and 'Get Back To Loving Me'. His song, 'Oklahoma Morning', was recorded by Charley Pride.
At the start of the 80s, beset by problems marital and through alcohol, Chesnut made half a dozen sides for United Artists Records and Liberty Records, but then retired from music and also quit drinking. In later years, Chesnut worked in marketing, specializing in communications but intending to stay clear of the music business. In the previous few years, however, he had appeared at San Antonio's annual KKYX River Festival. For the 1982 show, he stepped in to fill a scheduling gap and ended up with job in sales at KKYX; he also met Christine Walden who later that year became his wife. Early in 2007, Chesnut learned that one of his recordings, 'Get Back To Loving Me', was being used on the soundtrack of the film Come Early Morning (2007), starring Ashley Judd, a daughter of Naomi Judd. This news prompted Chesnut to have his early recordings digitally remastered for re-release by Sony/ATV Music. By this time, Chesnut had cautiously tested the waters and had begun performing again. Mostly, he stayed close to home, taking engagements at venues in his home state.
http://chesnutproductions.com/
Talents : Vocals, Songwriter, Guitar, Piano, Bass Guitar
Style musical : Traditional Country
https://youtu.be/_VoczHB4GHs?si=G6W_QeKkMAv1WEKe
Years in activity :
| | | | | | | | | | | | |
| --- | --- | --- | --- | --- | --- | --- | --- | --- | --- | --- | --- |
| 1910 | 20 | 30 | 40 | 50 | 60 | 70 | 80 | 90 | 2000 | 10 | 20 |
DISCOGRAPHY
Singles
1968
SP SONOBEAT PV-S112 (US)
About To Be Woman / Leaves
1973
SP COCHISE No 102 (US)
.

All Across The U.S.A. / Child Of The HiWay

03/1976
SP HICKORY H 369 (US)
.

A Country Love Song / Good Lord, Whatever Happened To The Trains

09/1976
SP ABC / HICKORY AH-54003 (US)
.

She's My Woman / Tell Me, Tell Me That You Love Me

02/1977
SP ABC / HICKORY AH-54007 (US)
.

California Lady / What Got In The Way

02/1977
SP DJM DJS 10747 (UK)

She's My Woman / Tell Me, Tell Me That You Love Me

06/1977
SP ABC / HICKORY AH-54013 (US)
.

Let Me Love You Now / A Loaf Of Bread (A Jug Of Wine)

11/1977
SP ABC / HICKORY AH-54021 (US)
.

The Wrong Side Of The Rainbow / I'm So Lonely For Your Baby

03/1978
SP ABC / HICKORY AH-54027 (US)
.

The Ninth Of September / I Love You Babe

(For All The Little Things)
07/1978
SP ABC / HICKORY AH-54033 (US)
.

Show Me A Sign / Whiskey Lady

10/1978
SP ABC / HICKORY AH-54038 (US)
.

Get Back To Loving Me / Kinder Than The Last One

03/1979
SP ABC / HICKORY

AH-54044

(US)
.

Just Le Me Make Believe / Let Me Just Say I Love You

06/1979
SP MCA

MCA-41015

(US)
.

Just Let Me Make Believe / Let me Just Say I Love You

08/1979
SP MCA

MCA-41

106

(US)
.

Let's Take The Time To Fall In Love / Loaf Of Bread

(A Jug Of Wine)
08/1980
SP UNITED ARTISTS

UA-X1372-Y

(US)
.

Out Run The Sun / Pick Up The Pieces

05/1981
SP LIBERTY XW 1405 (US)
.

Bedtime Stories / Pick Up The Pieces

09/1981
SP LIBERTY XW 1434 (US)
.

The Rose For Today / Dark Eyed Lady
Albums
1977
LP 12" ABC / HICKORY

AH-44004

(US)

LET ME LOVE YOU NOW -

California Lady / A Loaf Of Bread (A Jug Of Wine)/ Let Me Just Say I Love You / She¢s My Woman / Good Morning; Next Time / What Got In The Way / A Country Love Song / Oklahoma Morning / Let Me Love You Now
1978
LP 12" ABC / HICKORY

H

B-440

12

(US)

SHOW ME A SIGN -

Show Me A Sign / It's A Heartache / Glass Houses / I Love You Babe (For All The Little Things) / Wrong Side Of The Rainbow / I'm So Lonely For My Baby / Get Back To Loving Me / Whiskey Lady / The Nineth Of September / Kinder Than The Last One
03/2007
CD CHESNUT PRODUCTIONS CP-2007-001 (US)

THE NASHVILLE YEARS - VOLUME ONE

11/2007
CD CHESNUT PRODUCTIONS CP-2007-002 (US)

THE NASHVILLE YEARS - VOLUME

TWO

03/2008
CD Goforth CP-2008-001 (US)
REFLECTIONS - What's Come Over Me / Another Day In The Life Of A Fool / Hard Times / It Beats The Hell Out Of Me / Memories Of Amanda / It Ain't All That Easy Being Parents / I'll Love You Forever / Wash Away My Sins / Cheatin' Heart Attack / What's A Nice Guy Like Me / Do You Still Waltz Across Texas / If Waylon Ain't In Heaven
2016
CD CHESNUT PRODUCTIONS CP-2007-001 (US)

This Guy Sings! - Gonna Be With Baby Tonight / What Got In The Way / Once In A While / Lost And Found Love / You Are So Wonderful / If Forever Won't Have You / True Love Is A Dance In Three-Quarter Time / Unfinished Business / That Don't Make It Country, Nashville / Don't Blame Me, Blame It On Love / A Little More You And A Little Less Me / Circuit Rider

2018
CD CHESNUT PRODUCTIONS CP-2018-001 (US)

I Sure Do Miss My Hair - Rode Hard And Put Away Wet / I Sure Do Miss My Hair / Listen To Willie At Night / Just In The Nick Of Time / Before I Met You / I'll Love You Forever / Doublewide Bride / Working Man's Saturday Night / Willing Woman / May All Your Days Be Good Ones
© Rocky Productions 1/11/2023