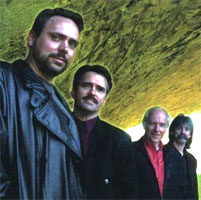 Groupe Country US formé en 1994 à Bethesda (Maryland) et composé de Mike Auldridge, Jimmy Gaudreau, Moondi Klein et T. Michael Coleman.

Dobro whiz Mike Auldridge, bassist T. Michael Coleman, and lead vocalist and guitarist Lawrence "Moondi" Klein started Chesapeake to fill in their schedule between gigs with the Seldom Scene. But, when they were joined by mandolinist Jimmy Gaudreau, formerly of the Tony Rice Unit, the result was so successful that they agreed to make it a more permanent unit. The decision proved to be one of the best they'd ever made. Taking a more serious approach than they did with the Seldom Scene, they created one of the most innovative sounds in contemporary bluegrass. While the group's ties to the hill country tradition remains as solid as its past efforts, Chesapeake takes things a step further with well-conceived arrangements, pure-as-honey Vocals harmonies, and masterful instrumentation.
Chesapeake represents a natural evolution for Auldridge. A founding member of the Seldom Scene, he had grown frustrated by the band's lackadaisical attitude toward rehearsing. Although banjo player Ben Eldridge, who worked as a mathematician during the week, and the late mandolinist/vocalist John Duffey, who worked as a guitar repairman, rarely played their instruments outside of performances, Auldridge lived and breathed music. Coleman, a former sideman for Doc and Merle Watson who joined the Seldom Scene in 1988, was the same way. The two musicians had previously recorded a trio album with former Seldom Scene lead singer Lou Reid.
Their disenchantment with the Seldom Scene's light touring schedule intensified when Reid left the band and the group's original lead singer, John Starling, who worked as a medical doctor, returned. Starling only remained for a little over a year. Although Moondi Klein, formerly of Rock Creek, replaced him, Auldridge and Coleman continued to seek other outlets. When Guadreau became equally frustrated with the schedule slowing down of the Tony Rice Unit, the final pieces of Chesapeake were assembled. After rehearsing for several months in Auldridge's basement, the group gave its first performance. While Auldridge, Coleman, and Klein worked with both the Seldom Scene and Chesapeake for a while, they gave their notice in 1995.
A wide range of material has been incorporated into Chesapeake's repertoire. While country songs by the Carter Family, Norman Blake, and Bill Emerson have been treated to modern interpretations, the band has been as effective with its renditions of tunes by folk singer/songwriters, including Tom Paxton and Steve Gillette, and rock performers such as Van Morrison and Little Feat.
https://en.wikipedia.org/wiki/Chesapeake_(band)
https://www.allmusic.com/artist/chesapeake-mn0000108788#biography
Talents : Mike Auldridge : Dobro, Lap Steel, Pedal Steel - Jimmy Gaudreau : Mandolin - Moondi Klein : Guitar - T. Michael Coleman : Bass
Style musical : Country-Pop, Contemporary Country, Country-Folk, Contemporary Folk, Pop/Rock, Folk, Neo-Traditionalist Country, Neo-Traditional Folk, New Acoustic

https://youtu.be/Lp3MKoQ-SaU?si=XnIOVVp0iUTsHTq3
Years in activity :
| | | | | | | | | | | | |
| --- | --- | --- | --- | --- | --- | --- | --- | --- | --- | --- | --- |
| 1910 | 20 | 30 | 40 | 50 | 60 | 70 | 80 | 90 | 2000 | 10 | 20 |
DISCOGRAPHY
Albums
| | | | |
| --- | --- | --- | --- |
| 08/1994 | CD SUGAR HILL SH-CD 3827 (US) | | RISING TIDE - Black Jack Davey / The Morning Blues / Columbus Stockade / Darcey Farrow / Dreamer Believer / High Sierras / Always On A Mountain / Cypress Grove / Genie In The Wine / 2:10 Train / Summer Wages / Shady Grove / Moondance |
| 02/1996 | CD SUGAR HILL SH-CD 3841 (US) | | FULL SAIL - Home From The Mills / Are You Tired Of Me, My Darling? / Sweet Melinda / Rain And Snow / Last Train From Poor Valley / One Way Track / The Lights Of Home / Let It Roll / The Last Thing On My Mind / Free At Heart / Crawfishin' |
| 10/1997 | CD SUGAR HILL SH-CD 3872 (US) | | PIER PRESSURE - Once A Day / Full Force Gale / Bed Of Roses / Nothing Ain't A Lot / Carolina Star / Sleepwalk(ing) At The Drive-In / Baby Blue Eyes / White Pilgrim / Guilty / Rockin' Hillbilly / Don't Lay Down / Working On A Building |
| 2014 | CD Chesterbury CR001 (US) | | Hook, Live & Sinker - By The Side Of The Road / Coleen Malone / Ginseng Sullivan / Georgia / The Soul Of A Man Never Dies / Song For A Winter's Night / Cypress Jam / Song For The Life / I'm Working On A Building / California Earthquake / Bill Cheatham's Tasteless Walk On The Wild Side Of Mission Impossible / White Dove / Red Georgia Clay / Like I Used To Do / My Window Faces The South / Bartender's Blues / Soldier's Joy / John Hardy / Train Of Love / Treasures Untold |
© Rocky Productions 28/10/2023