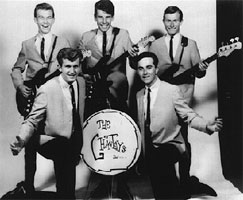 Groupe Rock 'n' Roll US formé en 1962 à Santa Ana (Californie) et comprenant Bob Spickard, Brian Carman, BobWelch, Warren Waters et Rob Marshall.

Formed in Santa Ana in 1962, the Chantays were five high school buddies — Brian Carman (guitar, Vocals), Bob Spickard (guitar, Vocals), Bob Marshall (piano, keyboards), Warren Waters (bass), and Bob Welch (drums) — ranging in age from 13 to 17. Playing local dances, they specialized in surf music, and at least in the beginning were primarily an instrumental outfit. They were spotted and signed up by manager Dale Smallins, and in 1962 Carman and Spickard composed and published a piece entitled "Pipeline," which went on to become one of the biggest and best instrumental surf hits ever recorded. Its simple yet memorable melody and beautiful guitar line — lyrical yet evoking excitement and motion — and deceptively complex embellishments, all backed by a highly animated and propulsive bass part, made it naturally appealing in the musical landscape of the time. Additionally, the record had a very natural sound that made it seductive to the ear. One reason for its success may have been the fact that, so the story goes, it was actually recorded in the back of a particular surf shop (where the original master tape was reportedly found more than 25 years later) — perhaps it was just a practical decision to cut the song there, or they were seeking some kind of psychic verisimilitude, but if it is true, it didn't hurt the finished product one bit.
"Pipeline" became a number one single and rocketed the quintet out of Santa Ana and straight to national fame. They followed it up with a brace of singles, none of which saw even a shadow of the sales of "Pipeline," and also cut two albums, Pipeline and The Two Sides of the Chantays. Those were fine showcases for the group's strengths — and a few weaknesses — but made very little impact. Their repertoire was crowded with rock & roll covers and "Pipeline" sound-alikes, as well as some cutesy plays on the Shadows' sound of the same period, and none of their follow-up singles charted. Meanwhile, "Pipeline" not only got heavy radio play for years after it left the charts, but also entered the musical mainstream as a pop instrumental standard (in particular, television viewers who lived in the New York area during the early/mid-'60s may remember "Pipeline" being used almost weekly as background music whenever kids show host Chuck McCann would come out dressed as Ace Jackson, to read the "Smilin' Jack" comic strip on his Sunday television show Let's Have Fun.
Competent players who went heavy on the rumbling bass, ghostly reverb, and electric keyboards, the Chantays were very much a one-shot act. The group remained perennially popular on the nostalgia and oldies circuits, with new members coming in alongside of Carman and Spickard, and Welch subsequently rejoined. In 1994, the group released their first new album in over 30 years, called Next Set, and they followed it up in 1997 with Waiting for the Tide. As of 2005, the band was still working regularly.
https://en.wikipedia.org/wiki/The_Chantays
Talents : Brian Carman : Guitar, Vocals - Bob Spickard : Guitar, Vocals - Bob Marshall : Piano, Keyboards - Warren Waters : Bass - Bob Welch : Drums
Style musical : Instrumental Rock, Surf

http://www.youtube.com/watch?v=j09C8clJaXo
Years in activity :
| | | | | | | | | | | | |
| --- | --- | --- | --- | --- | --- | --- | --- | --- | --- | --- | --- |
| 1910 | 20 | 30 | 40 | 50 | 60 | 70 | 80 | 90 | 2000 | 10 | 20 |
DISCOGRAPHY
Singles & EP
12/1962
SP DOWNEY D-104 (US)
.
CHANTAY'S - Pipeline / Move It
01/1963
SP DOT 45-16440 (US)
.
CHANTAY'S - Pipeline / Move It
03/1963
SP LONDON DL 20 692 (GER)
CHANTAY'S - Pipeline / Move It
05/1963
SP LONDON 45-HL 1470 (I)
CHANTAY'S - Pipeline / Move It
05/1963
SP DOWNEY D-108 (US)
.
CHANTAYS - Monsoon / Scotch High's
05/1963
SP DOT 45-16492 (US)
.
CHANTAYS - Monsoon / Scotch High's
07/1963
EP LONDON RE 10147 (F)
CHANTAYS - Pipeline / Wayward Nile / El Conquistador / Sleepwalk
07/1963
SP DOT JET-1250 (JAP)

Chantay's - Pipeline / Move It

11/1963
SP LONDON RED 1397 (UK)
CHANTAYS -

Pipeline -

Pipeline / Tragic Wind / Blunderbus / El Conquistador
1963
EP LONDON EDGE 71831 (S)
CHANTAYS - Pipeline / Wayward Nile / El Conquistador / Sleep Walk
1963
EP LONDON / DOT EZA-7570 (AUS)

Surf's Up - Chantays : Pipeline / Move It / Surfaris : Surfer Joe / Wipe Out

1963
EP LONDON / DOT EZA-7571 (AUS)

Surfin' With The Chantays - Tragic Wind / El Conquistador / Banzai / Monsoon

1964
SP DOWNEY D-116 (US)
.
CHANTAYS - Space Probe / Continental Missile
06/1964
SP DOWNEY D-120 (US)
.
CHANTAYS - Only If You Care / Love Can Be Cruel
08/1964
EP 33 t. DOT SJET-199 (JAP)

Surfin' Best 4 - Chantays : Pipeline / Runaway / Surfaris : Wipe Out / Walk Don't Run

11/1964
SP DOWNEY D-126 (US)
.
CHANTAYS - Beyond / I'll Be Back Someday
1964
SP X-P-A-N-D-E-D Sound X-103 (US)
.

Leaping Ferns - It Never Works Out For Me / Maybe Baby

1964
EP RGE C.D. 80.169 (BRA)

CHANTAYS - Pipeline - Pipeline / Banzai / El Conquistador / Last Night

1965
SP DOT 45-145 (US)
.
CHANTAY'S - Pipeline / Move It
1965
SP DOWNEY D-130 (US)
.
CHANTAYS - Greenz / Three Coins In The Fountain
03/1965
EP DOT ZX-10,986 (AUS)
CHANTAYS -

Pipeline -

Pipeline / Move It / Runaway / Sleepwalk
06/1965
SP DOT JET-1530 (JAP)
CHANTAYS - Tragic Wind / Wayward Nile
07/1965
EP DOT SJET-281 (JAP)
CHANTAYS -

Best 4 -

Tragic Wind / Last Night / Pipeline / Wayward Nile
09/1965
SP DOT JET-1555 (JAP)
CHANTAYS - Runaway / Last Night
11/1965
SP DOT JET-1574 (JAP)
CHANTAYS - Beyond / I'll Be Back Someday
11/1965
SP REPRISE 0423 (US)
.

III Winds - (I Won't Cry) So Be On Your Way / Fear Of The Rain

12/1965
EP 33 t. DOT SJET-324 (JAP)
CHANTAYS - Beyond / Continental Missile / Runaway / Tragic Wind
07/1966
SP REPRISE 0492 (US)
.
III Winds - A Letter / I Idolize You
1966
SP DOT JET-1606 (JAP)
CHANTAYS - Space Probe / Three Coins In The Fountain
04/1966
SP DOT JET-1649 (JAP)
CHANTAYS - Ozone / Continental Missile
1966
EP 33 t. DOT SJET-389 (JAP)

The Chantays Best 4 - Space Probe / Beyond / Ozone / Riders In The Sky

1972
SP Paramount 3C 006-95050 (I)
CHANTAY'S - Pipeline / Move It
1974
SP GOLDIES 45 P-2704 (US)
.
CHANTAY'S - Pipeline / Move It
1982
SP OLD GOLD OG 9171 (UK)
1984
SP MCA P-2704 (US)
.
CHANTAY'S - Pipeline / Move It
1989
SP RIPETE R45-263 (US)
.

Precious And Few (CLIMAX) / Pipeline (CHANTAYS)

19??
SP COLLECTABLES COL 1171 (US)
.
CHANTAYS - Pipeline / Move It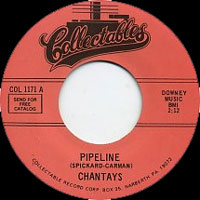 Albums
1963
LP 12" DOT DLP-1002 (mono) / DLP-25516 (stereo)(US)
PIPELINE - Pipeline / Lonesome Road / Tragic Wind / Runaway / Blunderbus / Banzai / Sleepwalk / Night Theme / Wayward Nile / El Conquistador / Riders In The Sky / Last Night
1963
LP 12" London HAD 8087 (UK)
PIPELINE - Pipeline / Lonesome Road / Tragic Wind / Runaway / Blunderbus / Banzai / Sleepwalk / Night Theme / Wayward Nile / El Conquistador / Riders In The Sky / Last Night
1963
LP 12" London HAA 7727 (AUS)
PIPELINE - Pipeline / Lonesome Road / Tragic Wind / Runaway / Blunderbus / Banzai / Sleepwalk / Night Theme / Wayward Nile / El Conquistador / Riders In The Sky / Last Night
1964
LP 12" DOT

SJET-7487 (JAP)

PIPELINE - Pipeline / Lonesome Road / Tragic Wind / Runaway / Blunderbus / Banzai / Sleepwalk / Night Theme / Wayward Nile / El Conquistador / Riders In The Sky / Last Night
1965 ?
LP 12" DOT

SJET-7654 (JAP)

Electric Guitar Festival - String-A-Longs, Surfaris, Chantays - String-A-Longs : Walk Dont Run / Surfaris : Memphis / CHANTAYS : Pipeline / Last Night / Surfaris : You Cant Sit Down / String-A-Longs : Summertime / Surfaris : Wipe Out / String-A-Longs : My Blue Heraven / CHANTAYS : Riders In The Sky / Surfaris : Surfer Joe / String-A-Longs : Mathilda / CHANTAYS : The Lonesome Road

1965 ?
LP 12" 中聲 CSJ-71 (TW)
Electric Guitar Festival - String-A-Longs, Surfaris, Chantays - String-A-Longs : Walk Dont Run / Surfaris : Memphis / CHANTAYS : Pipeline / Last Night / Surfaris : You Cant Sit Down / String-A-Longs : Summertime / Surfaris : Wipe Out / String-A-Longs : My Blue Heraven / CHANTAYS : Riders In The Sky / Surfaris : Surfer Joe / String-A-Longs : Mathilda / CHANTAYS : The Lonesome Road
1965 ?
LP 12" DOT

SJET-7756 (JAP)

The Best Of The Chantays - Beyond / Space Probe / Three Coins In A Fountain / Continentale Missile / Torquay / Ozone / Tragic Wind / Pipeline / Last Night / Runaway / Riders In The Sky / Wayward Nile

1966
LP 12" DOT DLP-3771 (mono) / DLP-25771 (US)
TWO SIDES OF THE CHANTAYS - Move It / Maybe Baby / It Never Works Out For Me / Love Can Be Cruel / I'll Be Back Someday / Only If You Care / Three Coins In The Fountain / Beyond / Green / Space Probe / Continental Missle / Retaliation
1970 ?
LP 12" DOT SJET-5015 (JAP)

Pipeline - Tragic Wind / Pipeline / Space Probe / Three Coins In The Fountain / Continental Missile / Beyond / Runaway / Torquay / Riders In The Sky / Ozone

1974
LP 12" CONTOUR 2870 389 (UK)
PIPELINE - Pipeline / Lonesome Road / Tragic Wind / Runaway / Blunderbus / Banzai / Sleepwalk / Night Theme / Wayward Nile / El Conquistador / Riders In The Sky / Last Night
1976
LP 12" Abc 27 358 XAT (GER)

The Story Of Rock And Roll - THE CHANTAYS - Pipeline / Lonesome Road / Tragic Wind / Runaway / Blunderbus / Banzai / Sleepwalk / Night Theme / Wayward Nile / El Conquistador / Riders In The Sky / Last Night

1978
LP 12" Abc DOT YS-8033-AO (JAP)

Electric Guitar Hits Special - Chantys, Surfaris - CHANTYS : Pipeline / Beyond / Summertime / Sleepwalk / Night Theme / Riders In The Sky / Tragic Winds / Surfaris : Wipe Out / Surfer Joe / You Can't Sit Down / Wild Weekend / Wiggle Woggle / Teen Beat '66 / Tequila

1990
CD Repertoire RR 4114-WZ (GER)

Two Sides Of The Chantays / Pipeline - Two Sides Of The Chantays : Move It / Maybe Baby / It Never Works Out For Me / Love Can Be Cruel / I'll Be Back Someday / Only If You Care / Three Coins In The Fountain / Beyond / Greenz / Space Probe / Continental Missile / Retaliation / Pipeline : Pipeline / The Lonesome Road / Tragic Wind / Runaway / Blunderbus / Banzai / Sleep Walk / Night Theme / Wayward Nile / El Conquistator / Riders In The Sky / Last Night

1990
CD MCA MVCM-384 (JAP)

The Best Of The Chantays - Pipeline / The Lonesome Road / Tragic Wind / Runaway / Blunderbus / Banzai / Sleep Walk / Night Theme / Wayward Nile / El Conquistador / Riders In The Sky / Last Night / Monsoon / Scotch High's / Move It / Maybe Baby / It Never Works Out For Me / Love Can Be Cruel / I'll Be Back Someday / Only If You Care / Three Coins In The Fountain / Beyond / Greenz / Space Probe / Continental Missile / Retaliation

1992
CD MCA GSD-2086 (JAP)

Electric Best Guitar Hits – CD-6 - Pipeline - Wipe Out - ChantAys, Surfaris - CHANTAYS : Pipeline / Move It / Sleep Walk / Tragic Winds / Wayward Nile / Runaway / Beyond / Space Probe / Three Coins In The Fountain / Surfaris : Wipe Out / Point Panic / Waikiki Run / Bat Man (Movin') / Misirlou / Surfaris Stomp / Scattered Shield / Dune Buggy / Apache

1994
CD Varèse Sarabande VSD-5491 (US)
PIPELINE - Pipeline / Lonesome Road / Tragic Wind / Runaway / Blunderbus / Banzai / Sleepwalk / Night Theme / Wayward Nile / El Conquistador / Riders In The Sky / Last Night / BONUS TRACKS : Move It / Monsoon / Scotch High's
1994
CD CHANTAYS PRODUCTION CPD 3164 (US)
NEXT SET - Killer Dana / Bailout At Frog Rock / Baja / Pipeline / Mr Moto / El Conquistador / South Swell / Hot Doggin' / Blunderblus / Riders In The Sky / Penetration
1996
CD CHANTAYS PRODUCTION CPD 1669 (US)

Out Of The Blue - Clear The Room / Green Room / Bailout At Frog Rock / House Rock Rapid / Out Of The Blue / Dances With Waves / Night Sand / Killer Dana / Island / So. Cal. Jungle / Smokin Da Pipe / Descanso Daze / Crystal-T / Tuna Towne / Pipeline (unplugged)

11/1997
CD VRA 80003 (US)
WAITING FOR THE TIME - Killer Dana / Green Room / Out Of The Blue / Smokin' Da Pipe / Bailout At Frog Rock / Dances With Waves / Island / So Cal Jungle / House Rock Rapid / Nightstand / Clear The Room / Tuna Towne / Descanso Daze / Crystal-T / Pipeline

[unplugged version]

1998
CD Gee-Dee Music CD 270140-2 (GER)

Re-Plugged - Killer Dana / Pipeline / Smikin' Da Pipe / Dances With Waves / Riders In The Sky / So Cal Jungle / Baja / Clear The Room / Penetration / House Rock Rapid / Bailout At Frog Rock / Mr. Moto / Crystal T / Nightsand / Pipeline

11/2005
CD MAGIC

3930542

(F)
PIPELINE -

Pipeline / Lonesome Road / Tragic Wind / Runaway / Blunderbus / Banzai / Sleepwalk / Night Theme / Wayward Nile / Conquistador / Riders In The Sky / Last Night /

BONUS TRACKS : Monsoon / Scotch High's

05/2023
CD Sundazed LP 5646 (US)

A Dawning Sun - Copenhagen / A Dawning Sun / Take It Like A Man / You've Got Your Troubles / Raylene / Mr. Moto / Sentimental Guitar / Outside's Inside Sad / Back Home / Now That It's Over
© Rocky Productions 18/06/2023