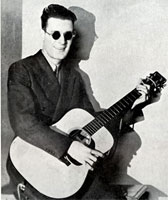 Chanteur Country US aveugle, né Peter Webster Cassell, le 27 Août 1917 à Cobb Country (Georgie). Pete Cassell est décédé le 29 Juillet 1954.

A blind country minstrel content to perform on radio broadcasts rather than record his material, Pete Cassell impressed many listeners with his near-perfect pitch and self-taught musicianship. Born in Georgia on August 27, 1917, Cassell was blinded in his infancy, and received his education at special schools in Georgia. He specialized in law, but turned to performing after teaching himself to play guitar and sing.
He first appeared on radio in the late '30s for WSB-Atlanta, and spent the rest of his life in roughly yearlong stints for stations in Georgia, West Virginia, Virginia, Pennsylvania, Missouri, and Wisconsin. Between the migrations, Cassell recorded sporadically for Decca, Mercury, and Majestic, from March 1941 to 1949. None of his sides became popular, though Cassell was a hit for nearly every station he performed with, including Wheeling, WV's talent-packed WWVA.
He died of coronary thrombosis in 1954. In 1993, Old Homestead released a collection entitled Pete Cassell, Blind Minstrel.
http://www.hillbilly-music.com/artists/story/index.php?id=11549
Talents : Vocals, Guitar
Style musical : Old Time, Traditional Country
Years in activity :
| | | | | | | | | | | | |
| --- | --- | --- | --- | --- | --- | --- | --- | --- | --- | --- | --- |
| 1910 | 20 | 30 | 40 | 50 | 60 | 70 | 80 | 90 | 2000 | 10 | 20 |
DISCOGRAPHY
78 t. & single
Albums
1965
LP 12" HILLTOP

JM-6023 (mono) / JS-6023 (stereo) (US)

THE LEGEND OF PETE CASSELL - Recitation and Introduction / Too Many Parties / A Message To The One I Love / Letter Edged In Black / The Last Letter / Oh How I Miss You / Waiting For Ships That Never Come In / Where The Old Red River Flows / 'neath The West Virginia Sky
1993
LP 12" OLD HOMEASTEAD OHCS-336 (US)

BLIND MINSTREL -

VOLUME 1 - Where The Old Red River Flows / It's A Lonely Trail / The Moss Covered Hill / I Kissed You And Told You Goodbye / It's Too Late To Say You're Sorry / Oh How I Miss You / Waiting For The Ships That Never Come / Memories That Live / Too Many Parties And Too Many Pals / A Message To The One I Love / The Last Letter
199?
CD OLD HOMEASTEAD OH-4336-CD (US)

BLIND

MINSTREL -

Intro - Pa's Straight Razor / Where The Old Red River Flows / It's A Lonely Trail / The Moss Covered Hill / I Kissed You And Told You Goodbye / It's Too Late To Say You're Sorry / Oh How I Miss You / Waiting For The Ships That Never Come / Memories That Live / Too Many Parties And Too Many Pals / A Message To The One I Love / The Last Letter / Oh How I Miss You / St. Louis Blues / Freight Train Blues / I Can't Feel At Home / One Step More / Why Don't You Come Back To Me / I Know What It Means To Be Long Gone / Burning Of The Winecoff Hotel / When I Filled Up For Chaw / If You Call That Gone, Goodbye / Letter Edged In Black / Welcome As The Flowers In May / Lovesick Blues / Beautiful Texas
© Rocky Productions 20/03/2023