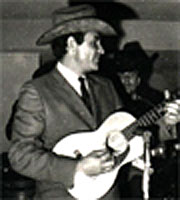 Chanteur Country US né le 31 Décembre 1933 à Winnsboro (Louisiane), Fred Carter est le père de Deana Carter. Il est décédé le 17 Juillet 2010.

Fred Carter was a guitarist, singer, producer and composer. Beginning his professional career in the 1950s, the record charts are replete with his fingerprints across a number of genres. Though based in Nashville and serving as one its premier session guitarists, his influence can be heard on recordings as diverse as Muddy Waters, The Band, Waylon Jennings, Dottie Rambo, and Simon and Garfunkel. His songs have been recorded by acts as diverse as Dean Martin and Chet Atkins.
Carter was reared in the delta country in Winnsboro, the seat of Franklin Parish in northeastern Louisiana. His first partner in music was another Franklin Parish native, Allen "Puddler" Harris. Carter grew up with the heavy musical influences of jazz, country & western, hymns, and blues.These elements fused to form rock and roll in the 1950s, and Carter was a significant part of this development. He spent two years with Roy Orbison during his heyday in the late 1950s. He then worked with Ronnie Hawkins and the Hawks, and was principal guitarist for Dale Hawkins of "Suzie Q" fame. Carter and Harris also toured extensively with Conway Twitty when Twitty was playing rock and roll instead of country.
Carter settled into the Nashville session scene in the early 1960s, having become one of its players for the next two decades. His influence was not confined to Nashville however and
he was a fixture in the folk music genre of the late 1960s and early 1970s. Carter can be heard on a multitude of Simon and Garfunkel classics - most notably "The Boxer" in which he played four guitars, including the memorable finger-picking intro and conclusion. He can also be heard playing bass on Bob Dylan's "Lay Lady Lay" as well as principal guitar with Joan Baez, Neil Young, The Band and others. Carter was instrumental in bringing these acts to Nashville to record, helping Nashville's music landscape expand beyond its traditional boundaries. This influence can be heard on songs such as "The Boxer" which includes harmonica legend Charlie McCoy who Carter brought in to be part of the record. Other signature pieces for Carter include I've Always Been Crazy and Whistlers and Jugglars by Waylon Jennings.
Production credits for Carter include Levon Helm's American Son album on MCA Records, and Bobby Bridger's Heal in the Wisdom. He also helped Dolly Parton and Tanya Tucker
land their first record deals.
Carter was a principal member of the band Levon Helm and The RCO All-Stars. This band was composed of Levon Helm, Booker T. and the MG's, Steve Cropper, Donald "Duck" Dunn, Dr. John, Paul Butterfield, and the NBC Saturday Night Live horns.
Carter did not make the guitar his principal instrument until he was in his early twenties, having been a lifelong fiddle and mandolin player. Also of note, it has been widely reported
that Carter was Robbie Robertson's guitar teacher in the early days of touring with Ronnie Hawkins. Carter was also scheduled to appear in Martin Scorsese's The Last Waltz but
had to decline due to scheduling conflicts. Carter has had small roles in several movies including The Adventures of Huck Finn starring Elijah Wood.
Carter has received mention in many personal biographies, including Levon Helm's This Wheel's on Fire and Willie Nelson's Willie Nelson: An Epic Life. Nelson states in his book that Carter had the best touch or feel of any musician in Nashville.
Carter's daughter is country music singer Deana Carter, a CMA award winning artist..

https://en.wikipedia.org/wiki/Fred_Carter_Jr.
Talents : Vocals, Guitar, Producer, Composer
Style musical : Rockabilly, Traditional Country, Contemporary Country
Years in activity :
| | | | | | | | | | | | |
| --- | --- | --- | --- | --- | --- | --- | --- | --- | --- | --- | --- |
| 1910 | 20 | 30 | 40 | 50 | 60 | 70 | 80 | 90 | 2000 | 10 | 20 |
DISCOGRAPHY
Singles
| | | | |
| --- | --- | --- | --- |
| 04/1958 | SP LODE 2001 (US) | . | Fred CARTER - Freeloaders / I'm In Love (With The Girl Next Door) |
| 12/1961 | SP DECCA 31345 (US) | . | Fred CARTER - This Time Tomorrow / I Can't Learn A Thing About Love |
| 07/1962 | SP DECCA 31415 (US) | . | Fred CARTER - Making Believe / What Am I Gonna Do With Anna |
| 04/1963 | SP MAY MY 143 (US) | . | Fred CARTER - A Mansion On The Hill / Anna, I Love You |
| 08/1963 | SP COLPIX CX 42.895 (NL) | | Fred CARTER - A Mansion On The Hill / Anna, I Love You |
| 10/1963 | SP HICKORY 45-1230 (US) | . | Fred CARTER - Take Me As I Am (Or Let Me Go) / / Too Much Love Is Spoiling You |
| 12/1964 | SP MONUMENT 45-867 (US) | . | Fred CARTER Jr. - Breaking Up / When Happiness Ends (And Heartbreak Begins) |
| 05/1965 | SP MONUMENT 45-881 (US) | . | Fred CARTER Jr. - Happy Tears / Lonely, That's Me |
| 10/1965 | SP MONUMENT 45-902 (US) | . | Fred CARTER Jr. - Love Me 'Til Then / Not I Pretty Baby |
| 04/1966 | SP MONUMENT 45-935 (US) | . | Fred CARTER Jr. - Born For Trouble / Bend Of The Quachita |
| 01/1967 | SP MONUMENT 45-993 (US) | . | Fred CARTER Jr. - Coffee Cup / I Don't Know Why I Keep Loving You |
| 09/1967 | SP MONUMENT 45-1022 (US) | . | Fred CARTER Jr. - And You Wonder Why / It's A Rough Old Road |
| 05/1968 | SP MONUMENT 45-1067 (US) | . | Fred CARTER Jr. - Every Stop Of The Way / Turn It Around In Your Mind |
| 1970 | SP VIKING VIK 1006 (US) | . | Fred CARTER Jr. - Crazy Gringo / Autumn Of My Life |
| 07/1970 | SP VIKING VIK 1013 (US) (promo) | . | Fred CARTER Jr. - Something To Think About [mono] / Something To Think About [stereo] |
| 1970 | SP NUGGET NR 1036 (US) | . | Fred CARTER Jr. - Joni In The New Mown Hay / The Next Plane To L.A. |
| 10/1971 | SP NUGGET NR-1061 (US) | . | Fred CARTER Jr. - Come Sit By My Side / Warm Morning Sun |
| 04/1973 | SP NUGGETT NR-1071 (US) | . | Fred CARTER Jr. - Sitting On My Mama's Knee / River Boy |
| 1975 ? | SP FRED'S OF TENNESSEE FT-1003 (US) | . | Fred CARTER Jr. - Honky Tonk / I'm Feeling Blue Again |
| 197? | SP WIZARD 1001 (US) | . | Fred CARTER Jr. - You And The Taste Of The Wine / Rock Of Ages Turned To Rolling Stone |
| 12/1980 | SP FCO S-859-190 (US) | . | Fred CARTER Jr. - Why Wasn't Time Kinder To You And Me |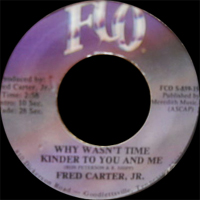 Unissued Track
Albums
| | | | |
| --- | --- | --- | --- |
| 03/1968 | LP 12" UNITED ARTISTS UAS 6640 (US) | | FRED CARTER JR PLAYS GOLDSBORO - Voodoo Woman / See The Funny Little Clown / Nothin' Bad As Beeing Lonely / Jo Jo's Place / When Your Love Has Gone / It's Too Late / Blue Autumn / If You've Got A Heart / Letter To Emily / Litttle Things / Who Am I / Theme For Terri |
| 1982 | LP 12" GUSTO GT-0091 (US) | | BLUES GRASS - FRED CARTER JR. - Wildwood Flower / Rank Stranger / Lost Dog Blues / High Flyin' High / The Boxer / Freeborn Man / There Ain't No Telling Where She's Going / Water The Flowers / I'm A One Woman Man / One Car Funeral Possession / Everybody's Talkin' / Jimmy Brown, The Newsboy |
| 04/2000 | CD MUSIC MILL 70012 (US) | | SONGS OF THE BRITISH ISLES - FRED CARTER CONCEPTS - Danny Boy / Barbara Allen / Drink To Me Only With Thine Eyes / Beautiful Dreamer / Silver Threads Among The Gold / I Gave My Love A Cherry / O Promise Me / Greensleeves / When You And I Were Young Maggie / I'll Take You Home Again Kathleen / Black Is The Color Of My True Love's Hair / House Of The Rising Sun / Scarborough Fair / Those Enduring Young Charms |
© Rocky Productions 31/12/2022