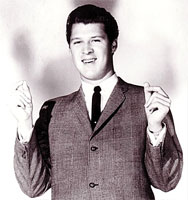 Chanteur Rock 'n' Roll US né John Dee Abohosh, le 6 Février 1936 à Dallas (Texas). Plus tard, Il prendra le nom de son père adoptif, John Faircloth. Donnie Brooks a aussi enregistré sous les noms de Johnny Faire, Dick Bush et Johnny Jordan. Il est mort le 23 Février 2007.

Singer Donnie Brooks remains best known for the 1960 pop smash "Mission Bell," although he is also revered in rockabilly fan circles for the cult classic "Bertha Lou," recorded under the name Johnny Faire. Born John Dee Abohosh in Dallas on February 6, 1936, he was later adopted by his stepfather and given the new surname Fairecloth. While growing up in southern California, he studied under the same Vocals coach who previously instructed Eddie Fisher, and in high school made his professional debut on a classical music showcase broadcast by Ventura-based station KBCC. After graduating from high school, Fairecloth earned his living singing at local clubs, fairs, and weddings, embracing rock & roll and in 1957 signing to local indie Fable Records to cut his debut single, "You Gotta Walk the Line," credited to Johnny Faire.
While cutting demos for the Surf label, he learned that contractual obligations were forcing friend and mentor Dorsey Burnette to abandon a completed track dubbed "Bertha Lou." Surf agreed to erase Burnette's Vocals and insert Faire's performance instead, and while the resulting 1958 single earned scant attention on its original release, it is now revered as a lost classic of the rockabilly era. From there Faire adopted the alias Johnny Jordan long enough to record "Sweet, Sweet, Sweet" for the Jolt label, followed by a stint at Era, where he cut the rockabilly gem "Hollywood Party" under the tongue-in-cheek name Dick Bush. The record went nowhere, but Era owners Herb Newman and Lew Bidell were sufficiently impressed to keep the singer on the payroll — however, they insisted on yet another name change, this time to the wry Donnie Brooks. The first Donnie Brooks single, the melancholy ballad "White Orchid," proved his biggest hit to date, selling about 50,000 copies on the West Coast and topping the Australian pop charts. The follow-up, the Dorsey and Johnny Burnette castoff "Mission Bell," did far better, vaulting Brooks into the Billboard Top Ten and earning him his first gold record. A second Top 40 hit, "Doll House," followed at the end of 1960, and early the following year Brooks scored his final Hot 100 entry, "Memphis." Subsequent singles including "Wishbone," "Boomerang," and "My Favorite Kind of Face" failed to reignite Brooks' career, and following the late-1962 release of "Cries My Heart," the label terminated his contract. Brooks spent the following year off the radar, but resurfaced in early 1964 on Reprise with "Gone." That same year, he appeared in the feature film Get Yourself a College Girl, but Beatlemania effectively spelled the end of his recording career and after one final Reprise effort, "Pickin' Up the Pieces," his tenure with the label came with a halt.
Brooks nevertheless maintained a busy live schedule, opening for the likes of Roy Orbison, Connie Francis, and the Dave Clark Five — he even opened for Frank Sinatra and Sammy Davis, Jr. in Lake Tahoe. In 1971, Brooks appeared as Jesus Christ in the rock opera Truth of Truths, later embracing Christianity. In the years to follow he produced and promoted oldies revival showcases, and continued touring until a serious car accident forced him into retirement in 2003. Brooks died of congestive heart failure on February 23, 2007; he was 71 years old.
https://en.wikipedia.org/wiki/Donnie_Brooks
Talents : Vocals
Style musical : Rockabilly, Rock 'n' Roll

https://youtu.be/Mz3mY6rcgok
| | |
| --- | --- |
| BERTHA LOU (1957) (Johnny Faire) | |
Years in activity :
| | | | | | | | | | | | |
| --- | --- | --- | --- | --- | --- | --- | --- | --- | --- | --- | --- |
| 1910 | 20 | 30 | 40 | 50 | 60 | 70 | 80 | 90 | 2000 | 10 | 20 |
DISCOGRAPHY
Singles & EP
11/1957
SP FABLE 601 (US)
.
Johnny FAIRE - You Gotta Walk The Line / Make Up Your Mind Baby
11/1957
SP FABLE 601 (US)
.
Johnny FAIRE - Make Up Your Mind Baby / If I'm A Fool
11/1957
SP FABLE 601 (US)
.
Johnny FAIRE - You Gotta Walk The Line / If I'm A Fool
12/1957
SP SURF SR 5019-45 (US)
.
Johnny FAIRE - Bertha Lou / Till The Law Says Stop
02/1958
SP SURF SR 5024-45 (US)
.
Johnny FAIRE - Betcha I Getcha / I Fell For Your Line Baby
05/1958
SP ERA 45-1067 (US)
.
Dick BUSH - Hollywood Party / Ezactly
10/1958
SP JOLT 332 (US)
.
Johnny JORDAN - Sweet, Sweet, Sweet / Don't Cry Little Baby
08/1959
SP ERA 3004 (US)
.
Donnie BROOKS - If You're Lookin' / Li'l Sweetheart
09/1959
SP ERA 3007 (US)
.
Donnie BROOKS - Sway And Move With The Beat / White Orchid
03/1960
SP ERA 3014 (US)
.
Donnie BROOKS - The Devil Ain't A Man / How Long
05/1960
SP ERA 3018 (US)
.
Donnie BROOKS - Mission Bell / Do It For Me
10/1960
SP ERA 3028 (US)
Donnie BROOKS - Doll House / Round Robin
02/1961
SP ERA 3042 (US)
Donnie BROOKS - Memphis / That's Why
05/1961
SP ERA 3049 (US)
Donnie BROOKS - All I Can Give / Wishbone
07/1961
SP ERA 3052 (US)
.
Donnie BROOKS - Boomerang / How Long
09/1961
SP ERA 3059 (US)
.
Donnie BROOKS - Sweet Lorraine / Up To My Ears
11/1961
SP ERA 3063 (US)
.
Donnie BROOKS - Goodnight Judy / Your Little Boy's Come Home
03/1962
SP ERA 3071 (US)
.
Donnie BROOKS - My Favorite Kind Of Face / He Stole Flo
05/1962
SP ERA 3077 (US)
.
Donnie BROOKS - Just A Bystander / Oh, You Beautiful Doll
12/1962
SP ERA 3095 (US)
.
Donnie BROOKS - Cries My Heart / It's Not That Easy
02/1964
SP REPRISE 0261 (US)
.
Donnie BROOKS - Gone / Girl Machine
10/1964
SP REPRISE 0311 (US)
.
Donnie BROOKS - Can't Help Lovin' You / Pickin' Up The Pieces
1965
SP REPRISE 0363 (US)
.
Donnie BROOKS - Hey, Little Girl / I Never Get To Love You
1966
SP CHALLENGE 59331 (US)
.
Donnie BROOKS - I Call Your Name / Be Fair
1966
SP CHALLENGE 59444 (US)
.
Donnie BROOKS - Pink Carousel / Minstrel Man
1968
SP ERA 3194 (US)
.
Donnie BROOKS - Blue Soldier / Love Is Funny That Way
1970
SP HAPPY TIGER HT-529 (US)
.
Donnie BROOKS - Abracadabra / Know You As A Woman
1970
SP HAPPY TIGER HT-551 (US)
.
Donnie BROOKS - My God And I / Pink Carousel
1970
SP HAPPY TIGER HT-566 (US)
.
Donnie BROOKS - Rub-A-Dub-Dub / (I Wanna) Have You To Myself
1972
SP ERA B

ack To Back

Hits

001 (US)

Donnie BROOKS - Mission Bell / Doll House

1978
SP Oak OR-1019 (US)
.
Donnie BROOKS - This Song That I Sing Is For You

‎

/ Country Dude
1979
SP Midsong MI 1007 (US)
.
Donnie BROOKS - Big John / Get Fame Son And Make The Front Page
1986
SP ERIC 299 (US)
.

Mission Bell (Donnie BROOKS) / To Know Him Is To Love Him (TEDDY BEARS)

198?
SP Ronnex R 1977 (B)
Donnie BROOKS - Elvis Serenade / A Serenade To Elvis
198?
EP Flamingo NLAEP 105 (AUS)
Donnie BROOKS - Mission Bell / Memphis / Doll House / Oh! You Beautiful Doll
2008
CD K-TEL (US)
.
Dick BUSH - Hollywood Party / Ezactly
2008
CD K-TEL (US)
.
Ronnie BROOKS - Doll House / Round Robin
2008
CD K-TEL (US)
.
Ronnie BROOKS - Memphis / That's Why
????
SP COLLECTABLES C 3123 (US)
.

Mission Bell (Donnie BROOKS) / Robbin' The Cradle (Tony BELLUS)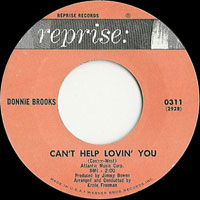 Need Info
| | | |
| --- | --- | --- |
| 19?? | Need Info | Twilight Zone |
Albums
| | | | |
| --- | --- | --- | --- |
| 1961 | LP 12" ERA EL 105 (US) | | THE HAPPIEST - DONNIE BROOKS - That's Why / Memories Are Made Of This / Mission Bell / How Long / The Devil Ain't A Man / Twilight Time / Memphis / P.S. I Love You / All I Can Give / What'd I Say / Doll House / Round Robin |
| 1976 ? | LP 12" Wishbone WB-1001 (US) | | So Good! So Good! So Good! - DONNIE BROOKS - Country Dude / Behind Closed Doors / Yellow Ribbon / Mission Bell / Oldies-But-Goodies Medley / That's All Right / Born On The Bayou / My Way / Sweet Caroline |
| 19?? | LP 12" ERA ELP-3010 (US) | | Sway And Move With - DONNIE BROOKS - Bertha Lou / Till The Law Says Stop / Up To My Ears In Tears / Baby Where Are You / Did You Ever See A Dream Walking / Boomerang / Goodnight Judy / The Question / I Call Your Name / Sway And Move With The Beat / Tell Me / Open Your Arms / Someday / Love Is Funny That Way / Sweet Lorraine / Girl Machine / Tavern Song / Moon In My Window |
| 1991 | LP 12" JUKE BOX SATURDAY NIGHT 1004 (I) | | ROCK'N'ROLL FEVER - UNKNOWN STAR - DONNIE BROOKS - Don't Cry Little Baby / Cries My Heart / Memphis / That's Why / My Favorite Kind Of Face / Mission Bell / It's Not That Easy / Round Robin / Doll House / Oh, You Beautiful Doll / The Devil Ain't A Man / Wishbone / All I Can Give / He Stole Flo |
| 1993 ? | CD Globe CD 105/18 (US) | | The Happiest... - DONNIE BROOKS - The Happiest (1961) : Mission Bell / Memories Are Made Of This / That's Why / How Long / The Devil Ain't A Man / Twilight Time / Up To My Ears / Sweet Lorraine / Goodnight Judy / Wishbone / Memphis / P.S. I Love You / bonus tracks : All I Can Give / What'd I Say / Doll House / Round Robin / Oh You Beautiful Doll / Your Little Boys Come Home / Just A Bystander / Boomerang / Did You Ever See A Dream Walking / Baby Where Are You / The Question / I Call Your Name / Sway And Move With The Beat / Moon In Window / Tell / Tavern Song / Someday / Bertha Lou |
| 1994 | CD TEEN SOUND TSR 59631 (CAN) | | HITS AND RARITIES - DONNIE BROOKS - Mission Bell / Doll House / Wishbone / Round Robin / Memphis / That's Why / The Devil Ain't A Man / Someday / If You're Lookin' / Moon In My Window / How Long / All I Can Give / Boomerang / Sweet Lorraine / My Favourite Kind Of Face / Oh, You Beautiful Doll / He Stole Flo / Up To My Ears / Girl Machine / If I Never Get To Love You / Love Is Funny That Way / Can't Help Loving You / Gone / Just A Bystander / Goodnite Judy / Sway And Move With The Beat / I Fell For Your Line, Baby / Hollywood Party / Betcha I Getcha / Ezactly / What'd I Say / Tell Me / Tavern Song / Open Your Arms / Cries My Heart |
| 06/2001 | CD CANETOAD INT. CD 6458 (AUS) | | GREATEST HITS, 1958-1968 - DONNIE BROOKS - Bertha Lou / Til The Law Says Stop / I Fell For Your Line Baby / Betcha I Getcha / Hollywood Party / Ezactly / White Orchid / Sway And Move With The Beat / The Devil Ain't A Man / How Long / Mission Bell / Doll House / Round Robin / Memphis / That's Why / Wishbone / All I Can Give / Boomerang / Sweet Lorraine / Up To My Ears / Goodnight Judy / My Favorite Kind Of Face / He Stole Flo / Oh, You Beautiful Doll / Just A Bystander / Memories Are Made Of This / Twilight Zone / PS I Love You / What'd I Say / Gone / Girl Machine / Can't Help Lovin' You / If I Never Get To Love You / Love Is A Funny That Way |
| 10/2003 | CD DICK BUSH ? (US) | | UNCHAINED - DICK BUSH - Unchained Melody / You Don't Have To Say You Love Me / Learnin' The Blues / After The Lovin / Delilah / At This Moment / Love On The Rocks / New York New York / Untill It's Time To Go / I'm Never Gonna Fall In LoveAgain / Love Letters / I Can't Help Falling In Love With You / Desperado |
| 08/2007 | CD K-TEL ? (US) | | THE BEST OF DONNIE BROOKS - All I Can Give / Doll House / How Long / Memories Are Made Of This / Mission Bell / Oh, You Beautiful Doll / P.S. I Love You / Round Robin / That's Why / Twilight Time / What'd I Say / He Stole Flo / Boomerang / My Favorite Kind Of Face / Up To My Ears (In Tears) / Goodnight Judy / Memphis / Wishbone / Sway And Move To The Beat / The Devil Ain't A Man / Sweet Lorraine / Ezactly / Hollywood Party |
| ???? | LP 12" Ultra 1032 (EUR) | | The Happiest - DONNIE BROOKS - That's Why / Memories Are Made Of This / Mission Bell / How Long / The Devil Ain't A Man / Twilight Time / Up To My Ears (In Tears) / Sweet Lorraine / Goodnight Judy / Wishbone / Memphis / P.S. I Love You / All I Can Give / What'd I Say / Doll House / Round Robin / Oh You Beautiful Doll / Your Little Boys Come Home / Just A Bystander / Boomerang |
© Rocky Productions 15/08/2022