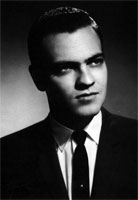 Chanteur Country US né Robert Valentine Braddock, le 5 Août 1940 à Lakeland (Floride).

Country songwriter Bobby Braddock was one of the more prolific hitmakers of the '70s, and also made a few of his own recordings toward the end of the decade. Born in Lakeland, FL, in 1940, Braddock first entered the music industry as a keyboard player for Marty Robbins, whose backing band he joined in 1964. Two years later, Robbins recorded the Braddock-penned "While You're Dancing," and had a chart hit with it. Building on that foundation, Braddock joined the songwriting staff at Tree International Publishing, where he replaced Roger Miller. He also found work as a session musician, and began making his own recordings, charting with the 1967 single "I Know How to Do It." That same year, the Oak Ridge Boys had a Top Ten hit with Braddock's "Would They Love Him Down in Shreveport," and his career was on its way. 1968 brought two Top Tens for the Statler Brothers, plus Braddock's first number one hit in Tammy Wynette's "D-I-V-O-R-C-E," which he co-wrote with Curly Putman. Over the next ten years, Braddock kept cranking out hits for countless artists, the biggest of which included "I Believe the South's Gonna Rise Again" (Tanya Tucker), "Come on In" (Jerry Lee Lewis), "Womanhood" (Wynette again), and the duo "Something to Brag About" (recorded by Willie Nelson with Mary Kay Place, as well as Wynette and George Jones).Braddock landed a recording deal with Elektra in his own right in 1979, and scored a chart hit that year with the title track of his first full-length album, Between the Lines. The 1980 follow-up, Love Bomb, was a semi-concept album filled with witty, southern-fried social commentary, and was followed in 1983 by the mini-album Harepore Cornography. The same year, Braddock teamed with Matraca Berg to write T.G. Sheppard's number one hit "Faking Love." Braddock's songwriting career began to slow down a bit during the '80s, but he still came up with periodic successes, penning hits for Tracy Lawrence ("Time Marches On," "Texas Tornado") and Mark Chesnutt ("Old Flames Have New Names"), among others, during the '90s.
https://en.wikipedia.org/wiki/Bobby_Braddock
Talents : Vocals, Songwriter, Keyboards, Piano, Saxophone
Style musical : Country Pop, Nashville Sound

http://youtu.be/4G18_sbhKuU
GEAR BUSTIN' SORT OF FELLER (1967)

NAG, NAG, NAG (1980)
Years in activity :
| | | | | | | | | | | | |
| --- | --- | --- | --- | --- | --- | --- | --- | --- | --- | --- | --- |
| 1910 | 20 | 30 | 40 | 50 | 60 | 70 | 80 | 90 | 2000 | 10 | 20 |
DISCOGRAPHY
Singles
1967
SP MGM K 13658 (US)
Gear Bustin' Sort Of Feller

/ Ruthless

1967
SP MGM K 13737 (US)

Get Along / I Know How To Do It

1967
SP MGM K 13843 (US)

I'm A Good Girl / Old Faithful

1968
SP MGM K 14017 (US)

The Girls In Country Music / Put Me Back Together Again

1969
SP MGM K 14042 (US)

Every Man's A King / Trash Man

1969
SP MGM K 14078 (US)

Crying At The Mirror / Successful Story

1970
SP COLUMBIA 4-45265 (US)

Born And Raised In Your Arms / Revelation

1976
SP MERCURY 73757 (US)

My Better Half / Ruby Is A Groupie

1976
SP MERCURY 73816 (US)

Gloria The Magnificent / Splidene

1976
SP MERCURY 73868 (US)

Big Black Telephone / Twiddle

1979
SP ELEKTRA E-46038 (US)

Between The Lines /

Happy Hour
1979
SP ELEKTRA E-46507 (US)
I Did The Right Thing / Moon Fever
1980
SP ELEKTRA E-46585 (US)
Nag, Nag, Nag

/

Rainy Florida Afternoon
1980
SP ELEKTRA E-46650 (US)
I Love You Whoever You Are / Burnin' Down
1983
SP RCA

PB-13529

(US)
It Took ..... ..... (To Get Me Over You) / ?
1984
SP RCA

JK-13871

(US)

Willie Where Are You? / Willie Where Are You?
Albums
1979
LP 12" ELEKTRA

6E-187 (US)

BETWEEN THE LINES - Between The Lines / Kansas City Misery / I Did The Right Thing / Moon Fever / The Happy Hour / Charley's Gone / F-L-O-R-I-D-A / Where The Heart Is / My Ship's Comin' In / Blow Us Away
1980
LP 12" ELEKTRA

6E-255 (US)

LOVE BOMB - Love Bomb / Fallout Fallback / Burning Down / Madison Avenue Pusher Man / The Kute Klux Klan / Do It For Your Father / Nag Nag Nag (with SPARKY / Rainy Florida Afternoon / Everybody's Got A Grunt-Grunt Place / I Love You Whoever You Are
1983
Mini LP 12" RCA

MHL1-8524 (US)

HARDPORE CORNOGRAPHY - It Took ..... ..... (To Get Me Over You) / The Elderly Brothers / Avalanche Of Romance / Willie Where Are You? / Dolly Parton's Hits / I Lobster But Never Flounder
© Rocky Productions 13/08/2011